| | |
| --- | --- |
| Baseball season ends in blowout loss to Huskies | |
---
| | |
| --- | --- |
| Monday, June 6, 2011, 10:53 PM | |
CLEMSON – The Road to Omaha ended before it could even make a stop in Columbia.
The Clemson Tigers, needing one of their better efforts in order to reach the Super Regionals next weekend – instead turned in a lackluster affair, ending a season in which they were ranked No. 4 in the nation in the preseason with back-to-back losses at home to Connecticut in the Clemson Regional.
The Huskies scored three early runs and put up five more in the fifth en route to a 14-1 victory over the Tigers at Doug Kingsmore Stadium Monday night, and they will advance to play South Carolina next weekend in the Super Regional.
"We just got beat in every phase of the game tonight," Clemson head coach Jack Leggett said. "They swung the bats well off our pitching and we couldn't seem to muster any offense. They performed well in every phase of the game. They were electric. We seemed to be a step slow and had three rough innings."
Freshman right-hander Kevin Pohle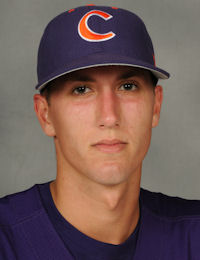 Kevin Pohle
RH Pitcher
#21 6-3, 170
St. Louis, MO
View Full Profile started for the Tigers, and had the type of outing that most Clemson fans feared. He lasted just 1/3 of an inning and gave up three runs, all earned, and five hits as the Huskies took a 3-0 lead out of the top of the first.
Richie Shaffer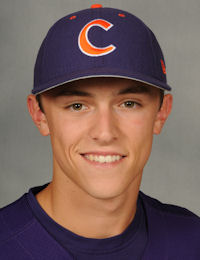 Richie Shaffer
Infielder
#8 6-3, 205
Charlotte, NC
View Full Profile offered Clemson fans a little hope when he cranked a home run to left to begin the bottom of the second, trimming the UConn advantage to 3-1, but the Tigers then left runners on base in every inning but the first and ninth innings.
UConn then added five more runs in the fifth…taking advantage of two Clemson errors, to break the game open and led 8-1, a deficit from which they would never recover. The Huskies then added insult to injury by adding six more in the eighth
This is the second time since 2004 that Clemson hasn't made the Super Regionals – the only other time as in 2008 when they failed to make post-season.
Leggett used six pitchers on the evening, and said he knew the pitching staff was running a little thin with the injury to Jonathan Meyer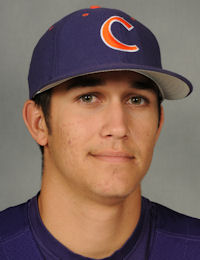 Jonathan Meyer
RH Pitcher
#28 6-0, 165
San Diego, CA
View Full Profile in the ACC Tournament.
"I thought we needed to get them [UConn] last night," he said. "I knew we were running a little low on pitching without Meyer in the mix. We knew we had to mix and match and we just couldn't get it done. Unfortunately, they got on a run and we couldn't put a stop to it. They got some confidence last night, and they had the leadoff man on base seemingly all night long. And we had trouble building big innings."
Shaffer said it hurts to lose a regional in front of the home crowd.
"We gave everything we had and left everything we had out on the field," he said. "This is not something you can describe. I know for myself I have chances left, but this is it for the seniors. We appreciate the fans coming out tonight and supporting us. But this is just a sad moment."
"This kind of loss just makes it worse. We don't want another team to come in here and beat us. This is our field and our place, and we are protective of it. You have to give them credit, though. They came in here into a hostile environment and did their job."
2011 Clemson Regional All-Tournament Team
C - Derick Horn, Sacred Heart

1B - Mike Nemeth, Connecticut

2B - Tommy La Stella, Coastal Carolina

SS - Nick Ahmed*, Connecticut

3B - John Hinson, Clemson

OF - Hayes Orton*, Coastal Carolina

OF - Will Lamb*, Clemson

OF - John Andreoli, Connecticut

DH - Phil Pohl, Clemson

P - Greg Nappo*, Connecticut

P - Anthony Meo, Coastal Carolina

MVP - Greg Nappo, Connecticut
* - unanimous selection
CONNECTICUT QUOTES

Head Coach Jim Penders

"I couldn't be prouder of the way our guys played their hearts out and didn't want to go home. We played a great game and played with great enthusiasm. We kept attacking all night. The way our guys approached tonight, I felt like there was no way we were going to lose this game. That is not taking anything away from Clemson. I have followed their program for many years. I remember watching them in the College World Series as a kid. I have a tremendous amount of respect for Jack Leggett. We knew we would have to play great baseball, and we did the last two nights. We scored runs in bunches, and 15 of our 17 hits came in the innings we scored runs."

On winning a regional on the road:

"My brother played in the ACC at Wake Forest, and he warned me that this was the toughest place to play in the ACC. He was absolutely right. For us to win it here, in the south, means a lot. We need more kids from the state of Connecticut to say `yes' to Uconn before they look at offers from other schools in the south. We knew we needed to get out in front early and take the crowd out. It was very important to do that."

Catcher Doug Elliot

On advancing to the Super Regional:

"I am not ready to go home. I am a 5th-year senior and I am not ready to be done. We had some goals this year, we won the regular season title, didn't quite do as well we wanted in the conference tournament, but we did well here. There is always more out there on the table."

Starting Pitcher Greg Nappo

On tonight's performance:

"I was wanting to do it tonight and I was prepared to pitch. I wanted to stay in but it was the right move at the time. Dan (Feehan) came in and did a great job. I was very pleased with our defense and the way we played tonight."

Third Baseman Ryan Fuller

On his offensive performance:

"Our whole lineup one through nine got big hits. Whether I go 5-for-5 or 0-for-5 all that matters now is to get wins. That is all that matters at this point."

On advancing from the loser's bracket:

"We talked about yesterday that if we could win last night then their backs would be against the wall a little bit. We just played loose and had fun."

CLEMSON QUOTES

Head Coach Jack Leggett

"We just got beat in every phase of the game tonight. They swung the bats exceptionally well off our pitching. We could not seem to muster much up offensively. We were just a little slower than they were in every phase of the game. They were a little bit electric tonight, whether it be on the bases, defensively or pitching wise. We were just a step slow. It started out in the first inning. We had three rough innings--a six, and five and a three run inning."

"You have to give them credit. I thought they played exceptionally well. The played a very good game from start to finish tonight. (Greg) Nappo pitched exceptionally well tonight. He kept rising his fastball."

"Our time to get them was last night. I knew we were running a little bit low on pitching. Without (Jonathan) Meyer it was going to be a mix and match all night long. We just could not quite get it going. You have to give them credit."

"I am proud of our team. We were 29-8 the last part of the season and played exceptionally well to get to this point. The fans were exceptional tonight. They were in the game. There was more energy in the stadium today when it was 3-0 and 3-1 when Richie (Shaffer) hit the home run. Unfortunatley the ball got rolling in the wrong direction and we could not put a stop to it."

On if there was any carry over from last night:

"Our kids were in a great frame of mind. When I saw them in the dugout and in the locker room they were ready to play. There was no question in my mind. Our batting practice went exceptionally well. I thought we swung the bats in batting practice as well as we had swung it all year long. I felt we were ready to go. They got some confidence from last night. They were feeling good about themselves and that carried over to the first part of the game. It gave them a little confidence early in the game. It just built up from there."

"I have been in games on both sides like tonight. There are situations where it starts rolling and you can't do anything wrong. In our situation we could not do much right. They had the lead-off guy on base all night long. It seemed like we were scrambling to just get out of innings. We were having trouble building any innings. When we did we could not finish them off."

First Baseman Richie Shaffer

"It is not something you can describe. I know for myself I still have chances left and a couple of years. But for the seniors and the guys leaving it is going to hurt really bad for them, and for us too."


"The fans were great tonight. The players want to thank all the fans for coming out in bunches and supporting all of us. We really appreciate it. I have had a great time playing with all of our seniors and all the guys leaving. This was a special group. It is a sad moment."

Connecticut 14 (45-18-1)

Player                    AB  R  H RBI BB SO PO  A LOB

------------------------------------------------------

L.J. Mazzilli 2b.........  4  3  2  1   2  0  4  5   1

John Andreoli rf.........  4  2  2  2   0  0  2  0   1

George Springer cf.......  3  2  1  1   1  0  2  0   0

 Ryan Moore cf...........  1  1  1  1   0  0  1  0   0

Mike Nemeth 1b...........  5  1  1  1   0  0  9  0   0

Ryan Fuller 3b...........  5  2  3  5   0  2  1  1   0

Nick Ahmed ss............  5  0  1  2   0  1  1  2   0

Doug Elliot c............  5  0  0  0   0  2  6  0   1

Tim Martin dh............  5  1  3  1   0  0  0  0   0

Billy Ferriter lf........  5  2  3  0   0  1  1  0   2

Greg Nappo p.............  0  0  0  0   0  0  0  0   0

 Dan Feehan p............  0  0  0  0   0  0  0  0   0

Totals................... 42 14 17 14   3  6 27  8   5

Clemson 1 (43-20)

Player                    AB  R  H RBI BB SO PO  A LOB

------------------------------------------------------

John Hinson 3b...........  3  0  1  0   1  1  0  1   0

Phil Pohl dh.............  4  0  1  0   0  0  0  0   1

Brad Miller ss...........  4  0  0  0   0  0  5  2   2

Will Lamb cf.............  4  0  0  0   0  1  0  0   0

Richie Shaffer 1b........  2  1  1  1   2  0 10  0   0

Jeff Schaus lf...........  4  0  1  0   0  1  3  0   1

 Joe Costigan lf.........  0  0  0  0   0  0  0  0   0

Chris Epps rf............  2  0  1  0   1  1  2  0   1

 Jon McGibbon rf.........  1  0  0  0   0  0  0  0   0

Jason Stolz 2b...........  3  0  1  0   0  1  2  6   3

 Mike Dunster ph.........  1  0  0  0   0  0  0  0   0

Spencer Kieboom c........  3  0  0  0   0  1  5  4   0

 Steve Wilkerson ph......  1  0  0  0   0  0  0  0   0

Kevin Pohle p............  0  0  0  0   0  0  0  0   0

 Alex Frederick p........  0  0  0  0   0  0  0  1   0

 David Haselden p........  0  0  0  0   0  0  0  0   0

 Matt Campbell p.........  0  0  0  0   0  0  0  0   0

 Kevin Brady p...........  0  0  0  0   0  0  0  0   0

 Scott Weismann p........  0  0  0  0   0  0  0  0   0

Totals................... 32  1  6  1   4  6 27 14   8

Score by Innings                    R  H  E

-------------------------------------------

Connecticut......... 300 050 060 - 14 17  0

Clemson............. 010 000 000 -  1  6  3

-------------------------------------------

E - MILLER 2(12); EPPS(2). DP - Connecticut 1; Clemson 1. LOB - Connecticut

5; Clemson 8. 2B - FULLER(27); MARTIN(6); SCHAUS(20); STOLZ(10). 3B -

FERRITER 2(3). HR - FULLER(6); SHAFFER(13). SH - ANDREOLI(10). CS -

MAZZILLI(10); NEMETH(1).

Connecticut            IP  H  R ER BB SO AB BF

-----------------------------------------------

Greg Nappo..........  5.2  5  1  1  3  4 21 24

Dan Feehan..........  3.1  1  0  0  1  2 11 12

Clemson                IP  H  R ER BB SO AB BF

-----------------------------------------------

Kevin Pohle.........  0.1  5  3  3  0  0  6  6

Alex Frederick......  4.0  4  4  2  1  3 14 16

David Haselden......  0.1  2  1  0  0  0  4  4

Matt Campbell.......  2.2  2  3  3  2  2  9 11

Kevin Brady.........  0.1  3  3  3  0  0  4  4

Scott Weismann......  1.1  1  0  0  0  1  5  5

Win - NAPPO (10-2).  Loss - POHLE (5-2).  Save - FEEHAN (1).

WP - NAPPO(4).

Umpires - HP: Jim Garman  1B: David Rogers  2B: Kelly Gonzales  3B: Brad

Hungerford  Start: 6:58 PM   Time: 2:53   Attendance: 4838