| | |
| --- | --- |
| Tigers drop 7-6 decision to UConn, will play Monday night for right to advance | |
---
| | |
| --- | --- |
| Monday, June 6, 2011, 12:06 AM | |

AUDIO: Clemson postgame press conference
CLEMSON – Ryan Fuller drilled a base hit into left with two outs and runners on first and second Sunday night in the bottom of the ninth, plating the winning run for the UConn Huskies in a 7-6 win over the Clemson Tigers in the Clemson Regional at Doug Kingsmore Stadium.
The win forces a seventh game of the regional, to be played at 7 p.m. on Monday at Doug Kingsmore. The winner advances to play the winner of the South Carolina Regional in the Super Regional next weekend.
The Tigers overcame a 6-4 deficit in the ninth on a two-run single by Spencer Kieboom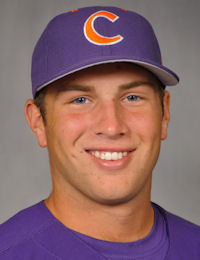 Spencer Kieboom
Catcher
#22 6-0, 210
Marietta, GA
View Full Profile that tied the score, but the Huskies scored the winning run off closer Scott Weismann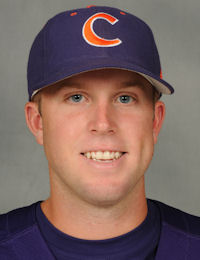 Scott Weismann
RH Pitcher
#33 6-0, 190
Boxborough, MA
View Full Profile in the bottom of the frame to force Monday.
"It was another good ballgame," Clemson head coach Jack Leggett said. "It is a tough one to lose. We got ahead and couldn't keep the lead. We got a big hit from Spencer and wanted to get another one, but we couldn't get that extra run. This team has been through a lot and we will be fine tomorrow."
Weismann appeared to strike out Fuller before the game-winning hit, but Leggett said the Tigers had too many other opportunities to complain about one call.
"He called it a ball," Leggett said. "That is the way it had to be. We had a lot of other opportunities and a lot of things happen over nine innings. We have our backs against the wall, but we are in the position we want to be in. We have been in this position the last couple of years, so we know what we have to do to win."
Clemson starter Justin Sarratt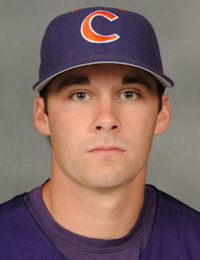 Justin Sarratt
RH Pitcher
#23 5-9, 170
Gaffney, SC
View Full Profile was hit hard early, and the Huskies took advantage to take a 1-0 lead in the bottom of the second inning. Nick Ahmed led off with a double into the right-center field gap, and he scored on a sharp single by Doug Elliot for the 1-0 lead. The Huskies eventually loaded the bases, but Sarratt settled in and got a fly out to end the inning and the threat.
The Tigers were finally able to dent the scoreboard on Husky starter in the third inning after John Hinson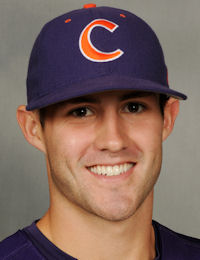 John Hinson
Infielder
#4 6-1, 180
Asheville, NC
View Full Profile singled with two out. He promptly stole second, and after Phil Pohl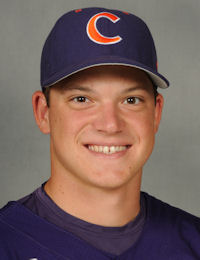 Phil Pohl
Catcher
#9 5-11, 210
Cooperstown, NY
View Full Profile walked, Brad Miller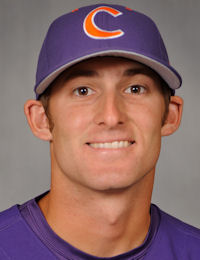 Brad Miller
Infielder
#13 6-1, 185
Windermere, FL
View Full Profile lined a single up the middle to tie the score.
In the third, Jeff Schaus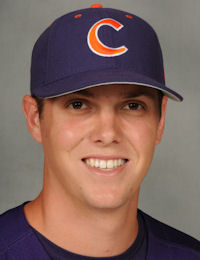 Jeff Schaus
Outfielder
#3 6-1, 205
Naples, FL
View Full Profile singled with one out, and the Tigers eventually loaded the bases with one out. Spencer Kieboom then launched a fly ball to center that scored Schaus for the 2-1 Tiger lead.
The fifth inning saw the Tigers again score a single run. Miller walked with one out and advanced to third on a single by Will Lamb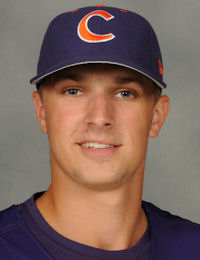 Will Lamb
Outfielder
#30 6-6, 175
Seaford, VA
View Full Profile . Richie Shaffer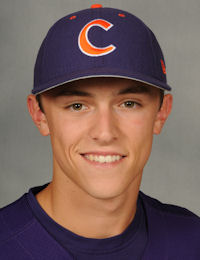 Richie Shaffer
Infielder
#8 6-3, 205
Charlotte, NC
View Full Profile grounded to short, and shortstop Nick Ahmed's throwing error allowed Miller to score for the 3-1 lead.
Chris Epps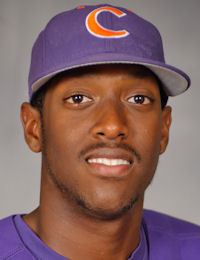 Chris Epps
Outfielder
#26 6-1, 195
Stone Mountain, GA
View Full Profile led off the sixth with a bunt single and was sacrificed to second with one out. Kieboom grounded to short for the second out, and Hinson again delivered in the clutch. He flared a 2-1 pitch into right field to plate Epps, and the Tigers started to pull away at 4-1.
Sarratt had settled in after his second inning hiccup, and breezed through the first two batters in the bottom of the sixth before giving up a single to Ahmed. In stepped Elliot, and he again hurt Sarratt, this time launching a 2-2 fastball deep into the left field seats to make it 4-3 Tigers.
Sarratt finished with three earned runs, eight hits, five strikeouts and one walk in his 5.2 innings of work, tossing 109 pitches in the process.
Former starter Kevin Brady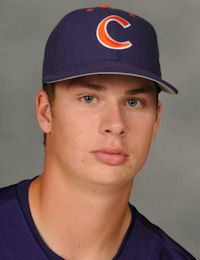 Kevin Brady
RH Pitcher
#19 6-3, 205
Gaithersburg, MS
View Full Profile relieved Sarratt and got out of the inning, then cruised through the seventh before running into trouble in the eighth. The Huskies used three singles to plate the tying run, and senior righty Alex Frederick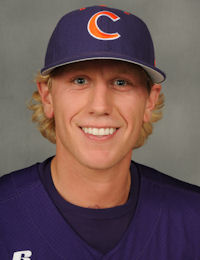 Alex Frederick
RH Pitcher
#39 5-10, 170
Lagrangeville, NY
View Full Profile came in to relieve Brady with runners at first and second with one out.
Frederick induced Elliot into a grounder to second for the second out, and with runners at second and third, and Leggett then brought in junior right-hander Scott Weismann. UConn's Tim Martin promptly dumped a single into left field, and the Huskies led 6-4 heading into the ninth.
The Tigers used singles by Lamb and Schaus and a walk to Epps to load the bases with one out in the ninth against Husky closer Kevin Vance [who had a 0.98 ERA coming into the game], and Leggett pinch hit for Stolz with freshman Jon McGibbon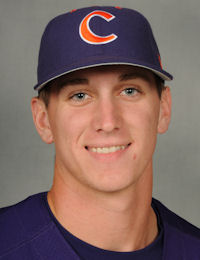 Jon McGibbon
Outfielder
#12 6-1, 210
Lindenhurst, NY
View Full Profile . McGibbon worked a full count before striking out on a high fastball, leaving the Tigers' chances in the hands of Kieboom.
However, Kieboom lined a single down the left-field line to plate Lamb and Schaus, and the Tigers had new life tied at six runs apiece.
"I got a fastball in and took advantage of it," Kieboom said of his big hit. "I wanted to do something in the clutch. I had been hitting some balls hard and had nothing to show for it. So it was good to make something happen."
The Tigers failed to add any more runs after Hinson struck out to end the threat, setting up the bottom of the ninth win by the Huskies.
Tiger shortstop Brad Miller said he still believes his team is in a good spot.
"We just have to keep battling," the ACC Player of the Year said. "This team has been through a lot, but we have a bunch of veterans. We have had our backs to the wall in elimination games before, so we will all be ready. This is a good opportunity for us – we just have to go out there and earn it."
Leggett said the coaching staff will think about Monday's starter overnight, but candidates would appear to be sophomore righty Jonathan Meyer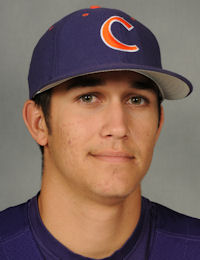 Jonathan Meyer
RH Pitcher
#28 6-0, 165
San Diego, CA
View Full Profile [who was injured at the ACC Tournament last week and hasn't pitched this weekend], freshman right-hander Kevin Pohle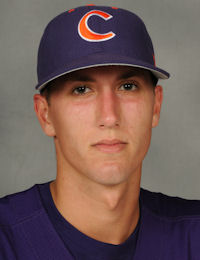 Kevin Pohle
RH Pitcher
#21 6-3, 170
St. Louis, MO
View Full Profile or freshman righty Matt Campbell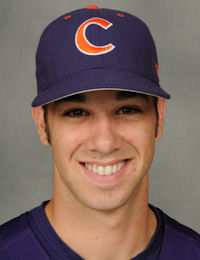 Matt Campbell
RH Pitcher
#36 5-10, 165
Alpharetta, GA
View Full Profile .

Clemson 6 (43-19)

Player                    AB  R  H RBI BB SO PO  A LOB

------------------------------------------------------

John Hinson 3b...........  6  1  2  1   0  2  1  1   4

Phil Pohl dh.............  4  0  0  0   1  1  0  0   1

Brad Miller ss...........  3  1  1  1   2  1  1  2   1

Will Lamb cf.............  5  1  3  0   0  0  3  0   3

Richie Shaffer 1b........  4  0  1  0   1  1  6  0   0

Jeff Schaus lf...........  5  2  2  0   0  0  1  0   1

Chris Epps rf............  2  1  1  0   3  0  2  0   0

Jason Stolz 2b...........  4  0  1  0   0  0  3  2   3

 Jon McGibbon ph.........  1  0  0  0   0  1  0  0   0

 Steve Wilkerson 2b......  0  0  0  0   0  0  1  0   0

Spencer Kieboom c........  3  0  1  3   1  0  8  2   0

Justin Sarratt p.........  0  0  0  0   0  0  0  0   0

 Kevin Brady p...........  0  0  0  0   0  0  0  0   0

 Alex Frederick p........  0  0  0  0   0  0  0  0   0

 Scott Weismann p........  0  0  0  0   0  0  0  1   0

Totals................... 37  6 12  5   8  6 26  8  13

Connecticut 7 (44-18-1)

Player                    AB  R  H RBI BB SO PO  A LOB

------------------------------------------------------

L.J. Mazzilli 2b.........  5  1  2  0   0  1  3  4   0

John Andreoli rf.........  4  0  1  0   0  2  0  1   0

George Springer cf.......  3  1  1  0   2  0  3  0   3

Mike Nemeth 1b...........  4  0  1  0   0  1  9  1   0

Ryan Fuller 3b...........  5  1  2  1   0  2  0  3   2

Nick Ahmed ss............  4  3  3  1   0  1  3  6   0

Doug Elliot c............  4  1  2  3   0  0  6  0   0

Tim Martin dh............  4  0  1  2   0  1  0  0   0

Billy Ferriter lf........  4  0  1  0   0  1  2  0   1

Elliot Glynn p...........  0  0  0  0   0  0  1  0   0

 David Fischer p.........  0  0  0  0   0  0  0  0   0

 Dan Feehan p............  0  0  0  0   0  0  0  0   0

 Kevin Vance p...........  0  0  0  0   0  0  0  0   0

Totals................... 37  7 14  7   2  9 27 15   8

Score by Innings                    R  H  E

-------------------------------------------

Clemson............. 001 111 002 -  6 12  0

Connecticut......... 010 002 031 -  7 14  1

-------------------------------------------

Note: 2 outs, 2 runners LOB when the game ended.

E - AHMED(10). DP - Clemson 1; Connecticut 1. LOB - Clemson 13; Connecticut

8. 2B - AHMED(11). HR - ELLIOT(2). SH - ANDREOLI(9); NEMETH(1). SF -

KIEBOOM(7). SB - HINSON(23); SHAFFER(8); SCHAUS(10). CS - MAZZILLI(9);

FULLER(3).

Clemson                IP  H  R ER BB SO AB BF

-----------------------------------------------

Justin Sarratt......  5.2  8  3  3  1  5 24 25

Kevin Brady.........  1.2  3  3  3  0  3  7  8

Alex Frederick......  0.1  0  0  0  0  0  1  1

Scott Weismann......  1.0  3  1  1  1  1  5  7

Connecticut            IP  H  R ER BB SO AB BF

-----------------------------------------------

Elliot Glynn........  5.0  6  4  3  5  1 19 25

David Fischer.......  2.2  3  0  0  2  2 11 13

Dan Feehan..........  0.1  0  0  0  0  0  1  1

Kevin Vance.........  1.0  3  2  2  1  3  6  7

Win - VANCE (1-0).  Loss - WEISMANN (3-5).  Save - None.

WP - SARRATT(5).

Umpires - HP: Kelly Gonzales  1B: Mike Droll  2B: Don Goller  3B: David Rogers

Start: 8:00 PM   Time: 3:17   Attendance: 4877



Tags:
Alex Frederick
,
Brad Miller
,
Chris Epps
,
Jeff Schaus
,
John Hinson
,
Jon McGibbon
,
Jonathan Meyer
,
Justin Sarratt
,
Kevin Brady
,
Kevin Pohle
,
Matt Campbell
,
Phil Pohl
,
Richie Shaffer
,
Scott Weismann
,
Spencer Kieboom
,
Will Lamb