| | |
| --- | --- |
| Hinson continues to swing a hot bat, helps lift Tigers over Coastal | |
---
| | |
| --- | --- |
| Saturday, June 4, 2011, 11:01 PM | |

AUDIO: Clemson postgame press conference |

AUDIO: Coastal Carolina postgame press conference
CLEMSON – John Hinson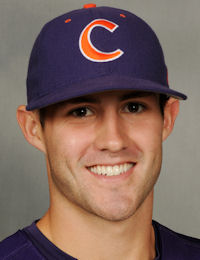 John Hinson
Infielder
#4 6-1, 180
Asheville, NC
View Full Profile was the MVP of the Auburn Regional a year ago and is acting like a player who wants to win the award again.
Hinson scored three times and hit his second homer in as many nights, lifting the Tigers to a 12-7 victory over Coastal Carolina in the Clemson Regional at sold out Doug Kingsmore Stadium Saturday night, sending the Tigers to the championship round.
Will Lamb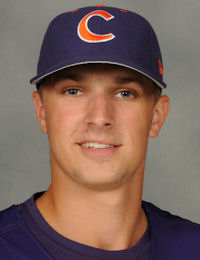 Will Lamb
Outfielder
#30 6-6, 175
Seaford, VA
View Full Profile and Richie Shaffer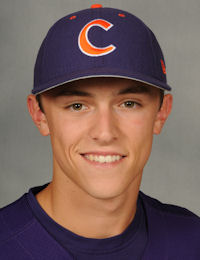 Richie Shaffer
Infielder
#8 6-3, 205
Charlotte, NC
View Full Profile also had big nights for the Tigers. Lamb was 3-for-4 with a homer, a triple and two RBI and Shaffer was 3-for-4 with a homer and four RBI.
But the series to date belongs to Hinson. In last year's Auburn Regional, Hinson went 9-for-16 with three home runs, a double and five RBIs in being named the MVP. Following Saturday's performance, Hinson is 5-for-8 with two homers, six runs scored and five runs batted in.
Hinson said his move to the leadoff spot has paid dividends, and he is concerned about teams throwing so many left-handers at the Tiger lineup.
"I feel comfortable hitting at the top," Hinson said. "We are hitting good as a team and that makes the lineup better. We are doing what we need to do to win. We are going to take it one game and one team at a time. We have been seeing a lot of lefties this year, and it's a logical idea for them to do that. But we came in with a good approach tonight and made it happen."
Clemson head coach Jack Leggett said he was pleased with the effort.
"I thought we played a real good game, start to finish," Leggett said. "I think we made a statement with two runs in each of the first three innings, and then we got four later in the game. We had good presence in the box today. Coastal hit the ball good, but [David] Haselden came in and gave us a lift and we had a couple of good defensive plays."
The Tigers scored six runs in the first three innings – two runs in each frame – but Coastal Carolina scored two each in the first and third innings as Clemson led 6-4 through the first three.
Will Lamb homered to lead off the fifth inning – his third of the year – as Clemson went up 7-4. The Chanticleers bounced back with a single run to pull back within two at 7-5.
Richie Shaffer, who had homered to right field earlier, laced an RBI double into the right center field gap for his third RBI of the game to push the Tigers back up to an 8-5 lead, setting up a huge eighth inning that put the game out of reach.
The Chanticleers had a chance to cut into the lead again in the bottom of the seventh inning, but a sterling effort by left fielder Jeff Schaus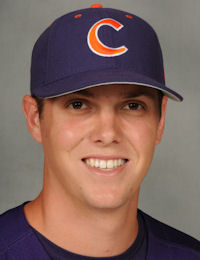 Jeff Schaus
Outfielder
#3 6-1, 205
Naples, FL
View Full Profile thwarted the rally. With one out in the inning, Chant first baseman Rich Witten laced a shot off the left field wall, but Schaus played the carom perfectly and fired a laser to second baseman Jason Stolz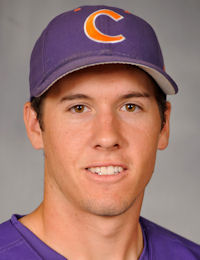 Jason Stolz
Infielder
#2 6-2, 200
Marietta, GA
View Full Profile who tagged out Witten easily. The play was huge because the out was made in front of Coastal's Tommy La Stella, who had already homered and doubled.
La Stella grounded out weakly, however, and Clemson led 8-5 heading to the eighth.
Schaus said the play was a result of having played that outfield wall for four seasons.
"He hit it pretty solid, and I just turned around and threw it," Schaus said. "It was just one of those cases where you let it go and hope for the best. But I have been playing that outfield for four years, and I was able to get there quick. It was fortunate that we got him."
Stolz singled to right to lead off the inning, and catcher Spencer Kieboom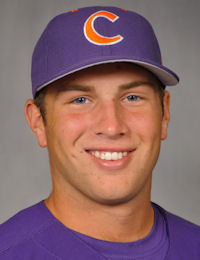 Spencer Kieboom
Catcher
#22 6-0, 210
Marietta, GA
View Full Profile sacrificed him to second. Up stepped Hinson, who launched a 2-1 fastball into the right field seats for his ninth homer of the season and a 10-5 Tiger lead.
Phil Pohl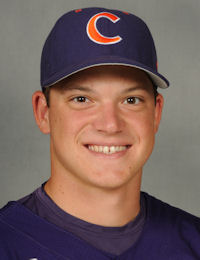 Phil Pohl
Catcher
#9 5-11, 210
Cooperstown, NY
View Full Profile followed that with a single, scored on a Lamb triple and Lamb scored on Shaffer's RBI single and Clemson led 12-5.
Coastal added two more runs in the bottom of the ninth, but Alex Frederick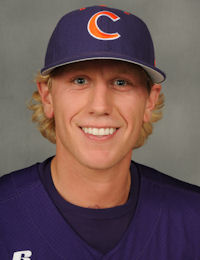 Alex Frederick
RH Pitcher
#39 5-10, 170
Lagrangeville, NY
View Full Profile got the final two outs and pushed the Tigers into the Sunday night game.
David Haselden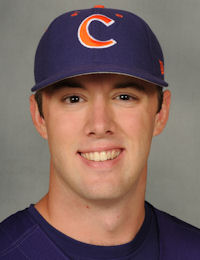 David Haselden
RH Pitcher
#29 6-4, 240
Spartanburg, SC
View Full Profile picked up the win in relief of starter Dominic Leone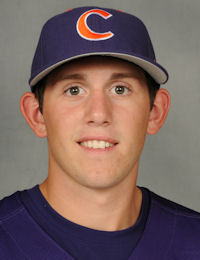 Dominic Leone
RH Pitcher
#6 5-11, 185
Norwich, CT
View Full Profile . Haselden pitched four innings, giving up two runs before being replaced by Frederick for the final two outs.
UConn defeated Sacred Heart in Saturday's first game, and Coastal Carolina will face the Huskies at 3 p.m. Sunday. The winner advances to play Clemson at 7 p.m. A Tiger win in the finale sends Clemson to the Super Regional next weekend, while a loss would force a game to be held Monday night at 7 p.m.
Coastal head coach Gary Gilmore said he had hoped that being in Clemson's usual home dugout would have made a difference.
"I was hoping that moving over into Jack's dugout would have helped us," Elmore said following the game. "He has beat my butt from that dugout a lot of times, and tonight he beat me in the other dugout. You just can't give up that many hits and runs to a good team like that and expect to win. I don't we made the same pitch in the same location twice in a row to them and they still hit the ball."


Clemson 12 (43-18)

Player                    AB  R  H RBI BB SO PO  A LOB

------------------------------------------------------

John Hinson 3b...........  5  3  2  2   1  1  1  2   0

Phil Pohl dh.............  5  2  3  0   0  0  0  0   0

Brad Miller ss...........  4  0  1  2   0  1  2  2   0

Will Lamb cf.............  4  3  3  2   1  0  3  0   0

Richie Shaffer 1b........  4  1  3  4   0  1  7  0   0

Jeff Schaus lf...........  2  0  0  0   3  0  1  1   1

Chris Epps rf............  4  2  0  0   1  1  2  0   4

Jason Stolz 2b...........  4  1  2  1   0  1  2  3   0

Spencer Kieboom c........  4  0  0  0   0  0  9  2   1

Dominic Leone p..........  0  0  0  0   0  0  0  0   0

 David Haselden p........  0  0  0  0   0  0  0  0   0

 Alex Frederick p........  0  0  0  0   0  0  0  0   0

Totals................... 36 12 14 11   6  5 27 10   7

Coastal Carolina 7 (42-19)

Player                    AB  R  H RBI BB SO PO  A LOB

------------------------------------------------------

Scott Woodward cf........  4  1  0  0   0  2  4  0   0

 T.J. Young ph...........  1  0  1  1   0  0  0  0   0

Rich Witten 1b...........  4  3  4  0   0  0 12  1   0

 Zach Lopes ph...........  1  0  0  0   0  1  0  0   0

Tommy La Stella 2b.......  5  1  3  3   0  0  1  5   1

Daniel Bowman rf.........  4  0  1  2   0  2  0  0   0

Taylor Motter ss.........  3  0  0  0   1  0  2  3   1

Keith Hardwick dh........  4  0  0  0   0  0  0  0   2

Hayes Orton lf...........  3  1  2  0   1  0  4  0   0

Tucker Frawley c.........  3  0  0  0   0  0  3  1   0

 John Fidanza c..........  1  1  1  1   0  0  1  1   0

Tripp Martin 3b..........  3  0  0  0   0  2  0  0   1

 Jacob May ph............  1  0  0  0   0  0  0  0   0

Keith Hessler p..........  0  0  0  0   0  0  0  1   0

 Matt Rein p.............  0  0  0  0   0  0  0  1   0

 Aaron Burke p...........  0  0  0  0   0  0  0  1   0

 Matt Laney p............  0  0  0  0   0  0  0  0   0

 Ryan Connolly p.........  0  0  0  0   0  0  0  1   0

 Stefan del Pino p.......  0  0  0  0   0  0  0  0   0

 Jackson Geary p.........  0  0  0  0   0  0  0  0   0

Totals................... 37  7 12  7   2  7 27 15   5

Score by Innings                    R  H  E

-------------------------------------------

Clemson............. 222 010 140 - 12 14  2

Coastal Carolina.... 202 010 002 -  7 12  1

-------------------------------------------

E - HINSON 2(21); MARTIN(7). DP - Clemson 2. LOB - Clemson 7; C. Carolina 5.

2B - POHL(22); SHAFFER(15); YOUNG(1); LA STELLA(15); FIDANZA(3). 3B -

LAMB(4). HR - HINSON(9); LAMB(3); SHAFFER(12); LA STELLA(14). SH -

STOLZ(10); KIEBOOM(3). SF - MILLER(3); SHAFFER(3). SB - EPPS(11). CS -

POHL(2); MILLER(5); ORTON(3).

Clemson                IP  H  R ER BB SO AB BF

-----------------------------------------------

Dominic Leone.......  4.1  7  5  4  2  4 20 22

David Haselden......  4.0  5  2  2  0  2 15 15

Alex Frederick......  0.2  0  0  0  0  1  2  2

Coastal Carolina       IP  H  R ER BB SO AB BF

-----------------------------------------------

Keith Hessler.......  1.2  2  4  2  3  0  4 10

Matt Rein...........  3.1  5  3  3  1  2 14 15

Aaron Burke.........  1.2  2  1  1  0  0  7  7

Matt Laney..........  0.1  0  0  0  1  1  1  2

Ryan Connolly.......  0.2  5  4  4  1  0  6  8

Stefan del Pino.....  0.1  0  0  0  0  0  1  1

Jackson Geary.......  1.0  0  0  0  0  2  3  3

Win - HASELDEN (6-1).  Loss - HESSLER (2-3).  Save - None.

WP - FREDERICK(6).

Umpires - HP: David Rogers  1B: Kelly Gonzales  2B: Jim Garman  3B: Mike Droll

Start: 6:59 PM   Time: 3:04   Attendance: 5408