| | |
| --- | --- |
| Early runs carry Tigers past Pioneers | |
---
| | |
| --- | --- |
| Friday, June 3, 2011, 10:34 PM | |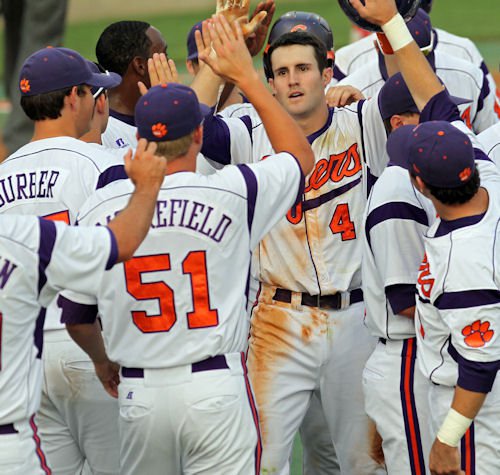 AUDIO: Clemson postgame press conference | PHOTOS: Sacred Heart vs Clemson
CLEMSON – A little home cooking was the perfect recipe for the Clemson Tigers Friday night.
The Tigers erupted for 11 runs and got a strong outing from starter Scott Firth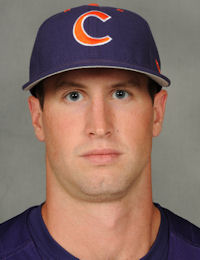 Scott Firth
RH Pitcher
#20 6-0, 165
Buffalo Grove, IL
View Full Profile as the Tigers defeated Sacred Heart 11-1 in the opening round of the NCAA Division I Baseball Championship at Doug Kingsmore Stadium.
Coastal Carolina knocked off Connecticut 13-1 in the early game, and Clemson will face off against the Chanticleers at 7 p.m. Saturday night in the fourth game of the Clemson regional bracket. Clemson beat Coastal 5-4 in 10 innings back on April 5th, the beginning of Leggett's "30-game season" following the Tigers' 14-12 start.
"I thought we played a really nice game," Clemson head coach Jack Leggett said. "Firth came out and did what we wanted – he threw strikes and we played good defense behind him. Our pitching was good, our defense was good and we had a good offensive night. I am pleased with how we played tonight."
The Tigers wasted no time in welcoming Sacred Heart starter Troy Scribner to the warm environs of Doug Kingsmore, touching the sophomore righty for four runs in the bottom of the first inning.
John Hinson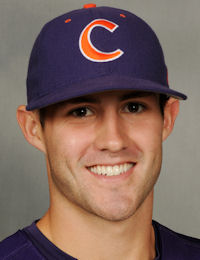 John Hinson
Infielder
#4 6-1, 180
Asheville, NC
View Full Profile led off the inning with a four-pitch walk, and Phil Pohl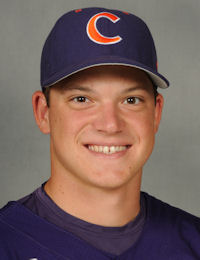 Phil Pohl
Catcher
#9 5-11, 210
Cooperstown, NY
View Full Profile smashed a ringing double into the left field corner to put runners at second and third with no outs. Brad Miller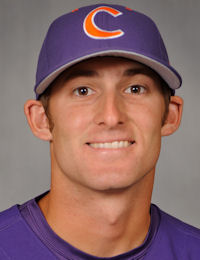 Brad Miller
Infielder
#13 6-1, 185
Windermere, FL
View Full Profile rolled to short, scoring Hinson, but Pohl was out trying to advance to third.
Will Lamb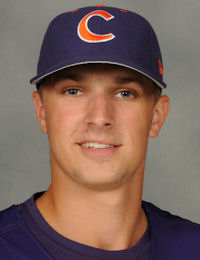 Will Lamb
Outfielder
#30 6-6, 175
Seaford, VA
View Full Profile was hit by a pitch, but Richie Shaffer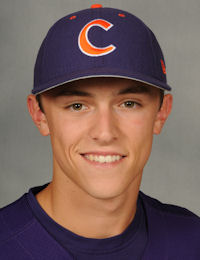 Richie Shaffer
Infielder
#8 6-3, 205
Charlotte, NC
View Full Profile struck out looking for the second out. Jeff Schaus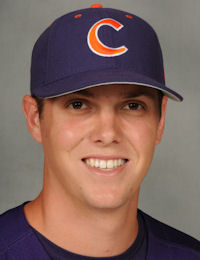 Jeff Schaus
Outfielder
#3 6-1, 205
Naples, FL
View Full Profile promptly singled to center to score Miller, and took second on the throw to the plate. Chris Epps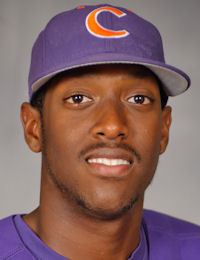 Chris Epps
Outfielder
#26 6-1, 195
Stone Mountain, GA
View Full Profile then dumped a single into center to score Schaus and Lamb for the 4-0 lead.
In the bottom of the second, John Hinson doubled into the right field corner with one out, stole third and scored on an RBI groundout by Pohl for a 5-0 Tiger lead.
Clemson added six more in the bottom of the third to chase Scribner, the big blow coming on a 3-run shot by Hinson, who drilled his shot over the Cajun Café sign in deep right field.
Hinson was 3-for-3 with a walk, a single, a double and the homer and scored three times to pace the Tiger attack.
"It's always good to get off to a good start," Hinson said. "When you come out and score early it takes the pressure off for the rest of the game. When you get off to a quick start and come out as hot as we did, it leads to a little more relaxed atmosphere."
Scribner lasted just 2 1/3 innings, giving up 10 earned runs. He walked three and struck out two.
Firth, making his first start since late April, gave up just one earned run in six innings, striking out five and walking one.
"I was just excited when Coach Leggett told me I would be starting," Firth said. "I knew I had to go out there and give our team the best chance to win. I was aggressive early and tried to throw strikes to set the tempo for the rest of the game."
Sacred Heart head coach Nick Giaquinto said his team was better than the effort seen Friday night.
"We are much better than we showed today," Giaquinto said. "We knew Clemson was one of the best teams in the country. We expected them to be a quality team and they are. They put some good at-bats together and they had some timely hitting. We came out and we were ready to compete but it didn't work out the way we planned."
Leggett said that sophomore right-hander Dominic Leone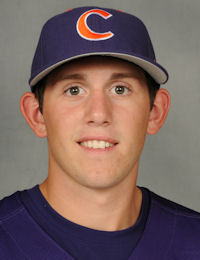 Dominic Leone
RH Pitcher
#6 5-11, 185
Norwich, CT
View Full Profile (4-2, 3.72 ERA) would start for the Tigers against Coastal Carolina, and Leggett said he is still looking for his club to get better.
"I think we can play better," he said. "I thought we did a pretty good job tonight, but I think there is still more in the tank for us. If we can get everybody in the order hitting and get everybody contributing we will be good."


Sacred Heart 1 (34-22)

Player	                AB	R	H	RBI	BB	SO	PO	A	LOB

M.J. Schifano 3b	4	0	0	0	0	1	2	1	0

 Greg DePalma ph	1	0	0	0	0	1	0	0	0

Steve Tedesco cf	4	0	1	0	0	0	2	0	1

J.J. Edwards lf	        4	0	0	0	0	1	2	0	4

Rob Griffith 1b	        2	1	1	0	1	1	4	0	0

John Murphy ss	        4	0	1	0	0	1	3	2	0

Hunter Phillips 2b	3	0	0	0	1	1	2	2	1

Dan Perez dh	        4	0	1	1	0	1	0	0	2

Derick Horn c	        3	0	2	0	0	0	4	1	1

 Conor McEvoy ph	1	0	0	0	0	1	0	0	0

Dave Boisture rf	3	0	1	0	0	0	4	0	0

 Chris Whittemore ph	1	0	0	0	0	1	0	0	0

Troy Scribner p	        0	0	0	0	0	0	1	0	0

 Matt Fitton p	        0	0	0	0	0	0	0	0	0

Totals......	        34	1	7	1	2	9	24	6	9

Clemson 11 (42-18)

Player	                AB	R	H	RBI	BB	SO	PO	A	LOB

John Hinson 3b	        3	3	3	3	1	0	0	0	0

 
  
 Steve Wilkerson

Steve Wilkerson




Infielder
#17 6-1, 195
Roswell, GA


View Full Profile
  
  ph/2b	1	0	0	0	0	0	0	0	0

Phil Pohl dh/c	        5	0	3	1	0	0	4	0	0

Brad Miller ss	        5	1	0	1	0	1	4	2	0

Will Lamb cf	        2	2	0	0	1	0	2	0	0

 
  
 Dominic Attanasio

Dominic Attanasio




Outfielder
#1 5-7, 150
Windermere, FL


View Full Profile
  
  cf	1	0	0	0	0	0	0	0	0

Richie Shaffer 1b	3	0	0	0	1	1	3	1	2

 
  
 Jon McGibbon

Jon McGibbon




Outfielder
#12 6-1, 210
Lindenhurst, NY


View Full Profile
  
  1b	1	0	0	0	0	0	1	0	0

Jeff Schaus lf	        3	2	1	1	1	1	3	0	0

 
  
 Joe Costigan

Joe Costigan




Outfielder
#5 5-10, 200
Naples, FL


View Full Profile
  
  lf	0	0	0	0	0	0	0	0	0

Chris Epps rf	        4	1	2	3	1	0	3	0	1


  
 Jason Stolz

Jason Stolz




Infielder
#2 6-2, 200
Marietta, GA


View Full Profile
  
  2b	        2	1	1	1	1	1	1	1	1

 
  
 Mike Dunster

Mike Dunster




Infielder
#10 5-9, 170
Greenwich, CT


View Full Profile
  
  ph/2b	1	0	1	0	0	0	1	1	0


  
 Spencer Kieboom

Spencer Kieboom




Catcher
#22 6-0, 210
Marietta, GA


View Full Profile
  
  c	4	1	1	1	0	0	5	0	4

 
  
 Jon Surber

Jon Surber




RH Pitcher
#25 6-3, 195
Lisle, IL


View Full Profile
  
  p	        0	0	0	0	0	0	0	0	0

Scott Firth p	        0	0	0	0	0	0	0	0	0

 
  
 Kevin Pohle

Kevin Pohle




RH Pitcher
#21 6-3, 170
St. Louis, MO


View Full Profile
  
  p	        0	0	0	0	0	0	0	1	0

Totals......	        35	11	12	11	6	4	27	6	8

Score by Innings                    R  H  E

-------------------------------------------

Sacred Heart........ 000 001 000 -  1  7  0

Clemson............. 416 000 00X - 11 12  0

-------------------------------------------

LOB - Sacred Heart 9; Clemson 8. 2B - GRIFFITH(12); HINSON(12); POHL 2(21).

HR - HINSON(8). HBP - GRIFFITH; LAMB; COSTIGAN. SB - HINSON(22).

Sacred Heart	IP	H	R	ER	BB	SO	AB	BF

Troy Scribner	2.1	7	10	10	3	2	14	18

Matt Fitton	5.2	5	1	1	3	2	21	25

Clemson	IP	H	R	ER	BB	SO	AB	BF

Scott Firth	6.0	6	1	1	1	5	24	26

Kevin Pohle	2.0	1	0	0	1	1	7	8

Jon Surber	1.0	0	0	0	0	3	3	3

Win - FIRTH (5-1).  Loss - SCRIBNER (9-3).  Save - None.

HBP - by SCRIBNER (LAMB); by FIRTH (GRIFFITH); by FITTON (COSTIGAN).

Umpires - HP: Mike Droll  1B: David Rogers  2B: Brad Hungerford  3B: Kelly

Gonzales  Start: 7:04 PM   Time: 2:33   Attendance: 5194

Tags:
Brad Miller
,
Chris Epps
,
Dominic Attanasio
,
Dominic Leone
,
Jason Stolz
,
Jeff Schaus
,
Joe Costigan
,
John Hinson
,
Jon McGibbon
,
Jon Surber
,
Kevin Pohle
,
Mike Dunster
,
Phil Pohl
,
Richie Shaffer
,
Scott Firth
,
Spencer Kieboom
,
Steve Wilkerson
,
Will Lamb