| | |
| --- | --- |
| #4 Seminoles outlast #15 Clemson | |
---
| | |
| --- | --- |
| Thursday, May 19, 2011, 11:04 PM | |
Tallahassee, FL -
Sean Gilmartin pitched 7.0 effective innings to lead #4 Florida State to an 8-6 win over #15 Clemson in front of 4,692 fans at Dick Howser Stadium on Thursday night. The Seminoles, who took a 1-0 series and clinched the ACC Atlantic Division title, improved to 40-13 overall and 19-9 in the ACC. The Tigers dropped to 37-17 overall and 15-13 in ACC play.
Brad Miller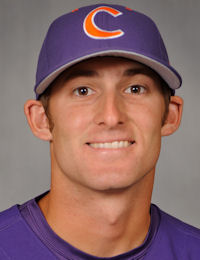 Brad Miller
Infielder
#13 6-1, 185
Windermere, FL
View Full Profile 's solo homer in the first gave Clemson an early lead, but Florida State scored six runs in the first four innings to build a five-run lead. The Tigers refused to go down quietly, as they scored two runs in the fifth inning, one run in the sixth inning, and two runs in the eighth inning. But the Seminoles, who reached the 40-win mark for the 34th year in a row, escaped a bases-loaded jam in the eighth inning and prevailed by two runs.
Gilmartin (10-1) earned the win in a starting role. He allowed seven hits, four runs (two earned), and one walk with six strikeouts in 7.0 innings pitched. Daniel Bennett allowed the first three batters he faced in the eighth inning to reach base, but he retired the last four batters to record his 12th save of the year.
Clemson starter Dominic Leone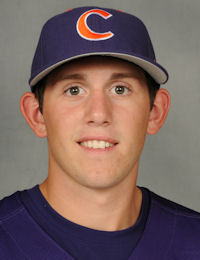 Dominic Leone
RH Pitcher
#6 5-11, 185
Norwich, CT
View Full Profile (5-2) suffered the loss, as gave up six hits, six runs (five earned), and three walks with three strikeouts in 3.1 innings pitched. Leone had registered victories in each of his last five starts. The team's eight runs allowed broke its 10-game streak of allowing three runs or less and its 15-game streak of yielding five runs or less.
The Tigers took the game's first lead with two outs in the top of the first inning when Miller hit a towering solo homer to right field, his fourth long ball of the season. Will Lamb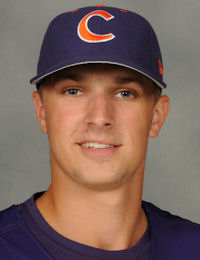 Will Lamb
Outfielder
#30 6-6, 175
Seaford, VA
View Full Profile followed with a single through the right side and Richie Shaffer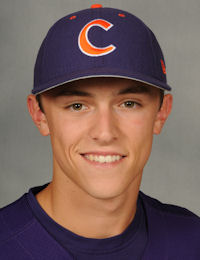 Richie Shaffer
Infielder
#8 6-3, 205
Charlotte, NC
View Full Profile singled up the middle, but both runners were stranded. It was Lamb's seventh hit in as many at-bats over the past three games and he upped his streak of reaching base via a hit or walk to nine plate appearances in a row.
In the bottom of the first inning, Rafael Lopez led off with a solo homer to right field, his seventh home run of the year, to tie the score.
After leaving the bases loaded in the second inning, the Seminoles broke through with three runs in the third inning to take the lead. Sherman Johnson led off with a single to center on a 1-2 pitch and Mike McGee grounded a single through the left side to advance Johnson to third base. James Ramsey reached on a fielder's choice as Johnson scored and McGee was safe at second on a throwing error by second-baseman Jason Stolz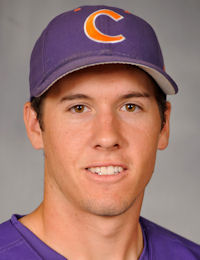 Jason Stolz
Infielder
#2 6-2, 200
Marietta, GA
View Full Profile . Jayce Boyd followed with a single through the right side to load the bases and up his hitting streak to 10 games. Justin Gonzalez then singled through the left side on a 1-2 pitch to score McGee and Ramsey.
In the fourth inning, Stuart Tapley and Lopez led off with walks, then Johnson moved the runners up a base with a sacrifice bunt. McGee's groundout to second scored Tapley, then Ramsey laid down a bunt single with two outs to score Lopez and give Florida State a 6-1 lead.
In the top of the fifth inning, Chris Epps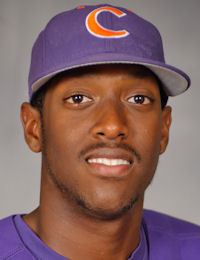 Chris Epps
Outfielder
#26 6-1, 195
Stone Mountain, GA
View Full Profile blooped a one-out single to left-center, but he was erased on Stolz's fielder's choice. John Hinson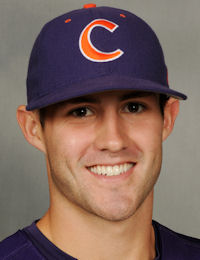 John Hinson
Infielder
#4 6-1, 180
Asheville, NC
View Full Profile reached on a catcher's interference with two outs, then Phil Pohl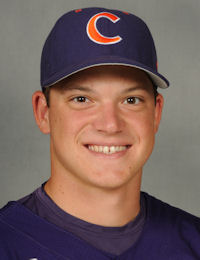 Phil Pohl
Catcher
#9 5-11, 210
Cooperstown, NY
View Full Profile grounded a single up the middle to score Stolz. Hinson also scored on the play on an error by McGee in center.
The Seminoles responded with a run in the bottom of the fifth inning thanks to a Tiger error. Leadoff batter Parker Brunelle reached on a throwing error by Shaffer at first and advanced to second on the play. Taiwan Easterling's sacrifice bunt advanced Brunelle to third, then Brunelle scored on Tapley's groundout to second.
In the top of the sixth inning, Shaffer made up for his miscue with an opposite-field, solo homer to right field on a 1-2 pitch, his ninth long ball of the season.
Florida State answered again in the bottom of the sixth inning. McGee lined a one-out single to left, advanced to second on a wild pitch, and scored on Ramsey's triple to right-center.
Hinson laced a one-out single to right field in the seventh inning to extend his hitting streak to 10 games, but the Tigers were unable to score in the frame.
In the eighth inning, Jeff Schaus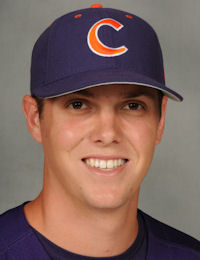 Jeff Schaus
Outfielder
#3 6-1, 205
Naples, FL
View Full Profile drew a one-out walk and stole second two batters later. Epps then belted a two-out single to left-center to plate Schaus. After pinch-hitter Jon McGibbon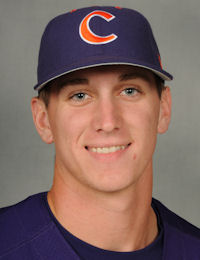 Jon McGibbon
Outfielder
#12 6-1, 210
Lindenhurst, NY
View Full Profile singled through the right side, Hinson lined a single to center to score Epps. Pohl walked to load the bases, but Miller struck out looking on a 3-2 breaking ball to keep the Seminoles ahead 8-6.
The Tigers were retired in order in the ninth inning to send Clemson to its first game-one defeat of a three-game, weekend series since April 1 (North Carolina).
Ramsey went 2-for-4 with a triple, three RBIs, a run, and steal, while McGee went 2-for-5 with an RBI and two runs.
Hinson, Shaffer, and Epps all had two hits, one run, and one RBI apiece to lead Clemson, who outhit the Seminoles 10-9. But Clemson, who fell to 8-1 when hitting two or more homers in a game, stranded nine runners on base.
Clemson and Florida State will play game-two of the three-game series on Friday at 6:00 PM.


Clemson 6 (37-17,15-13 ACC)

Player                    AB  R  H RBI BB SO PO  A LOB

------------------------------------------------------

John Hinson 3b...........  4  1  2  1   0  1  1  0   0

Phil Pohl dh.............  3  0  1  1   1  1  0  0   0

Brad Miller ss...........  3  1  1  1   1  1  1  1   3

Will Lamb cf.............  5  0  1  0   0  2  4  1   4

Richie Shaffer 1b........  5  1  2  1   0  3  7  0   0

Jeff Schaus lf...........  4  1  0  0   1  0  3  0   2


  
 Spencer Kieboom

Spencer Kieboom




Catcher
#22 6-0, 210
Marietta, GA


View Full Profile
  
  c........  4  0  0  0   0  1  7  0   0

Chris Epps rf............  4  1  2  1   0  0  1  0   0

Jason Stolz 2b...........  3  1  0  0   0  1  0  3   0

 Jon McGibbon ph.........  1  0  1  0   0  0  0  0   0

 
  
 Steve Wilkerson

Steve Wilkerson




Infielder
#17 6-1, 195
Roswell, GA


View Full Profile
  
  pr/2b...  0  0  0  0   0  0  0  0   0

Dominic Leone p..........  0  0  0  0   0  0  0  1   0

 
  
 David Haselden

David Haselden




RH Pitcher
#29 6-4, 240
Spartanburg, SC


View Full Profile
  
  p........  0  0  0  0   0  0  0  1   0

 
  
 Matt Campbell

Matt Campbell




RH Pitcher
#36 5-10, 165
Alpharetta, GA


View Full Profile
  
  p.........  0  0  0  0   0  0  0  0   0

 
  
 Joseph Moorefield

Joseph Moorefield




LH Pitcher
#51 6-1, 205
Woodruff, SC


View Full Profile
  
  p.....  0  0  0  0   0  0  0  1   0

 
  
 Alex Frederick

Alex Frederick




RH Pitcher
#39 5-10, 170
Lagrangeville, NY


View Full Profile
  
  p........  0  0  0  0   0  0  0  0   0

Totals................... 36  6 10  5   3 10 24  8   9

Florida State 8 (40-13,19-9 ACC)

Player                    AB  R  H RBI BB SO PO  A LOB

------------------------------------------------------

Rafael Lopez 3b..........  4  2  1  1   1  1  3  0   3

Sherman Johnson 2b.......  4  1  1  0   0  0  2  5   0

Mike McGee cf............  5  2  2  1   0  2  2  0   0

James Ramsey rf..........  4  1  2  3   0  0  0  0   0

Jayce Boyd 1b............  3  0  1  0   1  0 11  0   0

Justin Gonzalez ss.......  4  0  1  2   0  1  1  2   3

Parker Brunelle c........  4  1  1  0   0  0  8  2   0

Taiwan Easterling lf.....  3  0  0  0   0  3  0  0   1

Stuart Tapley dh.........  2  1  0  1   2  0  0  0   0

Sean Gilmartin p.........  0  0  0  0   0  0  0  3   0

 Brian Busch p...........  0  0  0  0   0  0  0  0   0

 Daniel Bennett p........  0  0  0  0   0  0  0  0   0

Totals................... 33  8  9  8   4  7 27 12   7

Score by Innings                    R  H  E

-------------------------------------------

Clemson............. 100 021 020 -  6 10  3

Florida State....... 103 211 00X -  8  9  2

-------------------------------------------

E - HINSON(19); SHAFFER(3); STOLZ(12); M. McGEE(3); BRUNELLE(4). DP -

Clemson 1; Florida St. 1. LOB - Clemson 9; Florida St. 7. 3B - RAMSEY(3). HR

- MILLER(4); SHAFFER(9); LOPEZ(7). HBP - POHL; MILLER. SH - S. JOHNSON(4);

EASTERLING(3). SB - SCHAUS(9); RAMSEY(10). Reached on CI - HINSON.

Clemson                IP  H  R ER BB SO AB BF

-----------------------------------------------

Dominic Leone.......  3.1  6  6  5  3  3 16 20

David Haselden......  1.2  1  1  0  1  1  6  8

Matt Campbell.......  2.0  2  1  1  0  1  8  8

Joseph Moorefield...  0.2  0  0  0  0  1  2  2

Alex Frederick......  0.1  0  0  0  0  1  1  1

Florida State          IP  H  R ER BB SO AB BF

-----------------------------------------------

Sean Gilmartin......  7.0  7  4  2  1  6 27 31

Brian Busch.........  0.2  1  2  2  1  2  3  4

Daniel Bennett......  1.1  2  0  0  1  2  6  7

Win - GILMARTIN (10-1).  Loss - LEONE (5-2).  Save - BENNETT (12).

WP - CAMPBELL(2). HBP - by GILMARTIN (POHL); by GILMARTIN (MILLER). CI -

BRUNELLE.

Umpires - HP: Randy Harvey  1B: Scott Erby  3B: Barry Chambers

Start: 6:00 PM   Time: 2:47   Attendance: 4692