| | |
| --- | --- |
| Hokies edge #16 Tigers 3-2 Sunday to salvage series | |
---
| | |
| --- | --- |
| Sunday, May 15, 2011, 5:51 PM | |
Blacksburg, VA -
Joe Parsons and Manny Martir combined to allow just two of 14 baserunners to score as Virginia Tech edged #16 Clemson 3-2 in front of 943 fans at English Field on Sunday afternoon. The Hokies improved to 29-23 overall and 10-17 in the ACC. The Tigers, who won the series 2-1 and saw their eight-game winning streak end, fell to 36-16 overall and 15-12 in ACC play. Clemson also dropped to 27-1 when allowing less than four runs in 2011.
The Tigers could not take advantage of their multiple scoring chances and seven walks, as they were 0-for-7 with runners in scoring position and stranded nine runners on base. The Hokies took the lead for good with a run in the fifth inning, then Clemson put the potential tying run on third base with one out in the ninth inning. But Martir retired the next two Tigers to send Clemson to its eight loss in nine one-run games in 2011.
Parsons (7-2) earned the win despite allowing five hits and six walks in 6.2 innings pitched. He yielded just one run with five strikeouts in 106 pitches (53 strikes, 53 balls). Martir recorded his second save of the season in 2.1 innings pitched. He gave up two hits, one run, and one walk with two strikeouts.
Jonathan Meyer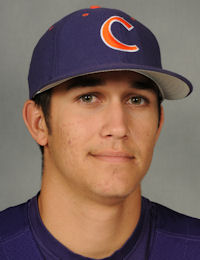 Jonathan Meyer
RH Pitcher
#28 6-0, 165
San Diego, CA
View Full Profile (5-2) suffered the loss despite an effective outing. He tossed his first career complete game and the first by a Tiger in 2011. In a career-long 8.0 innings pitched, he allowed just nine baserunners (eight hits, one hit-by-pitch), three runs, and no walks with six strikeouts in throwing only 96 pitches.
The Hokies took the game's first lead in the third inning. Chad Morgan led off with a double to right-center and advanced to third on Johnny Morales' sacrifice bunt. Jake Atwell then grounded out to second to score Morgan.
The Tigers put together a two-rally in the top of the fifth inning to tie the score. Spencer Kieboom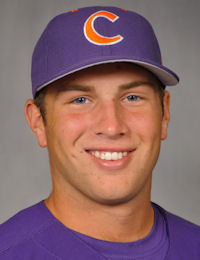 Spencer Kieboom
Catcher
#22 6-0, 210
Marietta, GA
View Full Profile lined a two-out single to center and went to third on John Hinson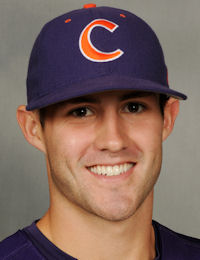 John Hinson
Infielder
#4 6-1, 180
Asheville, NC
View Full Profile 's single to right field. After Phil Pohl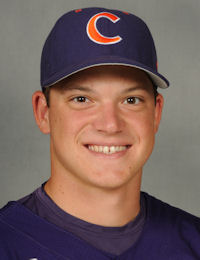 Phil Pohl
Catcher
#9 5-11, 210
Cooperstown, NY
View Full Profile walked to load the bases, Brad Miller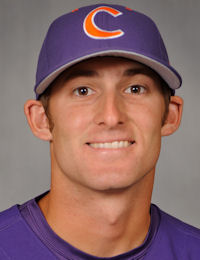 Brad Miller
Infielder
#13 6-1, 185
Windermere, FL
View Full Profile walked after being down in the count 0-2 to score Kieboom.
In the bottom of the fifth inning, Tony Balisteri hit a one-out, seeing-eye single through the left side, stole second, and scored when Morgan laced a liner to center. Centerfielder Will Lamb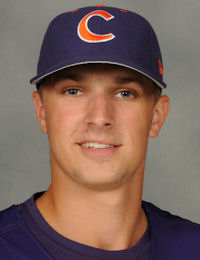 Will Lamb
Outfielder
#30 6-6, 175
Seaford, VA
View Full Profile appeared to have the ball measured, but he misjudged it and the ball fell in front and went past him for a double. Through five innings, the Hokies held a 2-1 lead despite Clemson putting nine runners on base compared to four for Virginia Tech.
In the seventh inning, Chad Pinder led off with a chopper through the left side for a single and advanced to second on Balisteri's sacrifice bunt. Morgan followed with a double to left-center that scored Pinder and gave Virginia Tech a 3-1 lead.
In the ninth inning, Chris Epps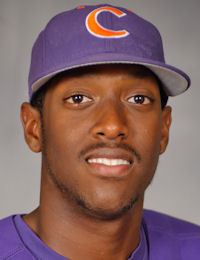 Chris Epps
Outfielder
#26 6-1, 195
Stone Mountain, GA
View Full Profile belted a one-out single to center. Pinch-hitter Jon McGibbon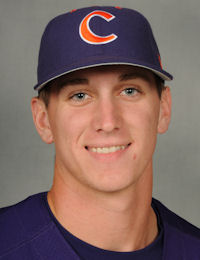 Jon McGibbon
Outfielder
#12 6-1, 210
Lindenhurst, NY
View Full Profile followed with a line-drive single to right field to move Epps to second base, then both runners moved up a base on a wild pitch. With two strikes on Hinson, Epps scored and McGibbon advanced to third base on another wild pitch, but Hinson struck out swinging on a 3-2 changeup for out #2. Hinson had been 11-11 in getting a runner from third base home with less than two outs in 2011. Pohl then grounded out to shortstop to end the game, as Clemson fell to 0-11 in its last 11 one-run games away from home dating back to 2009.
Morgan led Virginia Tech's eight-hit attack by going 3-for-3 with three doubles and two RBIs. Michael Seaborn added two hits and a hit-by-pitch.
Kieboom went 2-for-2 with a run and walk to lead the Tigers, who totaled seven hits.
Clemson will play its final regular-season home game of the season at Doug Kingsmore Stadium against Davidson on Tuesday at 6:30 PM.


Clemson 2 (36-16,15-12 ACC)

Player                    AB  R  H RBI BB SO PO  A LOB

------------------------------------------------------

John Hinson 3b...........  5  0  1  0   0  1  2  1   0

Phil Pohl dh/c...........  4  0  0  0   1  2  0  0   2

Brad Miller ss...........  3  0  1  1   1  1  2  3   0


  
 Richie Shaffer

Richie Shaffer




Infielder
#8 6-3, 205
Charlotte, NC


View Full Profile
  
  1b........  4  0  0  0   0  1  9  1   3

Will Lamb cf.............  2  0  1  0   2  0  3  0   0


  
 Jeff Schaus

Jeff Schaus




Outfielder
#3 6-1, 205
Naples, FL


View Full Profile
  
  lf...........  3  0  0  0   1  0  1  0   2


  
 Jason Stolz

Jason Stolz




Infielder
#2 6-2, 200
Marietta, GA


View Full Profile
  
  2b...........  3  0  0  0   1  1  0  4   0

Chris Epps rf............  4  1  1  0   0  1  1  0   2

Spencer Kieboom c........  2  1  2  0   1  0  6  0   0

 
  
 Steve Wilkerson

Steve Wilkerson




Infielder
#17 6-1, 195
Roswell, GA


View Full Profile
  
  pr......  0  0  0  0   0  0  0  0   0

 Jon McGibbon ph.........  1  0  1  0   0  0  0  0   0

Jonathan Meyer p.........  0  0  0  0   0  0  0  1   0

Totals................... 31  2  7  1   7  7 24 10   9

Virginia Tech 3 (29-23,10-17 ACC)

Player                    AB  R  H RBI BB SO PO  A LOB

------------------------------------------------------

Jake Atwell lf...........  4  0  0  1   0  0  3  0   2

Michael Seaborn 2b.......  3  0  2  0   0  0  4  4   0

Ronnie Shaban 1b.........  4  0  0  0   0  1  7  1   0

Tim Smalling ss..........  4  0  1  0   0  2  0  3   1

Andrew Rash dh...........  3  0  0  0   0  2  0  0   1

Chad Pinder rf...........  3  1  1  0   0  1  3  0   0

Tony Balisteri cf........  2  1  1  0   0  0  1  1   0

Chad Morgan c............  3  1  3  2   0  0  8  0   0

Johnny Morales 3b........  2  0  0  0   0  0  0  2   0

Joe Parsons p............  0  0  0  0   0  0  1  0   0

 Manny Martir p..........  0  0  0  0   0  0  0  1   0

Totals................... 28  3  8  3   0  6 27 12   4

Score by Innings                    R  H  E

-------------------------------------------

Clemson............. 000 010 001 -  2  7  0

Virginia Tech....... 001 010 10X -  3  8  1

-------------------------------------------

E - SEABORN(8). DP - Clemson 2; Va. Tech 2. LOB - Clemson 9; Va. Tech 4. 2B

- LAMB(10); MORGAN 3(10). HBP - SEABORN. SH - BALISTERI(5); MORALES(14). SB

- BALISTERI(13).

Clemson                IP  H  R ER BB SO AB BF

-----------------------------------------------

Jonathan Meyer......  8.0  8  3  3  0  6 28 31

Virginia Tech          IP  H  R ER BB SO AB BF

-----------------------------------------------

Joe Parsons.........  6.2  5  1  1  6  5 22 28

Manny Martir........  2.1  2  1  1  1  2  9 10

Win - PARSONS (7-2).  Loss - MEYER (5-2).  Save - MARTIR (2).

WP - MEYER(4); PARSONS(9); MARTIR 2(6). HBP - by MEYER (SEABORN).

Umpires - HP: David Brown  1B: A.J. Lostaglio  3B: Greg Street

Start: 1:03 PM   Time: 2:32   Attendance: 943