| | |
| --- | --- |
| Two-out hits, clutch pitching propel #16 Tigers past Furman | |
---
| | |
| --- | --- |
| Tuesday, May 10, 2011, 11:35 PM | |
Greenville, SC -
Clemson scored all five of their runs on two-out hits and four Tiger pitchers combined to allow only one of 15 baserunners to score in #16 Clemson's 5-1 victory over Furman in front of 3,526 fans at Fluor Field on Tuesday night. The Tigers, who won both games of the season series against Furman, improved to 33-15, while the Paladins fell to 20-28.
The Paladins scored an unearned run in the second inning before the Tigers evened the score with a run in the fourth inning. Clemson took the lead for good with three two-out, run-scoring hits in the seventh inning and added an insurance run in the eighth inning.
Scott Firth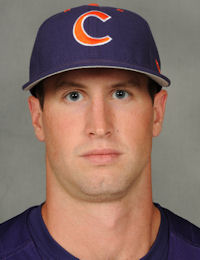 Scott Firth
RH Pitcher
#20 6-0, 165
Buffalo Grove, IL
View Full Profile (4-1) earned the win in a relief role. The sophomore righthander allowed three hits, no runs, and no walks with four strikeouts in 3.0 innings pitched. Freshman righty Matt Campbell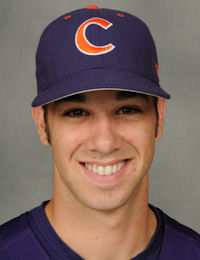 Matt Campbell
RH Pitcher
#36 5-10, 165
Alpharetta, GA
View Full Profile pitched the final 1.2 innings without allowing a hit or run to record his first career save. The four Tiger hurlers combined to hold Furman to 1-for-14 with runners in scoring position and stranded 11 runners on base, including eight in scoring position.
For the third game in a row, Clemson pitchers held the opposition to no earned runs. The Tiger pitching staff, who has yielded just one earned run in its last 46.1 innings pitched, upped its streak of not allowing an earned run to 31.1 innings pitched.
Jay Friedman (1-3), the third of six Furman pitchers, suffered the loss. He gave up three hits and three runs in 0.2 innings pitched.
The Paladins took advantage of a Tiger miscue to take the game's first lead in the second inning. Leadoff batter Will Muzika reached on shortstop Brad Miller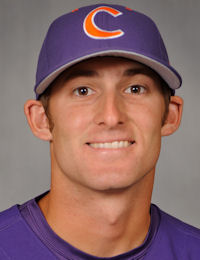 Brad Miller
Infielder
#13 6-1, 185
Windermere, FL
View Full Profile 's fielding error, stole second, and advanced to third on a wild pitch. Two batters later with one out, Cameron Allmendinger flared a 1-2 pitch to center for a single to score Muzika.
In the fourth inning, Miller drew a one-out walk and Richie Shaffer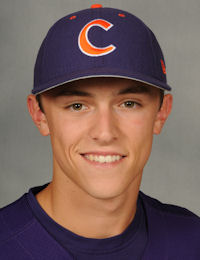 Richie Shaffer
Infielder
#8 6-3, 205
Charlotte, NC
View Full Profile lined a single to left field. Two batters later, Will Lamb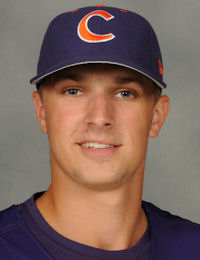 Will Lamb
Outfielder
#30 6-6, 175
Seaford, VA
View Full Profile bounced a two-out single up the middle to score Miller and up his hitting streak to 23 games.
Three more two-out, run-scoring hits gave Clemson the lead in the seventh inning. Lamb reached on a one-out, bunt single. Two batters later, Lamb stole second, then Chris Epps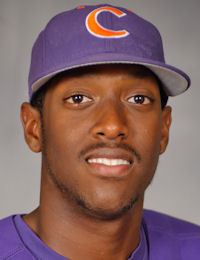 Chris Epps
Outfielder
#26 6-1, 195
Stone Mountain, GA
View Full Profile laced a two-out double to left-center to score Lamb. Jason Stolz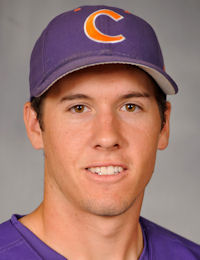 Jason Stolz
Infielder
#2 6-2, 200
Marietta, GA
View Full Profile grounded the next pitch up the middle for a single to plate Epps. After Stolz stole second, John Hinson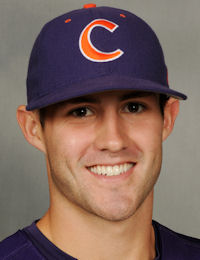 John Hinson
Infielder
#4 6-1, 180
Asheville, NC
View Full Profile belted a double to left-center to bring home Stolz and give the Tigers a 4-1 lead.
In the eighth inning, Shaffer grounded a one-out single through the left side and stole second. Two batters later, Lamb belted a two-out single off the pitcher to score Shaffer.
In the ninth inning, Alex Abrams led off with a walk. Two batters later, Will Owens drew a one-out walk. On a pitch in the dirt, Owens was caught too far off first and was picked off for out #2. Aaron Thompkins then hit a sharp grounder down the first-base line, but Shaffer fielded the ball and raced to first base for the final out of the game.
Lamb went 3-for-4 with two RBIs and a steal to lead Clemson, who had 10 hits in the contest. Stolz went 2-for-3 with an RBI, hit-by-pitch, and two stolen bases. The Tigers capitalized on their scoring chances, as they went 5-for-9 with runners in scoring position.
Thompkins and J.B. Jenkins had two hits apiece to pace Furman, who amassed seven hits in the game.
Clemson will host East Tennessee State at Doug Kingsmore Stadium on Wednesday at 6:30 PM. Admission is free for all fans.


Clemson 5 (33-15)

Player                    AB  R  H RBI BB SO PO  A LOB

------------------------------------------------------

John Hinson 3b...........  5  0  1  1   0  0  0  4   1


  
 Phil Pohl

Phil Pohl




Catcher
#9 5-11, 210
Cooperstown, NY


View Full Profile
  
  c..............  5  0  0  0   0  1  7  1   2

Brad Miller ss...........  3  1  1  0   1  0  1  1   0

Richie Shaffer 1b........  4  1  2  0   0  0 12  0   0


  
 Jeff Schaus

Jeff Schaus




Outfielder
#3 6-1, 205
Naples, FL


View Full Profile
  
  lf...........  3  0  0  0   1  0  0  0   0

Will Lamb cf.............  4  1  3  2   0  0  4  0   0


  
 Spencer Kieboom

Spencer Kieboom




Catcher
#22 6-0, 210
Marietta, GA


View Full Profile
  
  dh.......  2  0  0  0   0  0  0  0   1

 
  
 Jon McGibbon

Jon McGibbon




Outfielder
#12 6-1, 210
Lindenhurst, NY


View Full Profile
  
  ph/dh......  2  0  0  0   0  0  0  0   1

Chris Epps rf............  4  1  1  1   0  0  2  0   0

Jason Stolz 2b...........  3  1  2  1   0  0  1  3   0


  
 Alex Frederick

Alex Frederick




RH Pitcher
#39 5-10, 170
Lagrangeville, NY


View Full Profile
  
  p.........  0  0  0  0   0  0  0  0   0

 Scott Firth p...........  0  0  0  0   0  0  0  1   0

 
  
 Joseph Moorefield

Joseph Moorefield




LH Pitcher
#51 6-1, 205
Woodruff, SC


View Full Profile
  
  p.....  0  0  0  0   0  0  0  0   0

 Matt Campbell p.........  0  0  0  0   0  0  0  0   0

Totals................... 35  5 10  5   2  1 27 10   6

Furman 1 (20-28)

Player                    AB  R  H RBI BB SO PO  A LOB

------------------------------------------------------

Will Owens lf............  4  0  1  0   1  0  5  0   1

Rob Fondu rf.............  3  0  0  0   1  1  1  0   2

Aaron Thompkins 1b.......  5  0  2  0   0  2  9  1   2

Reese Wade dh............  3  0  0  0   0  1  0  0   0

 Taylor Johnson ph.......  1  0  0  0   0  0  0  0   0

 Heath Burton pr/dh......  0  0  0  0   0  0  0  0   0

Paul Nitto c.............  2  0  0  0   2  0  1  0   2

Will Muzika 2b...........  4  1  1  0   0  1  2  2   1

Will Miller cf...........  4  0  0  0   0  2  4  0   2

Cameron Allmendinger 3b..  2  0  1  1   1  0  1  3   1

 Alex Abrams 3b..........  0  0  0  0   1  0  0  0   0

J.B. Jenkins ss..........  4  0  2  0   0  0  3  3   0

Daniel Stallsmith p......  0  0  0  0   0  0  0  0   0

 Stephen Gary p..........  0  0  0  0   0  0  0  2   0

 Jay Friedman p..........  0  0  0  0   0  0  0  0   0

 Nate Smith p............  0  0  0  0   0  0  0  0   0

 Tyler Wood p............  0  0  0  0   0  0  1  1   0

 Drake Browne p..........  0  0  0  0   0  0  0  1   0

Totals................... 32  1  7  1   6  7 27 13  11

Score by Innings                    R  H  E

-------------------------------------------

Clemson............. 000 100 310 -  5 10  1

Furman.............. 010 000 000 -  1  7  1

-------------------------------------------

E - MILLER(9); JENKINS(10). DP - Clemson 1; Furman 1. LOB - Clemson 6;

Furman 11. 2B - HINSON(9); EPPS(5). HBP - STOLZ; FONDU. SB - SHAFFER(6);

LAMB(11); STOLZ 2(7); MUZIKA 2(6); ALLMENDINGER(1).

Clemson                IP  H  R ER BB SO AB BF

-----------------------------------------------

Alex Frederick......  4.0  3  1  0  2  2 16 19

Scott Firth.........  3.0  3  0  0  0  4 10 10

Joseph Moorefield...  0.1  1  0  0  1  0  2  3

Matt Campbell.......  1.2  0  0  0  3  1  4  7

Furman                 IP  H  R ER BB SO AB BF

-----------------------------------------------

Daniel Stallsmith...  2.0  0  0  0  1  0  6  7

Stephen Gary........  4.0  3  1  1  1  0 13 15

Jay Friedman........  0.2  3  3  3  0  0  5  5

Nate Smith..........  0.1  1  0  0  0  0  2  2

Tyler Wood..........  1.0  3  1  1  0  0  5  5

Drake Browne........  1.0  0  0  0  0  1  4  4

Win - FIRTH (4-1).  Loss - FRIEDMAN (1-3).  Save - CAMPBELL (1).

WP - FREDERICK(5). HBP - by FREDERICK (FONDU); by GARY (STOLZ). PB - POHL(2).

Umpires - HP: Danny Everett  1B: Jay Furlong  3B: Darion Padgett

Start: 7:04 PM   Time: 2:52   Attendance: 3526