| | |
| --- | --- |
| Tigers get career-best effort from Sarratt, drop Jackets 3-1 Sunday afternoon | |
---
| | |
| --- | --- |
| Sunday, May 1, 2011, 5:20 PM | |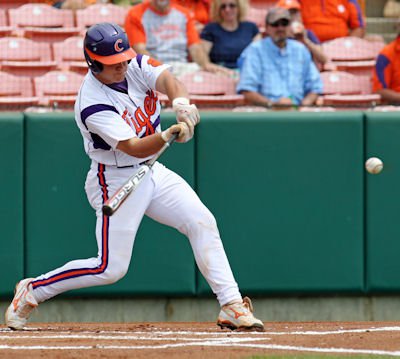 CLEMSON – The Clemson Tigers needed a strong effort from starter Justin Sarratt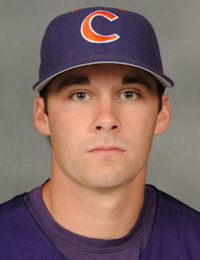 Justin Sarratt
RH Pitcher
#23 5-9, 170
Gaffney, SC
View Full Profile on Sunday, and the senior provided that and more.
Sarratt (5-1) allowed only three hits and just one unearned run in a career-high 8 1/3 innings, leading the No. 23 Tigers to a 3-1 victory over the ninth-ranked Georgia Tech Yellow Jackets at Doug Kingsmore Stadium.
With the win, the Tigers take two out of three from the Jackets in the series, and improved to 29-15 overall and 13-11 in the ACC.
"He is a tremendous competitor," Clemson head coach Jack Leggett said of Sarratt. "He works hard, he is in great shape, and he is a battler. Now we can look to our exams this week, and come out of exam week with a clear mind. We needed this win in the terms of the conference, and now we can concentrate on what we need to do this week."
Sarratt said the win was about more than just his effort.
"It was important to win the series," Sarratt said. "We needed to win the series; we needed this as a team. It's really not about me – it's about us playing great as a team, and we did that today. I got into a rhythm with all of my pitches. I got a good pitch mix, tried to play my game and throw strikes and the defense played great behind me all day long."
Phil Pohl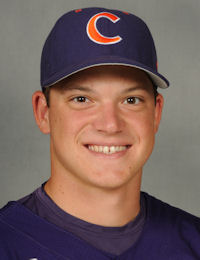 Phil Pohl
Catcher
#9 5-11, 210
Cooperstown, NY
View Full Profile hit a solo homer down the left field line in the bottom of the first inning – his fourth of the season - to give the Tigers a 1-0 lead.
Georgia Tech responded in the fourth inning with an RBI single by Jacob Esch, plating their lone run of the day.
The Tigers answered in the bottom of the inning after Brad Miller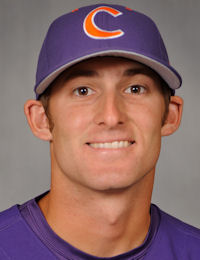 Brad Miller
Infielder
#13 6-1, 185
Windermere, FL
View Full Profile drew a one out walk. Two batters later, Jeff Schaus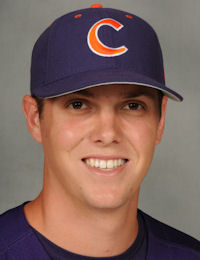 Jeff Schaus
Outfielder
#3 6-1, 205
Naples, FL
View Full Profile laced a two-out double over the first-base bag to score Miller. Will Lamb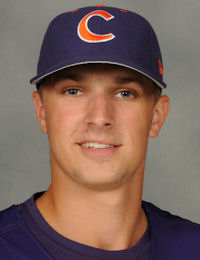 Will Lamb
Outfielder
#30 6-6, 175
Seaford, VA
View Full Profile followed with a single up the middle to score Schaus, extending his hitting streak to 19 games and giving the Tiger pitching staff all the runs they would need.
It was Sarratt's first ACC start since 2009 and just his third career ACC start. He allowed just three hits (all singles), no earned runs, and two walks with six strikeouts. He allowed just one runner past second base while in the game. Sarratt also allowed only two runners past first base. Scott Weismann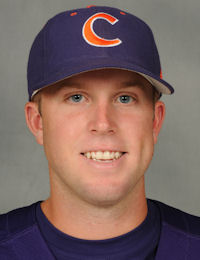 Scott Weismann
RH Pitcher
#33 6-0, 190
Boxborough, MA
View Full Profile picked up his fourth save of the season by striking out two of the four batters he faced in the ninth inning.
The Yellow Jackets had loaded the bases with two outs in the ninth, but Weismann struck out Zane Evans to end the game.
Leggett said the Tigers are a team that is gaining confidence.
"We are feeling better about ourselves and getting a little more confident," he said. "We are being a lot more aggressive, and our starting pitching is starting to come around. The guys in the lineup are doing better. I think we feel pretty good about where we are right now.
"Now, we have to go really hard in the conference the last six games. We have to do some damage. We are capable – we just have to go out and play like we can. If we play well, everything else will take care of itself."
Clemson will have five days off for final exams before returning to action on Saturday against Gardner-Webb in a doubleheader at Doug Kingsmore Stadium. The first game will start at 2:00 PM, while the second game is slated to begin at 6:00 PM.


Georgia Tech 1 (31-14,18-6 ACC)

Player                    AB  R  H RBI BB SO PO  A LOB

------------------------------------------------------

Kyle Wren cf.............  4  0  1  0   0  0  6  0   0

Sam Dove lf..............  4  0  0  0   0  0  1  0   0

Matt Skole 3b............  3  1  1  0   1  0  0  0   0

Jake Davies 1b...........  4  0  1  0   0  1  7  1   0

 Connor Winn pr..........  0  0  0  0   0  0  0  0   0

Daniel Palka dh..........  2  0  0  0   0  1  0  0   0

 Paul Kronenfeld ph/dh...  2  0  0  0   0  2  0  0   0

Jacob Esch ss............  3  0  1  1   0  1  2  2   0

Zane Evans c.............  4  0  0  0   0  3  4  1   6

Mott Hyde 2b.............  3  0  0  0   0  0  1  2   0

Brandon Thomas rf........  2  0  0  0   1  0  2  0   0

Buck Farmer p............  0  0  0  0   0  0  1  1   0

Totals................... 31  1  4  1   2  8 24  7   6

Clemson 3 (29-15,13-11 ACC)

Player                    AB  R  H RBI BB SO PO  A LOB

------------------------------------------------------

John Hinson 3b...........  4  0  0  0   0  1  0  0   0

Phil Pohl dh.............  4  1  1  1   0  1  0  0   1

Brad Miller ss...........  2  1  0  0   1  0  1  2   0

Richie Shaffer 1b........  3  0  0  0   0  1  7  0   0

Jeff Schaus lf...........  3  1  1  1   0  0  3  0   0

Will Lamb cf.............  3  0  1  1   0  0  5  0   0

Spencer Kieboom c........  3  0  0  0   0  0  6  1   1

Chris Epps rf............  3  0  1  0   0  0  3  0   0

Jason Stolz 2b...........  3  0  0  0   0  1  1  3   0

Justin Sarratt p.........  0  0  0  0   0  0  1  1   0

 Scott Weismann p........  0  0  0  0   0  0  0  0   0

Totals................... 28  3  4  3   1  4 27  7   2

Score by Innings                    R  H  E

-------------------------------------------

Georgia Tech........ 000 100 000 -  1  4  0

Clemson............. 100 200 00X -  3  4  1

-------------------------------------------

E - SHAFFER(1). DP - Clemson 1. LOB - Georgia Tech 6; Clemson 2. 2B -

SCHAUS(14). HR - POHL(4). HBP - ESCH.

Georgia Tech           IP  H  R ER BB SO AB BF

-----------------------------------------------

Buck Farmer.........  8.0  4  3  3  1  4 28 29

Clemson                IP  H  R ER BB SO AB BF

-----------------------------------------------

Justin Sarratt......  8.1  3  1  0  2  6 28 30

Scott Weismann......  0.2  1  0  0  0  2  3  4

Win - SARRATT (5-1).  Loss - FARMER (7-2).  Save - WEISMANN (4).

WP - SARRATT(3). HBP - by WEISMANN (ESCH).

Umpires - HP: Scott Graham  1B: Bryant Woodall  3B: Jacob Asher

Start: 1:09 PM   Time: 2:02   Attendance: 4419