| | |
| --- | --- |
| Bradley, Dove lead #9 Yellow Jackets over #23 Clemson | |
---
| | |
| --- | --- |
| Saturday, April 30, 2011, 4:39 PM | |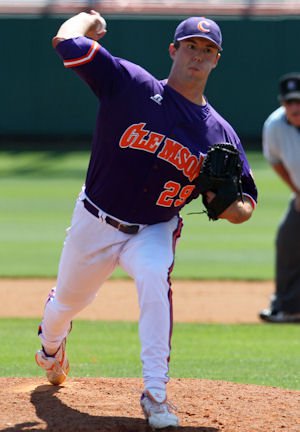 Clemson, SC -
Junior lefthander Jed Bradley allowed one unearned run in a complete game and Sam Dove went 5-for-5 to lead #9 Georgia Tech to a 5-1 victory over #23 Clemson in front of 5,377 fans at Doug Kingsmore Stadium on Saturday afternoon. The Yellow Jackets, who evened the series 1-1, improved to 31-13 overall and 18-5 in the ACC. The Tigers fell to 28-15 overall and 12-11 in ACC play.
The Yellow Jackets took advantage of two walks and a hit-by-pitch to lead off the game in the first inning to score three runs. Down 4-0 in the bottom of the sixth inning, the Tigers fought back with a run and had the bases loaded, but Bradley induced a groundout to end the inning and the Tigers were unable to put a baserunner in scoring position during the last three innings.
Bradley (5-2) pitched his first career complete game to earn the win. In 9.0 innings pitched, he allowed seven hits (all singles), one unearned run, and one walk with three strikeouts in throwing just 99 pitches. He did not allow a Tiger leadoff batter to reach base as well.
Clemson starter Jonathan Meyer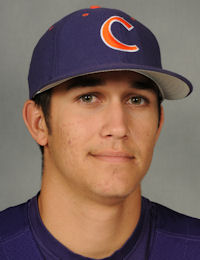 Jonathan Meyer
RH Pitcher
#28 6-0, 165
San Diego, CA
View Full Profile (4-1) suffered the loss, as he gave up four hits, three runs, and three walks with two strikeouts in 3.0 innings pitched. David Haselden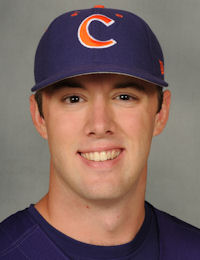 David Haselden
RH Pitcher
#29 6-4, 240
Spartanburg, SC
View Full Profile pitched 6.0 effective innings in relief, allowing six hits, two runs, and one walk with two strikeouts. The two Tiger righthanders combined to allow four walks and one hit-by-pitch. Four of those five baserunners scored.
The Yellow Jackets wasted little time taking the game's first lead with three runs on only one hit in the first inning. Kyle Wren led off with a walk, Jacob Esch was hit-by-pitch, and Matt Skole walked on eight pitches to load the bases with no outs. Jake Davies hit a sacrifice fly to deep right field to score Wren and move both runners up a base. Two batters later, Dove hit a two-out single to center to score Esch and Skole.
After four scoreless innings, the Yellow Jackets added to their lead in the top of the sixth inning. Brandon Thomas led off with a walk, advanced to second on Wren's groundout to second, and moved to third on Esch's groundout to second. Skole then blooped a two-out single down the left-field line on an 0-2 pitch to score Thomas.
Clemson finally dented the scoreboard in the bottom of the sixth inning. Brad Miller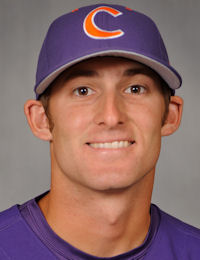 Brad Miller
Infielder
#13 6-1, 185
Windermere, FL
View Full Profile reached on a one-out, bad-hop single to extend his hitting streak to 10 games. Two batters later, Jeff Schaus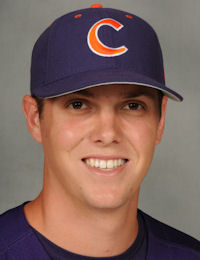 Jeff Schaus
Outfielder
#3 6-1, 205
Naples, FL
View Full Profile lined a two-out single to left field. Will Lamb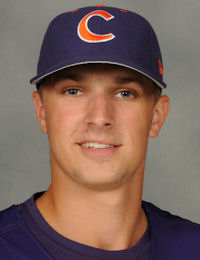 Will Lamb
Outfielder
#30 6-6, 175
Seaford, VA
View Full Profile followed with a single through the left side to score Miller and up his hitting streak to 18 games. Spencer Kieboom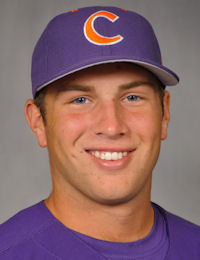 Spencer Kieboom
Catcher
#22 6-0, 210
Marietta, GA
View Full Profile reached on a fielding error by Skole to load the bases, but Dominic Attanasio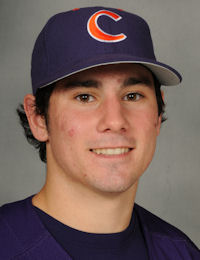 Dominic Attanasio
Outfielder
#1 5-7, 150
Windermere, FL
View Full Profile grounded out to second base to end the inning.
In the eighth inning, Thomas led off with a double to right-center and advanced to third on Wren's sacrifice bunt. Esch then laid down a suicide-squeeze bunt to plate Thomas.
Dove went 5-for-5 with two RBIs and a steal to lead Georgia Tech, who outhit the Tigers 10-7 and put five leadoff batters on base. Dove became the first Tiger opponent to total five hits in a game since 2006. Thomas went 2-for-3 with a double, two runs, and a walk.
Seven different Tigers accounted for the team's seven singles. Miller scored the team's lone run, while Lamb had the team's lone RBI.
Clemson and Georgia Tech will play the finale of the three-game series on Sunday at 1:00 PM. The Tigers' six seniors will be honored on the field prior to the game.


Georgia Tech 5 (31-13,18-5 ACC)

Player                    AB  R  H RBI BB SO PO  A LOB

------------------------------------------------------

Kyle Wren cf.............  3  1  1  0   1  0  5  0   0

Jacob Esch ss............  3  1  0  1   0  0  2  4   0

Matt Skole 3b............  4  1  1  1   1  0  0  2   2

Jake Davies 1b...........  4  0  1  1   0  0 14  0   3

Daniel Palka dh..........  4  0  0  0   1  2  0  0   0

Sam Dove lf..............  5  0  5  2   0  0  2  0   0

Zane Evans c.............  5  0  0  0   0  2  3  0   2

Mott Hyde 2b.............  4  0  0  0   0  0  0  6   4

Brandon Thomas rf........  3  2  2  0   1  0  1  1   0

Jed Bradley p............  0  0  0  0   0  0  0  2   0

Totals................... 35  5 10  5   4  4 27 15  11

Clemson 1 (28-15,12-11 ACC)

Player                    AB  R  H RBI BB SO PO  A LOB

------------------------------------------------------


  
 John Hinson

John Hinson




Infielder
#4 6-1, 180
Asheville, NC


View Full Profile
  
  3b...........  4  0  1  0   0  0  2  0   2


  
 Phil Pohl

Phil Pohl




Catcher
#9 5-11, 210
Cooperstown, NY


View Full Profile
  
  dh.............  4  0  1  0   0  0  0  0   0

Brad Miller ss...........  4  1  1  0   0  1  1  4   0


  
 Richie Shaffer

Richie Shaffer




Infielder
#8 6-3, 205
Charlotte, NC


View Full Profile
  
  1b........  2  0  0  0   1  1  6  1   0

Jeff Schaus lf...........  4  0  1  0   0  0  1  0   2

Will Lamb cf.............  4  0  1  1   0  0  5  0   0

Spencer Kieboom c........  4  0  1  0   0  1  4  1   0

Dominic Attanasio rf.....  4  0  0  0   0  0  5  0   3


  
 Jason Stolz

Jason Stolz




Infielder
#2 6-2, 200
Marietta, GA


View Full Profile
  
  2b...........  3  0  1  0   0  0  2  2   0

Jonathan Meyer p.........  0  0  0  0   0  0  0  0   0

 David Haselden p........  0  0  0  0   0  0  1  2   0

Totals................... 33  1  7  1   1  3 27 10   7

Score by Innings                    R  H  E

-------------------------------------------

Georgia Tech........ 300 001 010 -  5 10  2

Clemson............. 000 001 000 -  1  7  2

-------------------------------------------

E - SKOLE 2(13); HINSON(15); STOLZ(11). DP - Georgia Tech 2. LOB - Georgia

Tech 11; Clemson 7. 2B - THOMAS(8). HBP - ESCH; SHAFFER. SH - K. WREN(2);

ESCH(6). SF - DAVIES(2). SB - DOVE(5); POHL(4).

Georgia Tech           IP  H  R ER BB SO AB BF

-----------------------------------------------

Jed Bradley.........  9.0  7  1  0  1  3 33 35

Clemson                IP  H  R ER BB SO AB BF

-----------------------------------------------

Jonathan Meyer......  3.0  4  3  3  3  2 14 19

David Haselden......  6.0  6  2  2  1  2 21 24

Win - BRADLEY (5-2).  Loss - MEYER (4-1).  Save - None.

WP - HASELDEN(2). HBP - by MEYER (ESCH); by BRADLEY (SHAFFER).

Umpires - HP: Jacob Asher  1B: Scott Graham  3B: Bryant Woodall

Start: 1:07 PM   Time: 2:20   Attendance: 5377