| | |
| --- | --- |
| Leone pitches Tigers past Demon Deacons | |
---
| | |
| --- | --- |
| Saturday, April 23, 2011, 8:46 AM | |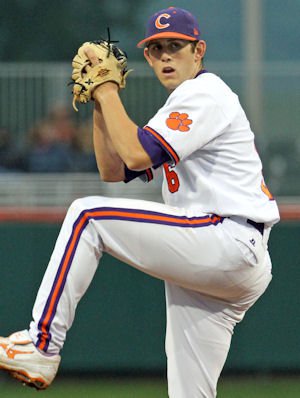 Clemson, SC -
Dominic Leone pitched 8.1 innings of three-hit ball with a career-high 10 strikeouts and Scott Weismann struck out the only two batters he faced to lead Clemson to a 2-0 win over Wake Forest in front of 4,685 fans at Doug Kingsmore Stadium on Friday night. The Tigers, who won their sixth game in a row and took a 1-0 series lead, improved to 24-13 overall and 10-9 in the ACC. The Demon Deacons, who had gone 70 straight games scoring at least one run, fell to 15-24 overall and 6-13 in ACC play.
The Tigers grabbed a 1-0 lead on Phil Pohl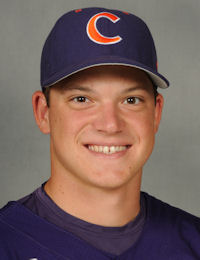 Phil Pohl
Catcher
#9 5-11, 210
Cooperstown, NY
View Full Profile 's run-scoring double in the first inning, then the starting pitchers dominated for the next six innings. The Tigers added an insurance run on Will Lamb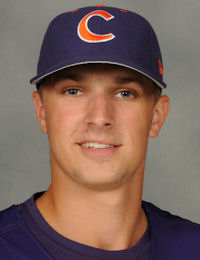 Will Lamb
Outfielder
#30 6-6, 175
Seaford, VA
View Full Profile 's run-scoring double in the eighth inning and Weismann closed the door in the ninth inning to move the Tigers' ACC record above .500 for the first time in 2011.
Leone (2-1) pitched a career-long 8.1 innings to earn the win. It was also the longest outing by a Tiger in 2011. The Norwich, CT native allowed just three singles, no runs, and three walks with 10 strikeouts, tied for the most by a Clemson hurler in 2011, in throwing 118 pitches. Weismann recorded his second save in as many games and second save of the season by striking out both batters he faced. The two Tiger righthanders combined to allow just six baserunners and faced only five batters over the minimum.
Demon Deacon lefty starter Brian Holmes (2-3) pitched 7.0 strong innings, but suffered the loss. He yielded four hits, one run, and two walks with seven strikeouts in throwing 131 pitches.
The Tigers wasted little time taking the game's first lead in the first inning. John Hinson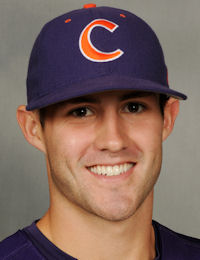 John Hinson
Infielder
#4 6-1, 180
Asheville, NC
View Full Profile led off with a walk after fouling off the first two pitches and scored on Pohl's double down the right-field line.
After six scoreless innings, the Tigers tacked on a run in the eighth inning. Brad Miller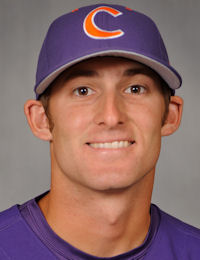 Brad Miller
Infielder
#13 6-1, 185
Windermere, FL
View Full Profile reached on an infield single with two outs, stole second and third, and scored on Lamb's double to right field. The two-bagger extended Lamb's hitting streak to 12 games, the longest by a Tiger in 2011.
In the ninth inning, Leone walked Mac Williamson with one out, then the Tigers called on Weismann, who struck out Matt Conway and Charlie Morgan looking to end the game.
Miller went 2-for-4 with a run and three steals to lead Clemson, who had six hits, four of which were doubles. Hinson added a run and walk, but his 10-game hitting streak came to an end. Jeff Schaus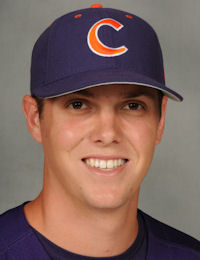 Jeff Schaus
Outfielder
#3 6-1, 205
Naples, FL
View Full Profile , who has started all 37 games in 2011, also failed to reach base for the first time in a game all season. Richie Shaffer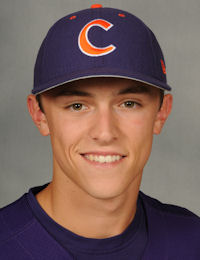 Richie Shaffer
Infielder
#8 6-3, 205
Charlotte, NC
View Full Profile 's 12-game scoring streak came to an end as well.
Conway had two of Wake Forest's three hits in the contest.
Clemson and Wake Forest will play game-two of the three-game series on Saturday at 6:30 PM.


Wake Forest 0 (15-24,6-13 ACC)

Player                    AB  R  H RBI BB SO PO  A LOB

------------------------------------------------------

Steven Brooks cf.........  3  0  0  0   1  0  3  0   1

Pat Blair ss.............  4  0  0  0   0  1  2  2   0

Mac Williamson lf........  3  0  0  0   1  2  1  0   1

 Zane Yanzick pr.........  0  0  0  0   0  0  0  0   0

Matt Conway 1b...........  4  0  2  0   0  2  5  1   0

Charlie Morgan dh........  4  0  0  0   0  3  0  0   1

Carlos Lopez 3b..........  2  0  0  0   1  0  1  1   0

James Harris rf..........  3  0  0  0   0  3  1  0   0

Brett Armour c...........  2  0  0  0   0  0  8  0   2

 Ryan Lloyd ph...........  1  0  0  0   0  1  0  0   0

 Jack Carey c............  0  0  0  0   0  0  1  0   0

Mark Rhine 2b............  3  0  1  0   0  0  1  1   0

Brian Holmes p...........  0  0  0  0   0  0  1  2   0

 Niko Spezial p..........  0  0  0  0   0  0  0  0   0

Totals................... 29  0  3  0   3 12 24  7   5

Clemson 2 (24-13,10-9 ACC)

Player                    AB  R  H RBI BB SO PO  A LOB

------------------------------------------------------

John Hinson 3b...........  2  1  0  0   1  0  1  0   1

Phil Pohl dh.............  4  0  1  1   0  2  0  0   0

Jeff Schaus lf...........  4  0  0  0   0  0  1  0   1

Richie Shaffer 1b........  2  0  0  0   1  1  3  1   0

Brad Miller ss...........  4  1  2  0   0  1  1  5   1

Will Lamb cf.............  4  0  1  1   0  1  3  0   2


  
 Spencer Kieboom

Spencer Kieboom





Catcher



#22 6-0, 210

Marietta, GA

View Full Profile
  
  c........  4  0  1  0   0  0 12  0   1


  
 Chris Epps

Chris Epps





Outfielder



#26 6-1, 195

Stone Mountain, GA

View Full Profile
  
  rf............  3  0  1  0   0  1  2  0   2


  
 Jason Stolz

Jason Stolz





Infielder



#2 6-2, 200

Marietta, GA

View Full Profile
  
  2b...........  3  0  0  0   0  1  3  0   0

Dominic Leone p..........  0  0  0  0   0  0  1  0   0

 Scott Weismann p........  0  0  0  0   0  0  0  0   0

Totals................... 30  2  6  2   2  7 27  6   8

Score by Innings                    R  H  E

-------------------------------------------

Wake Forest......... 000 000 000 -  0  3  3

Clemson............. 100 000 01X -  2  6  0

-------------------------------------------

E - BLAIR(14); HARRIS(4); RHINE(3). DP - Clemson 1. LOB - Wake Forest 5;

Clemson 8. 2B - POHL(14); LAMB(5); KIEBOOM(8); EPPS(3). HBP - SHAFFER. SH -

HINSON(3). SB - BROOKS(23); MILLER 3(16). CS - EPPS(2).

Wake Forest            IP  H  R ER BB SO AB BF

-----------------------------------------------

Brian Holmes........  7.0  4  1  1  2  7 25 29

Niko Spezial........  1.0  2  1  1  0  0  5  5

Clemson                IP  H  R ER BB SO AB BF

-----------------------------------------------

Dominic Leone.......  8.1  3  0  0  3 10 27 30

Scott Weismann......  0.2  0  0  0  0  2  2  2

Win - LEONE (2-1).  Loss - HOLMES (2-3).  Save - WEISMANN (2).

WP - HOLMES 2(2); LEONE(2). HBP - by HOLMES (SHAFFER).

Umpires - HP: Mac Stokes  1B: Troy Fullwood  3B: Tim O'Toole

Start: 6:33 PM   Time: 2:29   Attendance: 4685