| | |
| --- | --- |
| Miller & Sarratt lead Tigers to 5-2 win at Georgia | |
---
| | |
| --- | --- |
| Thursday, April 21, 2011, 12:32 AM | |
Athens, GA -
Brad Miller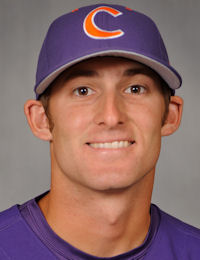 Brad Miller
Infielder
#13 6-1, 185
Windermere, FL
View Full Profile hit a three-run homer in the first inning and Justin Sarratt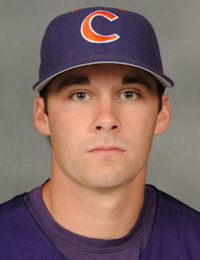 Justin Sarratt
RH Pitcher
#23 5-9, 170
Gaffney, SC
View Full Profile tossed 6.0 solid innings to lead Clemson to a 5-2 victory over Georgia in front of 2,297 fans at Foley Field on Wednesday night. The Tigers, who won the home-and-home season series 2-0, won their fifth game in a row and improved to 23-13 overall. The Bulldogs dropped to 19-19 overall.
Miller's first home run of the year in the first inning was all the scoring the Tigers would need, as Sarratt and four other Tiger pitchers combined to limit the Bulldogs to nine hits, two runs (one earned), and no walks with seven strikeouts.
Sarratt (3-1) pitched 6.0 innings, allowing six hits, one run, and no walks with three strikeouts to earn the win. David Haselden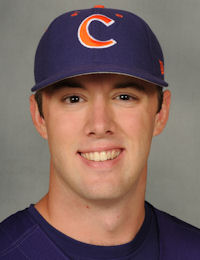 David Haselden
RH Pitcher
#29 6-4, 240
Spartanburg, SC
View Full Profile , Joseph Moorefield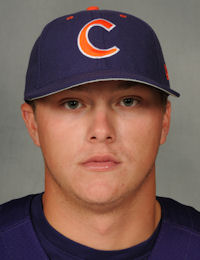 Joseph Moorefield
LH Pitcher
#51 6-1, 205
Woodruff, SC
View Full Profile , Jonathan Meyer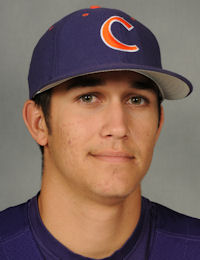 Jonathan Meyer
RH Pitcher
#28 6-0, 165
San Diego, CA
View Full Profile , and Scott Weismann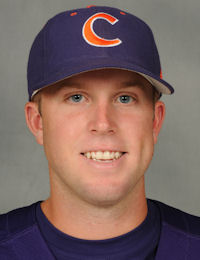 Scott Weismann
RH Pitcher
#33 6-0, 190
Boxborough, MA
View Full Profile combined to pitch the final 3.0 innings to close out the game. Weismann struck out the only batter he faced to record his first save of the season.
Ben Cornwell (1-3), the first of six Georgia pitchers, suffered the loss. He surrendered two hits, three runs, and two walks with three strikeouts in 3.1 innings pitched.
After the first two Tigers were retired in the top of the first inning, Jeff Schaus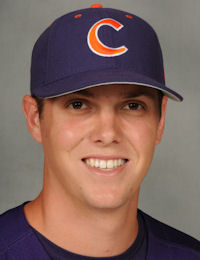 Jeff Schaus
Outfielder
#3 6-1, 205
Naples, FL
View Full Profile and Richie Shaffer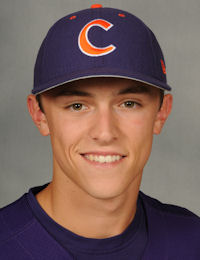 Richie Shaffer
Infielder
#8 6-3, 205
Charlotte, NC
View Full Profile both drew walks. Miller then belted an opposite-field, three-run homer to left-center.
In the bottom of the first inning, Levi Hyams led off with a double down the right-field line and advanced to third on Conor Welton's single through the right side. Kyle Farmer then lofted a sacrifice fly to center to score Hyams.
After neither team dented the scoreboard during the next five innings, the Tigers added to their lead in the seventh inning. Spencer Kieboom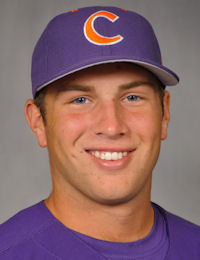 Spencer Kieboom
Catcher
#22 6-0, 210
Marietta, GA
View Full Profile hit a one-out double to right-center and Chris Epps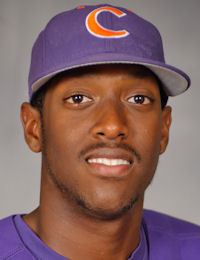 Chris Epps
Outfielder
#26 6-1, 195
Stone Mountain, GA
View Full Profile walked. Two batters later, John Hinson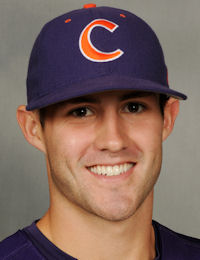 John Hinson
Infielder
#4 6-1, 180
Asheville, NC
View Full Profile lined a two-out single to left-center to score Kieboom. It also extended Hinson's hitting streak to 10 games.
The Bulldogs cut into Clemson's lead in the eighth inning thanks to a Tiger error. Welton grounded a one-out single through the left side, moved to second on a wild pitch, and advanced to third on Farmer's groundout. Zach Cone then hit a two-out grounder off the mound. Miller booted the ball, allowing Welton to score. It broke Clemson's 10-game streak without a fielding error and snapped Miller's streak of consecutive chances without an error at 56.
The Tigers responded with an insurance run in the top of the ninth inning. Epps led off with a single up the middle, advanced to second on Jason Stolz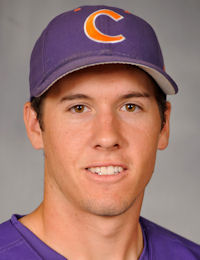 Jason Stolz
Infielder
#2 6-2, 200
Marietta, GA
View Full Profile 's sacrifice bunt, and moved to third on Hinson's groundout to second. Epps then scored with two outs on a wild pitch to give Clemson a 5-2 lead.
In the bottom of the ninth inning, Peter Verdin grounded a one-out single off the glove of Miller and Curt Powell struck out swinging on a 3-2 pitch for out #2. The Tigers called on Weismann to take the mound and he struck out pinch-hitter Austin Wheeler to end the game.
Miller went 2-for-3 with a three-run homer, walk, and steal to lead the Tigers, who totaled eight hits in the game. Will Lamb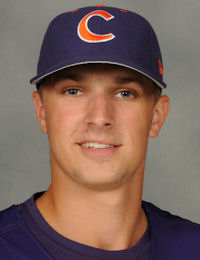 Will Lamb
Outfielder
#30 6-6, 175
Seaford, VA
View Full Profile added a single to up his hitting streak to 11 games. Shaffer was hitless, as his 11-game hitting streak came to an end. However, Shaffer scored a run, the 12th game in a row he touched home plate for the Tigers.
Welton went 3-for-4 with a run to pace the Bulldogs, who amassed nine hits in the contest. Farmer extended his hitting streak to 16 games as well.
Clemson will return home to face Wake Forest in a three-game series at Doug Kingsmore Stadium starting Friday at 6:30 PM.
Clemson 5 (23-13)

Name (Pos)                 AB  R  H RBI  BB SO PO  A

John Hinson 3b............  5  0  1  1    0  0  0  2 


  
 Phil Pohl 

Phil Pohl




Catcher
#9 5-11, 210
Cooperstown, NY


View Full Profile
  
  dh..............  5  0  0  0    0  1  0  0 

Jeff Schaus lf............  3  1  1  0    1  0  2  0 

Richie Shaffer 1b.........  3  1  0  0    1  1  7  0 

Brad Miller ss............  3  1  2  3    1  0  2  5 

Will Lamb cf..............  4  0  1  0    0  2  3  0 

Spencer Kieboom c.........  4  1  1  0    0  0  7  0 

Chris Epps rf.............  3  1  1  0    1  0  2  1 

Jason Stolz 2b............  3  0  1  0    0  2  4  2 

Justin Sarratt p..........  0  0  0  0    0  0  0  1 

 David Haselden p.......... 0  0  0  0    0  0  0  0 

 Joseph Moorefield p....... 0  0  0  0    0  0  0  0 

 Jonathan Meyer p.......... 0  0  0  0    0  0  0  0 

 Scott Weismann p.......... 0  0  0  0    0  0  0  0 

Totals.................... 33  5  8  4    4  6 27 11 



Georgia 2 (19-19)

Name (Pos)                 AB  R  H RBI  BB SO PO  A

Levi Hyams 2b.............  4  1  1  0    0  1  2  6 

Conor Welton lf...........  4  1  3  0    0  0  1  0 

Kyle Farmer ss............  3  0  1  1    0  0  2  2 

Zach Cone cf..............  4  0  0  0    0  0  1  0 

Jonathan Hester 1b........  4  0  1  0    0  0 10  0 

Chase Davidson dh.........  2  0  0  0    0  1  0  0 

 Brett DeLoach ph/dh....... 2  0  0  0    0  0  0  0 

Kevin Ruiz rf.............  2  0  0  0    0  1  3  0 

 Peter Verdin ph/rf........ 1  0  1  0    0  0  0  0 

Colby May 3b..............  2  0  0  0    0  1  1  0 

 Curt Powell ph/3b......... 2  0  0  0    0  1  0  0 

Brandon Stephens c........  3  0  2  0    0  1  6  1 

 Austin Wheeler ph......... 1  0  0  0    0  1  0  0 

Ben Cornwell p............  0  0  0  0    0  0  0  1 

 Chase Hawkins p........... 0  0  0  0    0  0  0  0 

 Earl Daniels p............ 0  0  0  0    0  0  0  0 

 Blake Dieterich p......... 0  0  0  0    0  0  0  0 

 John Herman p............. 0  0  0  0    0  0  0  0 

 Tyler Maloof p............ 0  0  0  0    0  0  1  0 

Totals.................... 34  2  9  1    0  7 27 10 



Score by innings:                      R  H  E

----------------------------------------------

Clemson               300 000 101   -  5  8  2

Georgia               100 000 010   -  2  9  0

----------------------------------------------

E - MILLER(6); MEYER(1). 

DP - Tigers 1. LOB - Tigers 6; Bulldogs 7. 

2B - KIEBOOM(7); Hyams(10). 

HR - MILLER(1). 

SB - SCHAUS(5); MILLER(13). CS - LAMB(1). 

SH - STOLZ(6). SF - Farmer(6). 

Clemson                IP   H   R  ER  BB  SO  AB BF

Justin Sarratt......  6.0   6   1   1   0   3  21 22 

David Haselden......  1.0   1   0   0   0   1   4  5 

Joseph Moorefield...  0.1   1   1   0   0   1   2  2 

Jonathan Meyer......  1.1   1   0   0   0   1   6  6 

Scott Weismann......  0.1   0   0   0   0   1   1  1 



Georgia                IP   H   R  ER  BB  SO  AB BF

Ben Cornwell........  3.1   2   3   3   2   3  12 14 

Chase Hawkins.......  2.2   2   0   0   0   0   9  9 

Earl Daniels........  0.2   1   1   1   1   1   3  4 

Blake Dieterich.....  1.0   2   0   0   1   1   5  6 

John Herman.........  0.1   0   0   0   0   0   1  1 

Tyler Maloof........  1.0   1   1   1   0   1   3  4 



Win - SARRATT 3-1.  Loss - Cornwell 1-3.  Save - WEISMANN (1).

WP - MEYER(2); Maloof(3). 

HBP - by HASELDEN (Verdin). 

Umpires - Home:Jay Furlong  1st:David Savage  3rd:Steve Manders  

Start: 7:06 pm   Time: 2:49   Attendance: 2297