| | |
| --- | --- |
| Miller leads Clemson over Maryland 12-3 in series-opener | |
---
| | |
| --- | --- |
| Friday, April 8, 2011, 11:08 PM | |
Clemson, SC -
Brad Miller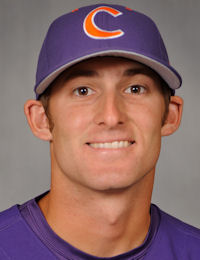 Brad Miller
Infielder
# 6-1, 185
Windermere, FL
View Full Profile went 3-for-4 with a triple, double, three runs, and two RBIs to lead Clemson to a 12-3 victory over Maryland in front of 4,119 fans at Doug Kingsmore Stadium on Friday night. The Tigers, who took a 1-0 lead in the series, improved to 17-12 overall and 5-8 in the ACC. The Terrapins fell to 14-16 overall and 2-11 in ACC play.
The Tigers jumped out to a 6-0 lead with five runs in the second inning and another run in the third. Maryland answered back with three runs in the fifth inning to cut Clemson's lead in half. But behind four two-out runs in the sixth inning and two runs in the seventh inning, the Tigers cruised to a nine-run victory.
Jonathan Meyer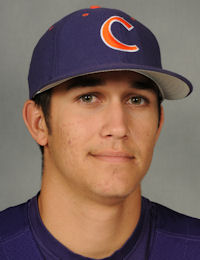 Jonathan Meyer
RH Pitcher
#28 6-0, 165
San Diego, CA
View Full Profile (2-0) pitched 4.1 superb innings in relief to earn the win. He allowed just two hits, no runs, and one walk with five strikeouts. Starter Dominic Leone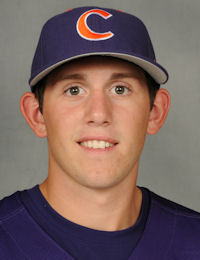 Dominic Leone
RH Pitcher
#6 5-11, 185
Norwich, CT
View Full Profile struck out six batters in 4.2 innings pitched, but he did not factor in the decision. The two Tiger hurlers combined for 11 strikeouts against only two walks.
David Carroll (5-2), the first of four Terrapin pitchers, suffered the loss. He gave up seven hits, six runs (five earned), and two walks with one strikeout in 3.0 innings pitched.
The Tigers took the game's first lead in the second inning. Miller led off with a groundball single through the left side and Chris Epps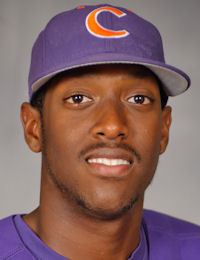 Chris Epps
Outfielder
#26 6-1, 195
Stone Mountain, GA
View Full Profile walked on five pitches. After Spencer Kieboom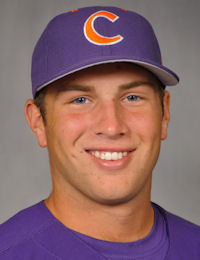 Spencer Kieboom
Catcher
#22 6-0, 210
Marietta, GA
View Full Profile 's sacrifice bunt moved the runners up a base, Will Lamb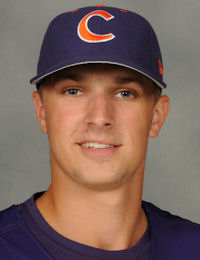 Will Lamb
Outfielder
#30 6-6, 175
Seaford, VA
View Full Profile bounced a single up the middle to score Miller and Epps. After Lamb stole second, he moved to third on a passed ball as Jason Stolz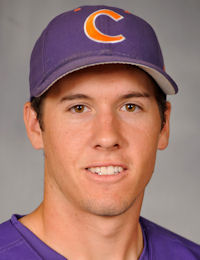 Jason Stolz
Infielder
#2 6-2, 200
Marietta, GA
View Full Profile walked. John Hinson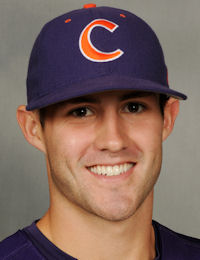 John Hinson
Infielder
#4 6-1, 180
Asheville, NC
View Full Profile singled through the right side to plate Lamb, then Phil Pohl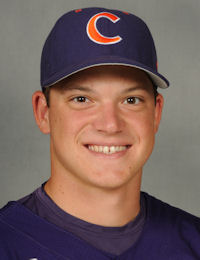 Phil Pohl
Catcher
#9 5-11, 210
Cooperstown, NY
View Full Profile hit a potential inning-ending, double-play grounder to short. Hinson was retired at second, but second-baseman Ryan Holland's throw to first, which would have been in time for a double play, was errant, allowing Stolz to score. Jeff Schaus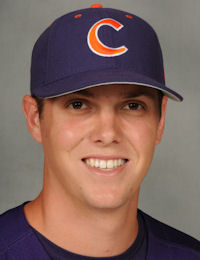 Jeff Schaus
Outfielder
#3 6-1, 205
Naples, FL
View Full Profile followed with a two-out single through the right side to bring home Pohl and give the Tigers a 5-0 lead.
Miller led off the third inning with a double off the centerfield wall on the 11th pitch of his at-bat and advanced to third on Epps' groundout to first. Kieboom followed with a double to right-center to score Miller.
In the fifth inning, Tim Kiene hit a one-out single through the right side and went to second on Austin Kilbourne's single to left field. After both runners moved up a base on a passed ball, Korey Wacker slapped a single through the left side to score Kiene. Charlie White walked to load the bases and Alfredo Rodriguez struck out for out #2. But Ryan Holland belted a single up the middle to score Kilbourne and Wacker, cutting Clemson's lead to 6-3.
Clemson put together a two-out rally to add four runs to its lead in the sixth inning. Pohl grounded a 1-2 pitch through the left side for a two-out single and Schaus walked. Richie Shaffer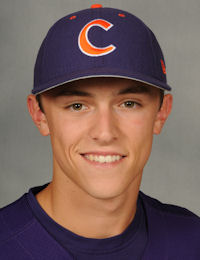 Richie Shaffer
Infielder
#8 6-3, 205
Charlotte, NC
View Full Profile then grounded another single through the left side to score Pohl. Miller followed with a triple to right field that scored Schaus and Shaffer, while Miller also scored on the play when Rodriguez's relay throw sailed into the Maryland dugout.
In the seventh inning, Kieboom led off with a walk and went to third on Lamb's double through the right side. Two batters later, Hinson hit a sacrifice fly to right field to score Kieboom, then pinch-hitter Dominic Attanasio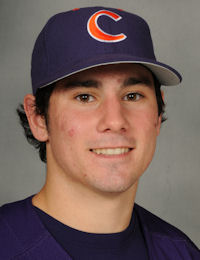 Dominic Attanasio
Outfielder
#1 5-7, 150
Windermere, FL
View Full Profile laced a two-out triple to right-center to plate Lamb.
Miller had a game-high three hits for Clemson, who totaled 13 hits, including three doubles and three triples. Hinson went 2-for-4 with two RBIs, while Lamb went 2-for-4 with a triple, two RBIs, and two runs.
Kiene and Kilbourne had two hits apiece to pace Maryland, who had eight hits in the contest. Holland had a team-high two RBIs as well.
Clemson and Maryland will play game-two of the three-game series on Saturday at 7:00 PM.


Maryland 3 (14-16,2-11 ACC)

Player                    AB  R  H RBI BB SO PO  A LOB

------------------------------------------------------

Charlie White rf.........  3  0  0  0   1  1  3  0   1

Alfredo Rodriguez ss.....  4  0  0  0   0  2  0  1   1

Ryan Holland 2b..........  4  0  1  2   0  1  2  0   0

Aaron Etchison c.........  3  0  0  0   0  2  6  0   2

 Michael Montville ph....  1  0  1  0   0  0  0  0   0

 Jack Cleary c...........  0  0  0  0   0  0  3  0   0

Alex Ramsay dh...........  4  0  1  0   0  1  0  0   0

Jake Stinnett 3b.........  4  0  0  0   0  2  1  1   1

Tim Kiene 1b.............  4  1  2  0   0  0  3  2   1

Austin Kilbourne lf......  3  1  2  0   1  1  2  0   1

Korey Wacker cf..........  3  1  1  1   0  0  2  0   0

 Kyle Convissar ph.......  1  0  0  0   0  1  0  0   0

David Carroll p..........  0  0  0  0   0  0  2  0   0

 Jimmy Reed p............  0  0  0  0   0  0  0  0   0

 Blair Delean p..........  0  0  0  0   0  0  0  0   0

 Creighton Hoke p........  0  0  0  0   0  0  0  0   0

Totals................... 34  3  8  3   2 11 24  4   7

Clemson 12 (17-12,5-8 ACC)

Player                    AB  R  H RBI BB SO PO  A LOB

------------------------------------------------------

John Hinson 3b...........  4  0  2  2   0  1  0  2   0

Phil Pohl dh.............  4  2  1  0   0  0  0  0   0

 Dominic Attanasio ph/dh.  1  0  1  1   0  0  0  0   0

Jeff Schaus lf...........  4  1  2  1   1  0  1  0   1

Richie Shaffer 1b........  4  1  1  1   0  1  7  0   3

 
  
 Jon McGibbon 

Jon McGibbon




Outfielder
#12 6-1, 210
Lindenhurst, NY


View Full Profile
  
  ph/1b......  1  0  0  0   0  1  2  0   0

Brad Miller ss...........  4  3  3  2   0  1  3  1   0

 
  
 Mike Dunster 

Mike Dunster




Infielder
#10 5-9, 170
Greenwich, CT


View Full Profile
  
  ph/2b......  1  0  0  0   0  1  0  1   0

Chris Epps rf............  3  1  0  0   1  1  0  0   0

 
  
 Joe Costigan 

Joe Costigan




Outfielder
#5 5-10, 200
Naples, FL


View Full Profile
  
  ph/rf......  1  0  0  0   0  1  0  0   0

Spencer Kieboom c........  1  1  1  1   2  0 11  1   0

Will Lamb cf.............  4  2  2  2   0  0  3  0   1

 
  
 Addison Johnson 

Addison Johnson





#18 5-7, 175
Pfafftown, NC


View Full Profile
  
  cf......  0  0  0  0   0  0  0  0   0

Jason Stolz 2b...........  3  1  0  0   1  1  0  2   1

 
  
 Steve Wilkerson 

Steve Wilkerson




Infielder
#17 6-1, 195
Roswell, GA


View Full Profile
  
  2b/ss...  0  0  0  0   0  0  0  1   0

Dominic Leone p..........  0  0  0  0   0  0  0  1   0

 Jonathan Meyer p........  0  0  0  0   0  0  0  0   0

Totals................... 35 12 13 10   5  8 27  9   6

Score by Innings                    R  H  E

-------------------------------------------

Maryland............ 000 030 000 -  3  8  3

Clemson............. 051 004 20X - 12 13  1

-------------------------------------------

E - RODRIGUEZ(4); HOLLAND(2); ETCHISON(1); STOLZ(9). LOB - Maryland 7;

Clemson 6. 2B - RAMSAY(1); KILBOURNE(1); MILLER(4); KIEBOOM(4); LAMB(3). 3B

- ATTANASIO(1); SCHAUS(2); MILLER(2). SH - WHITE(4); KIEBOOM(2). SF -

HINSON(3). SB - HINSON(9); LAMB(5).

Maryland               IP  H  R ER BB SO AB BF

-----------------------------------------------

David Carroll.......  3.0  7  6  5  2  1 15 18

Jimmy Reed..........  3.0  4  4  3  2  3 13 15

Blair Delean........  1.0  2  2  2  1  1  4  6

Creighton Hoke......  1.0  0  0  0  0  3  3  3

Clemson                IP  H  R ER BB SO AB BF

-----------------------------------------------

Dominic Leone.......  4.2  6  3  3  1  6 19 21

Jonathan Meyer......  4.1  2  0  0  1  5 15 16

Win - MEYER (2-0).  Loss - CARROLL (5-2).  Save - None.

PB - ETCHISON(1); KIEBOOM(3).

Umpires - HP: Frank Sylvester  1B: Rick Darby  3B: Greg Howard

Start: 6:33 PM   Time: 3:00   Attendance: 4119