| | |
| --- | --- |
| Tiger bats go quiet, Clemson falls one win short of playing for championship | |
---
| | |
| --- | --- |
| Saturday, June 26, 2010, 11:40 PM | |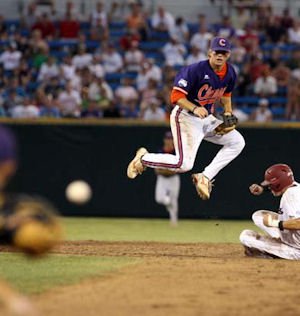 OMAHA -- With a trip to the Championship Series on the line, the Clemson Tiger bats picked a bad time to go quiet, and that quiet ends the 2010 College World Series for Jack Leggett's squad after needing just one win over their arch-rival to earn the right to play for the National Championship.
The South Carolina Gamecocks scored two runs in the bottom of the seventh to break a 2-2 tie, and held off the Tigers the rest of the way in a 4-3 win at Rosenblatt Stadium Saturday afternoon, and the Tigers were forced to watch their arch-rivals celebrate their own trip to the championship.
Clemson mustered just eight hits a night after getting just three hits in a 5-1 loss, and the Tigers leave the 2010 College World Series with a 2-2 record and the knowledge that the prize once again the big prize is just out of their reach.
South Carolina will face UCLA in the finals that begin Monday night.
Clemson head coach Jack Leggett was asked when the Tigers lost the momentum they carried into the series.
"I don't know if you can say we lost our momentum," Leggett said. "South Carolina played a very good game last night. I think anybody would have come out of that game thinking they lost a little momentum. But we played well tonight. We couldn't quite string together a big inning, but we battled all night long. It was heck of a game. Both teams are very good baseball teams. So I'm not sure there's any time where anybody lost any momentum."
The Gamecocks got on the board in the first, loading the bases with no one out, but the Tigers and starter Casey Harman escaped by allowing just one run after a double play.
Clemson was able to tie up the score in the third, putting runners at first and third with one out when Jeff Schaus bounced into a fielder's choice that scored Will Lamb.
The Gamecocks took a 2-1 lead on a Christian Walker homer to left in the fourth, and the game remained that way until Clemson tied it up in the seventh.
Chris Epps pinch hit for Spencer Kieboom, and Lamb followed with a single to center. Mike Freeman reached on a fielder?s choice, but Epps scored on a throwing error by Scott Wingo, and the game was tied at two.
However, the Gamecocks were able to jump back and take a 4-2 lead in the bottom of the inning, and an RBI by Brad Miller in the eighth finally made it 4-3. Mike Freeman singled with two outs in the ninth, but Schaus grounded out hard to first base to end the game.
Clemson hit .237 in the College World Series after hitting .349 in seven NCAA games before coming to Omaha. Clemson had 34 extra-base hits in those seven games. Also, 28 of Clemson's 31 hits in the four CWS games were singles.
"We didn't get a whole lot of pitches hit last night," Leggett said. "And the kid did a pretty decent job tonight for a while. And that's not something I think a whole lot about. Like to bang a couple of balls out of the ballpark, put a few more in the gap in certain situations.
"But we hit a lot of singles in the first game against Arizona State and won the game. So it's just a matter of getting people on base and getting people on at the beginning of the innings and being able to move runners around. I think that has more to do with it than anything else."
Clemson senior second baseman Mike Freeman said that despite the disappointment, he still thinks the Tigers enjoyed a "special" season.
"I mean, it's definitely a special season going into it," Freeman said. "It's exactly how I didn't want it to end in Omaha. I would have liked to have it end Tuesday or Wednesday next week. But getting here is something special. The whole event is something special. And then to share it with the guys on our team and such good friends and brothers that I've made along the way, it just makes it that much more special.
"And with this coaching staff, as much as they care about our players, it's awesome to come here and experience Omaha in its last season at Rosenblatt. So it's a special season, and coming to Omaha made it more special. It's tough to have to go away early, but it's a special season, nonetheless."


Clemson 3 (45-25)

Player                    AB  R  H RBI BB SO PO  A LOB

------------------------------------------------------

Will Lamb dh.............  4  1  1  0   0  0  0  0   0

Mike Freeman 2b..........  5  0  2  0   0  1  3  2   0

Jeff Schaus lf...........  5  0  1  1   0  1  0  0   1

Kyle Parker rf...........  3  0  0  0   0  2  1  0   2

John Hinson 3b...........  3  1  2  0   1  1  0  2   2

Brad Miller ss...........  4  0  0  1   0  0  2  3   0

Richie Shaffer 1b........  4  0  1  0   0  1  9  0   1

Wilson Boyd cf...........  4  0  1  0   0  1  4  0   2

Spencer Kieboom c........  2  0  0  0   0  0  4  2   1

 Chris Epps ph...........  0  1  0  0   1  0  0  0   0

 John Nester c...........  1  0  0  0   0  1  1  0   0

Casey Harman p...........  0  0  0  0   0  0  0  2   0

 Alex Frederick p........  0  0  0  0   0  0  0  0   0

 Scott Weismann p........  0  0  0  0   0  0  0  0   0

 Kevin Brady p...........  0  0  0  0   0  0  0  0   0

Totals................... 35  3  8  2   2  8 24 11   9

South Carolina 4 (52-16)

Player                    AB  R  H RBI BB SO PO  A LOB

------------------------------------------------------

Evan Marzilli lf.........  3  2  1  0   1  0  1  0   0

Whit Merrifield rf.......  5  0  3  0   0  1  1  0   1

Jackie Bradley, Jr. cf...  2  1  1  0   1  0  2  0   1

Christian Walker 1b......  4  1  2  2   0  0 12  0   1

Adrian Morales 3b........  4  0  1  1   0  1  0  2   1

Adam Matthews dh.........  3  0  0  0   0  1  0  0   0

 Brady Thomas ph/dh......  0  0  0  0   1  0  0  0   0

Kyle Enders c............  4  0  0  0   0  2  8  0   3

Bobby Haney ss...........  4  0  1  0   0  1  1  3   1

Scott Wingo 2b...........  3  0  0  0   1  0  2  7   2

Sam Dyson p..............  0  0  0  0   0  0  0  0   0

 Matt Price p............  0  0  0  0   0  0  0  0   0

Totals................... 32  4  9  3   4  6 27 12  10

Score by Innings                    R  H  E

-------------------------------------------

Clemson............. 001 000 110 -  3  8  3

South Carolina...... 100 100 20X -  4  9  1

-------------------------------------------

E - MILLER(32); KIEBOOM(1); NESTER(7); WINGO(10). DP - Clemson 2. LOB -

Clemson 9; S. Carolina 10. 2B - MERRIFIELD(12). 3B - HINSON(1);

MERRIFIELD(1). HR - WALKER(9). HBP - LAMB; PARKER; MARZILLI; BRADLEY. SB -

MARZILLI(8); MATTHEWS(6).

Clemson                IP  H  R ER BB SO AB BF

-----------------------------------------------

Casey Harman........  6.1  7  3  3  0  5 26 28

Alex Frederick......  0.2  2  1  1  2  1  4  6

Scott Weismann......  0.1  0  0  0  2  0  1  3

Kevin Brady.........  0.2  0  0  0  0  0  1  1

South Carolina         IP  H  R ER BB SO AB BF

-----------------------------------------------

Sam Dyson...........  6.2  5  2  2  2  5 25 29

Matt Price..........  2.1  3  1  1  0  3 10 10

Win - PRICE (4-1).  Loss - HARMAN (8-4).  Save - None.

HBP - by DYSON (LAMB); by DYSON (PARKER); by HARMAN (BRADLEY); by HARMAN

(MARZILLI). PB - ENDERS(11).

Umpires - HP: Kelly Gonzales  1B: David Savage  2B: A.J. Lostaglio  3B: Paul

Guillie  Start: 6:09 PM   Time: 3:04   Attendance: 12593