| | |
| --- | --- |
| Roth throws career-game, Gamecocks beat Tigers to force Saturday game | |
---
| | |
| --- | --- |
| Saturday, June 26, 2010, 12:39 AM | |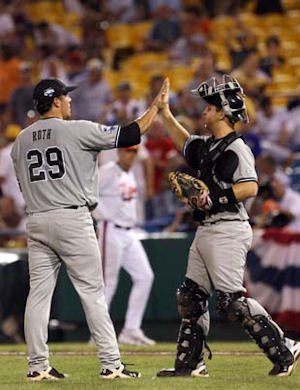 OMAHA -- It all comes down to a winner-take-all affair at 7 p.m. on Saturday.
The South Carolina Gamecocks hit early and often and the Clemson bats went cold against lefty Michael Roth, lifting the Gamecocks to a 5-1 win over the Tigers on Friday evening in front 22,194 fans at Rosenblatt Stadium, and the teams will face off on Saturday with the winner advancing to the College World Series' championship series that starts on Monday.
Roth pitched the game of his life against the Tigers. His previous career-high in innings pitched was 3 1/3, but went the distance against Clemson, giving up just three hits and pitching his first career complete game.
Now the Tigers have to find a way to regroup and try to find a way to ignore the comparisons to 2002, when the Gamecocks beat the Tigers twice on their way to play for the championship.
"Well, they played a good ball game," Clemson head coach Jack Leggett said. "Gotta give them credit. The kid pitched a good game, kept the ball down, we hit a ton of ground balls. They made a ton of plays. We never had a chance to get things going offensively. Didn't have many lead off men on base. When we did, we did score that one run.
"But we just didn't get any flow offensively going. And we got behind early, and we did make some pitches to keep it close. But this ball game's over. As far as I'm concerned we just gotta come back tomorrow and be ready to play."
The Gamecocks used leadoff doubles in each of the first two innings to take a 2-0 lead, and a Jackie Bradley, Jr., two-out RBI double in third plated the third run to chase Clemson starter Dominic Leone.
The Tigers got one of the runs back in the bottom of the third after Richie Shaffer led off with a double down the right field line, moved to third on a ground out and then scored on a passed ball by Carolina catcher Kyle Enders, who allowed the ball to roll to the screen.
Enders made up for the passed ball when he drilled a home run to left with two outs in the fourth for a 4-1 Gamecock lead, and then added another run in the sixth for a 5-1 lead while the Tiger bats stayed quiet.
Clemson outfielder Wilson Boyd said Roth had dropped his arm slot since the last time they saw him pitch.
"I think from the last time we saw him, I think he dropped his arm slide a little bit, as far as the way the ball is moving tonight," Boyd said. "He made it tough on a lefty because it exploded in. And he had a slider away and everything, as Coach Leggett said, down in the zone. He did what he had to do tonight to win the ball game for them."
Leggett said that no starter has been decided for the Tigers for Saturday, but Casey Harman is a likely option.
"I'll go back and talk about it," Leggett said. "Casey Harman is an option for us, certainly, and so we'll go back and talk about it tonight."
*The attendance at Rosenblatt Stadium is now 259,851 through 12 games, which is an average of 21,654 per game.


South Carolina 5 (51-16)

Player                    AB  R  H RBI BB SO PO  A LOB

------------------------------------------------------

Evan Marzilli lf.........  2  2  1  0   2  1  1  0   0

Whit Merrifield rf.......  4  0  0  0   0  1  2  0   0

Jackie Bradley, Jr. cf...  3  0  1  2   1  0  0  0   1

Christian Walker 1b......  4  0  1  0   0  0 13  1   1

Brady Thomas dh..........  4  2  2  0   0  0  0  0   0

Adrian Morales 3b........  4  0  1  1   0  0  2  4   0

Kyle Enders c............  4  1  2  2   0  0  5  0   0

Bobby Haney ss...........  3  0  0  0   1  0  0  5   1

Scott Wingo 2b...........  4  0  0  0   0  1  3  4   1

Michael Roth p...........  0  0  0  0   0  0  1  1   0

Totals................... 32  5  8  5   4  3 27 15   4

Clemson 1 (45-24)

Player                    AB  R  H RBI BB SO PO  A LOB

------------------------------------------------------

Chris Epps dh............  2  0  0  0   0  1  0  0   0

 John Nester ph/dh.......  2  0  0  0   0  0  0  0   0

Mike Freeman 2b..........  4  0  0  0   0  0  2  5   2

Jeff Schaus lf...........  4  0  0  0   0  0  1  0   0

Kyle Parker rf...........  2  0  0  0   1  1  3  1   0

Brad Miller ss...........  4  0  1  0   0  1  4  4   1

John Hinson 3b...........  4  0  0  0   0  1  0  0   1

Richie Shaffer 1b........  2  1  1  0   0  0 10  1   0

Wilson Boyd cf...........  3  0  0  0   0  0  4  0   0

Spencer Kieboom c........  3  0  1  0   0  0  3  1   1

 Phil Pohl c.............  0  0  0  0   0  0  0  0   0

Dominic Leone p..........  0  0  0  0   0  0  0  0   0

 David Haselden p........  0  0  0  0   0  0  0  0   0

 Tomas Cruz p............  0  0  0  0   0  0  0  1   0

Totals................... 30  1  3  0   1  4 27 13   5

Score by Innings                    R  H  E

-------------------------------------------

South Carolina...... 111 101 000 -  5  8  1

Clemson............. 001 000 000 -  1  3  0

-------------------------------------------

E - WINGO(9). DP - S. Carolina 1; Clemson 2. LOB - S. Carolina 4; Clemson 5.

2B - MARZILLI(8); BRADLEY(12); THOMAS(13); SHAFFER(11). HR - ENDERS(3). HBP

- PARKER; SHAFFER. SB - MARZILLI(7).

South Carolina         IP  H  R ER BB SO AB BF

-----------------------------------------------

Michael Roth........  9.0  3  1  1  1  4 30 33

Clemson                IP  H  R ER BB SO AB BF

-----------------------------------------------

Dominic Leone.......  2.2  4  3  3  1  0 11 12

David Haselden......  3.1  4  2  2  1  0 13 14

Tomas Cruz..........  3.0  0  0  0  2  3  8 10

Win - ROTH (2-1).  Loss - LEONE (3-2).  Save - None.

HBP - by ROTH (PARKER); by ROTH (SHAFFER). PB - ENDERS(10).

Umpires - HP: Gus Rodriguez  1B: Jim Jackson  2B: Chris Coskey  3B: Mark

Ditsworth  Start: 8:10 PM   Time: 2:22   Attendance: 22194