| | |
| --- | --- |
| #15 Tigers Stay Perfect With 8-5 Win Over Furman Sunday | |
---
| | |
| --- | --- |
| Sunday, February 21, 2010, 6:39 PM | |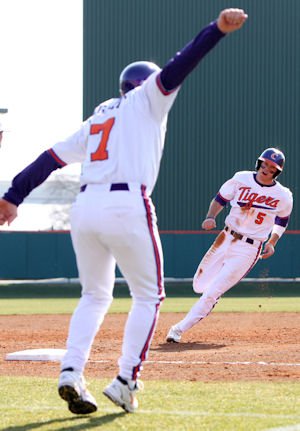 Clemson, SC -
Clemson, ranked as high as #15 in the nation, jumped out to a 7-2 lead after four innings and held on for an 8-5 victory over Furman in front of 5,539 fans at Doug Kingsmore Stadium on Sunday afternoon. The Tigers improved to 3-0, while the Paladins fell to 0-3.
Red-shirt freshman righthander Kevin Brady (1-0) earned his first career win by tossing 3.1 innings, allowing three hits, one earned run, and no walks. Alex Frederick pitched 2.2 scoreless innings in relief of one-hit ball with two strikeouts and freshman righthander Jonathan Meyer picked up his first career save by pitching 2.0 perfect innings with one strikeout.
Furman starter Barry Benton (0-1) suffered the loss, as he yielded four hits, five runs (four earned), and three walks in 2.1 innings pitched.
The Tigers took the game's first lead in the first inning. Mike Freeman hit a one-out double down the right-field line and went to third on an errant pickoff attempt. He then scored on Jeff Schaus' groundout to first.
In the second inning, the Tigers added two runs to their lead after the first two batters of the frame were retired. Brad Miller started the rally with a walk and Richie Shaffer was hit-by-pitch. Jason Stolz then lined a double down the left-field line to score Miller and Shaffer.
Furman dented the scoreboard in the top of the third inning. J.B. Jenkins led off with an infield single, then stole second and third. Two batters later, Will Owens singled to right to score Jenkins.
Clemson came right back and scored two runs in the bottom of the third inning. Freeman led off with a walk and went to second on Schaus' single to center. Kyle Parker followed with a single to right field to plate Freeman. After Schaus moved to third on Wilson Boyd's flyout, Schaus scored on John Nester's sacrifice fly to center, giving Clemson a 5-1 lead.
In the top of the fourth inning, Reese Wade reached when his liner was dropped by Boyd in right field. Brian Harrison's single to right-center advanced Wade to third, then Wade scored on Aaron Thompkins' groundout to second.
In the bottom of the fourth inning, Shaffer led off with a double down the left-field line and moved to third on Stolz's single to right. Two batters later, Freeman reached on a throwing error by Jenkins as Shaffer scored. Freeman then stole second and Stolz scored on the play when the throw went into centerfield, upping Clemson's lead to 7-2.
Will Miller led off the seventh inning with a home run to left field, his first long ball of the season. After Dylan Cole walked and Jenkins singled to left field, Will Muzika lined a single down the left-field line to score Cole. Owens then hit a chopper behind the mound and reached on a fielding error as Jenkins scored on the play to cut Clemson's lead to 7-5.
Clemson added an insurance run in the eighth inning when Freeman and Schaus hit back-to-back, two-out doubles, the latter of which scored Freeman.
Freeman led the Tigers' 10-hit attack by going 2-for-3 with two doubles, three runs, one RBI, two walks, and two stolen bases. Schaus went 2-for-5 with a double and two RBIs, and Stolz added two hits, including one of Clemson's five doubles, and two RBIs.
Jenkins had a team-high two hits, two runs, and two steals, while Owens added two RBIs for Furman, who committed six errors in the game.
Clemson will be off for four days before it hosts Wright State in a three-game series at Doug Kingsmore Stadium starting Friday at 4:00 PM.


Furman 5 (0-3)

Player                    AB  R  H RBI BB SO PO  A LOB

------------------------------------------------------

Will Owens lf............  4  0  1  2   0  0  0  0   0

Matt Bona cf.............  4  0  1  0   0  1  5  0   1

Reese Wade dh............  4  1  0  0   0  0  0  0   0

Brian Harrison 3b........  3  0  1  0   0  0  0  2   0

Aaron Thompkins 1b.......  4  0  0  1   0  1  7  4   0

Will Miller rf...........  4  1  1  1   0  0  2  0   0

Blaine Rosenberg c.......  2  0  0  0   0  1  3  0   2

 Dylan Cole c............  0  1  0  0   1  0  1  1   0

 Christian Datoc ph......  1  0  0  0   0  0  0  0   0

J.B. Jenkins ss..........  4  2  2  0   0  2  3  4   0

Will Muzika 2b...........  3  0  1  1   0  0  2  1   0

Barry Benton p...........  0  0  0  0   0  0  0  1   0

 Jay Friedman p..........  0  0  0  0   0  0  0  1   0

 Daniel Stallsmith p.....  0  0  0  0   0  0  1  1   0

 Bobby Lyne p............  0  0  0  0   0  0  0  0   0

Totals................... 33  5  7  5   1  5 24 15   3

Clemson 8 (3-0)

Player                    AB  R  H RBI BB SO PO  A LOB

------------------------------------------------------

Chris Epps cf............  4  0  0  0   1  1  3  0   1

 Addison Johnson cf......  0  0  0  0   0  0  0  0   0

Mike Freeman 2b..........  3  3  2  1   2  0  3  6   0

Jeff Schaus lf...........  5  1  2  2   0  0  0  0   2

Kyle Parker dh...........  4  0  2  1   1  0  0  0   1

Wilson Boyd rf...........  5  0  0  0   0  1  0  0   2

John Nester c............  3  0  0  1   0  0  6  1   0

Brad Miller ss...........  2  1  1  0   2  0  0  3   0

Richie Shaffer 1b........  3  2  1  0   0  0 13  0   2

Jason Stolz 3b...........  4  1  2  2   0  1  0  4   0

Kevin Brady p............  0  0  0  0   0  0  0  2   0

 Alex Frederick p........  0  0  0  0   0  0  0  1   0

 Justin Sarratt p........  0  0  0  0   0  0  1  0   0

 Jonathan Meyer p........  0  0  0  0   0  0  1  1   0

Totals................... 33  8 10  7   6  3 27 18   9

Score by Innings                    R  H  E

-------------------------------------------

Furman.............. 001 100 300 -  5  7  6

Clemson............. 122 200 01X -  8 10  2

-------------------------------------------

E - HARRISON(2); ROSENBERG(2); COLE(1); JENKINS 2(2); BENTON(1); BOYD(1);

SARRATT(1). DP - Clemson 1. LOB - Furman 3; Clemson 9. 2B - FREEMAN 2(3);

SCHAUS(1); SHAFFER(1); STOLZ(1). HR - MILLER(1). HBP - HARRISON; SHAFFER. SF

- NESTER(1). SB - HARRISON 2(2); MILLER(1); JENKINS 2(2); FREEMAN 2(2);

PARKER(1); STOLZ(1). CS - OWENS(1); EPPS(1); PARKER(1); MILLER(1).

Furman                 IP  H  R ER BB SO AB BF

-----------------------------------------------

Barry Benton........  2.1  4  5  4  3  0 10 14

Jay Friedman........  1.2  3  2  1  0  1  7  8

Daniel Stallsmith...  3.2  3  1  1  2  2 15 17

Bobby Lyne..........  0.1  0  0  0  1  0  1  2

Clemson                IP  H  R ER BB SO AB BF

-----------------------------------------------

Kevin Brady.........  3.1  3  2  1  0  1 13 14

Alex Frederick......  2.2  1  0  0  0  2  8  8

Justin Sarratt......  1.0  3  3  3  1  1  6  7

Jonathan Meyer......  2.0  0  0  0  0  1  6  6

Win - BRADY (1-0).  Loss - BENTON (0-1).  Save - MEYER (1).

WP - STALLSMITH 2(2). HBP - by BRADY (HARRISON); by BENTON (SHAFFER).

Umpires - HP: Don Gilmore  1B: Danny Everett  3B: David Savage

Start: 2:05 PM   Time: 2:42   Attendance: 5539