| | |
| --- | --- |
| #19 Tigers Score Seven Runs in Final Three At-Bats to Top Wofford | |
---
| | |
| --- | --- |
| Wednesday, February 25, 2009, 11:48 PM | |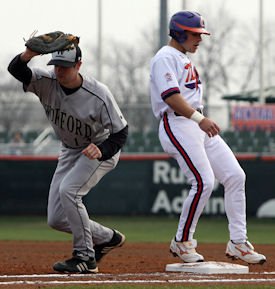 Clemson, SC -
Clemson, ranked #19 in the country, improved its winning streak versus Wofford to 12 games with an 8-2 win in front of 3,609 fans at Doug Kingsmore Stadium on Wednesday. With the win, the Tigers improved to 4-0 and the Terriers fell to 2-3.
Reliever Casey Harman (1-0) pitched 1.1 innings of no-hit ball to earn the win. Anthony Rowland (0-1) took the loss, allowing two runs on two hits in 0.1 innings pitched. On the day, six Tiger pitchers combined to strike out 13 Terriers versus only two walks.
Clemson got on the board with a two-out rally in the bottom of the third. Addison Johnson stole second after reaching on a fielder's choice and Mike Freeman walked. Ben Paulsen then singled through the right side to score Johnson and give the Tigers a 1-0 lead.
Wofford answered with a two-out rally of its own in the top of the fourth inning. James Foster walked and stole second. Konstantine Diamaduros then tripled down the right-field line to score Foster and tie the score 1-1.
After Paulsen started the bottom of the sixth with a single to right and Kyle Parker was hit-by-pitch, Wilson Boyd sacrificed to advance the runners. Jeff Schaus then doubled down the right-field line to score both runners.
Clemson added to its lead in the bottom of the seventh. After Freeman's third walk of the game, Clemson used the hit-and-run, as Paulsen hit a groundball double to where the shortstop would have been, allowing Freeman to score from first. After advancing on a wild pitch, Paulsen scored from third on Parker's sacrifice fly to right field to extend Clemson's lead to 5-1.
Josh McKinney led off the top of the eighth with a double to left-center. After moving to third on a passed ball and with two outs, Jake Williams hit a single up the middle to score McKinney.
Clemson answered in the bottom of the eighth inning. After Brad Miller's one-out walk, John Nester hit his first home run of the season. Matt Sanders followed on the next pitch with his first home run of the season to give the Tigers an 8-2 lead.
The Tigers, who scored eight runs on nine hits, were led at the plate by Paulsen, who was 3-for-4. The back-to-back home runs were the first for Clemson since Paulsen and Parker accomplished the same feat against N.C. State on March 21, 2008.
Wofford was led at the plate by Alex Lee and Williams, who each went 2-for-4.
Clemson will return to action on Saturday when South Carolina travels to Doug Kingsmore Stadium at 2:00 PM for the first game of the home-and-home weekend series.


Wofford 2 (2-3)

Player                    AB  R  H RBI BB SO PO  A LOB

------------------------------------------------------

Alex Lee 2b..............  5  0  2  0   0  2  2  2   0

Josh McKinney 3b.........  4  1  1  0   0  0  2  0   0

Michael Gilmartin ss.....  4  0  1  0   0  1  5  1   1

Kyle Behrendt dh.........  4  0  1  0   0  2  0  0   0

Jake Williams cf.........  4  0  2  1   0  1  4  0   0

James Foster rf..........  1  1  0  0   2  0  1  0   0

 Mac Doyle ph/1b.........  1  0  1  0   0  0  0  0   0

K. Diamaduros lf/1b......  4  0  1  1   0  2  1  0   3

Neil Robinette 1b........  2  0  0  0   0  1  3  0   1

 Mike McDonnell ph.......  1  0  0  0   0  1  0  0   0

 Landon Bennett lf/rf....  1  0  0  0   0  1  1  0   0

David Roney c............  4  0  0  0   0  2  5  2   2

Bobby DeLuria p..........  0  0  0  0   0  0  0  1   0

 J.D. Osborne p..........  0  0  0  0   0  0  0  0   0

 Bobby Streisel p........  0  0  0  0   0  0  0  0   0

 Anthony Rowland p.......  0  0  0  0   0  0  0  1   0

 Drew Sheridan p.........  0  0  0  0   0  0  0  0   0

 John Cornely p..........  0  0  0  0   0  0  0  0   0

Totals................... 35  2  9  2   2 13 24  7   8

Clemson 8 (4-0)

Player                    AB  R  H RBI BB SO PO  A LOB

------------------------------------------------------

Addison Johnson cf.......  5  1  2  0   0  0  0  0   0

Mike Freeman 2b..........  1  1  0  0   4  1  1  2   1

Ben Paulsen 1b...........  4  2  3  2   0  0  5  0   0

 Richard Mounce ph/1b....  1  0  0  0   0  1  0  0   1

Kyle Parker dh...........  1  1  0  1   1  0  0  0   2

Wilson Boyd lf...........  2  0  0  0   1  0  2  0   0

Jeff Schaus rf...........  4  0  1  2   0  1  1  0   0

Brad Miller ss...........  2  1  0  0   2  0  2  2   1

Phil Pohl c..............  2  0  1  0   0  1  6  2   0

 Chris Epps ph...........  1  0  0  0   0  0  0  0   0

 John Nester c...........  1  1  1  2   0  0  8  0   0

Jason Stolz 3b...........  2  0  0  0   0  1  2  0   0

 Matt Sanders ph/3b......  2  1  1  1   0  1  0  0   2

Kevin Brady p............  0  0  0  0   0  0  0  0   0

 Casey Harman p..........  0  0  0  0   0  0  0  0   0

 Craig Gullickson p......  0  0  0  0   0  0  0  0   0

 Scott Weismann p........  0  0  0  0   0  0  0  0   0

 Ryan Hinson p...........  0  0  0  0   0  0  0  0   0

 Graham Stoneburner p....  0  0  0  0   0  0  0  0   0

Totals................... 28  8  9  8   8  6 27  6   7

Score by Innings                    R  H  E

-------------------------------------------

Wofford............. 000 100 010 -  2  9  0

Clemson............. 001 002 23X -  8  9  2

-------------------------------------------

E - FREEMAN(1); POHL(1). DP - Wofford 2; Clemson 1. LOB - Wofford 8; Clemson

7. 2B - McKINNEY(2); PAULSEN(1); SCHAUS(1). 3B - DIAMADUROS(1). HR -

NESTER(1); SANDERS(1). HBP - PARKER. SH - BOYD(1). SF - PARKER(1). SB -

FOSTER(4); JOHNSON 3(7). CS - WILLIAMS(1); JOHNSON(1).

Wofford                IP  H  R ER BB SO AB BF

-----------------------------------------------

Bobby DeLuria.......  3.0  3  1  1  3  0 10 13

J.D. Osborne........  1.0  0  0  0  1  1  2  3

Bobby Streisel......  1.0  1  0  0  0  3  4  4

Anthony Rowland.....  0.1  2  2  2  1  0  2  5

Drew Sheridan.......  1.2  1  2  2  1  1  5  7

John Cornely........  1.0  2  3  3  2  1  5  7

Clemson                IP  H  R ER BB SO AB BF

-----------------------------------------------

Kevin Brady.........  4.2  6  1  1  1  3 19 20

Casey Harman........  1.1  0  0  0  1  2  4  5

Craig Gullickson....  1.0  0  0  0  0  2  3  3

Scott Weismann......  0.2  3  1  1  0  2  5  5

Ryan Hinson.........  0.1  0  0  0  0  1  1  1

Graham Stoneburner..  1.0  0  0  0  0  3  3  3

Win - HARMAN (1-0).  Loss - ROWLAND (0-1).  Save - None.

WP - OSBORNE(1); SHERIDAN(1); CORNELY(3). HBP - by ROWLAND (PARKER). PB - NESTER

2(3).

Umpires - HP: Darion Padgett  1B: Craig Mirr  3B: Danny Everett

Start: 4:05 PM   Time: 2:45   Attendance: 3609