| | |
| --- | --- |
| Tigers Get Stellar Performance from Freshman Pitcher in Blanking of 49ers | |
---
| | |
| --- | --- |
| Saturday, February 21, 2009, 6:53 PM | |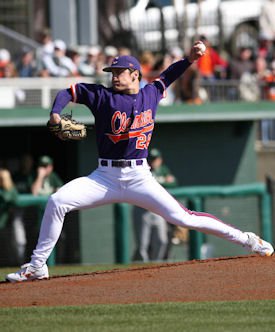 CLEMSON - Clemson freshman pitcher Chris Dwyer said he had butterflies heading into his first-ever collegiate start, and that the butterflies and nervousness stayed around until the second inning or so. Don't tell that to the Charlotte 49ers, who probably wanted to take advantage of the freshman, but instead were taken advantage of as Dwyer shut them down in a 4-0 Clemson win Saturday afternoon at Doug Kingsmore Stadium.
The announced crowd of 5,681 fans saw Dwyer retire his first collegiate batter on a flyout to center, then retire the next six batters on strikeouts. In all, he struck out nine and walked just one while giving up just two hits in his 6 2/3 innings as the 19th-ranked Tigers (2-0) won the second game of the three-game series.
"I went out there and tried to throw strikes and just get the job done," Dwyer said. "I just went out there and threw strikes and tried to keep the ball around the zone. In the second inning, I kind of relaxed, and started feeling comfortable, and settled in pretty well."
The teams were scoreless until the sixth, when Clemson finally broke through against Charlotte starter Andrew Smith. Third baseman Jason Stolz led off the inning with a liner over short, then leadoff hitter Addison Johnson had a bunt single for a hit to put runners at first and second with no one out. Mike Freeman sacrificed the runners, and Ben Paulsen followed that with an RBI grounder to second for a 1-0 Tiger lead.
The 49ers threatened off Dwyer in the top of the seventh when Rob Lyerly hit a single to right and Zane Williams reached on an error with two outs to chase Dwyer. Kevin Brady, another freshman making his first appearance as a Tiger, relieved Dwyer and retired Corey Shaylor to end the Charlotte threat.
Jeff Schaus helped the Tigers extend the lead in the seventh with a one-out walk that Brad Miller followed with a single. Freshman pinch-hitter Richard Mounce then slapped his first career hit, a double to right field, to score Schaus and extend the Tiger lead to 2-0.
Paulsen opened the bottom of the eighth with a walk, and sophomore Kyle Parker promptly sacrificed Paulsen to second. Wilson Boyd was intentionally walked, and Schaus then hit a ground ball back to pitcher Bryan Hamilton. Hamilton's throw to second was low, allowing all runners to reach safely. Miller then drove in Paulsen and Boyd on a single to center for the final score of 4-0. Miller ended the day 3-for-4 with those RBI to lead the Tiger hitters.
Clemson head coach Jack Leggett said he was glad to see Dwyer do the same thing that to another team that he has been doing to the Tigers lately - dominate.
"He did a great job," Leggett said. "He has been doing that to us in infrasound scrimmages, and I was hoping we would see that in a real game. He has got a real good breaking ball, great poise, and is a real good athlete. He is just a cut above. He has been doing that to us all fall, and showing that us all fall. I am excited for him."
The Tigers and 49ers conclude the series Sunday at 1 p.m. at Doug Kingsmore Stadium.