| | |
| --- | --- |
| Tigers get good effort from Gossett, walk away with win over No. 19 Jackets | |
---
| | |
| --- | --- |
| Friday, April 26, 2013, 5:34 PM | |
CLEMSON – Daniel Gossett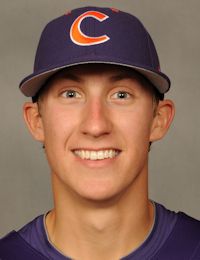 Daniel Gossett
So. RH Pitcher
#23 6-0, 180
Lyman, SC
View Full Profile pitched seven strong innings and the 13th-ranked Clemson Tigers took advantage of eight walks and two errors in defeating 19th-ranked Georgia Tech 11-3 Friday afternoon in the opener of a three-game series at Doug Kingsmore Stadium.
Steve Wilkerson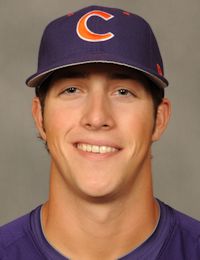 Steve Wilkerson
Jr. 2nd Base
#17 6-1, 195
Roswell, GA
View Full Profile had two hits and two RBI, Tyler Krieger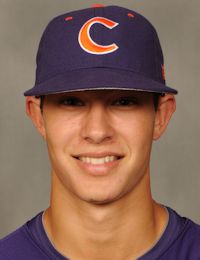 Tyler Krieger
Fr. Infielder
#3 6-2, 170
Johns Creek, GA
View Full Profile had three hits and drove in two runs and Jon McGibbon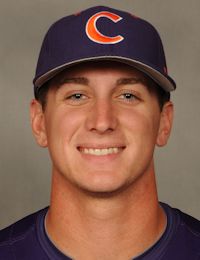 Jon McGibbon
Jr. 1st Base
#12 6-1, 220
Lindenhurst, NY
View Full Profile drove in two runs for the Tigers, who improved to 29-13 overall, 14-8 in the ACC. Georgia Tech fell to 27-15 (11-11).
The Tigers had chances to break through against Georgia Tech starter Buck Farmer in the early innings, twice getting runners to second base with nobody out, but Farmer was able to work around the baserunners and the game was scoreless through four innings.
In the bottom of the fifth, Tyler Krieger walked to open the inning and Jon McGibbon followed that with a hard grounder to second that was thrown into left field, giving the Tigers runners at second and third with nobody out. Thomas Brittle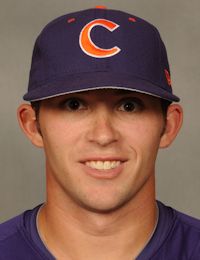 Thomas Brittle
RS Sr. Outfielder
#4 5-8, 180
Cross, SC
View Full Profile popped weakly to second, but Tyler Slaton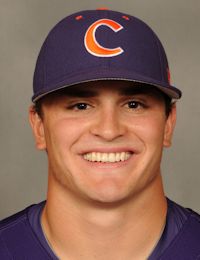 Tyler Slaton
So. Outfielder
#18 5-7, 200
Cumming, GA
View Full Profile followed that with an RBI groundout to score Krieger for a 1-0 lead.
Steve Wilkerson then laced a line drive past first base for an RBI double that scored McGibbon and Clemson lead 2-0 after five innings.
Joe Costigan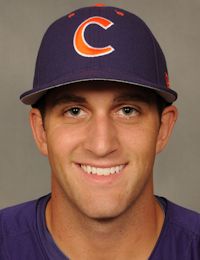 Joe Costigan
Jr. Outfielder
#5 5-11, 190
Naples, FL
View Full Profile rifled a single to left with one out in the sixth, and Krieger laid down a perfect bunt down the third base line for a hit – he reached first without a throw – to give Clemson runners at first and second.
McGibbon lined a hard shot to shortstop for a hit, and when the ball rolled behind the second base bag Costigan scored for a 3-0 lead. Krieger was out trying to advance to third, and a foul out ended the inning with Clemson ahead by three after six innings.
A pair of doubles plated a run for Tech in the top of the seventh, but Gossett escaped further damage by stranding runners at first and third to end the threat.
Clemson's offense then made the Jackets pay in the bottom of the inning. With one out, Wilkerson singled to center and then moved to third on a single by Duggar. Garrett Boulware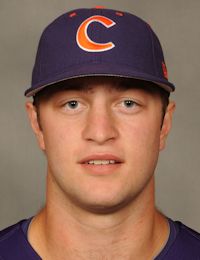 Garrett Boulware
So. Catcher
#30 6-1, 210
Anderson, SC
View Full Profile drilled the second pitch he saw down the left field line for an RBI double that scored Wilkerson for a 4-1 lead. The Jackets intentionally walked Baum to load the bases, and pinch hitter Maleek Gibson hit a grounder that first baseman A.J. Murray knocked into foul territory, and all runners were safe as Clemson took a 5-1 lead.
Farmer then walked Krieger on four pitches to make it 6-1 Tigers, and he was replaced by Devin Stanton, who had the unenviable task of coming in with the bases loaded and just one out. Stanton then walked McGibbon on four pitches for a 7-1 lead, and Stanton was replaced by Joe Wiseman. Brittle hit a grounder that forced McGibbon at second, but the run scored for an 8-1 lead.
The Tigers added three more runs in the eighth on a sacrifice fly by Baum ad RBI singles by Krieger and McGibbon.
Gossett pitched seven innings, giving up just the one run, striking out four and walking two. He gave up five hits.
If you can't see the PDF below, click here to open it.