| | |
| --- | --- |
| Tigers outlast #1 North Carolina in 11 innings | |
---
| | |
| --- | --- |
| Monday, April 1, 2013, 11:32 PM | |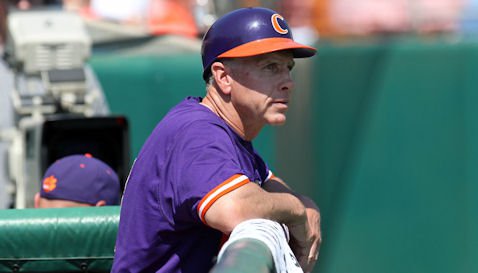 Chapel Hill, NC - Garrett Boulware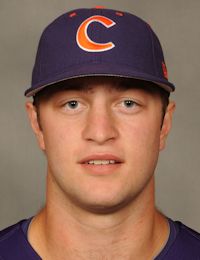 Garrett Boulware
So. Catcher
#30 6-1, 210
Anderson, SC
View Full Profile 's groundout scored Jay Baum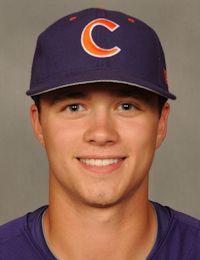 Jay Baum
So. Infielder
#13 6-0, 190
Alpharetta, GA
View Full Profile in the 11th inning to lift Clemson to a 5-4 win over #1 North Carolina in front of 3,205 fans at Boshamer Stadium on Monday night. The Tigers, who won their 16th all-time game over a top-ranked team, improved to 17-11 overall and 6-6 in the ACC. The Tar Heels, who won the series 2-1, fell to 25-2 overall and 9-2 in ACC play.
The Tar Heels jumped out to leads of 2-0 and 3-1 before Clemson clawed back with three runs in the sixth inning to take a 4-3 lead. North Carolina tied the score in the seventh inning on a run-scoring groundout, then both teams were unable to score a go-ahead run in the eighth, ninth, and 10th innings. Clemson loaded the bases with no outs in the 11th inning and plated the go-ahead run with one out on Boulware's groundout.
Scott Firth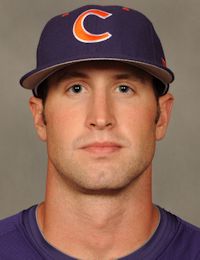 Scott Firth
Sr. RH Pitcher
#20 6-0, 175
Buffalo Grove, IL
View Full Profile (3-4) pitched 4.2 scoreless innings in relief to earn the win. He battled through adversity in three different innings, as North Carolina stranded runners at second and third in the eighth, 10th, and 11th innings without scoring. Firth allowed three hits and two walks with one strikeout.
Chris O'Brien (0-1), the seventh of eight Tar Heel pitchers, suffered the loss. He gave up two hits, one run, and one walk in 1.0 innings pitched.
North Carolina took the game's first lead in the third inning. Landon Lassiter lined a two-out triple to right-center, then Colin Moran belted an opposite-field, two-run homer to left-center, his sixth long ball of the season.
In the fourth inning, Boulware laced a one-out double to left field. Two batters later, Tyler Krieger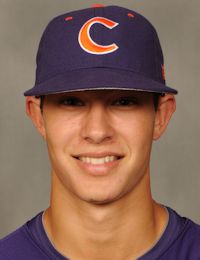 Tyler Krieger
Fr. Infielder
#3 6-2, 170
Johns Creek, GA
View Full Profile lined a two-out single to left field to score Boulware.
In the fifth inning, Lassiter flared a two-out single to left-center, Moran walked, and Skye Bolt was hit-by-pitch. Cody Stubbs then grounded an 0-2 pitch through the left side for a single to score Lassiter.
The Tigers rallied for three runs in the sixth inning to take the lead. Jon McGibbon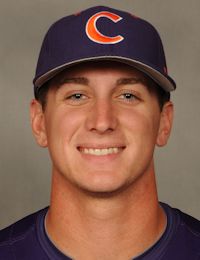 Jon McGibbon
Jr. 1st Base
#12 6-1, 220
Lindenhurst, NY
View Full Profile reached on an infield single with one out in the sixth inning, then Shane Kennedy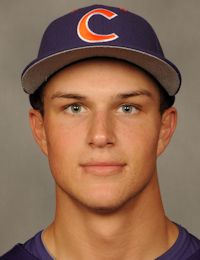 Shane Kennedy
Jr. Infielder
#11 6-2, 190
Orlando, FL
View Full Profile walked. Krieger's single to left field loaded the bases, then Thomas Brittle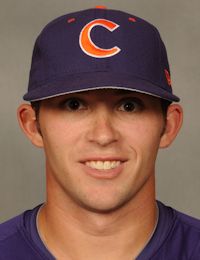 Thomas Brittle
RS Sr. Outfielder
#4 5-8, 180
Cross, SC
View Full Profile blooped a single down the right-field line to score McGibbon and Kennedy. Two batters later on an 0-2 pitch to Baum, Krieger scored on a wild pitch to give Clemson a 4-3 lead.
In the seventh inning, Chaz Frank led off with a double down the left-field line and advanced to third on Lassiter's groundout to second. Frank then scored on Moran's groundout to tie the score 4-4.
Stubbs led off the eighth inning with an infield single and advanced to second on Michael Russell's sacrifice bunt. After Brian Holberton walked on four pitches, Mike Zolk grounded out to short to move the runners up a base. But pinch-hitter Parks Jordan flied out to left field to end the inning.
Kevin Bradley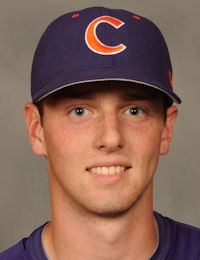 Kevin Bradley
Fr. Infielder
#37 6-1, 200
Pennington, NJ
View Full Profile led off the top of the 11th inning with a six-pitch walk, Clemson's first leadoff batter of an inning to reach base in the game. Baum reached on a bunt single, then Tyler Slaton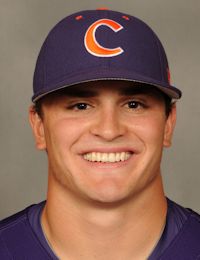 Tyler Slaton
So. Outfielder
#18 5-7, 200
Cumming, GA
View Full Profile reached on another bunt single to load the bases with no outs. Steven Duggar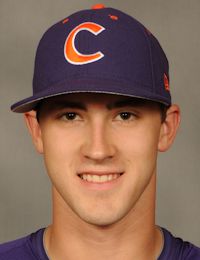 Steven Duggar
Fr. Outfielder
#9 6-1, 185
Moore, SC
View Full Profile reached on a fielder's choice as pinch-runner Steve Wilkerson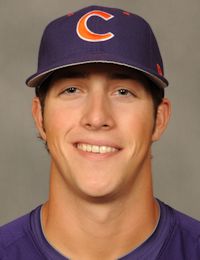 Steve Wilkerson
Jr. 2nd Base
#17 6-1, 195
Roswell, GA
View Full Profile was retired at home for out #1. Boulware grounded out to short to allow Baum to score the go-ahead run. The middle infielders were playing back in hopes of turning an inning-ending double play, but the ball was hit too slow and the only play was at first base.
In the bottom of the 11th inning, leadoff batter Alex Raburn was hit-by-pitch, then Frank reached on a bunt single in a close play at first base. Lassiter popped up a bunt in foul territory for out #1, then Moran flied out to deep center to advance both runners up a base. Bolt then hit a slow grounder to Baum at second, who charged the ball and threw to McGibbon at first for the game-ending out.
Kennedy went 2-for-3 with a double, run, and three walks to lead Clemson, who totaled 10 hits in the game. Brittle added a team-high two RBIs.
Stubbs went 4-for-5 with an RBI to pace the Tar Heels, who amassed 11 hits in the contest. Frank went 3-for-6 with a double and run as well.
Clemson will host Gardner-Webb at Doug Kingsmore Stadium on Wednesday at 6:30 PM.
If you can't see the PDF below, click here to open it.


Tags:
Garrett Boulware
,
Jay Baum
,
Jon McGibbon
,
Kevin Bradley
,
Scott Firth
,
Shane Kennedy
,
Steve Wilkerson
,
Steven Duggar
,
Thomas Brittle
,
Tyler Krieger
,
Tyler Slaton