| | |
| --- | --- |
| Tigers drop series opener to Gamecocks 6-0 | |
---
| | |
| --- | --- |
| Friday, March 1, 2013, 10:01 PM | |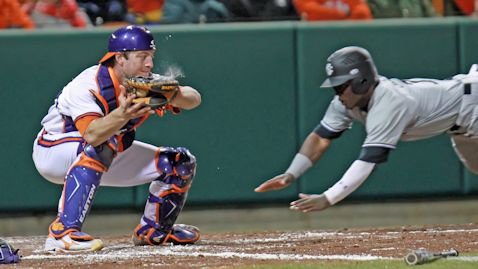 CLEMSON – The first game of the three-game Clemson-South Carolina series was simply more of the same.
South Carolina (7-1) took advantage of six walks and three Clemson (5-3) errors and Jordan Montgomery shut down Clemson's offensive attack as the Gamecocks won for the 19th time in the last 26 games and nine of the last 11 in the series in taking game one 6-0 at Doug Kingsmore Stadium Friday night.
In all, Carolina scored just one earned run on a mere five hits, but even that would have been enough to beat a Clemson offense that has mustered just nine hits in the last 18 innings. Montgomery went eight innings, giving up just three hits and striking out a career-high nine batters.
Clemson starter Daniel Gossett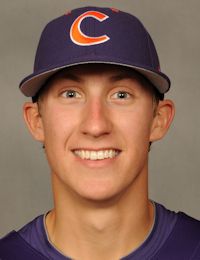 Daniel Gossett
So. RH Pitcher
#23 6-0, 180
Lyman, SC
View Full Profile went 6 1/3 innings, giving up just one earned run, but his effort was hurt by four walks. Steve Wilkerson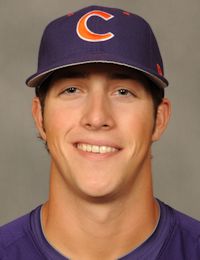 Steve Wilkerson
Jr. 2nd Base
#17 6-1, 195
Roswell, GA
View Full Profile , Thomas Brittle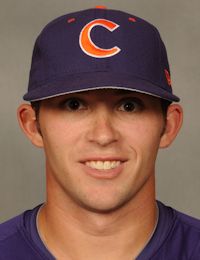 Thomas Brittle
RS Sr. Outfielder
#4 5-8, 180
Cross, SC
View Full Profile and Garrett Boulware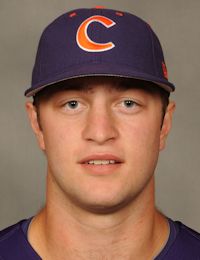 Garrett Boulware
So. Catcher
#30 6-1, 210
Anderson, SC
View Full Profile accounted for Clemson's hits. Clemson has totaled nine hits and just two runs over the last 18 innings of play, both losses.
"I thought Daniel did a good job for us for six innings," Clemson head coach Jack Leggett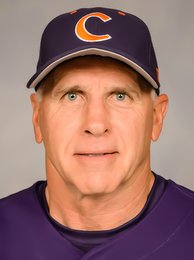 Jack Leggett
Baseball Head Coach
View Full Profile said. "Their kid pitched really well, and didn't give us much. We didn't hit any ground balls and struck out too much. We gave up the runs in the seventh and eighth innings. We had a great game going but gave up those unearned runs."
"We just couldn't get much going, but tomorrow is a new day," Gossett said after the game. "I tried to execute my pitches the best I could. I felt good. The fastball location, changeup location and slider location felt good."
The Gamecocks used two hits, a sacrifice bunt and an RBI groundout to break a scoreless tie in the fifth for a 1-0 lead.
The Tigers had a golden chance to score in the bottom of the inning when catcher Garrett Boulware drilled an 0-1 pitch from Jordan Montgomery into left field. The ball appeared to hit either the top of the wall or the railing and bounced back into play. Leftfielder Graham Saiko fielded the ball quickly, and as Boulware slid into third base he slid past the bag and was tagged out to end the threat.
"That was a big play," Leggett said. "I guess he [umpire Marion Hodgson] saw it a little different."
Boulware said he couldn't tell if the ball cleared the wall or not.
"Honestly, I was just trying to get to second," Boulware said. "And then I saw the ball bounce off, and I couldn't tell if it hit the wall or the rail. Once I saw it bounce back out I was just trying to get to third. I really didn't see much. Once I hit it, I just put my head down and started running. I beat the throw, and tried to catch the bag with my hand and hold onto it, but it slid off."
Leggett argued with the umpire to no avail, and the Tigers mounted just one threat after that inning. Steve Wilkerson doubled to lead off the bottom of the seventh, and Shane Kennedy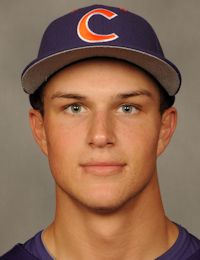 Shane Kennedy
Jr.
#11 6-2, 190
Orlando, FL
View Full Profile followed that with a walk to put runners at first and second with no one out. However, Montgomery recorded the next three outs on just five pitches as three lazy fly balls ended the threat.
South Carolina added three runs in the seventh and two more in the eighth to finish out the scoring.
Leggett said his team will have to put the loss behind them quickly.
"We have to score some runs to win," he said. "We didn't get a leadoff man on base but one time tonight. We have to get on top of the baseball a little more and strike out a little less. We just have to put this one behind us. We have to keep playing and keep on going. Baseball is a funny game and there are a lot of games left."
The teams play the second game of the series Saturday afternoon at 2 p.m. at Fluor Field in Greenville. South Carolina starts Colby Holmes, and Clemson will counter with freshman Clate Schmidt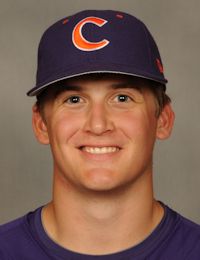 Clate Schmidt
Fr. RH Pitcher
#32 6-1, 190
Acworth, GA
View Full Profile .
If you can't see the PDF below, click here to open it.