| | |
| --- | --- |
| Tigers' season ends in another close loss to Gamecocks | |
---
| | |
| --- | --- |
| Sunday, June 3, 2012, 8:04 PM | |
COLUMBIA – As Brad Felder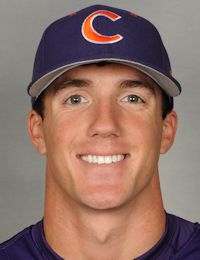 Brad Felder
Gr. Outfielder
#3 6-0, 200
Bowman, SC
View Full Profile 's deep fly ball settled into South Carolina right fielder Adam Matthews' glove in the late afternoon twilight Sunday afternoon, the catch launched an all-too-familiar sight for Clemson baseball fans, players and coaches – a South Carolina post-season celebration in the middle of the diamond.
Felder's last-gasp launch into right ended another tight game between the rivals, this one a 4-3 loss by the Tigers in the finale of the NCAA Regional at a packed Carolina Stadium, sending Carolina on to a Super Regional next weekend.
"You're hoping he trips on a rock or sneezes, something happens," Richie Shaffer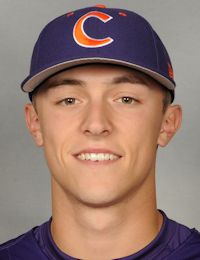 Richie Shaffer
Jr. 3rd Base
#8 6-3, 205
Charlotte, NC
View Full Profile said after the game. "Nothing crazy happened, he caught the ball and the game was over."
In the meantime, Clemson must ponder some facts: That is six straight losses to their rivals in the post-season, it was the 18th loss in the last 25 games between the two teams, and the fourth loss in five games this season. Also, since the Super Regional era began in 1999, Clemson had missed making a Super two years in a row just once (2003-04), but now failed to make it in both 2011 and 2012.
Not easy to take when your rival has won 19 postseason games in a row and back-to-back national championships.
"It's tough to take whenever you watch someone else celebrate," Phil Pohl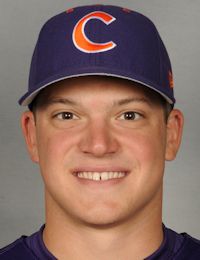 Phil Pohl
Sr. Catcher
#9 5-11, 215
Cooperstown, NY
View Full Profile said after the game. "Whether it is these guys or anybody else, it's tough to take. Other teams have put us out, and so have these guys. It hurts no matter who it is."
"This is obviously a tough loss for us," Clemson head coach Jack Leggett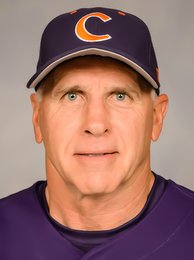 Jack Leggett
Baseball Head Coach
View Full Profile said. "We played hard all day long, won the first game against Coastal to give ourselves a second chance here. We got started on the wrong foot in the first inning and had trouble recovering. What happened today was a microcosm of the whole season. Little things that came back to haunt us all year and they did today."
Clemson started David Haselden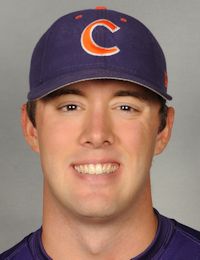 David Haselden
Sr. RH Pitcher
#29 6-4, 240
Spartanburg, SC
View Full Profile , the gritty senior who threw 62 pitches while working four innings against Coastal Carolina Friday night, and he was hit hard but also plagued by bad luck as Carolina scored three runs in the top of the first.
Joey Pankake tripled to lead off the game and scored on a sacrifice fly by Evan Marzilli. Christian Walker walked, bringing up L.B. Dantzler, who grounded sharply to first baseman John McGibbon. He stepped on the bag for the out, but his throw to second hit Walker in the shoulder and rolled into left, sending Walker to third. Adam Matthews then singled, scoring Walker, and Matthews scored on a double by Connor Bright to make it 3-0.
That chased Haselden, and Clemson brought in reliever Jonathan Meyer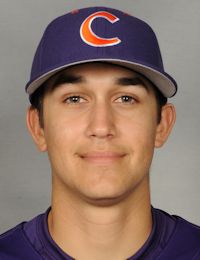 Jonathan Meyer
Jr. RH Pitcher
#28 6-0, 180
San Diego, CA
View Full Profile who escaped the threat without any further damage.
"We had a whole nine innings worth of baseball to play, and we hadn't even stepped to the plate yet," Shaffer said of the early hole. "We did a good job of stopping the bleeding, and we knew we had to chip away and just get some quality at-bats."
Meanwhile, South Carolina starter Jordan Montgomery mystified the Clemson batters – helped by a generous strike zone – through the first five innings, giving up just one hit, and South Carolina added a solo run in the sixth to make it 4-0.
Clemson finally dented the scoreboard in the bottom of the sixth. Steve Wilkerson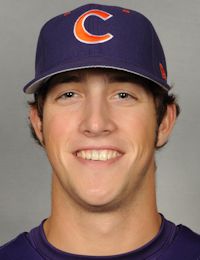 Steve Wilkerson
So. 2nd Base
#17 6-1, 185
Roswell, GA
View Full Profile singled to left with one out, and he scored when Thomas Brittle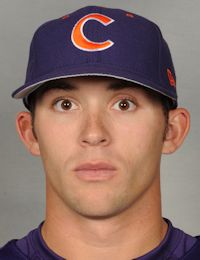 Thomas Brittle
RS Jr. Outfielder
#4 5-8, 170
Cross, SC
View Full Profile lined a double into the right field corner. A Richie Shaffer single and a Pohl RBI grounder made it 4-2 heading into the final three innings.
The Tigers had one final chance in the ninth, however, after Jay Baum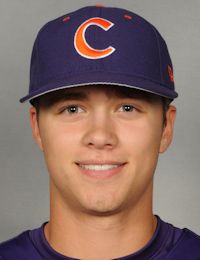 Jay Baum
Fr. Infielder
#13 5-11, 180
Alpharetta, GA
View Full Profile singled with one out. He later scored on a two-out single by Kieboom, and Kieboom was replaced at first by pinch-runner Tyler Slaton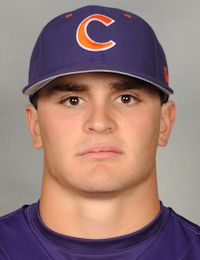 Tyler Slaton
Fr. Outfielder
#18 5-7, 195
Cumming, GA
View Full Profile . However, Felder flied to deep right to end the regional and the game.
Meyer, for his part, was outstanding in relief of Haselden. He came on with two outs in the bottom of the first inning and went the rest of the way, pitching 8.1 innings and giving up just the one run while striking out four and walking two in his best outing of the season. Had Clemson advanced, his work in eating innings out of the pen would have been invaluable.
"It's always tough to come on in front of a lot of people like that, but I've done it before this season," Meyer said. "Early on, it was the slider away that was working for me. But as the game went on, my arm got more loose, and I was able to locate my fastball on the inside and outside to righties."
Leggett defended his program in the postgame press conference.
"In my eyes, the bottom line is how you run your program and how you represent your university," he said. "But we have also won a lot of games, and we are the kind of team that other people aspire to be and compare themselves to. I take a lot of pride in that."