| | |
| --- | --- |
| Leone's heart shines through in gutsy win over Coastal Carolina | |
---
| | |
| --- | --- |
| Sunday, June 3, 2012, 4:23 PM | |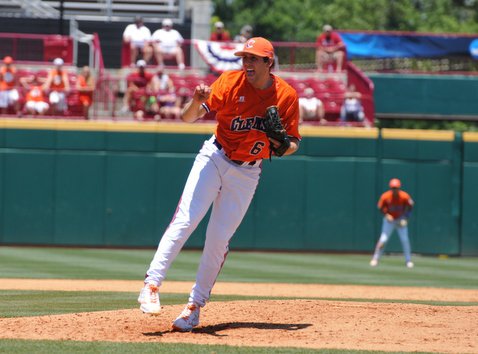 COLUMBIA – Dominic Leone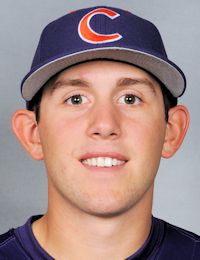 Dominic Leone
Jr. RH Pitcher
#6 5-11, 195
Norwich, CT
View Full Profile took the mound Sunday afternoon in Columbia with emotions swirling and a heavy heart.
However, it was his heart that showed through as he pitched seven strong innings, giving a beleaguered Clemson pitching staff the innings it needed, and Jason Stolz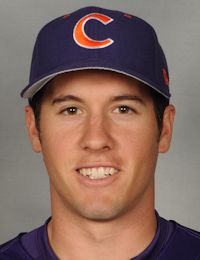 Jason Stolz
Sr. Infielder
#2 6-2, 205
Marietta, GA
View Full Profile homered twice in a 5-3 win over Coastal Carolina in the elimination game of the NCAA Regional at Carolina Stadium.
With the win, Clemson advances to the championship game of the bracket, but must beat South Carolina twice [Sunday afternoon and Monday evening] in order to advance to a Super Regional.
Leone left the team late last week following the tragic death of a young cousin, but returned to the team in time to throw 127 pitches, giving up just three runs [only two were earned], walking four and striking out six in picking up his seventh win.
"It was tough. I found out Sunday morning after we got back from the ACC tournament," Leone said after the game. "I didn't really have a lot of time to process it because I was on a plane that night. It was a tough week. I got back and the most important thing to me was having my teammates around me. They were very supportive and I had a lot of hugs when I got back to the dugout. It was like that release when I got back on the baseball field and I could focus on baseball again. I kept it in the back of my mind, but I wasn't going to let it affect my performance."
Leone gave up a single run in the bottom of the first, but Stolz drove a ball deep into the bullpen in left to tie the score at 1-1. Coastal answered with a long home run in the bottom of the inning to jump back ahead 2-1.
The Tigers roared back in the fourth after Jay Baum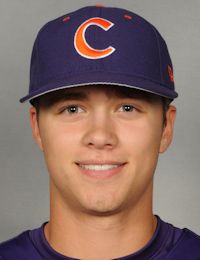 Jay Baum
Fr. Infielder
#13 5-11, 180
Alpharetta, GA
View Full Profile led off the inning with a walk. He scored on a Brad Felder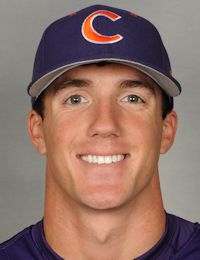 Brad Felder
Gr. Outfielder
#3 6-0, 200
Bowman, SC
View Full Profile double into right-center, and Felder came around to score on Stolz' second homer of the day, a shot into the left field stands that gave Clemson the 4-2 lead.
Coastal used two errors by the Clemson infield to score an unearned run in the fifth, but Leone battled back and pitched through the seventh.
"Really, I just wanted to throw strikes," Leone said. "I told Coach Pep [pitching coach Dan Pepicelli] around the fifth or sixth inning to just ride me and try and save the other guys for as long as I could go. My mindset was really just to take it one pitch at a time and one inning at a time. Coastal is a good team and they make you work. You really couldn't think ahead, you just had to focus on one batter at a time."
Clemson added an insurance run in the ninth when Phil Pohl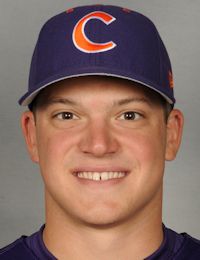 Phil Pohl
Sr. Catcher
#9 5-11, 215
Cooperstown, NY
View Full Profile drove a single up the middle to score Brittle for the final run of the day. Scott Firth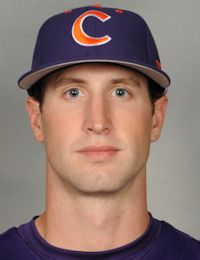 Scott Firth
Jr. RH Pitcher
#20 6-0, 165
Buffalo Grove, IL
View Full Profile pitched the final two innings, striking out the side in the ninth, in picking up his third save of the season.
Leone said he will be happy being a cheerleader in the second game.
"My M.O. has been the rally starter and to keep it loose in the dugout," he said. "I guess that is going to be my goal today, if I'm shut down. If the game gets tight, I'm sure that I'll be poking at Coach Pep's side or Coach Leggett's side and saying, 'hey, let me get an inning.' But, that's going to be my main goal is to keep them riled up through the twists and turns of the game and hopefully provide a spark for these guys."
Leggett said he was proud of the way his team battled.
"I thought we played a good ball game- pitching wise, especially," Leggett said. "Dominic was really good for us out there. He battled for us. He sucked it up and threw strikes, had good velocity on his fastball and had a good breaking ball. I thought Scotty Firth came in and pitched pretty well for us as well. Our pitching was excellent. Our defense was not all that good at times, but we overcame that- got behind, lost the lead, we got the lead and we were able to keep our two-run lead. It became a on- run lead quickly and I'm just proud of our players. We have to be ready to go in the next ball game."


Clemson vs Coastal Carolina

                Jun 03, 2012 at Columbia, SC (Carolina Stadium)

Clemson 5 (35-27)

Player                    AB  R  H RBI BB SO PO  A LOB

------------------------------------------------------

Steve Wilkerson 2b.......  5  0  0  0   0  2  2  3   0

Thomas Brittle cf........  3  1  1  0   2  1  2  0   0

Richie Shaffer 3b........  3  0  2  0   2  1  1  0   0

Phil Pohl dh.............  4  0  2  1   1  1  0  0   2

Jay Baum lf..............  3  1  0  0   1  0  0  0   3

 Joe Costigan ph.........  0  0  0  0   0  0  0  0   0

 Tyler Slaton pr/lf......  0  0  0  0   0  0  0  0   0

Jon McGibbon 1b..........  5  0  1  0   0  1  8  0   3

Spencer Kieboom c........  4  0  1  0   0  0 10  0   0

Brad Felder rf...........  4  1  2  1   0  1  2  1   1

Jason Stolz ss...........  4  2  2  3   0  1  2  6   1

Dominic Leone p..........  0  0  0  0   0  0  0  1   0

 Scott Firth p...........  0  0  0  0   0  0  0  1   0

Totals................... 35  5 11  5   6  8 27 12  10

Coastal Carolina 3 (42-19)

Player                    AB  R  H RBI BB SO PO  A LOB

------------------------------------------------------

Ted Blackman lf..........  3  2  1  1   2  1  0  1   0

Jacob May cf.............  4  0  2  0   0  0  3  0   0

Daniel Bowman rf.........  2  0  1  1   1  1  3  0   1

Rich Witten 1b...........  4  0  1  0   0  1  7  1   1

Alex Buccilli dh.........  3  0  0  0   0  1  0  0   1

Tucker Frawley c.........  2  0  0  0   2  0  8  2   0

Justin Creel 2b..........  3  0  1  0   0  1  3  4   0

 Luke Willis ph..........  1  0  0  0   0  0  0  0   2

 Keith Picconi 2b........  0  0  0  0   0  0  0  0   0

Tripp Martin 3b..........  4  0  0  0   0  2  1  1   2

Brian Pruett ss..........  4  1  1  0   0  2  1  1   0

Ben Smith p..............  0  0  0  0   0  0  0  1   0

 Ryan Connolly p.........  0  0  0  0   0  0  1  1   0

 Javier Reynoso p........  0  0  0  0   0  0  0  0   0

Totals................... 30  3  7  2   5  9 27 12   7

Score by Innings                    R  H  E

-------------------------------------------

Clemson............. 001 300 001 -  5 11  2

Coastal Carolina.... 101 010 000 -  3  7  1

-------------------------------------------

E - WILKERSON(18); FELDER(4); FRAWLEY(4). DP - Clemson 1. LOB - Clemson 10;

C. Carolina 7. 2B - SHAFFER(21); FELDER(8); WITTEN(17); CREEL(6). HR - STOLZ

2(7); BLACKMAN(1). HBP - COSTIGAN. SH - BUCCILLI(8). SF - BOWMAN(3). SB -

BRITTLE 3(15); FELDER(11); MAY(27). CS - BRITTLE(3); McGIBBON(1).

Clemson                IP  H  R ER BB SO AB BF

-----------------------------------------------

Dominic Leone.......  7.0  6  3  2  4  6 23 29

Scott Firth.........  2.0  1  0  0  1  3  7  8

Coastal Carolina       IP  H  R ER BB SO AB BF

-----------------------------------------------

Ben Smith...........  4.1  6  4  4  2  5 18 20

Ryan Connolly.......  4.1  5  1  1  4  3 16 20

Javier Reynoso......  0.1  0  0  0  0  0  1  2

Win - LEONE (7-4).  Loss - SMITH (2-2).  Save - FIRTH (3).

HBP - by REYNOSO (COSTIGAN).

Umpires - HP: Jason Stidham  1B: Jim Garman  2B: Greg Charles  3B: Greg Harmon

Start: 12:05 PM   Time: 3:28   Attendance: 6111

Game: CU6031