| | |
| --- | --- |
| Eighth inning dooms Tigers in ACC tourney opener | |
---
| | |
| --- | --- |
| Thursday, May 24, 2012, 4:30 PM | |
GREENSBORO, NC – Winning the ACC Tournament is hard enough without practically handing your opponent a win, but that's exactly what happened Thursday for Clemson.
Virginia (37-16-1) scored two runs in the bottom of the eighth, garnering only one hit in the process, in taking a 3-2 victory over Clemson (32-25) in the ACC Tournament opener for both teams at New Bridge Bank Ballpark in Greensboro. The loss to Virginia means that the only way the Tigers can make the tournament championship is if Virginia loses its final two games and the Tigers win their final two.
Clemson head coach Jack Leggett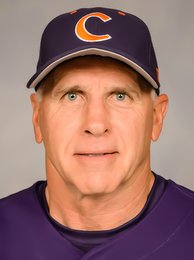 Jack Leggett
Baseball Head Coach
View Full Profile said Thursday's loss was a microcosm of the entire season.
"We've got to come up big," Leggett said. "We have big-time players and this is a big-time tournament atmosphere. This is where we've got to step our game up, do better in that area. We've struggled with it all season long and it showed up a little bit today. They hit a ball to right and next thing I know, the inning implodes on us," Leggett said. "A couple hit batters, couple walks, next thing I know we're down one."
Clemson was given a gift run of their own in the top of the eighth, scoring a lone run without the benefit of a hit. That lead and all of the good feelings unraveled in the bottom of the eighth after reliever Mike Kent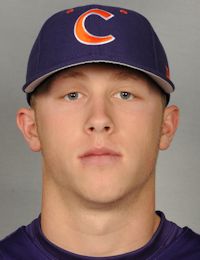 Mike Kent
RS So. RH Pitcher
#15 6-0, 195
Springfield, VA
View Full Profile came in to pitch.
Kent promptly recorded two quick outs, but everything unraveled after that. A single, a hit batter, and a walk loaded the bases. Leggett came to the mound, and even though reliever Scott Firth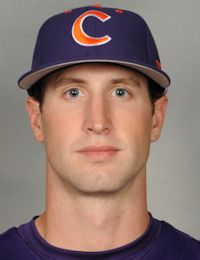 Scott Firth
Jr. RH Pitcher
#20 6-0, 165
Buffalo Grove, IL
View Full Profile was ready in the bullpen, Leggett elected to leave Kent in the game.
Kent then hit Chris Taylor with a pitch to score the tying run, and he was then replaced by Firth, who promptly walked another hitter to make it 3-2 Cavaliers heading into the top of the ninth.
The Tigers had one final chance to tie the game in the ninth when Richie Shaffer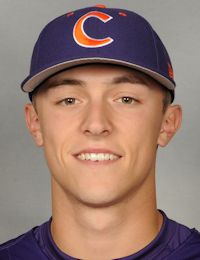 Richie Shaffer
Jr. 3rd Base
#8 6-3, 205
Charlotte, NC
View Full Profile drew a one-out walk, his fourth of the game. Designated hitter Phil Pohl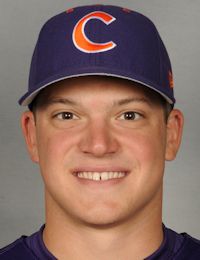 Phil Pohl
Sr. Catcher
#9 5-11, 215
Cooperstown, NY
View Full Profile then grounded into a game-ending double play, leaving the Tigers to wonder how they let one get away as Virginia now owns an eight-game winning streak against the Tigers.
The Cavaliers got on the board first, scratching out a single run against Gossett in the bottom of the third inning on an RBI single by Jared King.
The score remained that way until the top of the 6th inning, when Jon McGibbon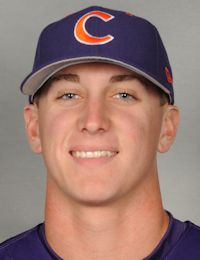 Jon McGibbon
So. 1st Base
#12 6-1, 210
Lindenhurst, NY
View Full Profile finally got Clemson on the board with a long blast to right field, a solo shot that made it 1-1.
"I've always been an aggressive hitter early in the count," McGibbon said. "(Kline) laid a fastball right there middle-in, and I was able to get a good piece of the bat on it and put it out of here to give us momentum."
Gossett pitched in and out of trouble all day, even leaving the bases loaded in the first inning, but kept the Virginia offense in check for most of the contest. He left with two outs in the seventh and runners at first and second, but Joseph Moorefield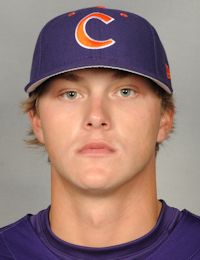 Joseph Moorefield
RS Jr. LH Pitcher
#51 6-1, 205
Woodruff, SC
View Full Profile came in and struck out Derek Fisher to end the threat.
Gossett finished by giving up four hits, striking out six, walking six and hitting a batter while giving up just the one run.
A little luck and some heads-up baserunning enabled Clemson to score its second run. Brad Felder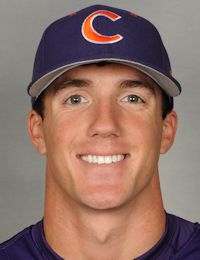 Brad Felder
Gr. Outfielder
#3 6-0, 200
Bowman, SC
View Full Profile led off the top of the eighth inning, and struck out. However, the missed third strike hit the umpire and bounced away from catcher Nate Irving.
With one out, Felder stole second and scored when McGibbon's scorcher got under the glove of Cavalier shortstop Chris Taylor and rolled into center field.
The Tigers return to action at 3 p.m. Friday when they take on top-seeded Florida St., but have to find a way to correct their woes at the plate. They were 0-for-11 with runners in scoring position on Thursday and have scored just five runs in their last 36 innings of play.
"We had a couple opportunities," Leggett said. "We've got to come up with some big two-out hits, two-out RBIs."


Clemson vs #17 Virginia

              May 24, 2012 at Greensboro, NC (NewBridge Bank Park)

Clemson 2 (32-25)

Player                    AB  R  H RBI BB SO PO  A LOB

------------------------------------------------------


  
 Steve Wilkerson

Steve Wilkerson





So. 2nd Base



#17 6-1, 185

Roswell, GA

View Full Profile
  
  2b.......  3  0  1  0   1  1  3  3   2


  
 Thomas Brittle

Thomas Brittle





RS Jr. Outfielder



#4 5-8, 170

Cross, SC

View Full Profile
  
  cf........  4  0  0  0   0  2  2  0   0

Richie Shaffer 3b........  1  0  0  0   4  0  0  2   0

Phil Pohl dh.............  4  0  0  0   1  1  0  0   2

Brad Felder rf...........  4  1  0  0   0  3  1  0   5


  
 Jay Baum

Jay Baum





Fr. Infielder



#13 5-11, 180

Alpharetta, GA

View Full Profile
  
  lf..............  4  0  1  0   0  0  2  0   0

Jon McGibbon 1b..........  4  1  2  1   0  0  9  1   0


  
 Spencer Kieboom

Spencer Kieboom





Jr. Catcher



#22 6-0, 220

Marietta, GA

View Full Profile
  
  c........  4  0  0  0   0  0  6  3   1


  
 Jason Stolz

Jason Stolz





Sr. Infielder



#2 6-2, 205

Marietta, GA

View Full Profile
  
  ss...........  4  0  1  0   0  0  0  2   1


  
 Daniel Gossett

Daniel Gossett





Fr. RH Pitcher



#23 6-0, 160

Lyman, SC

View Full Profile
  
  p.........  0  0  0  0   0  0  1  1   0

 Joseph Moorefield p.....  0  0  0  0   0  0  0  0   0

 Mike Kent p.............  0  0  0  0   0  0  0  0   0

 Scott Firth p...........  0  0  0  0   0  0  0  0   0

Totals................... 32  2  5  1   6  7 24 12  11

Virginia 3 (37-16-1)

Player                    AB  R  H RBI BB SO PO  A LOB

------------------------------------------------------

Chris Taylor ss..........  3  0  0  1   1  1  2  3   1

Branden Cogswell dh/2b...  3  1  0  1   1  0  1  1   0

Stephen Bruno 3b.........  4  0  1  0   1  2  0  0   3

Derek Fisher lf..........  2  0  1  0   2  1  3  0   2

Jared King 1b............  2  0  1  1   2  0  4  1   0

Colin Harrington rf......  3  0  0  0   0  2  2  0   5

Brandon Downes cf........  4  0  1  0   0  1  2  0   0

 Mitchell Shifflett pr/cf  0  1  0  0   0  0  0  0   0

Nate Irving c............  3  1  0  0   0  1  7  0   1

Keith Werman 2b..........  3  0  1  0   0  0  5  1   0

 Kenny Towns ph..........  0  0  0  0   1  0  0  0   0

 Justin Thompson p.......  0  0  0  0   0  0  0  0   0

Branden Kline p..........  0  0  0  0   0  0  1  2   0

 Kyle Crockett p.........  0  0  0  0   0  0  0  0   0

Totals................... 27  3  5  3   8  8 27  8  12

Score by Innings                    R  H  E

-------------------------------------------

Clemson............. 000 001 010 -  2  5  0

Virginia............ 001 000 02X -  3  5  2

-------------------------------------------

E - TAYLOR(17); BRUNO(12). DP - Virginia 2. LOB - Clemson 11; Virginia 12.

HR - McGIBBON(4). HBP - WILKERSON; TAYLOR; COGSWELL; IRVING. SH -

BRITTLE(2); HARRINGTON(17). SB - WILKERSON(9); FELDER(10); BRUNO(11). CS -

FISHER(3).

Clemson                IP  H  R ER BB SO AB BF

-----------------------------------------------

Daniel Gossett......  6.2  4  1  1  6  6 22 30

Joseph Moorefield...  0.1  0  0  0  0  1  1  1

Mike Kent...........  0.2  1  2  2  1  1  3  6

Scott Firth.........  0.1  0  0  0  1  0  1  2

Virginia               IP  H  R ER BB SO AB BF

-----------------------------------------------

Branden Kline.......  7.0  4  1  1  5  5 24 31

Kyle Crockett.......  1.1  1  1  0  0  2  7  7

Justin Thompson.....  0.2  0  0  0  1  0  1  2

Win - CROCKETT (5-2).  Loss - KENT (1-2).  Save - THOMPSON (12).

WP - GOSSETT(9); KLINE(6). HBP - by GOSSETT (COGSWELL); by KLINE (WILKERSON); by

KENT (IRVING); by KENT (TAYLOR). PB - IRVING(13).

Umpires - HP: Frank Sylvester  1B: Jacob Asher  2B: Morris Hodges  3B: Danny

Everett  Start: 11:06 AM   Time: 3:18   Attendance: 3331

Game: CU5241

Tags:
Brad Felder
,
Daniel Gossett
,
Jack Leggett
,
Jason Stolz
,
Jay Baum
,
Jon McGibbon
,
Joseph Moorefield
,
Mike Kent
,
Phil Pohl
,
Richie Shaffer
,
Scott Firth
,
Spencer Kieboom
,
Steve Wilkerson
,
Thomas Brittle