| | |
| --- | --- |
| Wake Forest tops Clemson 5-2 Thursday | |
---
| | |
| --- | --- |
| Thursday, May 17, 2012, 10:16 PM | |
Winston-Salem, NC -
Wake Forest totaled all five of its runs and all six of its hits in the third and fourth innings and held on for a 5-2 victory over Clemson in front of 648 fans at Wake Forest Baseball Park on Thursday night. The Demon Deacons, who took a 1-0 series lead, improved to 30-22 overall and 11-17 in the ACC. The Tigers fell to 32-22 overall and 16-12 in ACC play.
The Demon Deacons hit five singles in the third inning to score three runs, then a two-out double by Pat Blair plated another run in the fourth inning, while Blair also came around to score on the play thanks to a Tiger error. Richie Shaffer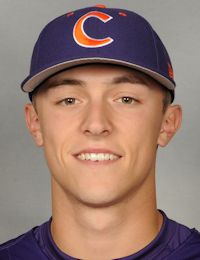 Richie Shaffer
Jr. 3rd Base
#8 6-3, 205
Charlotte, NC
View Full Profile laced a two-out, two-run double in the eighth inning, but it was not enough for Clemson, who outhit Wake Forest 7-6.
Tim Cooney (6-6) pitched 7.2 strong innings to earn the win. He gave up seven hits, two runs, and one walk with four strikeouts. Michael Dimock retired all four batters he faced to record his 12th save of the season.
Clemson starter Dominic Leone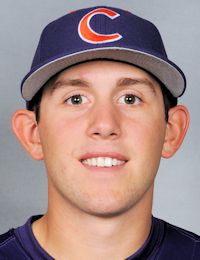 Dominic Leone
Jr. RH Pitcher
#6 5-11, 195
Norwich, CT
View Full Profile (6-4) suffered the loss, as he surrendered six hits, five runs (four earned), and three walks with five strikeouts.
The Demon Deacons used five singles to score the game's first three runs in the third inning. Brett Armour led off with a line-drive single to left field and Evan Stephens reached on a bunt single. After Blair was unable to get a bunt down to move the runners up a base, he lined a 2-2 pitch down the right-field line for a single to score Armour. Two batters later, Mac Williamson grounded a single through the left side to score Stephens, then Carlos Lopez grounded another single through the left side to plate Blair.
In the fourth inning, Armour reached on a one-out walk. Two batters later, Blair ripped a two-out double to right-center to score Armour. Blair also scored on the play when Jon McGibbon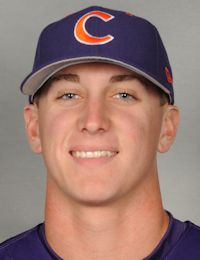 Jon McGibbon
So. 1st Base
#12 6-1, 210
Lindenhurst, NY
View Full Profile 's throw to third base was errant. Blair had stopped between second and third when McGibbon threw to third base.
The Tigers looked to mount a rally in the sixth inning when Jason Stolz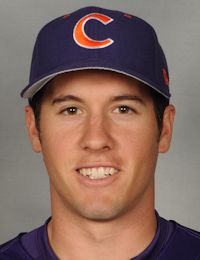 Jason Stolz
Sr. Infielder
#2 6-2, 205
Marietta, GA
View Full Profile led off with a bloop single to left field. Steve Wilkerson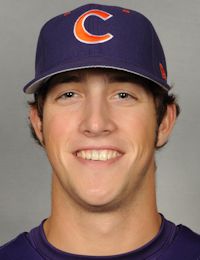 Steve Wilkerson
So. 2nd Base
#17 6-1, 185
Roswell, GA
View Full Profile followed with a hard-hit ball headed up the middle, but Cooney snagged the liner out of the air and started a double play.
In the seventh inning, Shaffer led off with a single through the left side, then Phil Pohl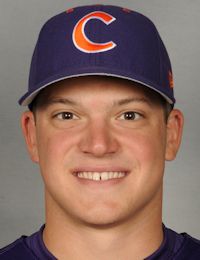 Phil Pohl
Sr. Catcher
#9 5-11, 215
Cooperstown, NY
View Full Profile blooped a single to left field. Two batters later with one out, McGibbon ripped a grounder headed for right field, but second-baseman Conor Keniry made a diving stop and threw to second to retire Pohl. Spencer Kieboom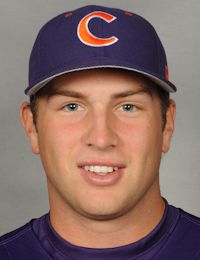 Spencer Kieboom
Jr. Catcher
#22 6-0, 220
Marietta, GA
View Full Profile then popped up to end the inning.
Stolz was hit-by-pitch with one out in the eighth inning, then Wilkerson lined a single to center to extend his hitting streak to 15 games. After Thomas Brittle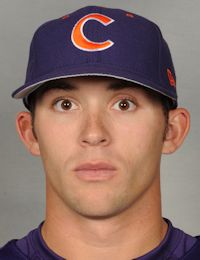 Thomas Brittle
RS Jr. Outfielder
#4 5-8, 170
Cross, SC
View Full Profile grounded out to second, Shaffer lined a two-out double to left field to score Stolz and Wilkerson.
Blair went 2-for-3 with a double, two RBIs, two runs, a walk, and steal to lead the Demon Deacons. Armour added a single and two runs.
Shaffer went 4-for-4 and established a career high for hits. He also tallied two doubles and both of Clemson's RBIs.
Clemson and Wake Forest will play game-two of the three-game series on Friday at 6:00 PM.


Clemson 2 (32-22,16-12 ACC)

Player                    AB  R  H RBI BB SO PO  A LOB

------------------------------------------------------

Steve Wilkerson 2b.......  3  1  1  0   1  0  1  1   0

Thomas Brittle cf........  4  0  0  0   0  1  4  1   1

Richie Shaffer 3b........  4  0  4  2   0  0  0  2   0

Phil Pohl dh.............  4  0  1  0   0  1  0  0   2


  
 Jay Baum

Jay Baum





Fr. Infielder



#13 5-11, 180

Alpharetta, GA

View Full Profile
  
  lf..............  4  0  0  0   0  1  1  0   0

Jon McGibbon 1b..........  4  0  0  0   0  1  6  0   0

Spencer Kieboom c........  3  0  0  0   0  0  5  0   2

 
  
 Joe Costigan

Joe Costigan





So. Outfielder



#5 5-11, 200

Naples, FL

View Full Profile
  
  ph.........  1  0  0  0   0  0  0  0   0


  
 Brad Felder

Brad Felder





Gr. Outfielder



#3 6-0, 200

Bowman, SC

View Full Profile
  
  rf...........  3  0  0  0   0  1  5  0   0

Jason Stolz ss...........  2  1  1  0   0  0  2  1   0

Dominic Leone p..........  0  0  0  0   0  0  0  1   0

 
  
 Mike Kent

Mike Kent





RS So. RH Pitcher



#15 6-0, 195

Springfield, VA

View Full Profile
  
  p.............  0  0  0  0   0  0  0  0   0

Totals................... 32  2  7  2   1  5 24  6   5

Wake Forest 5 (30-22,11-17 ACC)

Player                    AB  R  H RBI BB SO PO  A LOB

------------------------------------------------------

Pat Blair ss.............  3  2  2  2   1  0  3  3   0

Conor Keniry 2b..........  3  0  0  0   1  0  1  5   0

Mac Williamson rf........  4  0  1  1   0  0  0  0   0

Carlos Lopez 1b..........  3  0  1  1   1  0 12  0   1

Charlie Morgan dh........  4  0  0  0   0  1  0  0   0

Mark Rhine 3b............  3  0  0  0   0  1  0  2   2

Kevin Jordan lf..........  3  0  0  0   0  3  2  0   0

Brett Armour c...........  2  2  1  0   1  0  4  1   0

Evan Stephens cf.........  3  1  1  0   0  0  4  0   0

Tim Cooney p.............  0  0  0  0   0  0  1  3   0

 Michael Dimock p........  0  0  0  0   0  0  0  0   0

Totals................... 28  5  6  4   4  5 27 14   3

Score by Innings                    R  H  E

-------------------------------------------

Clemson............. 000 000 020 -  2  7  1

Wake Forest......... 003 200 00X -  5  6  0

-------------------------------------------

E - McGIBBON(7). DP - Clemson 2; Wake Forest 2. LOB - Clemson 5; Wake Forest

3. 2B - SHAFFER 2(18); BLAIR(14). HBP - STOLZ. SB - BLAIR(20).

Clemson                IP  H  R ER BB SO AB BF

-----------------------------------------------

Dominic Leone.......  7.0  6  5  4  3  5 26 29

Mike Kent...........  1.0  0  0  0  1  0  2  3

Wake Forest            IP  H  R ER BB SO AB BF

-----------------------------------------------

Tim Cooney..........  7.2  7  2  2  1  4 28 30

Michael Dimock......  1.1  0  0  0  0  1  4  4

Win - COONEY (6-6).  Loss - LEONE (6-4).  Save - DIMOCK (12).

HBP - by COONEY (STOLZ).

Umpires - HP: Dennis McComb  1B: Tom Baldinelli  3B: Rick Darby

Start: 6:09 PM   Time: 2:18   Attendance: 648

Tags:
Brad Felder
,
Dominic Leone
,
Jason Stolz
,
Jay Baum
,
Joe Costigan
,
Jon McGibbon
,
Mike Kent
,
Phil Pohl
,
Richie Shaffer
,
Spencer Kieboom
,
Steve Wilkerson
,
Thomas Brittle