| | |
| --- | --- |
| Haselden Pitches Tigers to 9-2 Win Over Paladins | |
---
| | |
| --- | --- |
| Tuesday, May 15, 2012, 10:51 PM | |
Clemson, SC -
Pitching in his last regular-season game at Doug Kingsmore Stadium, senior righthander David Haselden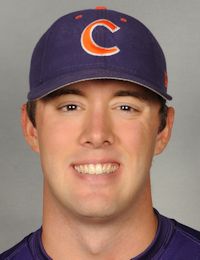 David Haselden
Sr. RH Pitcher
#29 6-4, 240
Spartanburg, SC
View Full Profile pitched a career-long 7.2 innings and gave up just two runs to lead Clemson to a 9-2 win over Furman on Tuesday night. The Tigers, who won the season series 2-0, improved to 32-21, while the Paladins dropped to 23-29. Clemson had beaten Furman 12-5 at Fluor Field in Greenville, SC on April 10.
Furman scored single runs in both the first and second innings to build a 2-0 lead. But Clemson scored five runs in the third inning to take the lead for good. The Paladins had several scoring chances all night, but they only scored two of their 14 baserunners thanks in large part to going just 1-for-12 with runners in scoring position.
Haselden (4-1), a native of Spartanburg, SC, made his first start since March 7 and earned the win. He yielded eight hits, two runs, and four walks with five strikeouts. Mike Kent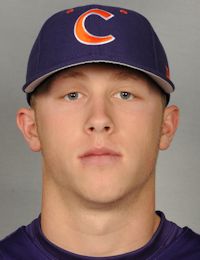 Mike Kent
RS So. RH Pitcher
#15 6-0, 195
Springfield, VA
View Full Profile pitched the final 1.1 innings without allowing a run.
Furman starter Stephen Gary (3-1), who was making his first start of the season, suffered the loss. He surrendered six hits, five runs, and no walks with one strikeout in 3.0 innings pitched.
The Paladins took the game's first lead in the first inning. Jake Jones led off with a double to left field and advanced to third on Will Owens' groundout to second. Jones scored on Jarrod Rickman's groundout to short.
In the second inning, Chris Ohmstede lined a one-out single to left field. Two batters later, Zack Greenwell grounded a two-out single through the left side, then Jones followed with another single through the left side to score Ohmstede.
The Tigers broke through with five runs in the third inning. Garrett Boulware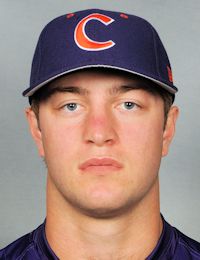 Garrett Boulware
Fr. Catcher
#30 6-1, 200
Anderson, SC
View Full Profile led off with a single to left-center and Jason Stolz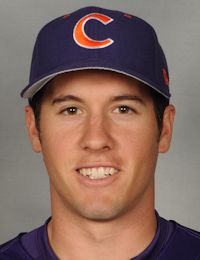 Jason Stolz
Sr. Infielder
#2 6-2, 205
Marietta, GA
View Full Profile singled through the right side. Thomas Brittle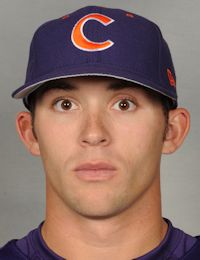 Thomas Brittle
RS Jr. Outfielder
#4 5-8, 170
Cross, SC
View Full Profile laid down a bunt to Ohmstede at third. His throw to first was errant and allowed Boulware to score from second. Stolz scored on a wild pitch, then Jay Baum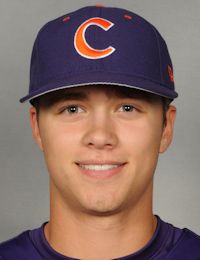 Jay Baum
Fr. Infielder
#13 5-11, 180
Alpharetta, GA
View Full Profile reached on an infield single to plate Brittle. Richie Shaffer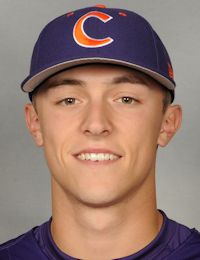 Richie Shaffer
Jr. 3rd Base
#8 6-3, 205
Charlotte, NC
View Full Profile reached on a fielder's choice as Baum was retired at second, then Phil Pohl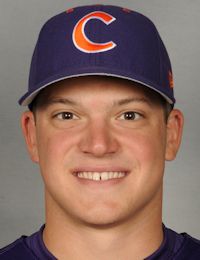 Phil Pohl
Sr. Catcher
#9 5-11, 215
Cooperstown, NY
View Full Profile lined a two-run homer down the left-field line, his eighth long ball of the season.
Jon McGibbon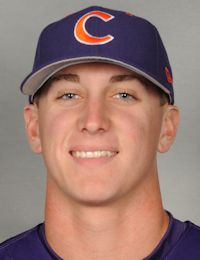 Jon McGibbon
So. 1st Base
#12 6-1, 210
Lindenhurst, NY
View Full Profile led off the fourth inning with a long home run to right field, his third homer of the season and second against Furman.
In the fifth inning, Shaffer led off with a walk and advanced to second on a wild pitch. Pohl reached on another error by Ohmstede that allowed Shaffer to score.
Brad Felder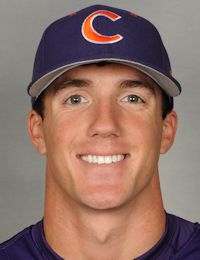 Brad Felder
Gr. Outfielder
#3 6-0, 200
Bowman, SC
View Full Profile led off the seventh inning with an infield single and Joe Costigan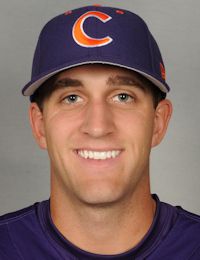 Joe Costigan
So. Outfielder
#5 5-11, 200
Naples, FL
View Full Profile belted a double to right-center. McGibbon followed with a sacrifice fly down the right-field line to score Felder, then Tyler Slaton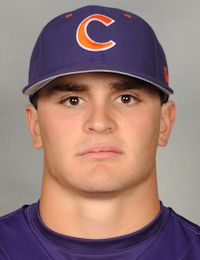 Tyler Slaton
Fr. Outfielder
#18 5-7, 195
Cumming, GA
View Full Profile lofted a sacrifice fly to center to plate Costigan.
Pohl, another senior who was playing his last regular-season game at Doug Kingsmore Stadium, led the Tigers at the plate with his two-run homer. McGibbon added two RBIs, while Shaffer scored a game-high two runs.
Jones paced Furman by going 3-for-4 with a double and an RBI. Owens added two hits as well.
Clemson will travel to Winston-Salem, NC to take on Wake Forest in a three-game series starting Thursday at 6:00 PM.


012 Clemson Baseball

Furman at Clemson

May 15, 2012 at Clemson, SC (Doug Kingsmore Stad.)

Furman 2 (23-29)

Player			AB	R	H	RBI	BB	SO	PO	A	LOB

Jake Jones rf		4	1	3	1	0	0	3	0	1

 Andrew Cadger ph	1	0	0	0	0	0	0	0	0

Will Owens 2b/ss	4	0	2	0	1	0	1	0	0

Jarrod Rickman dh	3	0	0	1	1	0	0	0	3

 Heath Burton ph	1	0	0	0	0	0	0	0	0

Will Miller cf		5	0	1	0	0	2	6	0	2

Taylor Johnson lf	4	0	1	0	0	1	3	0	1

Alex Abrams 1b/3b	3	0	0	0	1	0	1	2	2

Chris Ohmstede 3b/2b	3	1	1	0	0	0	0	0	0

Hunter Burton ss	3	0	0	0	0	1	1	1	0

 Harrison Farmer 1b	1	0	0	0	0	1	1	1	0

Zack Greenwell c	2	0	1	0	1	0	5	0	0

 Jake Kinsley ph/c	1	0	0	0	0	0	0	0	2

Stephen Gary p		0	0	0	0	0	0	0	1	0

 Jacques de Gruy p	0	0	0	0	0	0	1	0	0

 Mike Waller p		0	0	0	0	0	0	0	0	0

 Kevin Gottlieb p	0	0	0	0	0	0	2	0	0

Totals......		35	2	9	2	4	5	24	5	11

Clemson 9 (32-21)

Player				AB	R	H	RBI	BB	SO	PO	A	LOB

Thomas Brittle cf		1	1	0	0	0	1	3	0	0

 
  
 Dominic Attanasio

Dominic Attanasio




So. Outfielder
#1 5-7, 160
Windermere, FL


View Full Profile
  
  ph/cf	1	0	0	0	0	0	0	0	0

Jay Baum 2b			3	0	1	1	0	0	2	4	1

 
  
 Mike Dunster

Mike Dunster




So. Infielder
#10 5-10, 180
Greenwich, CT


View Full Profile
  
  ph/2b		0	0	0	0	1	0	0	1	0

Richie Shaffer 3b/ss		4	2	0	0	1	1	1	4	0

Phil Pohl c			4	1	1	2	1	1	5	0	2

 
  
 Andrew Cleveland

Andrew Cleveland




Fr. Catcher
#32 5-11, 180
Moore, SC


View Full Profile
  
  c		0	0	0	0	0	0	0	0	0

Brad Felder rf			4	1	1	0	0	0	3	0	2


  
 Spencer Kieboom

Spencer Kieboom




Jr. Catcher
#22 6-0, 220
Marietta, GA


View Full Profile
  
  dh		2	0	1	0	0	0	0	0	0

 Joe Costigan ph/dh		2	1	1	0	0	0	0	0	0

Jon McGibbon 1b			3	1	1	2	0	0	11	0	1

Garrett Boulware lf		2	1	1	0	0	1	0	0	0

 Tyler Slaton ph/lf		1	0	0	1	0	1	1	0	2

Jason Stolz ss			4	1	1	0	0	0	1	2	0

 
  
 Kevin Caughman

Kevin Caughman




RS So. Infielder
#37 5-11, 180
Martinez, GA


View Full Profile
  
  3b		0	0	0	0	0	0	0	0	0

David Haselden p		0	0	0	0	0	0	0	0	0

 Mike Kent p			0	0	0	0	0	0	0	0	0

Totals......	31	9	8	6	3	5	27	11	8

Score by Innings                    R  H  E

-------------------------------------------

Furman.............. 110 000 000 -  2  9  2

Clemson............. 005 110 20X -  9  8  0

-------------------------------------------

E - OHMSTEDE 2(7). DP - Clemson 1. LOB - Furman 11; Clemson 8. 2B -

JONES(2); MILLER(13); COSTIGAN(3). HR - POHL(8); McGIBBON(3). HBP -

OHMSTEDE; BRITTLE 2; BAUM; FELDER. SH - BRITTLE(2). SF - McGIBBON(3);

SLATON(1). SB - BRITTLE(10); BAUM(6).

Furman			IP	H	R	ER	BB	SO	AB	BF

Stephen Gary		3.0	5	5	4	0	1	14	15

Jacques de Gruy		2.0	1	2	1	1	2	8	11

Mike Waller		2.0	2	2	2	0	2	6	10

Kevin Gottlieb		1.0	0	0	0	2	0	3	5

Clemson			IP	H	R	ER	BB	SO	AB	BF

David Haselden		7.2	8	2	2	4	5	30	35

Mike Kent		1.1	1	0	0	0	0	5	5

Win - HASELDEN (4-1).  Loss - GARY (3-1).  Save - None.

WP - GARY(8); de GRUY(7); KENT(4). HBP - by de GRUY (BRITTLE); by de GRUY

(FELDER); by WALLER (BRITTLE); by WALLER (BAUM); by HASELDEN (OHMSTEDE).

Umpires - HP: David Savage  1B: Jeremy Dupree  3B: Darion Padgett

Start: 6:33 PM   Time: 2:37   Attendance: 3769

Tags:
Andrew Cleveland
,
Brad Felder
,
David Haselden
,
Dominic Attanasio
,
Garrett Boulware
,
Jason Stolz
,
Jay Baum
,
Joe Costigan
,
Jon McGibbon
,
Kevin Caughman
,
Mike Dunster
,
Mike Kent
,
Phil Pohl
,
Richie Shaffer
,
Spencer Kieboom
,
Thomas Brittle
,
Tyler Slaton