| | |
| --- | --- |
| Series win over top-ranked Florida St. has Tigers poised for end of season run | |
---
| | |
| --- | --- |
| Monday, May 14, 2012, 10:50 PM | |
CLEMSON – The Clemson baseball team is peaking at the right time.
Jack Leggett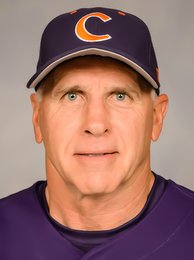 Jack Leggett
Baseball Head Coach
View Full Profile 's team has won six of its last seven series, including taking two-of-three from top-ranked Florida St. this past weekend. The Tigers took game one from the Noles 7-2 on Saturday, held on for a drama-filled 9-7 win in the first game of Monday's doubleheader, and lost 9-5 Monday evening in the nightcap.
Senior Jason Stolz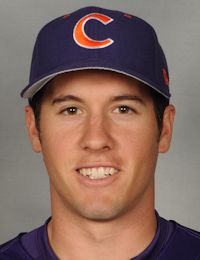 Jason Stolz
Sr. Infielder
#2 6-2, 205
Marietta, GA
View Full Profile hit a 3-run homer to pull the Tigers to within 9-5 in the finale, but Clemson (31-21, 16-11) was unable to take advantage of their remaining scoring opportunities in taking the loss to the Seminoles (41-11, 22-5). It was Florida St.'s first series loss of the season, but the Seminoles clinched the ACC's Atlantic Division title with the win.
Clemson head coach Jack Leggett said he was pleased with the series win but disappointed in the loss in the finale.
"You only feel as good as your last game in this business," Leggett said. "I am a little disappointed we lost this last one, but we played well all weekend and we played tough all weekend. We got the first two, which was good. We have been playing some good baseball lately."
Clemson is missing Friday starter Kevin Brady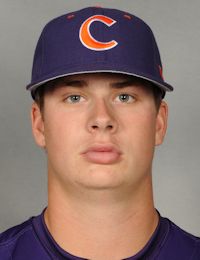 Kevin Brady
RS Jr. RH Pitcher
#19 6-3, 220
Gaithersburg, MS
View Full Profile – out with a hamstring – and key reliever Matt Campbell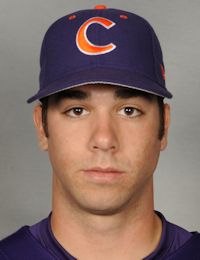 Matt Campbell
So. RH Pitcher
#36 5-11, 185
Alpharetta, GA
View Full Profile is lost for the season. Leggett said he needs for more pitchers to step up.
"I think we can play with anybody in the country, but everybody has to step up," he said. "We are a little short if we get into a long weekend or have four games. We have to scramble tomorrow (when they play Furman). We are missing 13 innings a week with Campbell and Brady out, and we have to find a way to make that up."
Florida St. head coach Mike Martin credited Leggett with having the Tigers ready to play despite the injuries to the pitching staff.
"I think this shows what a great coach Jack is," Martin said. "When you lose two pitchers like he has lost the last two weeks and to keep his team at a keel where they believe they can still win is unbelievable. They beat a pretty good club this weekend in taking two out of three, and my hat is off to them. They deserved to win. There are no ifs, ands or buts – they deserve all the credit."
Stolz said the Tigers are playing with as much confidence as they have all season.
"Coming off this last game, we can't be too satisfied," Stolz said. "But this gives us a lot of confidence and shows we can play with anybody and gives us a lot of confidence going into tomorrow, Friday against Wake Forest and the rest of the season. This is something to build off of, and guys are starting to do things a lot better.
"Guys are stepping up. Our backs are against the wall, and we have kind of answered. We are leaving nothing behind. We have shown that we are not going to be intimidated by anybody. I think we have been a team that can make some noise all season; we just needed to put all the pieces together. We are going to take this weekend and run with it and be strong the rest of the season."
Clemson will return to action on Tuesday when it hosts Furman at 6:30 PM at Doug Kingsmore Stadium. It will be Clemson's last regular-season home game in 2012.


 May 14, 2012 at Clemson, SC (Doug Kingsmore Stad.)

Florida State 9 (41-11,22-5 ACC)

Player                    AB  R  H RBI BB SO PO  A LOB

------------------------------------------------------

Sherman Johnson ss.......  4  0  4  3   2  0  2  1   0

Devon Travis 2b..........  6  1  1  0   0  0  0  2   1

James Ramsey cf..........  3  1  0  1   1  1  3  0   1

Jayce Boyd 1b............  4  0  1  0   0  0  5  1   4

Stephen McGee c..........  4  0  1  1   0  0  8  0   2

Josh Delph rf............  5  1  2  1   0  1  2  0   0

John Nogowski dh.........  5  2  3  0   0  0  0  0   2

Seth Miller lf...........  4  2  3  1   1  0  4  0   0

Jose Brizuela 3b.........  3  2  1  2   2  0  1  0   1

Luke Weaver p............  0  0  0  0   0  0  1  0   0

 Hunter Scantling p......  0  0  0  0   0  0  0  0   0

 Gage Smith p............  0  0  0  0   0  0  1  0   0

 Robert Benincasa p......  0  0  0  0   0  0  0  0   0

Totals................... 38  9 16  9   6  2 27  4  11

Clemson 5 (31-21,16-11 ACC)

Player                    AB  R  H RBI BB SO PO  A LOB

------------------------------------------------------

Steve Wilkerson 2b.......  5  0  1  0   0  0  2  5   1

Thomas Brittle cf........  3  1  1  0   2  0  4  0   0

Richie Shaffer 3b........  5  0  2  0   0  3  1  1   1

Phil Pohl dh.............  4  0  1  1   0  1  0  0   0

Jay Baum lf..............  3  0  0  0   0  0  0  0   4

 Mike Dunster ph.........  0  0  0  0   1  0  0  0   0

 Tyler Slaton pr/lf......  0  0  0  0   0  0  0  0   0

Jon McGibbon 1b..........  4  0  0  0   0  2  9  1   0

Spencer Kieboom c........  3  1  1  0   1  1  2  0   1

Brad Felder rf...........  3  2  1  0   1  1  5  0   0

Jason Stolz ss...........  4  1  2  4   0  0  3  2   1

Jonathan Meyer p.........  0  0  0  0   0  0  0  1   0

 Patrick Andrews p.......  0  0  0  0   0  0  1  1   0

Totals................... 34  5  9  5   5  8 27 11   8

Score by Innings                    R  H  E

-------------------------------------------

Florida State....... 204 030 000 -  9 16  0

Clemson............. 001 103 000 -  5  9  1

-------------------------------------------

E - SHAFFER(11). DP - Florida St. 1; Clemson 3. LOB - Florida St. 11;

Clemson 8. 2B - S. JOHNSON 2(14); TRAVIS(19); NOGOWSKI(5); FELDER(6);

STOLZ(9). 3B - BRIZUELA(2). HR - STOLZ(5). HBP - BOYD. SF - RAMSEY(4);

McGEE(8); POHL(5). SB - SLATON(6).

Florida State          IP  H  R ER BB SO AB BF

-----------------------------------------------

Luke Weaver.........  4.0  6  2  2  1  3 17 19

Hunter Scantling....  1.2  3  3  3  3  1  7 10

Gage Smith..........  2.1  0  0  0  1  2  7  8

Robert Benincasa....  1.0  0  0  0  0  2  3  3

Clemson                IP  H  R ER BB SO AB BF

-----------------------------------------------

Jonathan Meyer......  2.1 10  6  6  1  0 16 19

Patrick Andrews.....  6.2  6  3  3  5  2 22 28

Win - SMITH (2-0).  Loss - MEYER (2-5).  Save - None.

WP - WEAVER(1); ANDREWS 2(6). HBP - by MEYER (BOYD).

Umpires - HP: Mark Chapman  1B: Bryant Woodall  3B: Tony Walsh

Start: 6:04 PM   Time: 3:02   Attendance: 4965