| | |
| --- | --- |
| Cougars salvage series with win over Clemson Monday | |
---
| | |
| --- | --- |
| Monday, May 7, 2012, 8:18 PM | |
Clemson, SC -
College of Charleston took advantage of three Tiger errors to score two unearned runs, which proved to be the difference in the Cougars' 4-2 victory over Clemson at Doug Kingsmore Stadium on Monday afternoon. The Cougars improved to 32-15 on the season and won their first contest against the Tigers in 24 all-time meetings. The Tigers, who won the series 2-1, fell to 28-20.
The Tigers scored two runs in the third inning to take a 2-1 lead, but the Cougars responded with two runs in the fourth inning to retake the lead for good. College of Charleston doubled its lead with a run in the sixth inning and held on for the two-run win.
Starter Matt Pegler (8-2) pitched 6.0 solid innings to earn the win. He allowed five hits, two runs, and three walks with two strikeouts. Kyle Owings tossed 3.0 scoreless innings of one-hit ball with two strikeouts to record his second save of the year.
Jonathan Meyer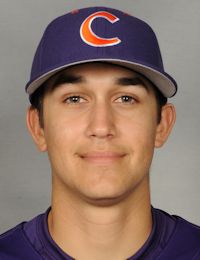 Jonathan Meyer
Jr. RH Pitcher
#28 6-0, 180
San Diego, CA
View Full Profile (2-4) suffered the loss, as he yielded seven hits, four runs (two earned), and two walks with one strikeout in 5.1 innings pitched. Scott Firth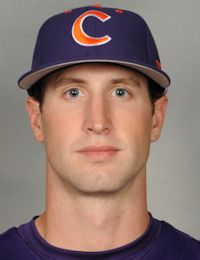 Scott Firth
Jr. RH Pitcher
#20 6-0, 165
Buffalo Grove, IL
View Full Profile pitched the final 3.2 innings and gave up just one hit, no runs, and one walk with three strikeouts.
The Cougars took the game's first lead in the first inning. Bradley Goodson lined a one-out single to center. Two batters later with two outs, Daniel Aldrich ripped a double down the right-field line. Goodson scored on the play on an error by right-fielder Brad Felder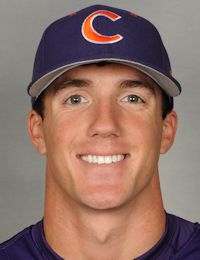 Brad Felder
Gr. Outfielder
#3 6-0, 200
Bowman, SC
In the third inning, Jason Stolz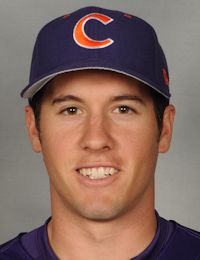 Jason Stolz
Sr. Infielder
#2 6-2, 205
Marietta, GA
View Full Profile drew a two-out walk and scored on Steve Wilkerson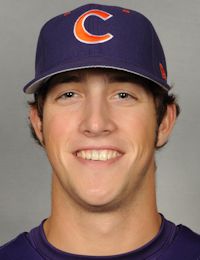 Steve Wilkerson
So. 2nd Base
#17 6-1, 185
Roswell, GA
View Full Profile 's double to right-center that extended his hitting streak to 10 games. After Thomas Brittle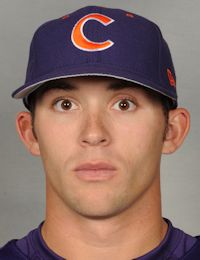 Thomas Brittle
RS Jr. Outfielder
#4 5-8, 170
Cross, SC
View Full Profile walked, Richie Shaffer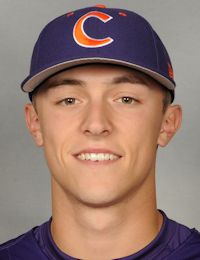 Richie Shaffer
Jr. 3rd Base
#8 6-3, 205
Charlotte, NC
View Full Profile flared a single to right field to score Wilkerson.
Aldrich belted a solo homer to right field in the fourth inning to tie the score. It was Aldrich's seventh long ball of the season. Two batters later, Brandon Glazer hit a two-out single to center, then Tyler Jackson reached on an error by Wilkerson at second that allowed Glazer to move to third base. On a designed play, Jackson got in a rundown long enough to allow Glazer to score, giving College of Charleston the lead for good.
In the sixth inning, Goodson led off with a bloop single to left field. Two batters later, Aldrich walked with one out, then Rob Harding lofted an 0-2 pitch to right-center that fell for another bloop single, allowing Goodson to score.
In the ninth inning, Felder drew a two-out walk to bring the potential tying run to the plate, but pinch-hitter Joe Costigan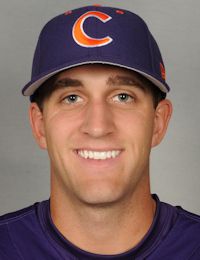 Joe Costigan
So. Outfielder
#5 5-11, 200
Naples, FL
View Full Profile grounded out to second to end the game.
Goodson, Aldrich, and Harding all had two hits apiece for College of Charleston, who totaled eight hits in the contest. Goodson added a game-high two runs.
Wilkerson and Phil Pohl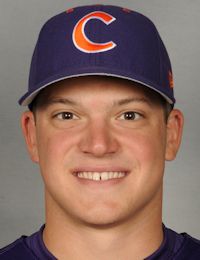 Phil Pohl
Sr. Catcher
#9 5-11, 215
Cooperstown, NY
View Full Profile had two hits apiece for Clemson, who amassed six hits. Brittle went 1-for-3 with a walk to extend his hitting streak to 21 games. Jon McGibbon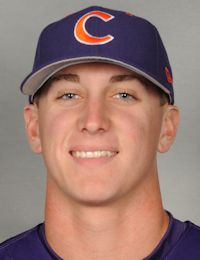 Jon McGibbon
So. 1st Base
#12 6-1, 210
Lindenhurst, NY
View Full Profile was 0-for-3 with a walk, as his 10-game hitting streak came to an end.
Clemson will host Tennessee Tech at Doug Kingsmore Stadium on Tuesday at 2:00 PM. The game was originally scheduled to start at 6:30 PM, but the threat of inclement weather forced the change.


Coll. of Charleston 4 (32-15)

Player                    AB  R  H RBI BB SO PO  A LOB

------------------------------------------------------

Marty Gantt cf...........  3  0  0  0   1  1  1  0   0

Bradley Goodson ss.......  5  2  2  0   0  0  3  4   0

Brandon Murray lf........  4  0  0  0   0  0  3  0   2

Daniel Aldrich rf........  3  1  2  1   1  1  1  0   0

Rob Harding 1b/3b........  4  0  2  1   0  0  7  2   1

Brandon Glazer 3b........  3  1  1  0   0  2  0  2   0

 Cody Martin 1b..........  0  0  0  0   1  0  4  0   0

Tyler Jackson dh.........  4  0  0  0   0  0  0  0   2

Jimmy Holton c...........  4  0  0  0   0  0  5  1   2

Gunnar Heidt 2b..........  4  0  1  0   0  0  3  4   0

Matt Pegler p............  0  0  0  0   0  0  0  1   0

 Kyle Owings p...........  0  0  0  0   0  0  0  0   0

Totals................... 34  4  8  2   3  4 27 14   7

Clemson 2 (28-20)

Player                    AB  R  H RBI BB SO PO  A LOB

------------------------------------------------------

Steve Wilkerson 2b.......  4  1  2  1   0  0  3  3   0

Thomas Brittle cf........  3  0  1  0   1  0  5  0   0

Richie Shaffer 3b........  4  0  1  1   0  1  1  4   1

Phil Pohl dh.............  4  0  2  0   0  1  0  0   0


  
 Jay Baum

Jay Baum





Fr. Infielder



#13 5-11, 180

Alpharetta, GA

View Full Profile
  
  lf..............  4  0  0  0   0  1  0  0   1

Jon McGibbon 1b..........  3  0  0  0   1  1  9  1   0


  
 Spencer Kieboom

Spencer Kieboom





Jr. Catcher



#22 6-0, 220

Marietta, GA

View Full Profile
  
  c........  4  0  0  0   0  0  4  2   1

Brad Felder rf...........  3  0  0  0   1  0  2  0   2

Jason Stolz ss...........  2  1  0  0   1  0  0  0   0

 Joe Costigan ph.........  1  0  0  0   0  0  0  0   1

Jonathan Meyer p.........  0  0  0  0   0  0  1  1   0

 Scott Firth p...........  0  0  0  0   0  0  2  0   0

Totals................... 32  2  6  2   4  4 27 11   7

Score by Innings                    R  H  E

-------------------------------------------

Coll. of Charleston. 100 201 000 -  4  8  0

Clemson............. 002 000 000 -  2  6  3

-------------------------------------------

E - WILKERSON(15); SHAFFER(9); FELDER(3). DP - Clemson 1. LOB - Charleston

7; Clemson 7. 2B - ALDRICH(12); WILKERSON(11). HR - ALDRICH(7). HBP - GANTT.

CS - GANTT(6); JACKSON(2); BRITTLE(2).

Coll. of Charleston    IP  H  R ER BB SO AB BF

-----------------------------------------------

Matt Pegler.........  6.0  5  2  2  3  2 22 25

Kyle Owings.........  3.0  1  0  0  1  2 10 11

Clemson                IP  H  R ER BB SO AB BF

-----------------------------------------------

Jonathan Meyer......  5.1  7  4  2  2  1 21 23

Scott Firth.........  3.2  1  0  0  1  3 13 15

Win - PEGLER (8-2).  Loss - MEYER (2-4).  Save - OWINGS (2).

HBP - by FIRTH (GANTT).

Umpires - HP: Darion Padgett  1B: Kevin Elzey  3B: Randy Watkins

Start: 4:04 PM   Time: 2:29   Attendance: 3343

Tags:
Brad Felder
,
Jason Stolz
,
Jay Baum
,
Joe Costigan
,
Jon McGibbon
,
Jonathan Meyer
,
Phil Pohl
,
Richie Shaffer
,
Scott Firth
,
Spencer Kieboom
,
Steve Wilkerson
,
Thomas Brittle