| | |
| --- | --- |
| Tigers walk off with 4-3 win in 11 innings over Cougars | |
---
| | |
| --- | --- |
| Saturday, May 5, 2012, 11:37 PM | |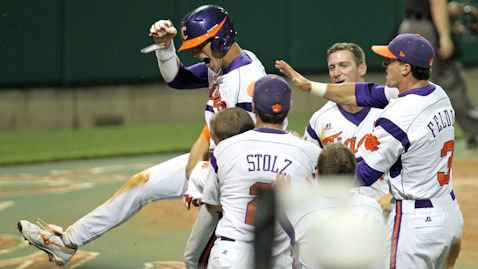 Clemson, SC -
Former College of Charleston outfielder Thomas Brittle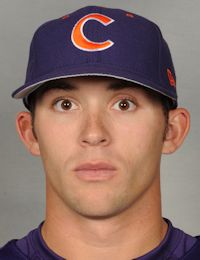 Thomas Brittle
RS Jr. Outfielder
#4 5-8, 170
Cross, SC
View Full Profile tied the score in the 11th inning with a two-out, run-scoring single, then Steve Wilkerson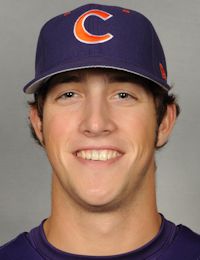 Steve Wilkerson
So. 2nd Base
#17 6-1, 185
Roswell, GA
View Full Profile scored the walkoff run on a wild pitch later in the frame to lift Clemson to a 4-3 win over the Cougars in front of 5,030 fans at Doug Kingsmore Stadium on Saturday night. The Tigers, who took a 1-0 series lead, improved to 27-19, while the Cougars dropped to 31-14. Clemson also improved to 22-0 all-time against College of Charleston.
The Tigers scored two runs in the first inning and added a hit in the second inning, but they went hitless and scoreless during the next eight innings. In the top of the 11th inning, Daniel Aldrich smacked his third double of the game, this time to plate the go-ahead run with no outs. However, Daniel Gossett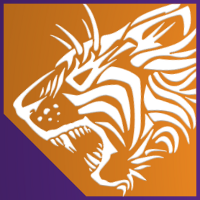 Daniel Gossett
Fr. RH Pitcher
#23 6-0, 160
Lyman, SC
View Full Profile did not allow Aldrich to score, which proved pivotal.
Brad Felder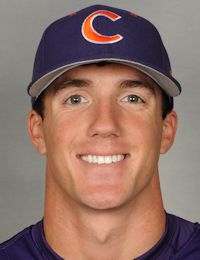 Brad Felder
Gr. Outfielder
#3 6-0, 200
Bowman, SC
View Full Profile hit a one-out single in the bottom of the 11th inning. Later in the frame with two outs and Felder on third, Brittle, who transferred to Clemson after playing two seasons (2009,10) with the Cougar program, lined a single to left field to tie the score and extend his hitting streak to 19 games. Later in the inning with the bases loaded, Wilkerson scored on a wild pitch to send the Tigers to a one-run victory.
Gossett (5-2), the last of four Tiger pitchers, earned the win. In 4.1 innings pitched, he allowed three hits, one run, and one walk with eight strikeouts. The four Clemson hurlers combined for 13 strikeouts against only two walks.
David Peterson (1-2) suffered the loss, as he gave up two runs on two hits in the 11th inning. Starter Christian Powell, Kyle Owings, and Peterson combined to allow only four hits, but they issued seven walks and hit five batters. They also combined to strand 12 Tigers on base, including seven in scoring position.
The Tigers grabbed the game's first lead in the first inning. Brittle drew a one-out walk and Richie Shaffer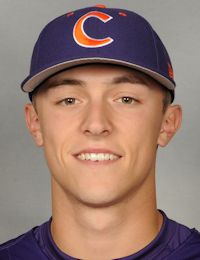 Richie Shaffer
Jr. 3rd Base
#8 6-3, 205
Charlotte, NC
View Full Profile walked on four pitches. After Phil Pohl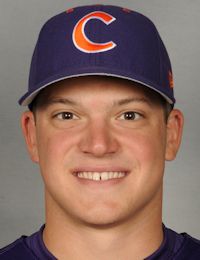 Phil Pohl
Sr. Catcher
#9 5-11, 215
Cooperstown, NY
View Full Profile loaded the bases with a hit-by-pitch and Jay Baum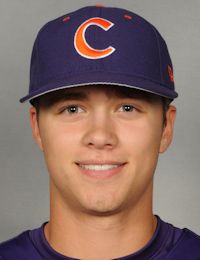 Jay Baum
Fr. Infielder
#13 5-11, 180
Alpharetta, GA
View Full Profile lined out, Jon McGibbon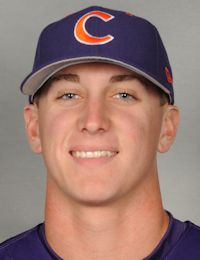 Jon McGibbon
So. 1st Base
#12 6-1, 210
Lindenhurst, NY
View Full Profile flared a two-out single down the right-field line to score Brittle and Shaffer.
In the second inning, Aldrich led off with a double down the right-field line on a 1-2 pitch and Rob Harding reached on a bunt single. Bradley Goodson followed with a single to right field on a 1-2 pitch to plate Aldrich.
Marty Gantt led off the sixth inning with a home run to left-center, his eighth long ball of the season, to tie the score.
Brandon Murray led off the top of the 11th inning with a bad-hop single through the right side on a 1-2 pitch, then Aldrich laced a double to right field to score Murray. Hardin's sacrifice bunt moved Aldrich to third base, but Gossett struck out the next two Cougars to keep Clemson behind by only one run.
In the bottom of the 11th inning, Felder blooped a one-out single to right-center, Clemson's first hit since the second inning. Pinch-hitter Joe Costigan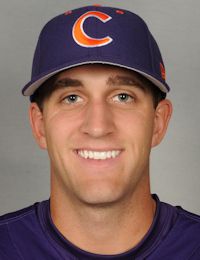 Joe Costigan
So. Outfielder
#5 5-11, 200
Naples, FL
View Full Profile grounded out to short to advance Felder to second base. Felder swiped third without a throw and Wilkerson walked on four pitches. Brittle came through with a two-out single to left field on a 1-2 pitch to plate Felder and tie the score. After College of Charleston intentionally walked Shaffer to load the bases, Peterson threw a wild pitch with Pohl at the plate, allowing Wilkerson to score the winning run.
McGibbon had a game-high two RBIs to lead Clemson, who totaled just four hits in the game. Felder, another transfer from a Southern Conference team (The Citadel), went 1-for-3 with a run, two walks, and two stolen bases as well.
Aldrich went 3-for-4 with three doubles, an RBI, a run, and hit-by-pitch to pace the Cougars, who amassed nine hits.
Clemson and College of Charleston will play game-two of the three-game series on Sunday at 6:30 PM.


Coll. of Charleston 3 (31-14)

Player                    AB  R  H RBI BB SO PO  A LOB

------------------------------------------------------

Marty Gantt cf...........  5  1  1  1   0  2  3  0   1

Tyler Jackson dh.........  5  0  0  0   0  1  0  0   0

Brandon Murray lf........  5  1  1  0   0  1  1  0   0

Daniel Aldrich rf........  4  1  3  1   0  1  1  0   0

Rob Harding 1b/3b........  2  0  1  0   1  0 11  1   1

Bradley Goodson ss.......  5  0  2  1   0  2  1  5   2

Brandon Glazer 3b........  3  0  1  0   1  1  0  0   0

 Devon Reed pr...........  0  0  0  0   0  0  0  0   0

 Cody Martin 1b..........  1  0  0  0   0  1  4  0   1

Gunnar Heidt 2b..........  4  0  0  0   0  2  1  8   1

Jimmy Holton c...........  2  0  0  0   0  0  3  1   0

 Dre Watts ph............  1  0  0  0   0  1  0  0   0

 Ryan Welke c............  1  0  0  0   0  1  6  0   0

Christian Powell p.......  0  0  0  0   0  0  1  0   0

 Kyle Owings p...........  0  0  0  0   0  0  0  0   0

 David Peterson p........  0  0  0  0   0  0  0  0   0

Totals................... 38  3  9  3   2 13 32 15   7

Clemson 4 (27-19)

Player                    AB  R  H RBI BB SO PO  A LOB

------------------------------------------------------

Steve Wilkerson 2b.......  5  1  1  0   1  1  2  4   1

Thomas Brittle cf........  5  1  1  1   1  1  3  1   0

Richie Shaffer 3b........  3  1  0  0   2  1  2  1   2

Phil Pohl dh.............  3  0  0  0   0  0  0  0   1

Jay Baum lf..............  3  0  0  0   1  0  0  0   1

 
  
 Tyler Slaton

Tyler Slaton




Fr. Outfielder
#18 5-7, 195
Cumming, GA


View Full Profile
  
  pr/lf......  0  0  0  0   0  0  0  0   0

Jon McGibbon 1b..........  5  0  1  2   0  1 12  0   1


  
 Spencer Kieboom

Spencer Kieboom




Jr. Catcher
#22 6-0, 220
Marietta, GA


View Full Profile
  
  c........  4  0  0  0   0  1 12  3   2

Brad Felder rf...........  3  1  1  0   2  1  1  0   1


  
 Jason Stolz

Jason Stolz




Sr. Infielder
#2 6-2, 205
Marietta, GA


View Full Profile
  
  ss...........  4  0  0  0   0  4  1  3   1

 Joe Costigan ph.........  1  0  0  0   0  0  0  0   0


  
 Dominic Leone

Dominic Leone




Jr. RH Pitcher
#6 5-11, 195
Norwich, CT


View Full Profile
  
  p..........  0  0  0  0   0  0  0  1   0

 
  
 Mike Kent

Mike Kent




RS So. RH Pitcher
#15 6-0, 195
Springfield, VA


View Full Profile
  
  p.............  0  0  0  0   0  0  0  0   0

 
  
 Joseph Moorefield

Joseph Moorefield




RS Jr. LH Pitcher
#51 6-1, 205
Woodruff, SC


View Full Profile
  
  p.....  0  0  0  0   0  0  0  0   0

 Daniel Gossett p........  0  0  0  0   0  0  0  1   0

Totals................... 36  4  4  3   7 10 33 14  12

Score by Innings                       R  H  E

----------------------------------------------

Coll. of Charleston. 010 001 000 01 -  3  9  1

Clemson............. 200 000 000 02 -  4  4  0

----------------------------------------------

Note: 2 outs, 2 runners LOB when the game ended.

E - MURRAY(2). DP - Clemson 1. LOB - Charleston 7; Clemson 12. 2B - ALDRICH

3(11); GOODSON(14); GLAZER(2). HR - GANTT(8). HBP - ALDRICH; HARDING;

SHAFFER; POHL 2; BAUM; S. KIEBOOM. SH - HARDING(9). SB - BAUM(4); FELDER

2(8). CS - REED(1).

Coll. of Charleston    IP  H  R ER BB SO AB BF

-----------------------------------------------

Christian Powell....  7.0  2  2  2  4  5 23 31

Kyle Owings.........  3.0  0  0  0  1  4  9 11

David Peterson......  0.2  2  2  2  2  1  4  6

Clemson                IP  H  R ER BB SO AB BF

-----------------------------------------------

Dominic Leone.......  5.2  5  2  2  1  4 20 23

Mike Kent...........  0.2  1  0  0  0  0  3  3

Joseph Moorefield...  0.1  0  0  0  0  1  1  1

Daniel Gossett......  4.1  3  1  1  1  8 14 16

Win - GOSSETT (5-2).  Loss - PETERSON (1-2).  Save - None.

WP - PETERSON(3); LEONE(4). HBP - by POWELL (POHL); by LEONE (HARDING); by

POWELL (POHL); by LEONE (ALDRICH); by POWELL (S. KIEBOOM); by POWELL (SHAFFER);

by OWINGS (BAUM). BK - OWINGS(2).

Umpires - HP: Jason Bradley  1B: Danny Everett  3B: Eric Johansen

Start: 6:33 PM   Time: 3:19   Attendance: 5030

Tags:
Brad Felder
,
Daniel Gossett
,
Dominic Leone
,
Jason Stolz
,
Jay Baum
,
Joe Costigan
,
Jon McGibbon
,
Joseph Moorefield
,
Mike Kent
,
Phil Pohl
,
Richie Shaffer
,
Spencer Kieboom
,
Steve Wilkerson
,
Thomas Brittle
,
Tyler Slaton