| | |
| --- | --- |
| Brittle's Walkoff Single Lifts Clemson to 3-2 Win Over Buccaneers Tuesday | |
---
| | |
| --- | --- |
| Tuesday, April 17, 2012, 9:44 PM | |
Clemson, SC -
With two outs in the ninth inning, Thomas Brittle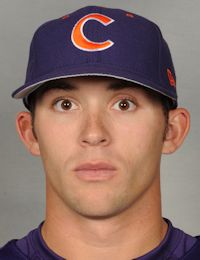 Thomas Brittle
RS Jr. Outfielder
#4 5-8, 170
Cross, SC
View Full Profile hit a walkoff single through the left side to score Tyler Slaton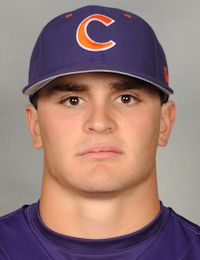 Tyler Slaton
Fr. Outfielder
#18 5-7, 195
Cumming, GA
View Full Profile and give Clemson a 3-2 victory over Charleston Southern at Doug Kingsmore Stadium on Tuesday. The Tigers, who improved to 16-0 all-time against the Buccaneers, moved to 21-17 on the season. Charleston Southern fell to 14-25 in 2012.
The Tigers held a 2-0 lead until Charleston Southern plated two runs in the sixth inning to tie the score. The Buccaneers put two runners on base in the seventh, eighth, and ninth innings, but Clemson relievers worked out jams each time.
With two outs in the bottom of the ninth inning, Brittle, a native of Cross, SC and a former player at College of Charleston, went with a 1-2 pitch and singled through the left side. Slaton scored standing up to give Clemson its second walkoff win in the last five days. Against N.C. State on Friday, the duo of Brittle and Slaton teamed up in similar fashion for a walkoff single in the 12th inning to give Clemson a 7-6 victory.
Patrick Andrews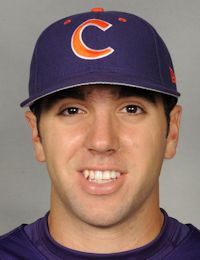 Patrick Andrews
Fr. RH Pitcher
#43 6-2, 205
Hilton Head Island, SC
View Full Profile (1-2), the last of five Tiger pitchers, earned his first career victory. The freshman righthander from Hilton Head Island, SC gave up one hit and no runs in 0.2 innings pitched. Clemson's four relievers combined to give up no runs in the final 4.0 innings pitched, while the Tigers' five pitchers combined to allow just two of Charleston Southern's 13 baserunners to score.
Buccaneer reliever Austin Weekley (1-5) suffered the loss, as he gave up one hit, one run, and one walk in 1.0 innings pitched. Charleston Southern's three hurlers combined to hold Clemson to 0-for-8 with runners in scoring position before Brittle's game-winning single.
Richie Shaffer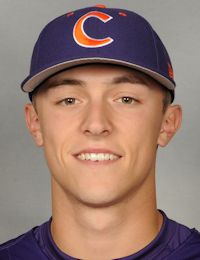 Richie Shaffer
Jr. 3rd Base
#8 6-3, 205
Charlotte, NC
View Full Profile gave Clemson the game's first lead in the first inning when he lined a two-out, solo homer to left field, his eighth long ball of the season. It was also the first home run allowed by Kevin Buran, who entered the game with 34.1 innings pitched, in 2012.
In the third inning, Slaton led off with a walk on five pitches and Jason Stolz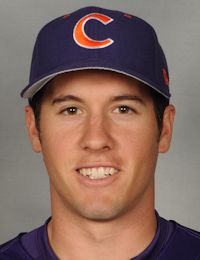 Jason Stolz
Sr. Infielder
#2 6-2, 205
Marietta, GA
View Full Profile singled through the left side. After both runners moved up a base on a wild pitch, Steve Wilkerson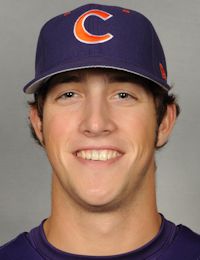 Steve Wilkerson
So. 2nd Base
#17 6-1, 185
Roswell, GA
View Full Profile lofted a sacrifice fly to center to score Slaton. Two batters later with two outs, Shaffer belted a line drive to deep right-center, but centerfielder Bobby Ison made a spectacular diving catch to rob Shaffer of an extra-base hit and Clemson of a run.
In the sixth inning, John Faircloth led off with a single to right-center and Alex Tomasovich walked after being down in the count 0-2. Chase Shelton followed with a double to left-center to score Faircloth, then Walt Quattlebaum hit a sacrifice fly to left-center to plate Tomasovich and tie the score 2-2.
Thomas Levander led off the seventh inning with a single through the left side. After Levander advanced to second base on Harrison Wilkins' sacrifice bunt, Ison reached on an infield single that moved Levander to third. But after Jonathan Meyer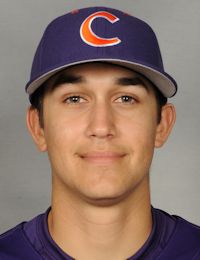 Jonathan Meyer
Jr. RH Pitcher
#28 6-0, 180
San Diego, CA
View Full Profile entered the game, he induced a 4-6-3 double play off the bat of Faircloth on his first pitch to end the inning and keep the score tied.
For the fifth time in the game, the Buccaneers put their leadoff batter on base when Levander led off the top of the ninth inning with a walk on five pitches, then Wilkins' sacrifice bunt moved Levander to second. Ison reached on another infield single and stole second, then Faircloth grounded out to second as both runners held at their bases. With two outs, Tomasovich hit a hard line drive to shallow left field, but Jay Baum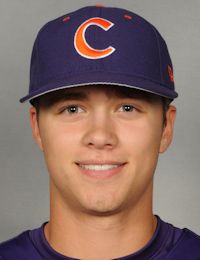 Jay Baum
Fr. Infielder
#13 5-11, 180
Alpharetta, GA
View Full Profile made a sliding catch to end the inning.
Slaton led off the bottom of the ninth inning with a walk on four pitches and advanced to second on Stolz's sacrifice bunt. Two batters later with two outs, Brittle slapped a 1-2 pitch through the left side. Slaton rounded third and scored standing up as the throw from Quattlebaum was offline. Brittle's single extended his hitting streak to 11 games as well.
Shaffer, Baum, and Mike Dunster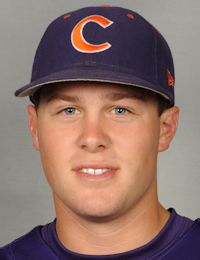 Mike Dunster
So. Infielder
#10 5-10, 180
Greenwich, CT
View Full Profile had two hits apiece for Clemson, who totaled nine hits in the contest. Slaton added three of Clemson's four walks and two of the Tigers' three runs.
Ison, Faircloth, Shelton, and Levander had two hits apiece for the Buccaneers, who also amassed nine hits. Levander added two walks, while Ison accumulated two stolen bases.
Clemson will travel to College Park, MD to take on Maryland in a three-game series starting Friday at 6:00 PM.


2012 Clemson Baseball

Charleston Southern at Clemson

Apr 17, 2012 at Clemson, SC (Doug Kingsmore Stad.)

Charleston Southern 2 (14-25)

Player	               AB	R	H	RBI	BB	SO	PO	A	LOB

Bobby Ison cf	        5	0	2	0	0	0	5	0	2

John Faircloth 3b	5	1	2	0	0	1	1	2	2

Alex Tomasovich ss	4	1	0	0	1	2	0	2	2

Chase Shelton rf	4	0	2	1	0	0	3	0	1

Walt Quattlebaum lf	3	0	0	1	0	2	2	0	0

Robbie Streett 1b	3	0	1	0	1	0	8	1	0

Drew Woodall c	        3	0	0	0	0	2	2	1	1

 Jaren Sustar ph	1	0	0	0	0	0	0	0	2

 Blake Hunt c	        0	0	0	0	0	0	0	0	0

Thomas Levander 2b	2	0	2	0	2	0	4	2	0

Harrison Wilkins dh	1	0	0	0	0	0	0	0	0

Kevin Buran p	        0	0	0	0	0	0	0	2	0

 Denis Buckley p	0	0	0	0	0	0	1	0	0

 Austin Weekley p	0	0	0	0	0	0	0	0	0

Totals......	       31	2	9	2	4	7	26	10	10

Clemson 3 (21-17)

Player	               AB	R	H	RBI	BB	SO	PO	A	LOB

Steve Wilkerson 2b	4	0	0	1	0	1	1	2	0

Thomas Brittle cf	5	0	1	1	0	0	2	0	0

Richie Shaffer 3b	4	1	2	1	0	0	2	3	1


  
 Phil Pohl

Phil Pohl




Sr. Catcher
#9 5-11, 215
Cooperstown, NY


View Full Profile
  
  1b	        4	0	1	0	0	0	10	0	1

Jay Baum lf	        3	0	2	0	1	0	3	0	0

Mike Dunster dh	        3	0	2	0	0	1	0	0	0


  
 Garrett Boulware

Garrett Boulware




Fr. Catcher
#30 6-1, 200
Anderson, SC


View Full Profile
  
  c	2	0	0	0	0	0	5	1	0

 
  
 Spencer Kieboom

Spencer Kieboom




Jr. Catcher
#22 6-0, 220
Marietta, GA


View Full Profile
  
  ph/c	2	0	0	0	0	0	2	0	2

Tyler Slaton rf	        1	2	0	0	3	0	0	0	1

Jason Stolz ss	        3	0	1	0	0	0	1	2	3


  
 Daniel Gossett

Daniel Gossett




Fr. RH Pitcher
#23 6-0, 160
Lyman, SC


View Full Profile
  
  p	0	0	0	0	0	0	0	3	0

 
  
 Mike Kent

Mike Kent




RS So. RH Pitcher
#15 6-0, 195
Springfield, VA


View Full Profile
  
  p	        0	0	0	0	0	0	0	1	0

 
  
 Joseph Moorefield

Joseph Moorefield




RS Jr. LH Pitcher
#51 6-1, 205
Woodruff, SC


View Full Profile
  
  p	0	0	0	0	0	0	0	0	0

 Jonathan Meyer p	0	0	0	0	0	0	1	0	0

 Patrick Andrews p	0	0	0	0	0	0	0	0	0

Totals......	       31	3	9	3	4	2	27	12	9

Score by Innings                    R  H  E

-------------------------------------------

Charleston Southern. 000 002 000 -  2  9  0

Clemson............. 101 000 001 -  3  9  0

-------------------------------------------

Note: 2 outs, 1 runner LOB when the game ended.

DP - Clemson 1. LOB - CSU 10; Clemson 9. 2B - SHELTON 2(10); STREETT(6). HR

- SHAFFER(8). SH - WILKINS 3(3); DUNSTER(1); STOLZ(4). SF - QUATTLEBAUM(5);

WILKERSON(3). SB - ISON 2(6). CS - POHL(2).

Charleston Southern	IP	H	R	ER	BB	SO	AB	BF

Kevin Buran	        5.1	6	2	2	3	1	19	24

Denis Buckley	        2.1	2	0	0	0	1	9	9

Austin Weekley	        1.0	1	1	1	1	0	3	5

Clemson	                IP	H	R	ER	BB	SO	AB	BF

Daniel Gossett	        5.0	4	2	2	2	4	18	21

Mike Kent	        1.1	2	0	0	0	1	4	6

Joseph Moorefield	0.0	1	0	0	0	0	1	1

Jonathan Meyer	        2.0	1	0	0	2	2	5	8

Patrick Andrews	        0.2	1	0	0	0	0	3	3

Win - ANDREWS (1-2).  Loss - WEEKLEY (1-5).  Save - None.

WP - BURAN(5).

Umpires - HP: Randy Watkins  1B: Eric Johansen  3B: Jeremy Dupree

Start: 5:34 PM   Time: 2:33   Attendance: 3323

GOSSETT faced 2 batters in the 6th.

MOOREFIELD faced 1 batter in the 7th.

Game: CU4171



Tags:
Daniel Gossett
,
Garrett Boulware
,
Jason Stolz
,
Jay Baum
,
Jonathan Meyer
,
Joseph Moorefield
,
Mike Dunster
,
Mike Kent
,
Patrick Andrews
,
Phil Pohl
,
Richie Shaffer
,
Spencer Kieboom
,
Steve Wilkerson
,
Thomas Brittle
,
Tyler Slaton