| | |
| --- | --- |
| Pack take advantage of nine walks in beating Clemson 6-3 | |
---
| | |
| --- | --- |
| Sunday, April 15, 2012, 5:57 PM | |
Clemson, SC - The #17 N.C. State Wolfpack broke a 2-2 tie with four runs in the fifth inning and cruised to a 6-3 win over Clemson in front of 4,605 fans at Doug Kingsmore Stadium on Sunday afternoon. The Wolfpack, who won the series 2-1, improved to 24-10 overall and 11-7 in the ACC. The Tigers fell to 20-17 overall and 9-9 in ACC play.
N.C. State took a 2-0 lead with a run in the top of the third inning before the Tigers scored single runs in the bottom of the third inning and fourth inning. But the Wolfpack took advantage of three hits, two walks, and a Tiger error to score four runs in the fifth inning. The Tigers scored a run in the seventh inning, but it was not enough.
Logan Jernigan (4-1), the first of three N.C. State pitchers, registered the win. He gave up just three hits, two runs (one earned), and two walks with three strikeouts in 5.0 innings pitched. Vance Williams surrendered one hit and no runs with two strikeouts in 1.1 innings pitched to record his first save of the season.
Tiger starter Kevin Pohle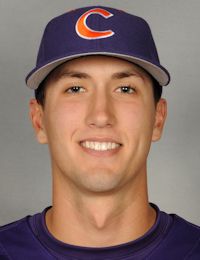 Kevin Pohle
So. RH Pitcher
#21 6-3, 180
St. Louis, MO
View Full Profile (4-2) suffered only his second loss of the season. In 4.1 innings pitched, he yielded six hits, six runs (five earned), and four walks. Five Clemson relievers combined to give up just two hits and no runs in the final 4.2 innings pitched.
Trea Turner hit the first pitch of the game up the middle for a single, then Chris Diaz walked on four pitches. Danny Canela ripped a double to right field, but Turner was thrown out at the plate. Ryan Mathews then drove home Diaz with a safety squeeze bunt.
In the top of the third inning, Turner led off with a walk and stole second. Turner moved to third on Diaz's groundout to second and scored on Canela's groundout to second.
Clemson dented the scoreboard for the first time in the bottom of the third inning. Tyler Slaton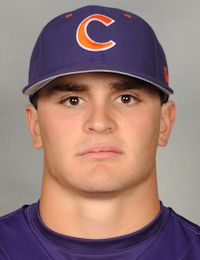 Tyler Slaton
Fr. Outfielder
#18 5-7, 195
Cumming, GA
View Full Profile led off with a hit-by-pitch, but was erased two batters later on Steve Wilkerson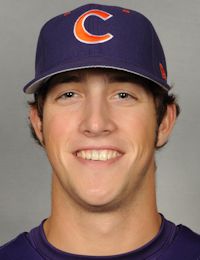 Steve Wilkerson
So. 2nd Base
#17 6-1, 185
Roswell, GA
View Full Profile 's fielder's choice. Thomas Brittle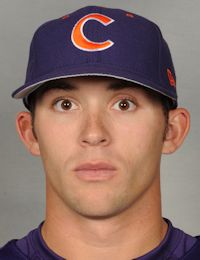 Thomas Brittle
RS Jr. Outfielder
#4 5-8, 170
Cross, SC
View Full Profile then lined a two-out triple down the right-field line to score Wilkerson and up his hitting streak to 10 games.
In the fourth inning, Jay Baum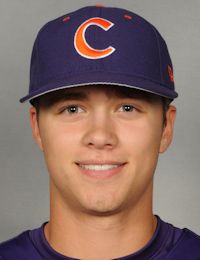 Jay Baum
Fr. Infielder
#13 5-11, 180
Alpharetta, GA
View Full Profile reached as the leadoff batter on a muffed throw by first-baseman Andrew Ciencin. After Baum stole second and the next two Tigers were retired, Tyler Slaton singled through the right side to plate Baum and tie the score.
Matt Bergquist led off the fifth inning with a walk on six pitches. Two batters later, Diaz belted a single to center, then Canela grounded a ground-rule double over the first-base bag to score Bergquist. Mathews doubled to center to plate Diaz and Canela. Tarran Senay reached on a fielding error by Wilkerson at second and pinch-hitter Carlos Rodon walked to load the bases. Brett Austin then lofted a sacrifice fly to deep right-center to score Mathews, giving N.C. State a 6-2 lead.
In the seventh inning, Wilkerson led off with a bunt single. Two batters later, Richie Shaffer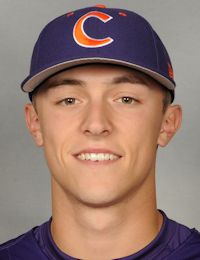 Richie Shaffer
Jr. 3rd Base
#8 6-3, 205
Charlotte, NC
View Full Profile laced a single up the middle, then both runners moved up a base on a wild pitch. Phil Pohl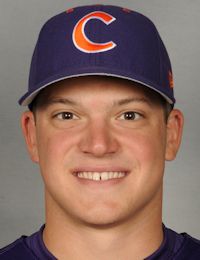 Phil Pohl
Sr. Catcher
#9 5-11, 215
Cooperstown, NY
View Full Profile then grounded out to short, enabling Wilkerson to score.
Mathews had a game-high three RBIs to lead N.C. State, who totaled eight hits in the contest. Canela went 2-for-3 with two doubles, two RBIs, and two walks, while Turner added two singles, two walks, and two stolen bases.
Brittle and Shaffer had two hits apiece to pace Clemson, who amassed seven hits. Wilkerson contributed two of the Tigers' three runs as well.
N.C. State's series win was its first at Doug Kingsmore Stadium since 1996, as Clemson had won the previous seven series in Tigertown. It also marked only the second time in history that the Wolfpack won two games at Clemson in one season. The two teams have played at least two games at Clemson in 20 different seasons since the series began in 1921.
Clemson will host Charleston Southern on Tuesday at 6:30 PM.


#17 N.C. State at Clemson

               Apr 15, 2012 at Clemson, SC (Doug Kingsmore Stad.)

N.C. State 6 (24-10,11-7 ACC)

Player                    AB  R  H RBI BB SO PO  A LOB

------------------------------------------------------

Trea Turner 3b...........  3  1  2  0   2  0  0  0   0

Chris Diaz ss............  3  2  1  0   1  0  5  3   0

Danny Canela c...........  3  1  2  2   2  0  4  1   0

Ryan Mathews rf..........  4  1  1  3   0  1  1  0   2

Tarran Senay lf..........  5  0  0  0   0  0  2  0   4

Andrew Ciencin 1b........  2  0  1  0   0  0  5  1   0

 Carlos Rodon ph.........  0  0  0  0   1  0  0  0   0

 Grant Clyde pr/1b.......  2  0  0  0   0  1  3  0   0

Brett Austin dh..........  3  0  0  1   1  1  0  0   0

Jake Fincher cf..........  3  0  0  0   0  2  3  0   3

Matt Bergquist 2b........  2  1  1  0   2  0  3  4   1

Logan Jernigan p.........  0  0  0  0   0  0  1  0   0

 D.J. Thomas p...........  0  0  0  0   0  0  0  0   0

 Vance Williams p........  0  0  0  0   0  0  0  0   0

Totals................... 30  6  8  6   9  5 27  9  10

Clemson 3 (20-17,9-9 ACC)

Player                    AB  R  H RBI BB SO PO  A LOB

------------------------------------------------------

Steve Wilkerson 2b.......  5  2  1  0   0  1  1  6   0

Thomas Brittle cf........  5  0  2  1   0  0  3  0   0

Richie Shaffer 3b........  4  0  2  0   1  2  1  2   1

Phil Pohl c..............  3  0  0  1   1  0  7  0   2

Jay Baum lf..............  4  1  0  0   0  0  2  0   3


  
 Joe Costigan

Joe Costigan




So. Outfielder
#5 5-11, 200
Naples, FL


View Full Profile
  
  dh..........  3  0  0  0   0  0  0  0   0


  
 Jon McGibbon

Jon McGibbon




So. 1st Base
#12 6-1, 210
Lindenhurst, NY


View Full Profile
  
  1b..........  4  0  1  0   0  0 11  0   1

Tyler Slaton rf..........  2  0  1  1   0  0  1  1   0

 
  
 Spencer Kieboom

Spencer Kieboom




Jr. Catcher
#22 6-0, 220
Marietta, GA


View Full Profile
  
  ph......  1  0  0  0   0  1  0  0   0

 
  
 Brad Felder

Brad Felder




Gr. Outfielder
#3 6-0, 200
Bowman, SC


View Full Profile
  
  rf..........  0  0  0  0   0  0  0  0   0


  
 Jason Stolz

Jason Stolz




Sr. Infielder
#2 6-2, 205
Marietta, GA


View Full Profile
  
  ss...........  4  0  0  0   0  1  1  3   2

Kevin Pohle p............  0  0  0  0   0  0  0  0   0

 
  
 Jonathan Meyer

Jonathan Meyer




Jr. RH Pitcher
#28 6-0, 180
San Diego, CA


View Full Profile
  
  p........  0  0  0  0   0  0  0  1   0

 
  
 Joseph Moorefield

Joseph Moorefield




RS Jr. LH Pitcher
#51 6-1, 205
Woodruff, SC


View Full Profile
  
  p.....  0  0  0  0   0  0  0  0   0

 
  
 David Haselden

David Haselden




Sr. RH Pitcher
#29 6-4, 240
Spartanburg, SC


View Full Profile
  
  p........  0  0  0  0   0  0  0  1   0

 
  
 Kyle Bailey

Kyle Bailey




Fr. LH Pitcher
#27 6-5, 220
Southlake, TX


View Full Profile
  
  p...........  0  0  0  0   0  0  0  0   0

 
  
 Mike Kent

Mike Kent




RS So. RH Pitcher
#15 6-0, 195
Springfield, VA


View Full Profile
  
  p.............  0  0  0  0   0  0  0  0   0

Totals................... 35  3  7  3   2  5 27 14   9

Score by Innings                    R  H  E

-------------------------------------------

N.C. State.......... 101 040 000 -  6  8  1

Clemson............. 001 100 100 -  3  7  2

-------------------------------------------

E - CIENCIN(2); WILKERSON(13); HASELDEN(2). DP - Clemson 1. LOB - N.C. State

10; Clemson 9. 2B - CANELA 2(13); MATHEWS(10). 3B - BRITTLE(4). HBP -

COSTIGAN; SLATON. SH - DIAZ(6); MATHEWS(3); FINCHER(2). SF - AUSTIN(7). SB -

TURNER 2(38); DIAZ(4); BRITTLE(7); BAUM(3).

N.C. State             IP  H  R ER BB SO AB BF

-----------------------------------------------

Logan Jernigan......  5.0  3  2  1  2  3 19 23

D.J. Thomas.........  2.2  3  1  1  0  0 11 11

Vance Williams......  1.1  1  0  0  0  2  5  5

Clemson                IP  H  R ER BB SO AB BF

-----------------------------------------------

Kevin Pohle.........  4.1  6  6  5  4  0 16 22

Jonathan Meyer......  1.1  2  0  0  2  2  5  9

Joseph Moorefield...  0.1  0  0  0  0  0  1  1

David Haselden......  1.1  0  0  0  2  1  4  6

Kyle Bailey.........  0.0  0  0  0  1  0  0  1

Mike Kent...........  1.2  0  0  0  0  2  4  4

Win - JERNIGAN (4-1).  Loss - POHLE (4-2).  Save - V. WILLIAMS (1).

WP - THOMAS(1); HASELDEN(5). HBP - by JERNIGAN (COSTIGAN); by JERNIGAN (SLATON).

Umpires - HP: Joe Marion  1B: Scott Graham  3B: David Pritchett

Start: 1:03 PM   Time: 2:59   Attendance: 4605

BAILEY faced 1 batter in the 8th.

Game: CU4151

Tags:
Brad Felder
,
David Haselden
,
Jason Stolz
,
Jay Baum
,
Joe Costigan
,
Jon McGibbon
,
Jonathan Meyer
,
Joseph Moorefield
,
Kevin Pohle
,
Kyle Bailey
,
Mike Kent
,
Phil Pohl
,
Richie Shaffer
,
Spencer Kieboom
,
Steve Wilkerson
,
Thomas Brittle
,
Tyler Slaton