| | |
| --- | --- |
| Wolfpack score late to even series with Tigers | |
---
| | |
| --- | --- |
| Saturday, April 14, 2012, 4:06 PM | |
Carlos Rodon tossed 8.0 innings of three-hit ball and #17 N.C. State escaped a jam in the ninth inning to defeat Clemson 3-1 in front of 5,619 fans at Doug Kingsmore Stadium on Saturday afternoon. The Wolfpack, who evened the series 1-1, improved to 23-10 overall and 10-7 in the ACC. The Tigers dropped to 20-16 overall and 9-8 in ACC play.
Despite Rodon's strong outing, the Tigers scored a run in the sixth inning to take a 1-0 lead. But Trea Turner's two-out, two-run double in the seventh inning gave the Wolfpack the lead for good. The Tigers put two runners in scoring position with no outs in the ninth inning, but both runners were stranded there and N.C. State held on for the two-run victory.
Rodon (6-0), who threw 129 pitches, allowed just three hits, one run, and four walks with eight strikeouts to earn the win. Chris Overman retired both batters he faced in the ninth inning to record his third save of the year. N.C. State's four pitchers combined to limit Clemson to 1-for-9 with runners in scoring position, 1-for-10 with two outs, and only five hits overall.
Tiger starter Dominic Leone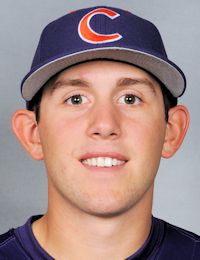 Dominic Leone
Jr. RH Pitcher
#6 5-11, 195
Norwich, CT
View Full Profile (5-3) suffered the loss. He gave up nine hits, three runs, and one walk with seven strikeouts in 7.1 innings pitched.
The Tigers broke through with the game's first run in the sixth inning. Richie Shaffer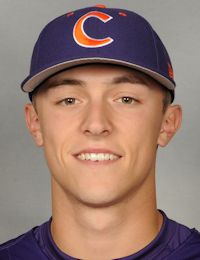 Richie Shaffer
Jr. 3rd Base
#8 6-3, 205
Charlotte, NC
View Full Profile drew a one-out walk on six pitches and Phil Pohl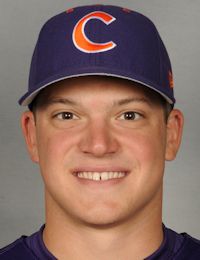 Phil Pohl
Sr. Catcher
#9 5-11, 215
Cooperstown, NY
View Full Profile belted an 0-2 pitch down the right-field line for an opposite-field double. Shaffer was able to score on the play on an error by Brett Austin in right field.
Ryan Mathews led off the seventh inning with a double off the wall in left-center and Brett Austin struck out. Andrew Ciencin hit a chopper to Shaffer at third, but the ball hit the lip of the grass, allowing Ciencin to reach on the bad-hop single as Mathews stayed on second base. Pinch-hitter John Gianis grounded out to second to move both runners up a base, then Turner lined a two-out double to right-center to score Mathews and Ciencin, giving the Wolfpack a 2-1 lead.
In the eighth inning, Danny Canela led off with a single through the left side and advanced to second on Chris Diaz's sacrifice bunt. Tarran Senay then lofted a high flyball to deep left-center that Garrett Boulware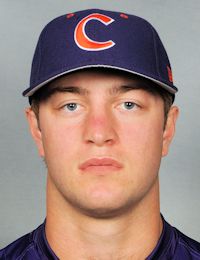 Garrett Boulware
Fr. Catcher
#30 6-1, 200
Anderson, SC
View Full Profile could not catch. Canela scored from second on Senay's double.
Jay Baum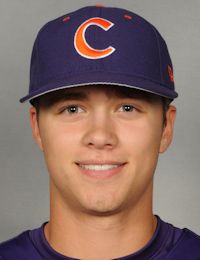 Jay Baum
Fr. Infielder
#13 5-11, 180
Alpharetta, GA
View Full Profile led off the ninth inning with a bloop single to center on an 0-2 pitch, as he became Clemson's first leadoff batter of an inning to reach base in the game. Joe Costigan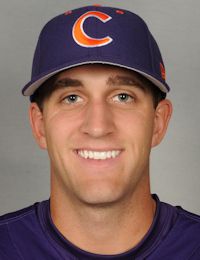 Joe Costigan
So. Outfielder
#5 5-11, 200
Naples, FL
View Full Profile then ripped a 1-2 pitch through the right side for a single to advance Baum to third. After pinch-runner Tyler Slaton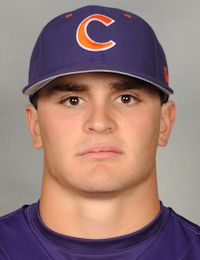 Tyler Slaton
Fr. Outfielder
#18 5-7, 195
Cumming, GA
View Full Profile stole second to put the potential tying run in scoring position with no outs, Jon McGibbon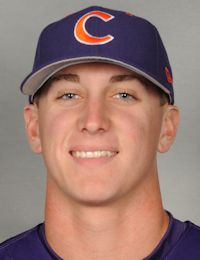 Jon McGibbon
So. 1st Base
#12 6-1, 210
Lindenhurst, NY
View Full Profile struck out swinging on a 3-2 breaking ball out of the strikezone for out #1. Pinch-hitter Brad Felder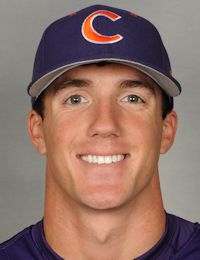 Brad Felder
Gr. Outfielder
#3 6-0, 200
Bowman, SC
View Full Profile struck out looking for out #2, then Jason Stolz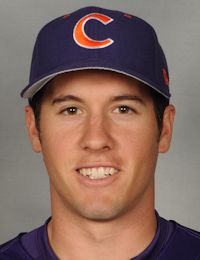 Jason Stolz
Sr. Infielder
#2 6-2, 205
Marietta, GA
View Full Profile popped up to second to end the game.
Mathews and Ciencin led N.C. State's nine-hit performance with two hits and one run apiece, while Turner had a game-high two RBIs.
Costigan came off the bench to go 2-for-2, while Shaffer scored Clemson's only run. Shaffer, who went 0-for-3 with a walk, saw his 10-game hitting streak come to an end.
Clemson and N.C. State will play game-three of the three-game series on Sunday at 1:00 PM. The game will be available live via webcast at ESPN3.


  #17 N.C. State at Clemson

               Apr 14, 2012 at Clemson, SC (Doug Kingsmore Stad.)

N.C. State 3 (23-10,10-7 ACC)

Player                    AB  R  H RBI BB SO PO  A LOB

------------------------------------------------------

Trea Turner 3b...........  5  0  1  2   0  2  2  2   0

Jake Fincher cf..........  4  0  1  0   0  1  4  0   2

Danny Canela c...........  4  1  1  0   0  0 10  1   2

Chris Diaz ss............  3  0  0  0   0  0  1  4   0

Tarran Senay lf..........  3  0  1  1   1  1  1  0   0

Ryan Mathews dh..........  4  1  2  0   0  1  0  0   0

Brett Austin rf..........  4  0  0  0   0  2  0  0   3

Andrew Ciencin 1b........  4  1  2  0   0  0  7  0   0

Logan Ratledge 2b........  2  0  1  0   0  1  0  0   0

 John Gianis ph..........  1  0  0  0   0  0  0  0   0

 Matt Bergquist 2b.......  1  0  0  0   0  1  1  0   0

Carlos Rodon p...........  0  0  0  0   0  0  1  0   0

 Vance Williams p........  0  0  0  0   0  0  0  0   0

 Travis Orwig p..........  0  0  0  0   0  0  0  0   0

 Chris Overman p.........  0  0  0  0   0  0  0  0   0

Totals................... 35  3  9  3   1  9 27  7   7

Clemson 1 (20-16,9-8 ACC)

Player                    AB  R  H RBI BB SO PO  A LOB

------------------------------------------------------

Steve Wilkerson 2b.......  4  0  0  0   0  1  2  2   2

Thomas Brittle cf........  4  0  1  0   0  1  4  0   1

Richie Shaffer 3b........  3  1  0  0   1  1  0  2   0

Phil Pohl c..............  4  0  1  0   0  1  8  1   1

Jay Baum rf..............  4  0  1  0   0  1  2  0   0

Spencer Kieboom dh.......  2  0  0  0   0  1  0  0   0

 Joe Costigan ph/dh......  2  0  2  0   0  0  0  0   0

 Tyler Slaton pr.........  0  0  0  0   0  0  0  0   0

Jon McGibbon 1b..........  3  0  0  0   1  1  8  1   2

Garrett Boulware lf......  3  0  0  0   0  2  1  0   0

 Brad Felder ph..........  1  0  0  0   0  1  0  0   0

Jason Stolz ss...........  2  0  0  0   2  0  1  1   2

Dominic Leone p..........  0  0  0  0   0  0  1  3   0

 Patrick Andrews p.......  0  0  0  0   0  0  0  0   0

Totals................... 32  1  5  0   4 10 27 10   8

Score by Innings                    R  H  E

-------------------------------------------

N.C. State.......... 000 000 210 -  3  9  1

Clemson............. 000 001 000 -  1  5  0

-------------------------------------------

E - AUSTIN(1). LOB - N.C. State 7; Clemson 8. 2B - TURNER(6); SENAY(12);

MATHEWS(9); POHL(6). SH - DIAZ(5). SB - BRITTLE(6); SLATON(5).

N.C. State             IP  H  R ER BB SO AB BF

-----------------------------------------------

Carlos Rodon........  8.0  3  1  1  4  8 27 31

Vance Williams......  0.0  2  0  0  0  0  2  2

Travis Orwig........  0.1  0  0  0  0  1  1  1

Chris Overman.......  0.2  0  0  0  0  1  2  2

Clemson                IP  H  R ER BB SO AB BF

-----------------------------------------------

Dominic Leone.......  7.1  9  3  3  1  7 30 32

Patrick Andrews.....  1.2  0  0  0  0  2  5  5

Win - RODON (6-0).  Loss - LEONE (5-3).  Save - OVERMAN (3).

PB - POHL(2).

Umpires - HP: David Pritchett  1B: Joe Marion  3B: Scott Graham

Start: 12:05 PM   Time: 2:52   Attendance: 5619

V. WILLIAMS faced 2 batters in the 9th.

Game: CU4141