| | |
| --- | --- |
| Baum's double lifts Tigers to sweep of Duke | |
---
| | |
| --- | --- |
| Sunday, April 8, 2012, 9:15 PM | |
Durham, NC - Jay Baum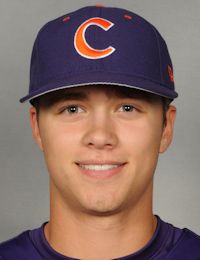 Jay Baum
Fr. Infielder
#13 5-11, 180
Alpharetta, GA
View Full Profile 's three-run double in the eighth inning gave Clemson a 3-2 lead and the Tigers held on for a 4-2 victory over Duke in front of 1,038 fans at Jack Coombs Field on Sunday afternoon. The Tigers, who swept the series 3-0, improved to 18-14 overall and 8-7 in the ACC. The Blue Devils fell to 13-20 overall and 5-10 in ACC play.
The pitchers' duel saw the Blue Devils strike first with single runs in the sixth and seventh inning after the Tigers squandered several scoring opportunities in the first five innings. However, Clemson loaded the bases with no outs in the eighth inning and Baum lined an opposite-field double to right-center to give Clemson the lead for good. Duke threatened in the ninth inning, putting two runners in scoring position, but Daniel Gossett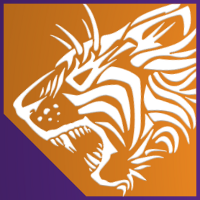 Daniel Gossett
Fr. RH Pitcher
#23 6-0, 160
Lyman, SC
View Full Profile induced a groundout to end the game.
Tiger starter Kevin Pohle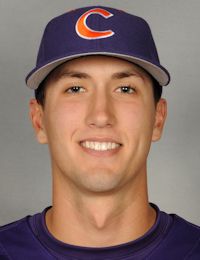 Kevin Pohle
So. RH Pitcher
#21 6-3, 180
St. Louis, MO
View Full Profile (4-1) pitched 7.0 strong innings to earn the win. He allowed just four hits, two runs, and one walk with four strikeouts. Gossett recorded his second save of the year by pitching 2.0 scoreless innings of two-hit ball with two strikeouts. Pohle and Gossett combined to face just six batters over the minimum.
Andrew Istler (2-3), the last of two Blue Devil hurlers, suffered the loss. He gave up three hits, four runs, and one walk in 2.0 innings pitched. Starter Robert Huber tossed 7.0 scoreless innings of five-hit ball with four walks.
After the Tigers were unable to score any of their seven baserunners in the first six innings and Pohle retired the first 15 batters of the game, Jordan Betts led off the sixth inning with a double off Baum's glove in left field. Betts advanced to third on Grant McCabe's sacrifice bunt, then Angelo La Bruna lined out to center to score Betts on the sacrifice fly.
Clemson, who left two runners on base in the third, fourth, and fifth innings, got a one-out single to right-center from Spencer Kieboom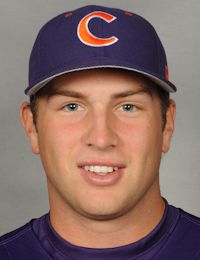 Spencer Kieboom
Jr. Catcher
#22 6-0, 220
Marietta, GA
View Full Profile in the top of the seventh inning, then Jason Stolz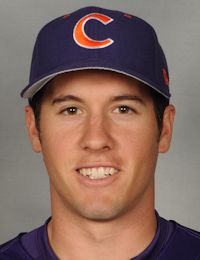 Jason Stolz
Sr. Infielder
#2 6-2, 205
Marietta, GA
View Full Profile walked on six pitches. Steve Wilkerson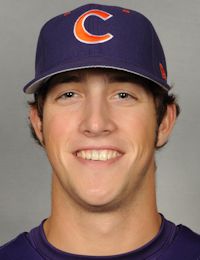 Steve Wilkerson
So. 2nd Base
#17 6-1, 185
Roswell, GA
View Full Profile grounded out to first in a close play to advance the runners up a base. But the Tigers left two more runners on base when Thomas Brittle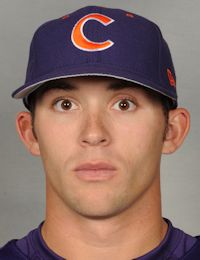 Thomas Brittle
RS Jr. Outfielder
#4 5-8, 170
Cross, SC
View Full Profile flied out to center to end the inning.
The Blue Devils added to their lead in the bottom of seventh inning. Andy Perez led off with a walk on six pitches and Mike Rosenfeld lined an 0-2 pitch to center for a single. After both runners moved up a base on Will Piwnica-Worms' sacrifice bunt, Mark Lumpa grounded a single through the right side to score Perez. But Rosenfeld was thrown out at the plate by right-fielder Brad Felder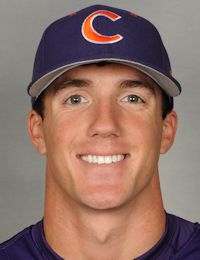 Brad Felder
Gr. Outfielder
#3 6-0, 200
Bowman, SC
View Full Profile to keep the Tigers within two runs.
Richie Shaffer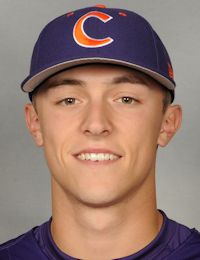 Richie Shaffer
Jr. 3rd Base
#8 6-3, 205
Charlotte, NC
View Full Profile led off the eighth inning with a single to center, then Phil Pohl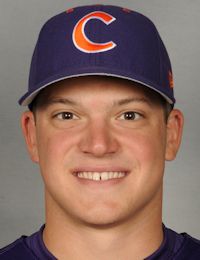 Phil Pohl
Sr. Catcher
#9 5-11, 215
Cooperstown, NY
View Full Profile grounded a single through the left side to extend his hitting streak to 11 games. Jon McGibbon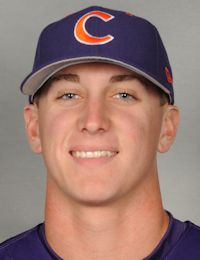 Jon McGibbon
So. 1st Base
#12 6-1, 210
Lindenhurst, NY
View Full Profile followed with a walk after being down in the count 0-2 to load the bases with no outs, then Baum came through with a double to right-center to score all three runners and give Clemson a 3-2 lead. Baum, who had two career RBIs prior to that plate appearance, drove in three runs on the double. Felder's groundout moved Baum to third, then Kieboom lined out to right-center to plate Baum on the sacrifice fly.
In the ninth inning, Perez grounded a one-out single through the left side, then Rosenfeld flied out to left field for out #2. Piwnica-Worms followed with a double down the right-field line to advance Perez to third. With the potential tying run on second base, Lumpa grounded out to Gossett to end the game.
Kieboom led Clemson's nine-hit performance by going 3-for-3 with a sacrifice fly. Shaffer and Brittle added two hits apiece for the Tigers, who struck out just once in the contest. Wilkerson went 0-for-4 with a walk, as his 19-game hitting streak came to an end.
Six different Blue Devils had one hit apiece for Duke, who had six hits in the game. Lumpa and La Bruna had one RBI apiece as well.
Clemson will travel to Greenville, SC to take on Furman at Fluor Field on Tuesday at 7:00 PM.


 Clemson at Duke

                 Apr 08, 2012 at Durham, NC (Jack Coombs Field)

Clemson 4 (18-14,8-7 ACC)

Player                    AB  R  H RBI BB SO PO  A LOB

------------------------------------------------------

Steve Wilkerson 2b.......  4  0  0  0   1  0  2  3   0

Thomas Brittle cf........  5  0  2  0   0  0  4  0   4

Richie Shaffer 3b........  5  1  2  0   0  0  0  1   2

Phil Pohl dh.............  3  0  1  0   1  0  0  0   0

 
   
  Tyler Slaton

Tyler Slaton





Fr. Outfielder



#18 5-7, 195

Cumming, GA

View Full Profile
   
   pr/dh......  1  1  0  0   0  0  0  0   1

Jon McGibbon 1b..........  3  1  0  0   1  1  8  2   0

Jay Baum lf..............  3  1  1  3   1  0  4  0   0

Brad Felder rf...........  4  0  0  0   0  0  2  1   2

Spencer Kieboom c........  3  0  3  1   0  0  7  1   0

Jason Stolz ss...........  2  0  0  0   1  0  0  1   0

Kevin Pohle p............  0  0  0  0   0  0  0  1   0

 Daniel Gossett p........  0  0  0  0   0  0  0  1   0

Totals................... 33  4  9  4   5  1 27 11   9

Duke 2 (13-20,5-10 ACC)

Player                    AB  R  H RBI BB SO PO  A LOB

------------------------------------------------------

Jeff Kremer dh...........  3  0  1  0   0  1  0  0   0

 Anthony D'Alessandro lf.  1  0  0  0   0  1  0  0   0

Andrew Istler lf/p.......  4  0  0  0   0  1  1  1   1

Andy Perez 1b............  3  1  1  0   1  0 10  2   0

Mike Rosenfeld c.........  4  0  1  0   0  1  3  1   0

Will Piwnica-Worms cf....  3  0  1  0   0  1  4  0   0

Mark Lumpa 2b............  4  0  1  1   0  1  3  2   2

Jordan Betts 3b..........  3  1  1  0   0  0  0  1   1

Grant McCabe rf..........  2  0  0  0   0  0  3  0   0

Angelo La Bruna ss.......  2  0  0  1   0  0  1  1   0

Robert Huber p...........  0  0  0  0   0  0  2  1   0

Totals................... 29  2  6  2   1  6 27  9   4

Score by Innings                    R  H  E

-------------------------------------------

Clemson............. 000 000 040 -  4  9  0

Duke................ 000 001 100 -  2  6  1

-------------------------------------------

E - LUMPA(2). LOB - Clemson 9; Duke 4. 2B - BAUM(2); KREMER(4);

PIWNICA-WORM(9); BETTS(9). SH - STOLZ(3); PIWNICA-WORM(1); McCABE(7). SF -

S. KIEBOOM(3); LA BRUNA(1).

Clemson                IP  H  R ER BB SO AB BF

-----------------------------------------------

Kevin Pohle.........  7.0  4  2  2  1  4 21 25

Daniel Gossett......  2.0  2  0  0  0  2  8  8

Duke                   IP  H  R ER BB SO AB BF

-----------------------------------------------

Robert Huber........  7.0  5  0  0  4  1 24 29

Andrew Istler.......  2.0  4  4  4  1  0  9 11

Win - POHLE (4-1).  Loss - ISTLER (2-3).  Save - GOSSETT (2).

Umpires - HP: Dennis McComb  1B: Bruce Ravan  3B: Richie Tallent

Start: 1:02 PM   Time: 2:25   Attendance: 1038



Tags:
Brad Felder
,
Daniel Gossett
,
Jason Stolz
,
Jay Baum
,
Jon McGibbon
,
Kevin Pohle
,
Phil Pohl
,
Richie Shaffer
,
Spencer Kieboom
,
Steve Wilkerson
,
Thomas Brittle
,
Tyler Slaton