| | |
| --- | --- |
| Mistakes doom Tigers in 4-2 loss to Canes | |
---
| | |
| --- | --- |
| Sunday, April 1, 2012, 4:43 PM | |
Clemson, SC – Dale Carey's two-out, two-run single in the seventh inning gave #7 Miami (FL) a one-run lead and the Hurricanes worked out of several late-inning jams to defeat Clemson 4-2 in front of 4,382 fans at Doug Kingsmore Stadium on Sunday afternoon. The Hurricanes improved to 21-7 overall and 8-4 in the ACC. The Tigers, who won the series 2-1, dropped to 14-13 overall and 5-7 in ACC play.
AJ Salcines (3-0), the third of five Miami hurlers, earned the win. He retired all four batters he faced and had one strikeout. Eric Nedeljkovic recorded his second save of the year by pitching 2.0 scoreless innings of one-hit ball. He was aided by two double plays turned by the Hurricane defense in the final two innings. The five Miami pitchers combined to allow only two of Clemson's 13 baserunners to score.
Clemson reliever Mike Kent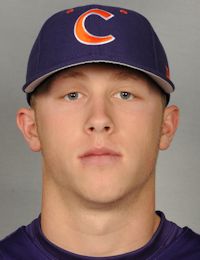 Mike Kent
RS So. RH Pitcher
#15 6-0, 195
Springfield, VA
View Full Profile (0-1) gave up hits to both batters he faced in the seventh innings and suffered the loss. Starter Kevin Pohle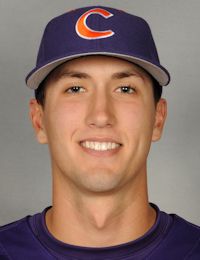 Kevin Pohle
So. RH Pitcher
#21 6-3, 180
St. Louis, MO
View Full Profile pitched 6.0 strong innings, allowing six hits, one run, and one walk with three strikeouts. Scott Firth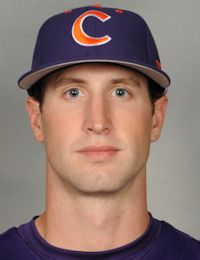 Scott Firth
Jr. RH Pitcher
#20 6-0, 165
Buffalo Grove, IL
View Full Profile pitched the final 2.1 innings without allowing a run as well.
For the third game in a row, Clemson took the game's first lead. Steve Wilkerson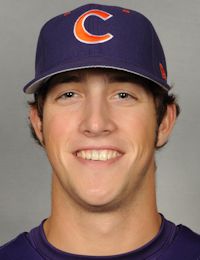 Steve Wilkerson
So. 2nd Base
#17 6-1, 185
Roswell, GA
View Full Profile led off the first inning with a bunt single to extend his hitting streak to 15 games and moved to second two batters later on Richie Shaffer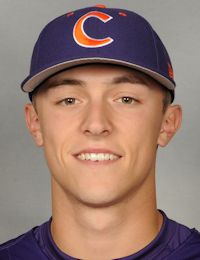 Richie Shaffer
Jr. 3rd Base
#8 6-3, 205
Charlotte, NC
View Full Profile 's groundout to second. Phil Pohl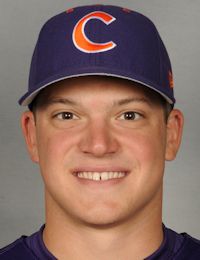 Phil Pohl
Sr. Catcher
#9 5-11, 215
Cooperstown, NY
View Full Profile then flared a two-out single to center to score Wilkerson.
The Hurricanes tied the score in the fourth inning. On a controversial play, Brad Fieger laced a two-out liner to center. Centerfielder Thomas Brittle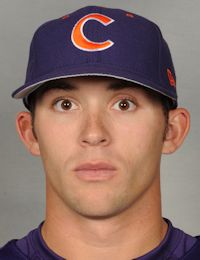 Thomas Brittle
RS Jr. Outfielder
#4 5-8, 170
Cross, SC
View Full Profile came up with the ball, but the umpire ruled that he trapped it. Rony Rodriguez followed with a double to right field to plate Fieger. It was the first extra-base hit of the series for Miami.
After the Hurricanes had runners at first and second with no outs and failed to score in the top of the sixth inning, the Tigers regained the lead in the bottom of the sixth. Jay Baum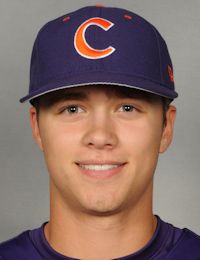 Jay Baum
Fr. Infielder
#13 5-11, 180
Alpharetta, GA
View Full Profile led off with a single through the right side, Clemson's first hit since the first inning. After Baum moved to second on a passed ball, he advanced to third on Shaffer's single to right-center. Pohl followed with a hard-hit single up the middle to score Baum. After Shaffer was picked off third base and Pohl was caught stealing, the Tigers loaded the bases, but they were unable to add to their lead. The Tigers went 4-for-5 with two walks in the frame, but only managed to score one run.
The Hurricanes took advantage of Clemson's inability to extend its lead with three runs in the seventh inning. Chantz Mack led off with a single through the right side and Michael Broad followed with a single to center. After Esteban Tresgallo struck out, pinch-hitter Julian Santos grounded out to move the runners up a base. Carey came through with a two-out single up the middle to score Mack and Broad. Stephen Perez doubled Miami's lead when he belted a triple to right field to score Carey. The Hurricanes were 1-for-18 with runners in scoring position in the series before Carey's and Perez's clutch hits.
Shaffer led off the eighth inning with a walk, then Pohl drew another walk. But Spencer Kieboom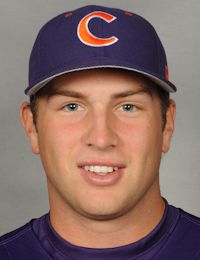 Spencer Kieboom
Jr. Catcher
#22 6-0, 220
Marietta, GA
View Full Profile popped up a bunt and Jon McGibbon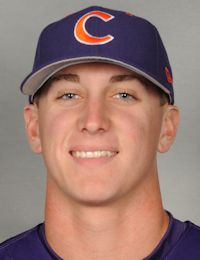 Jon McGibbon
So. 1st Base
#12 6-1, 210
Lindenhurst, NY
View Full Profile grounded into an inning-ending 4-6-3 double play to keep Miami up 4-2.
In the ninth inning, Jason Stolz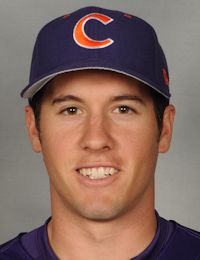 Jason Stolz
Sr. Infielder
#2 6-2, 205
Marietta, GA
View Full Profile led off with a single through the right side. Dominic Attanasio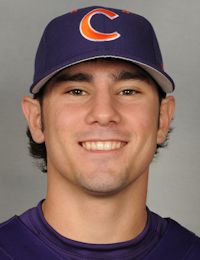 Dominic Attanasio
So. Outfielder
#1 5-7, 160
Windermere, FL
View Full Profile then hit a line drive, but Nedeljkovic got a glove on the ball and deflected it right to second base. Perez fielded the ball, stepped on second, and threw to first for the crucial double play. Brittle then grounded out to short to end the game.
Every Hurricane starter had at least one hit. Perez, Fieger, and Mack totaled two hits apiece, while Carey had a team-high two RBIs. Miami accumulated 12 hits in all after registering just 11 combined hits in the first two games of the series.
Pohl and Stolz had two hits apiece to lead Clemson, who amassed seven hits in the contest. Pohl added two RBIs as well.
Clemson will host Winthrop at Doug Kingsmore Stadium on Tuesday at 6:30 PM.


 2012 Clemson Baseball

                            #7 Miami (FL) at Clemson

               Apr 01, 2012 at Clemson, SC (Doug Kingsmore Stad.)

Miami (FL) 4 (21-7,8-4 ACC)

Player                    AB  R  H RBI BB SO PO  A LOB

------------------------------------------------------

Dale Carey cf............  4  1  1  2   1  1  1  0   1

Stephen Perez ss.........  4  0  2  1   1  0  2  5   0

Peter O'Brien dh.........  5  0  1  0   0  1  0  0   2

Brad Fieger 3b...........  4  1  2  0   0  0  1  2   0

Rony Rodriguez lf........  4  0  1  1   0  0  1  0   2

Chantz Mack rf...........  4  1  2  0   0  0  2  0   1

Michael Broad 2b.........  4  1  1  0   0  1  2  7   0

Esteban Tresgallo 1b.....  4  0  1  0   0  1 12  1   2

Garrett Kennedy c........  2  0  1  0   0  0  4  1   0

 Julian Santos ph........  1  0  0  0   0  0  0  0   0

 Corey Janson c..........  0  0  0  0   1  0  1  0   0

Steven Ewing p...........  0  0  0  0   0  0  1  1   0

 Adam Sargent p..........  0  0  0  0   0  0  0  0   0

 AJ Salcines p...........  0  0  0  0   0  0  0  0   0

 E.J. Encinosa p.........  0  0  0  0   0  0  0  0   0

 Eric Nedeljkovic p......  0  0  0  0   0  0  0  1   0

Totals................... 36  4 12  4   3  4 27 18   8

Clemson 2 (14-13,5-7 ACC)

Player                    AB  R  H RBI BB SO PO  A LOB

------------------------------------------------------

Steve Wilkerson 2b.......  4  1  1  0   0  0  3  1   0

Jay Baum lf..............  3  1  1  0   1  0  2  0   0

Richie Shaffer 3b........  3  0  1  0   1  0  2  2   1

Phil Pohl dh.............  3  0  2  2   1  0  0  0   0

Spencer Kieboom c........  3  0  0  0   1  1  4  1   1

Jon McGibbon 1b..........  3  0  0  0   1  2  9  2   1

Jason Stolz ss...........  4  0  2  0   0  1  3  3   1

Dominic Attanasio rf.....  4  0  0  0   0  1  1  0   3

Thomas Brittle cf........  4  0  0  0   0  1  1  1   0

Kevin Pohle p............  0  0  0  0   0  0  2  1   0

 Mike Kent p.............  0  0  0  0   0  0  0  0   0

 Jonathan Meyer p........  0  0  0  0   0  0  0  1   0

 Scott Firth p...........  0  0  0  0   0  0  0  2   0

Totals................... 31  2  7  2   5  6 27 14   7

Score by Innings                    R  H  E

-------------------------------------------

Miami (FL).......... 000 100 300 -  4 12  1

Clemson............. 100 001 000 -  2  7  2

-------------------------------------------

E - TRESGALLO(9); WILKERSON(8); S. KIEBOOM(1). DP - Miami 2. LOB - Miami 8;

Clemson 7. 2B - FIEGER(5); RODRIGUEZ(9). 3B - PEREZ(4). SB - SHAFFER(2). CS

- O'BRIEN(2); POHL(1).

Miami (FL)             IP  H  R ER BB SO AB BF

-----------------------------------------------

Steven Ewing........  5.2  5  2  2  3  5 21 24

Adam Sargent........  0.0  1  0  0  0  0  1  1

AJ Salcines.........  1.1  0  0  0  0  1  4  4

E.J. Encinosa.......  0.0  0  0  0  2  0  0  2

Eric Nedeljkovic....  2.0  1  0  0  0  0  5  5

Clemson                IP  H  R ER BB SO AB BF

-----------------------------------------------

Kevin Pohle.........  6.0  6  1  1  1  3 22 23

Mike Kent...........  0.0  2  2  2  0  0  2  2

Jonathan Meyer......  0.2  1  1  1  0  1  3  3

Scott Firth.........  2.1  3  0  0  2  0  9 11

Win - SALCINES (3-0).  Loss - KENT (0-1).  Save - NEDELJKOVIC (2).

WP - EWING(3); FIRTH(3). PB - KENNEDY(2).

Umpires - HP: Troy Fullwood  1B: Scott Erby  3B: Frank Sylvester

Start: 12:01 PM   Time: 2:50   Attendance: 4382

Game notes:

Clemson's Joe Costigan was ejected in the middle of the fourth inning.

SARGENT faced 1 batter in the 6th.

KENT faced 2 batters in the 7th.

ENCINOSA faced 2 batters in the 8th.

Game: CU4011

Tags:
Dominic Attanasio
,
Jason Stolz
,
Jay Baum
,
Jon McGibbon
,
Kevin Pohle
,
Mike Kent
,
Phil Pohl
,
Richie Shaffer
,
Scott Firth
,
Spencer Kieboom
,
Steve Wilkerson
,
Thomas Brittle