---
| | |
| --- | --- |
| Saturday, March 31, 2012, 8:23 PM | |
Clemson, SC - Richie Shaffer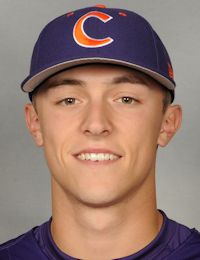 Richie Shaffer
Jr. 3rd Base
#8 6-3, 205
Charlotte, NC
View Full Profile 's two-out, two-run double in the seventh inning coupled with Dominic Leone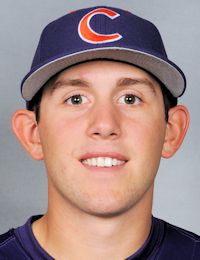 Dominic Leone
Jr. RH Pitcher
#6 5-11, 195
Norwich, CT
View Full Profile 's strong pitching performance lifted Clemson to a 3-1 victory over #7 Miami (FL) in front of 4,758 fans at Doug Kingsmore Stadium on Saturday afternoon. The Tigers, who took a 2-0 series lead, improved to 14-12 overall and 5-6 in the ACC. The Hurricanes fell to 20-7 overall and 7-4 in ACC play.
Both starting pitchers (Leone and Miami's Eric Whaley) had solid outings in the low-scoring affair. But with runners on first and second with two outs in the seventh inning, Shaffer laced a double down the left-field line to score two runs, giving Clemson a 3-1 lead. Patrick Andrews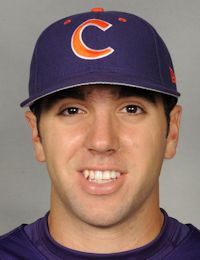 Patrick Andrews
Fr. RH Pitcher
#43 6-2, 205
Hilton Head Island, SC
View Full Profile then pitched 2.0 scoreless innings to close out the game. The Tigers were also aided by two pickoffs of runners at third base by catcher Spencer Kieboom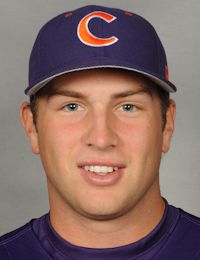 Spencer Kieboom
Jr. Catcher
#22 6-0, 220
Marietta, GA
View Full Profile and three double plays.
Leone (4-2) allowed just six hits, one run, and three walks with six strikeouts in 7.0 innings pitched to earn the win. Andrews recorded his first career save by tossing 2.0 scoreless innings of one-hit ball with one strikeout.
Whaley (3-2) suffered the loss, as he gave up eight hits, three runs (two earned), and two walks with three strikeouts in 6.2 innings pitched.
The Tigers grabbed the game's first lead in the second inning. Kieboom laced a one-out single through the left side and advanced to second when Dominic Attanasio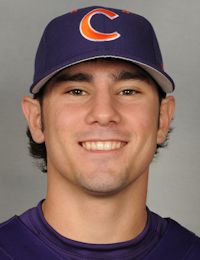 Dominic Attanasio
So. Outfielder
#1 5-7, 160
Windermere, FL
View Full Profile reached on a fielding error by second-baseman Michael Broad. Two batters later, Tyler Slaton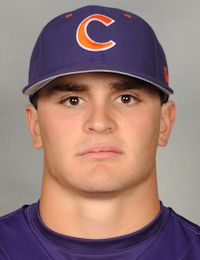 Tyler Slaton
Fr. Outfielder
#18 5-7, 195
Cumming, GA
View Full Profile blooped a two-out double to shallow left-center to score Kieboom.
The Hurricanes responded with a run in the fourth inning to tie the score. Stephen Perez led off with a walk and stole second. Two batters later, Brad Fieger flared a single to left to move Perez to third. On the throw home, Fieger advanced to second base and Perez then scored on the throw to second.
Clemson regained the lead in the seventh inning thanks to a clutch two-out hit. Jason Stolz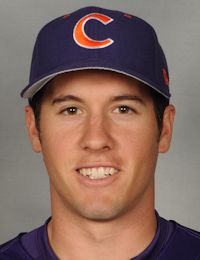 Jason Stolz
Sr. Infielder
#2 6-2, 205
Marietta, GA
View Full Profile led off with an infield single, but he was retired on Slaton's bunt back to the mound. Steve Wilkerson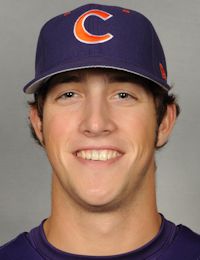 Steve Wilkerson
So. 2nd Base
#17 6-1, 185
Roswell, GA
View Full Profile reached on a bunt single. Two batters later with two outs, Shaffer ripped a double down the left-field line to score Slaton and Wilkerson.
Wilkerson, who extended his hitting streak to 14 games, led the Tigers' eight-hit performance by going 2-for-4 with a run, while Shaffer had a game-high two RBIs.
Dale Carey, Fieger, and Rony Rodriguez all had two hits apiece for the Hurricanes, who totaled seven hits in the contest.
Clemson and Miami will play game-three of the three-game series on Sunday at 12:00 PM. The game will be available live via webcast at ESPN3.


Miami (FL) 1 (20-7,7-4 ACC)

Player                    AB  R  H RBI BB SO PO  A LOB

------------------------------------------------------

Dale Carey cf............  4  0  2  0   0  2  2  0   0

Stephen Perez ss.........  2  1  0  0   1  1  5  2   0

Peter O'Brien dh.........  4  0  0  0   0  1  0  0   0

Brad Fieger 3b...........  4  0  2  0   0  0  0  2   0

Rony Rodriguez lf........  3  0  2  0   1  0  1  0   0

Michael Broad 2b.........  3  0  0  0   0  1  1  4   1

Chantz Mack rf...........  3  0  1  0   0  0  3  0   1

Esteban Tresgallo 1b.....  3  0  0  0   0  1  8  1   2

Garrett Kennedy c........  1  0  0  0   1  0  3  1   0

 Julian Santos ph........  1  0  0  0   0  1  0  0   0

 Corey Janson c..........  0  0  0  0   0  0  0  0   0

Eric Whaley p............  0  0  0  0   0  0  1  2   0

 AJ Salcines p...........  0  0  0  0   0  0  0  0   0

Totals................... 28  1  7  0   3  7 24 12   4

Clemson 3 (14-12,5-6 ACC)

Player                    AB  R  H RBI BB SO PO  A LOB

------------------------------------------------------

Steve Wilkerson 2b.......  4  1  2  0   0  0  4  5   2

Thomas Brittle cf........  4  0  0  0   0  1  1  0   0

Richie Shaffer 3b........  3  0  1  2   1  1  2  0   0

Phil Pohl dh.............  3  0  1  0   1  1  0  0   3

Jon McGibbon 1b..........  4  0  0  0   0  0  6  1   3

Spencer Kieboom c........  4  1  1  0   0  0  7  3   0

Dominic Attanasio rf.....  4  0  1  0   0  0  2  0   0

Jason Stolz ss...........  4  0  1  0   0  0  2  3   0

Tyler Slaton lf..........  3  1  1  1   0  0  3  0   0

Dominic Leone p..........  0  0  0  0   0  0  0  0   0

 Patrick Andrews p.......  0  0  0  0   0  0  0  0   0

Totals................... 33  3  8  3   2  3 27 12   8

Score by Innings                    R  H  E

-------------------------------------------

Miami (FL).......... 000 100 000 -  1  7  3

Clemson............. 010 000 20X -  3  8  1

-------------------------------------------

E - FIEGER(5); BROAD 2(6); WILKERSON(7). DP - Miami 1; Clemson 3. LOB -

Miami 4; Clemson 8. 2B - SHAFFER(11); SLATON(1). SH - PEREZ(4). SB -

PEREZ(4); WILKERSON(5). CS - KENNEDY(1); ATTANASIO(1).

Miami (FL)             IP  H  R ER BB SO AB BF

-----------------------------------------------

Eric Whaley.........  6.2  8  3  2  2  3 29 31

AJ Salcines.........  1.1  0  0  0  0  0  4  4

Clemson                IP  H  R ER BB SO AB BF

-----------------------------------------------

Dominic Leone.......  7.0  6  1  1  3  6 22 26

Patrick Andrews.....  2.0  1  0  0  0  1  6  6

Win - LEONE (4-2).  Loss - WHALEY (3-2).  Save - ANDREWS (1).

WP - WHALEY(1).

Umpires - HP: Frank Sylvester  1B: Troy Fullwood  3B: Scott Erby

Start: 4:04 PM   Time: 2:25   Attendance: 4758