| | |
| --- | --- |
| Virginia pitches two-hitter against Tigers | |
---
| | |
| --- | --- |
| Saturday, March 24, 2012, 8:58 PM | |
Charlottesville, VA -
Junior righthander Branden Kline tossed a complete-game two-hitter to lead Virginia to a 5-1 victory over Clemson in front of 3,033 fans at UVa Baseball Stadium on Saturday afternoon. The Cavaliers, who took a 2-0 series lead, improved to 14-8-1 overall and 4-4 in the ACC. The Tigers dropped to 11-10 overall and 3-5 in ACC play.
Kline (4-2) earned the win in pitching the first complete game by a Cavalier in 2012. In 9.0 innings pitched, he gave up just two hits, one run, and no walks with six strikeouts. Kline, who threw 112 pitches (71 strikes), allowed just two baserunners in the game, both coming on hits. After giving up a leadoff single in the fourth inning, he retired the last 18 batters.
Tiger starter Dominic Leone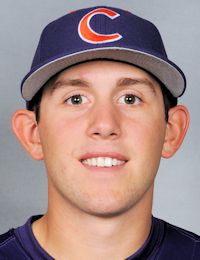 Dominic Leone
Jr. RH Pitcher
#6 5-11, 195
Norwich, CT
View Full Profile (3-2) suffered the loss, as he yielded five hits, five runs, and three walks with three strikeouts in 3.2 innings pitched. David Haselden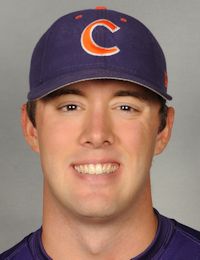 David Haselden
Sr. RH Pitcher
#29 6-4, 240
Spartanburg, SC
View Full Profile and Patrick Andrew combined to pitch the final 4.1 innings without allowing a run.
Steve Wilkerson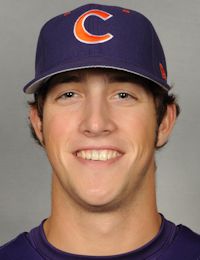 Steve Wilkerson
So. 2nd Base
#17 6-1, 185
Roswell, GA
View Full Profile led off the first inning with a triple to right-center, then Jason Stolz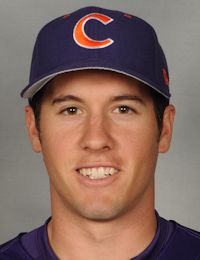 Jason Stolz
Sr. Infielder
#2 6-2, 205
Marietta, GA
View Full Profile grounded out to second to score Wilkerson.
In the second inning, Derek Fisher hit a two-out, solo homer to right field, his third long ball of the season, to tie the score.
The Cavaliers took their first lead in the third inning. Mitchell Shifflett led off with a single to right-center and advanced to second on a balk. Keith Werman followed with a bunt single, then Chris Taylor belted a 1-2 pitch to right-center for a triple to score Shifflett and Werman. But Leone retired the next three Cavaliers to keep Clemson within two runs.
In the fourth inning, Jared King led off with a walk and moved to second on a balk. Later in the frame, Nate Irving hit a one-out single to center, but King was thrown out at the plate by centerfielder Tyler Slaton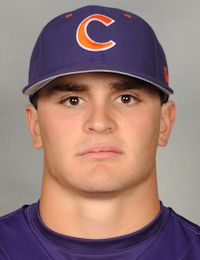 Tyler Slaton
Fr. Outfielder
#18 5-7, 195
Cumming, GA
View Full Profile for out #2. Shifflett followed with a walk, then Werman flared a double down the left-field line to score Irving and Shifflett.
Shifflett and Werman, the #8 and #9 batters in the lineup, led Virginia with two hits apiece. Shifflett went 2-for-2 with two runs and a walk, while Werman went 2-for-3 with a two-run double and one run.
Wilkerson and Stolz each had one hit for the Tigers, while Wilkerson scored Clemson's lone run.
Clemson and Virginia will play game-three of the three-game series on Sunday at 1:00 PM.


Clemson 1 (11-10,3-5 ACC)

Player                    AB  R  H RBI BB SO PO  A LOB

------------------------------------------------------

Steve Wilkerson 2b.......  4  1  1  0   0  0  1  1   0

Jason Stolz ss...........  4  0  1  1   0  2  0  3   0


  
 Richie Shaffer

Richie Shaffer





Jr. 3rd Base



#8 6-3, 205

Charlotte, NC

View Full Profile
  
  3b........  3  0  0  0   0  1  1  2   0


  
 Phil Pohl

Phil Pohl





Sr. Catcher



#9 5-11, 215

Cooperstown, NY

View Full Profile
  
  1b.............  3  0  0  0   0  1  7  1   0


  
 Brad Felder

Brad Felder





Gr. Outfielder



#3 6-0, 200

Bowman, SC

View Full Profile
  
  rf...........  3  0  0  0   0  0  4  0   1


  
 Mike Dunster

Mike Dunster





So. Infielder



#10 5-10, 180

Greenwich, CT

View Full Profile
  
  dh..........  3  0  0  0   0  1  0  0   0


  
 Spencer Kieboom

Spencer Kieboom





Jr. Catcher



#22 6-0, 220

Marietta, GA

View Full Profile
  
  c........  3  0  0  0   0  1  7  1   0


  
 Jon McGibbon

Jon McGibbon





So. 1st Base



#12 6-1, 210

Lindenhurst, NY

View Full Profile
  
  lf..........  3  0  0  0   0  0  1  0   0

Tyler Slaton cf..........  2  0  0  0   0  0  2  1   0

 
  
 Joe Costigan

Joe Costigan





So. Outfielder



#5 5-11, 200

Naples, FL

View Full Profile
  
  ph.........  1  0  0  0   0  0  0  0   0

Dominic Leone p..........  0  0  0  0   0  0  0  1   0

 David Haselden p........  0  0  0  0   0  0  1  0   0

 
  
 Patrick Andrews

Patrick Andrews





Fr. RH Pitcher



#43 6-2, 205

Hilton Head Island, SC

View Full Profile
  
  p.......  0  0  0  0   0  0  0  0   0

Totals................... 29  1  2  1   0  6 24 10   1

Virginia 5 (14-8-1,4-4 ACC)

Player                    AB  R  H RBI BB SO PO  A LOB

------------------------------------------------------

Chris Taylor ss..........  4  0  1  2   0  3  0  1   2

Colin Harrington lf......  4  0  1  0   0  0  5  0   0

Stephen Bruno 3b.........  4  0  1  0   0  1  1  0   0

Mike Papi rf.............  4  0  0  0   0  0  3  0   1

Jared King 1b............  1  0  0  0   3  0  8  0   0

Derek Fisher dh..........  4  1  1  1   0  1  0  0   2

Nate Irving c............  4  1  1  0   0  1  6  0   0

Mitchell Shifflett cf....  2  2  2  0   1  0  4  0   0

Keith Werman 2b..........  3  1  2  2   0  0  0  5   0

Branden Kline p..........  0  0  0  0   0  0  0  1   0

Totals................... 30  5  9  5   4  6 27  7   5

Score by Innings                    R  H  E

-------------------------------------------

Clemson............. 100 000 000 -  1  2  0

Virginia............ 012 200 00X -  5  9  0

-------------------------------------------

LOB - Clemson 1; Virginia 5. 2B - WERMAN(3). 3B - WILKERSON(1); TAYLOR(4).

HR - FISHER(3). SB - IRVING(3). CS - HARRINGTON(2); KING(5).

Clemson                IP  H  R ER BB SO AB BF

-----------------------------------------------

Dominic Leone.......  3.2  5  5  5  3  3 14 17

David Haselden......  3.1  4  0  0  1  3 13 14

Patrick Andrews.....  1.0  0  0  0  0  0  3  3

Virginia               IP  H  R ER BB SO AB BF

-----------------------------------------------

Branden Kline.......  9.0  2  1  1  0  6 29 29

Win - KLINE (4-2).  Loss - LEONE (3-2).  Save - None.

WP - HASELDEN 2(4). BK - LEONE 2(3).

Umpires - HP: Barry Chambers  1B: Randy Harvey  3B: Morris Hodges

Start: 3:08 PM   Time: 2:14   Attendance: 3033

Tags:
Brad Felder
,
David Haselden
,
Dominic Leone
,
Jason Stolz
,
Joe Costigan
,
Jon McGibbon
,
Mike Dunster
,
Patrick Andrews
,
Phil Pohl
,
Richie Shaffer
,
Spencer Kieboom
,
Steve Wilkerson
,
Tyler Slaton