| | |
| --- | --- |
| Gossett, Dunster leads Tigers to 4-2 win over Elon | |
---
| | |
| --- | --- |
| Wednesday, March 21, 2012, 7:29 PM | |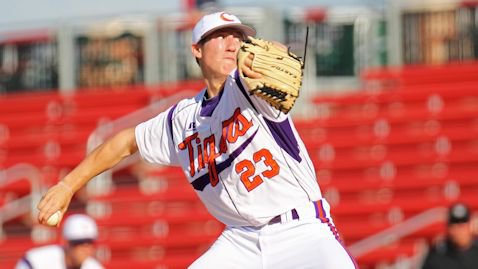 GREENVILLE – Clemson pitching coach Dan Pepicelli had what he called a "spirited" conversation with starting pitcher Daniel Gossett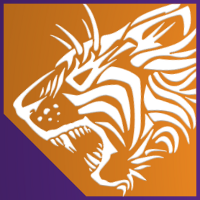 Daniel Gossett
Fr. RH Pitcher
#23 6-0, 160
Lyman, SC
View Full Profile in the middle of the first inning of Wednesday's game against Elon.
That conversation and reserve outfielder Mike Dunster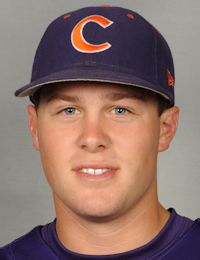 Mike Dunster
So. Infielder
#10 5-10, 180
Greenwich, CT
View Full Profile 's big day helped propel the Tigers to their fifth straight win, a 4-2 decision against Elon at Fluor Field. Gossett pitched seven innings – giving up just two first inning runs – while striking out eight and walking two. He retired the last 13 batters he faced, and even struck out six consecutive hitters during that streak as he picked up his first collegiate win.
Dunster entered play with just three at-bats on the season, but delivered three hits and three big RBIs and Gossett overcame a shaky start to pitch seven strong innings as the Tigers improved to 11-8 on the season. The Tigers swept Boston College last weekend, and needed the confidence the current winning streak has produced as they travel to play at Virginia this weekend.
Clemson head coach Jack Leggett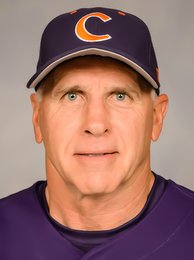 Jack Leggett
Baseball Head Coach
View Full Profile picked up the 1200th victory of his head coaching career in the win, and said the win was an example of a good team effort.
"Tonight is a nice way to get it," Leggett said of his 1200th win. "I thought we played really well tonight. Daniel Gossett was outstanding once he got past that first inning. There are a lot of good things to come if he pitches like that. I thought our relief pitchers did a good job for us. I thought we played good defense and got a few timely hits when we needed to. There were a few times where we should've had a few more, but their guys did a good job too. They pitched well too. This is a good Elon team and they are very well coached. It was a nice night. I'm just proud of our players."
Gossett ran into trouble in the first, giving up two runs on three singles and a walk as Elon took a quick 2-0 lead.
It was at that point that he had his conversation with Pepicelli, and later catcher Spencer Kieboom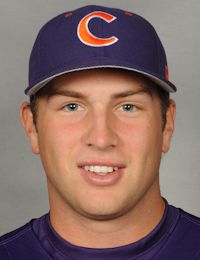 Spencer Kieboom
Jr. Catcher
#22 6-0, 220
Marietta, GA
"I came in the dugout and Pep told me that I have to be a fighter and have to get everybody out how I know how to get them out," Gossett said. "The catcher [Spencer Kieboom] came out to visit and said, 'Have some presence, have some presence.' I got up there with some mound presence and just started throwing my game. Once I got in the groove, I was just pitching."
The Tigers finally got on the board against Elon starter Jim Stokes in the bottom of the third, after Tyler Slaton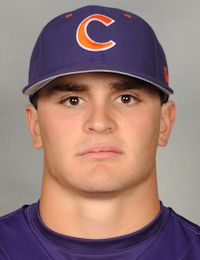 Tyler Slaton
Fr. Outfielder
#18 5-7, 195
Cumming, GA
View Full Profile led off with an infield single that bounced out in front of the plate and stuck in the grass, allowing him to reach first. He moved to second on a fielder's choice, moved to third on a wild pitch and then scored on a second wild pitch by Stokes to make it 2-1.
Phil Pohl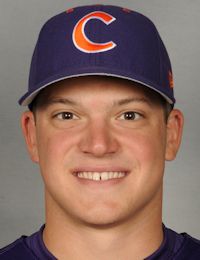 Phil Pohl
Sr. Catcher
#9 5-11, 215
Cooperstown, NY
View Full Profile led off the bottom of the fourth with a sharp single to left, but was forced at second on a grounder by Brad Felder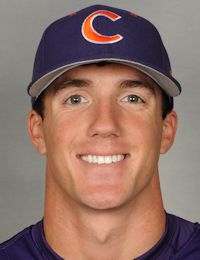 Brad Felder
Gr. Outfielder
#3 6-0, 200
Bowman, SC
View Full Profile . Felder advanced to third on a single by Spencer Kieboom and then scored on a single by Dunster that tied the game at 2-2 through four innings.
Gossett settled in nicely after his early troubles – striking out six in a row at one point – in keeping Elon at bay until the Clemson bats could warm up further.
That warm up happened in the bottom of the sixth. Felder led off with a sharp single to right, and promptly stole second. The throw to second went into center field and he advanced to third. Kieboom walked and Dunster laced a double down the left field line that scored Felder for a 3-2 Clemson lead.
The Tigers added on to the lead in the bottom of the seventh, and Dunster again delivered, this time with the bases loaded. Dunster lined a 3-2 fastball up the middle for a base hit that scored Stolz, but Felder was thrown out at home to end the inning and the Tigers were 4-2.
Dunster said he was just trying to be ready to chip in once his number was called.
"It's tough, but the coaches do a great job at getting us batting practice and a lot of work in the cage so you can keep your swing sharp," Dunster said. "Coach [Bradley] LeCroy and MJ [Michael Johnson] were really telling me to be patient and wait for your fastball and don't miss it. I was just taking it bat-to-bat."
Clay Bates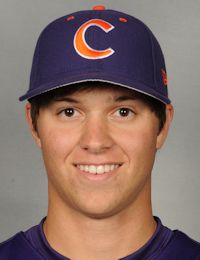 Clay Bates
RS Fr. RH Pitcher
#42 5-11, 180
Rock Hill, SC
View Full Profile and Joseph Moorefield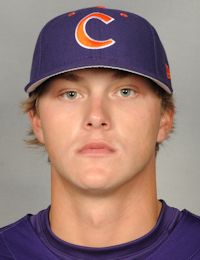 Joseph Moorefield
RS Jr. LH Pitcher
#51 6-1, 205
Woodruff, SC
View Full Profile combined on a scoreless eighth inning, and Matt Campbell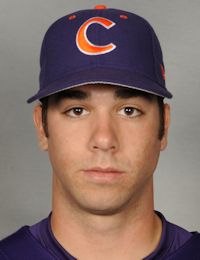 Matt Campbell
So. RH Pitcher
#36 5-11, 185
Alpharetta, GA
View Full Profile pitched a perfect ninth to pick up his second save.


Elon 2 (12-10)

Player                    AB  R  H RBI BB SO PO  A LOB

------------------------------------------------------

Sebastian Gomez 2b.......  4  0  1  0   0  2  2  1   0

Jake Luce lf.............  3  0  0  0   0  2  1  0   0

 Joey Tomko ph...........  1  0  1  0   0  0  0  0   0

 Blaine Bower pr/lf......  0  0  0  0   0  0  0  0   0

Alex Swim dh.............  4  1  1  0   0  1  0  0   0

Ryan Kinsella c..........  3  1  1  0   1  1  7  2   2

Garrett Koster 3b........  3  0  0  0   1  1  3  0   1

Niko Fraser cf...........  4  0  1  2   0  0  3  1   0

Connor Lewis 1b..........  3  0  0  0   0  0  5  1   2

 Casey Jones ph..........  1  0  0  0   0  1  0  0   0

Chris Bresnahan ss.......  3  0  0  0   0  2  1  4   0

Quinn Bower rf...........  3  0  0  0   0  1  0  0   0

Jim Stokes p.............  0  0  0  0   0  0  1  1   0

 David Whitehead p.......  0  0  0  0   0  0  1  0   0

 Nate Young p............  0  0  0  0   0  0  0  0   0

Totals................... 32  2  5  2   2 11 24 10   5

Clemson 4 (11-8)

Player                    AB  R  H RBI BB SO PO  A LOB

------------------------------------------------------

Steve Wilkerson 2b.......  4  0  1  0   1  0  0  4   2

Jason Stolz ss...........  4  1  1  0   0  2  0  2   0

Richie Shaffer 3b........  4  0  0  0   0  3  1  1   0

Phil Pohl 1b.............  4  0  1  0   0  1 11  1   2

 Jon McGibbon 1b.........  0  0  0  0   0  0  1  1   0

Brad Felder rf...........  3  2  1  0   1  0  1  0   0

Spencer Kieboom c........  2  0  1  0   2  0  9  2   0

Mike Dunster dh..........  4  0  3  3   0  0  0  0   0

Garrett Boulware lf......  2  0  0  0   0  0  0  0   1

 Dominic Attanasio ph/lf.  2  0  0  0   0  0  0  0   0

Tyler Slaton cf..........  3  1  1  0   1  1  2  0   2

Daniel Gossett p.........  0  0  0  0   0  0  1  1   0

 Clay Bates p............  0  0  0  0   0  0  0  0   0

 Joseph Moorefield p.....  0  0  0  0   0  0  0  0   0

 Matt Campbell p.........  0  0  0  0   0  0  1  0   0

Totals................... 32  4  9  3   5  7 27 12   9

Score by Innings                    R  H  E

-------------------------------------------

Elon................ 200 000 000 -  2  5  2

Clemson............. 001 101 10X -  4  9  0

-------------------------------------------

E - KINSELLA(4); KOSTER(11). LOB - Elon 5; Clemson 9. 2B - DUNSTER(2). SB -

STOLZ(3); FELDER(4).

Elon                   IP  H  R ER BB SO AB BF

-----------------------------------------------

Jim Stokes..........  5.0  5  2  2  1  6 21 22

David Whitehead.....  2.2  4  2  2  4  1 10 14

Nate Young..........  0.1  0  0  0  0  0  1  1

Clemson                IP  H  R ER BB SO AB BF

-----------------------------------------------

Daniel Gossett......  7.0  3  2  2  2 10 24 26

Clay Bates..........  0.1  1  0  0  0  0  2  2

Joseph Moorefield...  0.2  1  0  0  0  0  3  3

Matt Campbell.......  1.0  0  0  0  0  1  3  3

Win - GOSSETT (1-2).  Loss - WHITEHEAD (0-2).  Save - CAMPBELL (2).

WP - STOKES 3(5); GOSSETT 2(4).

Umpires - HP: Jay Furlong  1B: David Savage  3B: Danny Everett

Start: 5:03 PM   Time: 2:31   Attendance: 2319