| | |
| --- | --- |
| Tigers get strong start from Pohle and earn much-needed sweep over Eagles | |
---
| | |
| --- | --- |
| Sunday, March 18, 2012, 2:43 PM | |
CLEMSON – The Clemson Tiger baseball team is back to ground zero, and while they aren't back to where they want to be exactly, it's a far cry from where they were a week ago.
The Tigers (9-8, 3-3 ACC) got 6.2 strong innings from starter Kevin Pohle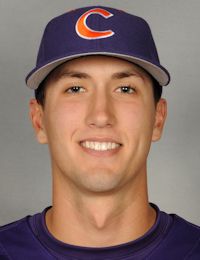 Kevin Pohle
So. RH Pitcher
#21 6-3, 180
St. Louis, MO
View Full Profile and the offense used a 5-run third inning in beating Boston College (6-11, 0-6) 5-1 Sunday afternoon at Doug Kingsmore Stadium, completing a three-game series sweep over their Atlantic Coast Conference foes.
This time last weekend, the Tigers were dealing with another sweep, this time on the losing end at the hands of North Carolina. That was followed by a mid-week loss at Western Carolina, so the Tigers needed a strong performance over the weekend to get back on track as they face the daunting task of playing five games in six days this week – they host Elon on Tuesday, play Elon in Greenville on Wednesday and then play three games at Virginia this weekend.
"We definitely needed to do this to get ourselves back to ground zero," Clemson head coach Jack Leggett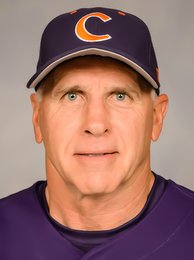 Jack Leggett
Baseball Head Coach
View Full Profile said. "We needed to get ourselves back in the hunt again and get our confidence going. We pitched very well today, but the pitching was pretty good all weekend long. We played good defensively, and had some spurts offensively where we looked pretty good. It's hard to keep your concentration and win three ballgames against anybody in this conference."
Pohle – making his third consecutive Sunday start – gave up seven hits but just one run as he struck out five and walked none as he improved to 3-0. Scott Firth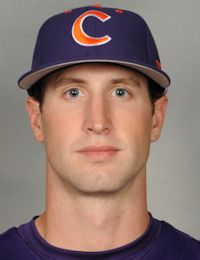 Scott Firth
Jr. RH Pitcher
#20 6-0, 165
Buffalo Grove, IL
View Full Profile pitched the final 2.1 innings, giving up three hits.
"He is throwing strikes and we are playing good defense behind him," Leggett said of his starter. "He is throwing the ball with some sink, and he pitched himself out of some jams. I thought he was very poised."
Pohle said throwing strikes has been the key for him.
"Every game is a new game, so you just adjust on the fly," he said. "Just making sure I throw strikes, keep the ball down and let the fielders work behind me. This really boosts us going against Elon and then this weekend [against Virginia] so this gives us a boost of energy for practice this week, and gives us some confidence."
The Eagles used a double and a single to plate the game's first run to go up 1-0, but the Tigers answered with their big third inning. Steve Wilkerson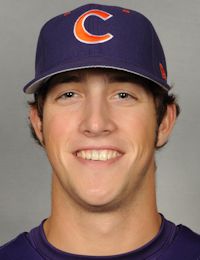 Steve Wilkerson
So. 2nd Base
#17 6-1, 185
Roswell, GA
View Full Profile singled through the right side to lead off the inning and promptly stole second. Jason Stolz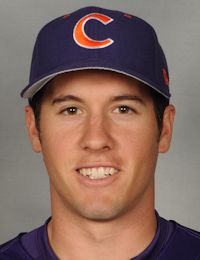 Jason Stolz
Sr. Infielder
#2 6-2, 205
Marietta, GA
View Full Profile was hit by a pitch, and Richie Shaffer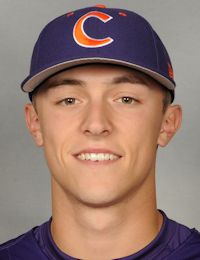 Richie Shaffer
Jr. 3rd Base
#8 6-3, 205
Charlotte, NC
View Full Profile singled into left to score Wilkerson and tie the score at 1-1.
With one out, a wild pitch advanced the runners to second and third, and Brad Felder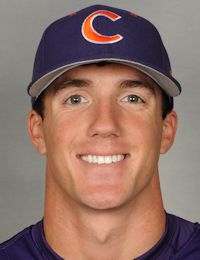 Brad Felder
Gr. Outfielder
#3 6-0, 200
Bowman, SC
View Full Profile singled to score Stolz to make it 2-1 and move Shaffer to third. Felder stole second and Spencer Kieboom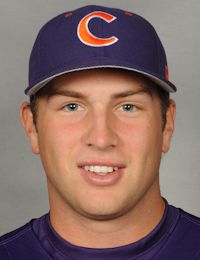 Spencer Kieboom
Jr. Catcher
#22 6-0, 220
Marietta, GA
View Full Profile then walked to load the bases for Joe Costigan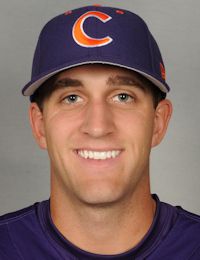 Joe Costigan
So. Outfielder
#5 5-11, 200
Naples, FL
View Full Profile , who singled up the middle to score Shaffer and Felder for a 4-1 lead. Tyler Slaton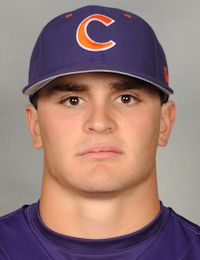 Tyler Slaton
Fr. Outfielder
#18 5-7, 195
Cumming, GA
View Full Profile followed that up with a run-scoring single of his own to close out the scoring.
Center fielder Thomas Brittle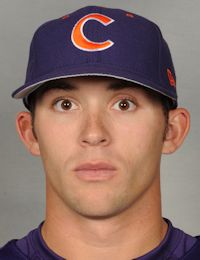 Thomas Brittle
RS Jr. Outfielder
#4 5-8, 170
Cross, SC
View Full Profile was injured during the inning, however, while trying to bunt and will be out for at least a few games. He lacerated the middle finger on his throwing hand and took five stiches, and Slaton will play center in his absence.
Pohle and Firth shut down the Eagles the rest of the way, capping a weekend in which the pitching staff gave up just eight total runs.
Shaffer echoed Leggett's ground zero theme in saying the sweep was a boost for the team's confidence.
"Hopefully we can keep this ball rolling," Shaffer said. "We put together some really good innings, and the pitching was phenomenal. This is huge. It gets us back even in the conference. At the end of the day, we are back to even and we are back to where we need to be. Back to ground zero. Elon always plays us hard, and Virginia will be a great test for us but we are feeling confident."

Tags:
Brad Felder
,
Jack Leggett
,
Jason Stolz
,
Joe Costigan
,
Kevin Pohle
,
Richie Shaffer
,
Scott Firth
,
Spencer Kieboom
,
Steve Wilkerson
,
Thomas Brittle
,
Tyler Slaton