| | |
| --- | --- |
| Tigers take 2-0 series lead with win over BC | |
---
| | |
| --- | --- |
| Saturday, March 17, 2012, 9:34 PM | |
Clemson, SC -
Dominic Leone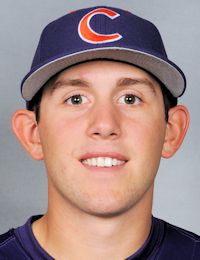 Dominic Leone
Jr. RH Pitcher
#6 5-11, 195
Norwich, CT
View Full Profile allowed only one hit in 5.2 innings pitched and Clemson pounded out 11 hits en route to a 6-3 victory over Boston College in front of 4,598 fans at Doug Kingsmore Stadium on Saturday night. The Tigers, who took a 2-0 series lead, improved to 8-8 overall and 2-3 in the ACC. The Eagles, who lost their eighth game in a row, fell to 6-10 overall and 0-5 in ACC play.
The Eagles took a one-run lead on a two-run homer in the top of the second inning, but the Tigers responded with four runs in the bottom of the second inning and never relinquished the lead. Meanwhile, Leone and Jonathan Meyer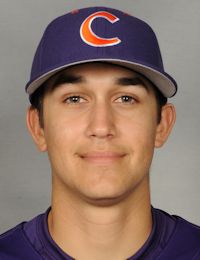 Jonathan Meyer
Jr. RH Pitcher
#28 6-0, 180
San Diego, CA
View Full Profile kept the Eagles off balance all game to send the Tigers to their second win in a row.
Leone (3-1) pitched 5.2 solid innings in a starting role to earn the win. He gave up just one hit and two runs. Meyer pitched the final 3.1 innings to earn his first save of the year. He allowed three hits, one run, and no walks with five strikeouts. The two righthanders combined to allow four hits, the fewest surrendered by Clemson in 2012. They also held Boston College's first six starters in the batting order to a combined 0-for-20.
Eagle starter Hunter Gordon (1-1) suffered the loss, as he gave up nine hits, five runs, and five walks with two strikeouts in 5.1 innings pitched.
For the second day in a row, the Tigers jumped on the Eagles with a run in the first inning. Richie Shaffer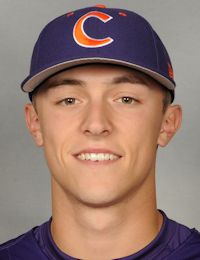 Richie Shaffer
Jr. 3rd Base
#8 6-3, 205
Charlotte, NC
View Full Profile lined a two-out double down the left-field line and scored on Phil Pohl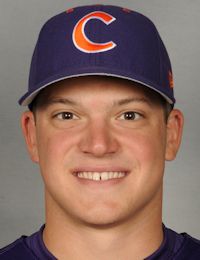 Phil Pohl
Sr. Catcher
#9 5-11, 215
Cooperstown, NY
View Full Profile 's single through the left side.
In the top of the second inning, Spenser Payne drew a leadoff walk, then the next two Eagles were retired. But Nate LaPointe belted a two-run homer to left field, his second long ball of the year, to give Boston College the lead.
Clemson responded with four runs in the bottom of the second inning to regain the lead. Leadoff walks by Spencer Kieboom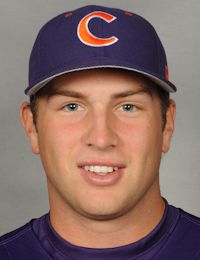 Spencer Kieboom
Jr. Catcher
#22 6-0, 220
Marietta, GA
View Full Profile and Dominic Attanasio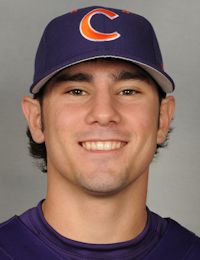 Dominic Attanasio
So. Outfielder
#1 5-7, 160
Windermere, FL
View Full Profile along with a bloop single to right field by Brad Felder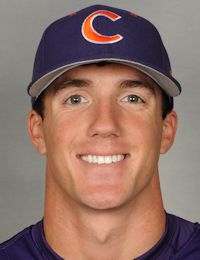 Brad Felder
Gr. Outfielder
#3 6-0, 200
Bowman, SC
View Full Profile loaded the bases with no outs, then Thomas Brittle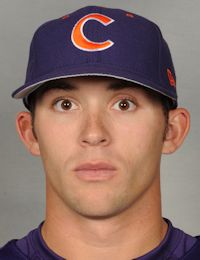 Thomas Brittle
RS Jr. Outfielder
#4 5-8, 170
Cross, SC
View Full Profile blooped another single to right field to score Kieboom. Steve Wilkerson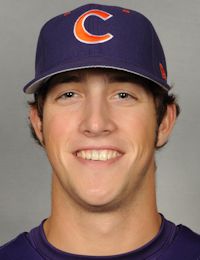 Steve Wilkerson
So. 2nd Base
#17 6-1, 185
Roswell, GA
View Full Profile followed with a line-drive single to center to plate Attanasio. Two batters later, Shaffer walked to score Felder, then Pohl flared a single to left field to score Brittle.
Felder gave Clemson a four-run lead in the seventh inning when he laced a solo homer to right-center, his third long ball of the season.
In the ninth inning, pinch-hitter Rob Moir hit a two-out triple to left-center, then John Hennessy flared a single to right-center to score Moir. But pinch-hitter Matt Pare struck out to end the game.
Wilkerson led Clemson's 11-hit attack by going 3-for-5 with a double, RBI, and steal. Pohl went 2-for-3 with two RBIs and a walk, while Felder went 2-for-4 with a homer and a game-high two runs. Jason Stolz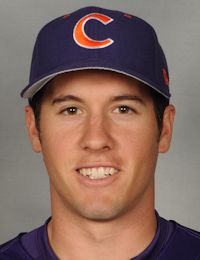 Jason Stolz
Sr. Infielder
#2 6-2, 205
Marietta, GA
View Full Profile extended his hitting streak to 11 games with an eighth-inning single as well.
Hennessy had two of the Eagles' four hits along with an RBI, while LaPointe's homer provided two of the team's three RBIs.
Clemson and Boston College will play game-three of the three-game series on Sunday at 11:30 AM. The game was originally scheduled for a 12:00 PM start, but the threat of inclement weather forced the change.


Boston College 3 (6-10,0-5 ACC)

Player                    AB  R  H RBI BB SO PO  A LOB

------------------------------------------------------

Tom Bourdon cf...........  3  0  0  0   1  1  1  0   0

Blake Butera 2b..........  3  0  0  0   1  0  2  4   0

Anthony Melchionda ss....  4  0  0  0   0  1  2  3   0

Andrew Lawrence lf.......  4  0  0  0   0  0  2  0   1

Spenser Payne 1b.........  3  1  0  0   1  2  9  1   1

Travis Ferrick dh........  3  0  0  0   0  1  0  0   0

 Rob Moir ph.............  1  1  1  0   0  0  0  0   0

John Hennessy 3b.........  4  0  2  1   0  0  2  2   1

Nate LaPointe c..........  3  1  1  2   0  0  2  2   0

 Matt Pare ph............  1  0  0  0   0  1  0  0   1

Matt McGovern rf.........  1  0  0  0   1  0  1  0   0

 Marc Perdios rf.........  1  0  0  0   0  0  3  0   1

Hunter Gordon p..........  0  0  0  0   0  0  0  1   0

 Kyle Prohovich p........  0  0  0  0   0  0  0  0   0

 John Gorman p...........  0  0  0  0   0  0  0  0   0

Totals................... 31  3  4  3   4  6 24 13   5

Clemson 6 (8-8,2-3 ACC)

Player                    AB  R  H RBI BB SO PO  A LOB

------------------------------------------------------

Steve Wilkerson 2b.......  5  0  3  1   0  0  4  1   0

Jason Stolz ss...........  5  0  1  0   0  0  2  4   0

Richie Shaffer 3b........  3  1  1  1   2  1  1  1   0

Phil Pohl dh.............  3  0  2  2   1  0  0  0   1


  
 Jon McGibbon

Jon McGibbon





So. 1st Base



#12 6-1, 210

Lindenhurst, NY

View Full Profile
  
  1b..........  3  0  0  0   1  1  8  0   3

Spencer Kieboom c........  3  1  1  0   1  0  5  1   3

Dominic Attanasio lf.....  3  1  0  0   1  1  0  0   0

Brad Felder rf...........  4  2  2  1   0  0  3  0   0

Thomas Brittle cf........  4  1  1  1   0  0  4  0   2

Dominic Leone p..........  0  0  0  0   0  0  0  1   0

 Jonathan Meyer p........  0  0  0  0   0  0  0  0   0

Totals................... 33  6 11  6   6  3 27  8   9

Score by Innings                    R  H  E

-------------------------------------------

Boston College...... 020 000 001 -  3  4  0

Clemson............. 140 000 10X -  6 11  1

-------------------------------------------

E - McGIBBON(2). DP - BC 2; Clemson 1. LOB - BC 5; Clemson 9. 2B -

WILKERSON(5); SHAFFER(8). 3B - MOIR(2). HR - LaPOINTE(1); FELDER(3). SB -

WILKERSON(3). CS - STOLZ(3).

Boston College         IP  H  R ER BB SO AB BF

-----------------------------------------------

Hunter Gordon.......  5.1  9  5  5  5  2 25 30

Kyle Prohovich......  0.2  0  0  0  1  0  1  2

John Gorman.........  2.0  2  1  1  0  1  7  7

Clemson                IP  H  R ER BB SO AB BF

-----------------------------------------------

Dominic Leone.......  5.2  1  2  2  4  1 18 22

Jonathan Meyer......  3.1  3  1  1  0  5 13 13

Win - LEONE (3-1).  Loss - GORDON (1-1).  Save - MEYER (1).

BK - LEONE(1).

Umpires - HP: Tim O'Toole  1B: Ray Gregson  3B: Manny Salazar

Start: 6:32 PM   Time: 2:37   Attendance: 4598

Tags:
Brad Felder
,
Dominic Attanasio
,
Dominic Leone
,
Jason Stolz
,
Jon McGibbon
,
Jonathan Meyer
,
Phil Pohl
,
Richie Shaffer
,
Spencer Kieboom
,
Steve Wilkerson
,
Thomas Brittle