| | |
| --- | --- |
| Seven-Run fourth inning lifts Catamounts over Tigers | |
---
| | |
| --- | --- |
| Wednesday, March 14, 2012, 9:03 PM | |
Cullowhee, NC -
Luke Gragg led off with a pinch-hit single, scored a run, and later hit a two-run single, all in Western Carolina's seven-run fourth inning, as the Catamounts downed Clemson 8-4 in front of 1,627 fans at Hennon Stadium on Wednesday. The Catamounts, who won their 12th home game in a row dating to 2011, improved to 13-4. The Tigers dropped to 6-8 in 2012.
With Western Carolina trailing 4-1, Head Coach Bobby Moranda called upon Gragg to provide a spark for the Catamounts, and he did just that. He led off the fourth inning with a single and started their seven-run inning on six hits. Later in the frame, Gragg laced a two-out single to score two runs and close out the game's scoring.
Jon Nadale (2-0), the second of four Catamount hurlers, earned the win by allowing just two hits, no runs, and one walk with four strikeouts in 4.0 innings pitched. The three Catamount relievers combined to give up just two hits in the final 6.0 innings pitched. At one point, starter Adam Curtis and Nadale combined to retire 14 Tigers in a row.
David Haselden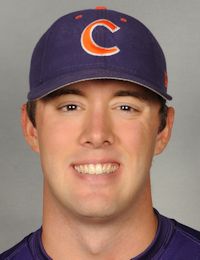 David Haselden
Sr. RH Pitcher
#29 6-4, 240
Spartanburg, SC
View Full Profile (1-1) suffered the loss, as he gave up four runs on four hits in 0.1 innings pitched in relief of freshman righthander Daniel Gossett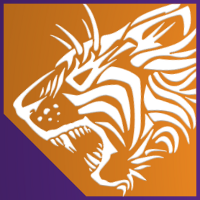 Daniel Gossett
Fr. RH Pitcher
#23 6-0, 160
Lyman, SC
View Full Profile , who was making his first career start.
The Catamounts struck first in the first inning. Aaron Attaway lined the first pitch to right field for a leadoff single, then Tyler White flared a 1-2 pitch down the right-field line for a single to move Attaway to third. Ross Heffley lined into a double play, but Jacob Hoyle laced a two-out single to center to score Attaway.
The Tigers came right back and tied the score in the second inning. Phil Pohl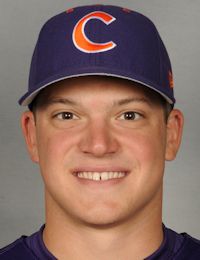 Phil Pohl
Sr. Catcher
#9 5-11, 215
Cooperstown, NY
View Full Profile led off with a bloop single to left-center on an 0-2 pitch, then Spencer Kieboom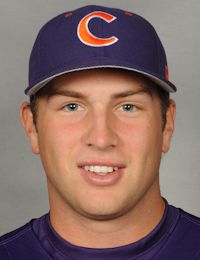 Spencer Kieboom
Jr. Catcher
#22 6-0, 220
Marietta, GA
View Full Profile hit a potential double-play grounder to Attaway. But the ball took a high hop and got by the shortstop to allow Pohl to advance to third and Kieboom to move to second on the error. Jon McGibbon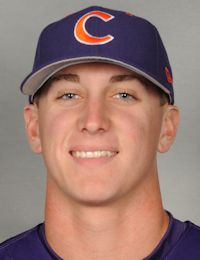 Jon McGibbon
So. 1st Base
#12 6-1, 210
Lindenhurst, NY
View Full Profile grounded out to second to score Pohl and advance Kieboom to third, but the next two Tigers were unable to plate the go-ahead run.
In the third inning, Thomas Brittle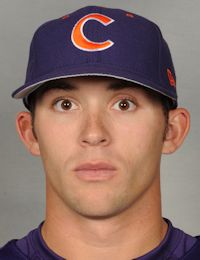 Thomas Brittle
RS Jr. Outfielder
#4 5-8, 170
Cross, SC
View Full Profile led off with a bunt single and advanced to second on the play on a throwing error. Steve Wilkerson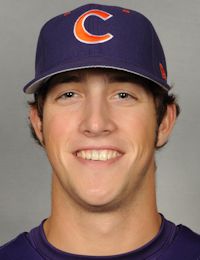 Steve Wilkerson
So. 2nd Base
#17 6-1, 185
Roswell, GA
View Full Profile followed with a groundball single up the middle and Jason Stolz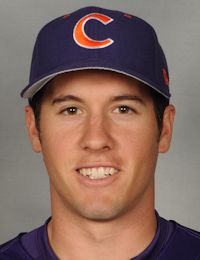 Jason Stolz
Sr. Infielder
#2 6-2, 205
Marietta, GA
View Full Profile reached on another bunt single. Shaffer flied out to right field to move Wilkerson to third, then Wilkerson scored when the throw got by White at third. Curtis' throw home was also errant, allowing Stolz to advance to third on Western Carolina's third error of the frame and fourth of the game. Pohl then hit a sacrifice fly to left-center to score Stolz.
But the Catamounts scored seven runs in the fourth inning to regain the lead for good. Gragg led off with a single to left-center and Dykota Spiess walked on nine pitches. Adam Martin, who was unsuccessful getting a bunt down, belted a two-strike double to right-center to score Gragg and Spiess. After Martin advanced to third on Attaway's groundout to short, he scored on a wild pitch to tie the score. White followed with a hit-by-pitch, then Heffley crushed a two-run homer to left field, his second long ball of the year. Hoyle followed with a single to right-center. Two batters later with two outs, Cody Jones reached on an infield single as Hoyle advanced to third base on the play. After Jones advanced to second on a wild pitch, Gragg lined a single through the left side to score Hoyle and Jones.
In the seventh inning, Garrett Boulware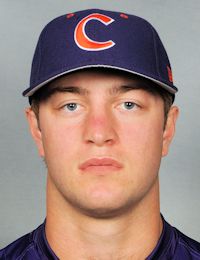 Garrett Boulware
Fr. Catcher
#30 6-1, 200
Anderson, SC
View Full Profile hit a two-out single to left-center and Brittle walked. Wilkerson then grounded a single through the left side, but Spiess gunned down Boulware at the plate to end the inning and keep the Catamounts ahead 8-4.
Gragg and Jones led Western Carolina's 14-hit attack with three hits apiece, while White, Heffley, and Hoyle added two hits apiece.
Wilkerson went 3-for-4 with an RBI to pace the Tigers, who accumulated seven hits in the contest.
Clemson will return home to face Boston College in a three-game series at Doug Kingsmore Stadium starting Friday at 6:30 PM.


Clemson 4 (6-8)

Player                    AB  R  H RBI BB SO PO  A LOB

------------------------------------------------------

Steve Wilkerson 2b.......  4  1  3  1   0  0  0  1   0

Jason Stolz ss...........  4  1  1  0   0  0  1  5   0

Richie Shaffer 3b........  4  0  0  0   0  1  0  3   0

Phil Pohl dh.............  2  1  1  1   1  0  0  0   0

Spencer Kieboom c........  4  0  0  0   0  0  9  0   1

Jon McGibbon 1b..........  4  0  0  1   0  2 10  0   0

Jay Baum rf..............  2  0  0  0   0  0  1  0   0

 Dominic Attanasio ph/rf.  2  0  0  0   0  1  1  0   0

Garrett Boulware lf......  3  0  1  0   0  1  0  0   1

 Brad Felder ph..........  1  0  0  0   0  0  0  0   0

Thomas Brittle cf........  2  1  1  0   1  0  2  0   0

Daniel Gossett p.........  0  0  0  0   0  0  0  0   0

 David Haselden p........  0  0  0  0   0  0  0  0   0

 Scott Firth p...........  0  0  0  0   0  0  0  1   0

 Jonathan Meyer p........  0  0  0  0   0  0  0  0   0

Totals................... 32  4  7  3   2  5 24 10   4

Western Carolina 8 (13-4)

Player                    AB  R  H RBI BB SO PO  A LOB

------------------------------------------------------

Aaron Attaway ss.........  4  1  1  0   1  1  0  3   2

Tyler White 3b/1b........  4  1  2  0   0  1  3  1   0

Ross Heffley 2b..........  4  1  2  2   1  0  0  2   1

Jacob Hoyle 1b...........  4  1  2  1   1  1 10  0   2

 Bradley Strong 3b.......  0  0  0  0   0  0  0  0   0

Bryant Noteboom rf.......  3  0  0  0   0  2  1  0   1

 Julian Ridings cf.......  1  0  0  0   0  0  2  0   0

Cody Jones cf/rf.........  5  1  3  0   0  0  5  0   2

Dale Urquhart dh.........  1  0  0  0   0  1  0  0   0

 Luke Gragg ph/dh........  4  1  3  2   0  1  0  0   0

Dykota Spiess lf.........  3  1  0  0   1  2  1  1   3

Adam Martin c............  4  1  1  2   0  0  5  1   2

Adam Curtis p............  0  0  0  0   0  0  0  2   0

 Jon Nadale p............  0  0  0  0   0  0  0  1   0

 Jeremy Sluder p.........  0  0  0  0   0  0  0  0   0

 Preston Hatcher p.......  0  0  0  0   0  0  0  0   0

Totals................... 37  8 14  7   4  9 27 11  13

Score by Innings                    R  H  E

-------------------------------------------

Clemson............. 013 000 000 -  4  7  2

Western Carolina.... 100 700 00X -  8 14  4

-------------------------------------------

E - WILKERSON(5); FIRTH(2); ATTAWAY(9); HEFFLEY(2); NOTEBOOM(1); CURTIS(1).

DP - Clemson 1; W. Carolina 1. LOB - Clemson 4; W. Carolina 13. 2B -

MARTIN(5). HR - HEFFLEY(2). HBP - WHITE; SPIESS; MARTIN. SH - RIDINGS(1). SF

- POHL(3).

Clemson                IP  H  R ER BB SO AB BF

-----------------------------------------------

Daniel Gossett......  3.1  6  4  4  1  4 16 19

David Haselden......  0.1  4  4  4  0  1  5  6

Scott Firth.........  3.1  2  0  0  3  3 11 15

Jonathan Meyer......  1.0  2  0  0  0  1  5  5

Western Carolina       IP  H  R ER BB SO AB BF

-----------------------------------------------

Adam Curtis.........  3.0  5  4  2  0  0 13 14

Jon Nadale..........  4.0  2  0  0  1  4 13 14

Jeremy Sluder.......  1.0  0  0  0  1  0  3  4

Preston Hatcher.....  1.0  0  0  0  0  1  3  3

Win - NADALE (2-0).  Loss - HASELDEN (1-1).  Save - None.

WP - GOSSETT 2(2); HASELDEN(2); FIRTH(2). HBP - by GOSSETT (SPIESS); by GOSSETT

(MARTIN); by HASELDEN (WHITE).

Umpires - HP: David Mabe  1B: Tom Haight  3B: Randy Vestal

Start: 5:15 PM   Time: 2:40   Attendance: 1627