| | |
| --- | --- |
| Brownell recaps 2011-12 season | |
---
| | |
| --- | --- |
| Wednesday, March 14, 2012, 3:33 PM | |

AUDIO: Brad Brownell press conference
CLEMSON – Clemson head coach Brad Brownell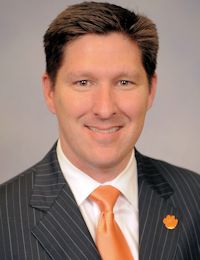 Brad Brownell
Head Coach
View Full Profile faced the media for the last time, at least as far as the 2011-12 season is concerned, Wednesday afternoon in Littlejohn Coliseum and he described the entire season as a learning process.
"We certainly had a few ups and downs at the beginning of the year," Brownell said. "We knew it would take a while with some freshmen having to play, and roles changing for a lot of people. Lost a few games early that were disappointing. It was a learning process for this team. It took a while for us to get to where we were playing our best.
"When we got to the end of the ACC, we were playing good basketball. We just didn't finish out the way we liked. I'm proud of the way our guys finished the year. I'm certainly disappointed with the last half of the last game, like all the players are on our team. I really think our guys did a good job of improving this year, playing pretty well in the month of February."
Brownell loses four seniors – and three team leaders in Andre Young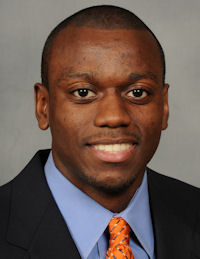 Andre Young
Sr. Guard
#11 5-9, 175
Albany, GA
View Full Profile , Tanner Smith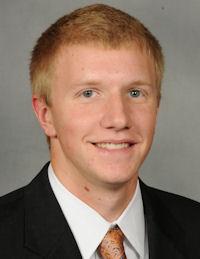 Tanner Smith
Sr. Guard
#5 6-5, 210
Alpharetta, GA
View Full Profile and Bryan Narcisse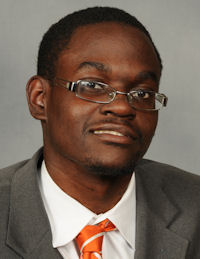 Bryan Narcisse
Sr. Forward
#21 6-6, 220
North Augusta, SC
View Full Profile – and faces a 2012-13 season in which he will have just two upperclassmen: Milton Jennings
Milton Jennings
Jr. Forward
#24 6-9, 225
Summerville, SC
View Full Profile and Devin Booker
Devin Booker
Jr. Forward
#31 6-8, 245
Whitmire, SC
"We'll have to talk to Devin and Milt about being leaders and about the approach that we want," Brownell said. "Leadership doesn't discriminate. You can be a leader and be a young player. You can be a leader and be an assistant coach. You can be a leader and be a manger. There's a lot of different ways to lead. There's a lot of different ways for guys to show leadership qualities and help other people. Next year's team will have to do that. I don't know that it will be just Devin and Milt."
Next year's team will have 10 freshmen and sophomores on the roster, and Brownell said that makes next season a learning process as well.
"You want more depth. You want more experience. You want older guys," he said. "Unless your freshmen can just come in and be tremendous difference makers, it's a process...our freshmen coming in, we're going to have the same questions. There are going to be a couple, physically, it'll be demanding for them. There will be a couple where I'm sure the basketball will be very demanding, in terms of how much they're asked to do, and how quickly."
The Tigers failed to make either the NCAA or the NIT Tournaments, and Brownell said he never gave any serious consideration to any of the other tournaments, calling the extra practice time a non-issue.
"I think the extra practice time is a little over-rated," he said. "Some of our guys are going to get work in this week, but it'll be with a coach. It'll be two coaches and a player or a coach and a player and a guy who's rebounding. Really, I think that's even more beneficial in some ways, right now. We've been practicing with these guys for four or five months. We've done enough team practice. We have some individual weakness. We know we've got to get back and address those. That's part of the reason.
"The other part is looking at our seniors. I think our seniors were really about done, finished emotionally. Physically, they were tired. Emotionally, as much as anything. Next year, with more younger players and those guys needing to play even more, maybe. If we would have gone into a tournament, postseason, Andre would have played 30 minutes. Tanner would have played 30 minutes. You're not going to go into a tournament and then not play your best players or play them half the time. That doesn't make any sense. The crazy thing is, half those teams have already lost. It's over and it's Wednesday. All these people that think practice time. What are you going to get? A week? It's not going to make up for a lot. A lot of factors, but with this year's team, just didn't think it was worth it."
Brownell must figure out a way to integrate the new players with the rising sophomores, and one of the positions that will be up for grabs is the point guard spot.
"I think that battle will be between Rod [Hall], Adonis [Filer] and Jordan [Roper]. Those three guys will most likely be competing for the point guard minutes," he said. "You can put a couple of those guys out there. Rod can play with Adonis or Jordan, based on the fact that Rod is so strong. He can guard a lot of different people."
2011-12 Men's Basketball

16-15, 8-8 ACC

Nov 5
Sat
Queens (Exh)
68-35 W
Nov 11
Fri
Gardner-Webb
65-44 W
Nov 16
Wed
at The Citadel
73-50 W
Nov 19
Sat
Col of Charleston
72-69 L
Nov 22
Tue
Coastal Carolina
60-59 L
Nov 25
Fri
Furman
59-49 W
Nov 29
Tue
^at Iowa
71-55 W
Dec 4
Sun
South Carolina
58-55 L
Dec 10
Sat
at Arizona
63-47 L
Dec 17
Sat
Winthrop
60-40 W
Dec 19
Mon
Alabama State
70-45 W
Dec 22
Thu
#vs. UTEP
61-48 L
Dec 23
Fri
#vs. So. Illinois
83-75 W
Dec 25
Sun
#vs. Hawaii
75-68 L
Jan 1
Sun
East Tennessee State
66-58 W
Jan 7
Sat
Florida State
79-59 W
Jan 12
Thu
at Boston College
59-57 L
Jan 15
Sun
Duke
73-66 L
Jan 18
Wed
at Miami
76-73 L
Jan 21
Sat
Georgia Tech
64-62 W
Jan 28
Sat
Wake Forest
71-60 W
Jan 31
Tue
at Virginia
65-61 L
Feb 4
Sat
at Virginia Tech
67-65 L
Feb 7
Tue
Maryland
64-62 L
Feb 11
Sat
at Wake Forest
78-58 W
Feb 14
Tue
Virginia
60-48 W
Feb 18
Sat
at North Carolina
75-52 L
Feb 21
Tue
!at Georgia Tech
56-37 W
Feb 25
Sat
NC State
72-69 W
Mar 1
Thu
Virginia Tech
58-56 W
Mar 4
Sun
at Florida State
80-72 L
ACC Tournament
03/08
Thu
Virginia Tech
68-63 L
# - Hawaiian Airlines Diamond Head Classic
^ - Big Ten/ACC Challenge
! ? Game will be played at Philips Arena
RSN ? Regional Sports Network