| | |
| --- | --- |
| Wilkerson and Pohl provide the heroics as Tigers top Gamecocks 6-5 in thriller | |
---
| | |
| --- | --- |
| Sunday, March 4, 2012, 7:39 PM | |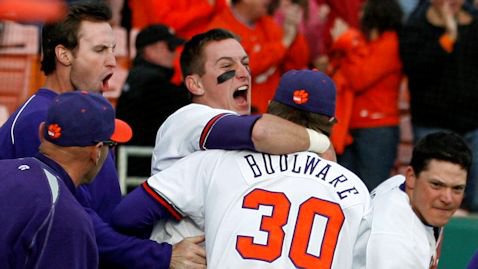 CLEMSON – Jack Leggett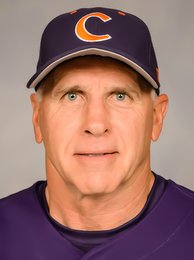 Jack Leggett
Baseball Head Coach
View Full Profile 's Clemson baseball team had their backs against the wall heading into the bottom of the ninth inning of Sunday's third game of the South Carolina series.
Tie ball game, already down two games to none, Leggett knew he had to ask his team for something he hadn't gotten much of from them during the first two games of the series – a clutch hit.
At the end of the day, Leggett couldn't ask for anything more than what he received after two clutch hits and a perfect sacrifice bunt paved the way to a thrilling, 6-5 victory for his 15th-ranked Tigers over the 2nd-ranked Gamecocks.
Thrilling and dramatic don't even begin to describe how it played out.
Jon McGibbon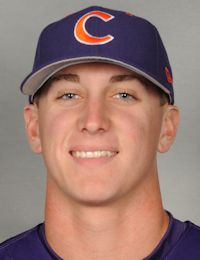 Jon McGibbon
So.
#12 6-1, 210
Lindenhurst, NY
View Full Profile steps into the batter's box to lead off the bottom of the inning and on the first pitch launches a single over the head of the second baseman.
Next up, College of Charleston transfer Thomas Brittle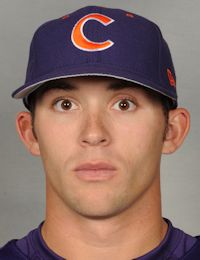 Thomas Brittle
RS Jr. Outfielder
#4 5-8, 170
Cross, SC
View Full Profile lays a perfect bunt down the first base line to advance the winning run to second base.
In steps Steve Wilkerson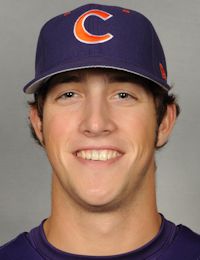 Steve Wilkerson
So.
#17 6-1, 185
Roswell, GA
View Full Profile who promptly rocketed a single into left field and just out of reach of the South Carolina shortstop to score McGibbon to give the Tigers a win in the final game of the series and perhaps some confidence and a spark heading into conference play next weekend.
Leggett said that he couldn't have drawn it up any better.
"It worked out good," Leggett said. "We got a lead-off hit. And, then a perfect bunt. And then a big hit. You can't draw it up any better than that. It was really important that McGibbon get on base because Brittle is a pretty good hitter. And, I knew what was coming up in the order. I was thinking to myself, 'Stevie [Wilkerson] is going to have a chance' because they aren't going to walk him to get to [Richie] Shaffer."
The win snapped a 19-game winning streak for the defending national champions, dating back to last season, and broke a nine-game winning streak to start the 2012 season.
The Gamecocks struck first in the top of the second getting four runs on three hits and two errors. Joey Pankake reached on a throwing error loading the bases for Adam Matthew,s who singled to left field to start the scoring. Freshman catcher Grayson Greiner hit a bomb over the left field wall to make the score 4-0 and a series sweep seemed like a real possibility.
Joe Costigan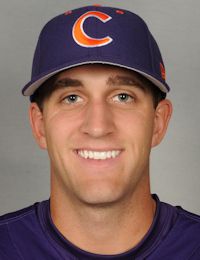 Joe Costigan
So. Outfielder
#5 5-11, 200
Naples, FL
View Full Profile walked to begin the second for the Tigers, and Jason Stolz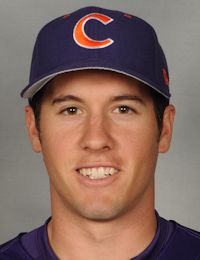 Jason Stolz
Sr. Infielder
#2 6-2, 205
Marietta, GA
View Full Profile followed that up with a single to left field. With one out South Carolina pitcher Colby Holmes had a throwing error of his own that allowed McGibbon to reach first safely, loading the bases for Brittle who flied out scoring Costigan from third for a 4-1 ballgame.
Leggett said despite the rough second inning, his team continued to battle.
"We've got a little bit of grit and we've got a little bit of toughness," Leggett said. "We overcame a very tough second inning today where we didn't play very well. We just kept our poise, kept battling back and chipped at it."
The Tigers chipped away at the lead making it 4-3 in the third inning on a two-run home run from third baseman Richie Shaffer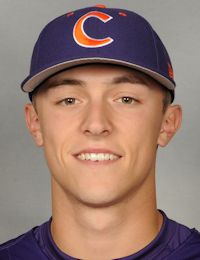 Richie Shaffer
Jr.
#8 6-3, 205
Charlotte, NC
View Full Profile – his fourth of the season and second of the series - who had an .800 on base percentage during the weekend series in winning MVP honors.
The Gamecock were held scoreless until the sixth inning when Greiner struck again, with a solo home run- the second of the day and the second of his career extending the lead to 5-3.
The Clemson offense was quiet until catcher Phil Pohl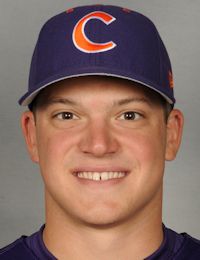 Phil Pohl
Sr. Catcher
#9 5-11, 215
Cooperstown, NY
View Full Profile stepped to the plate after South Carolina elected to walk Shaffer. With a 1-0 count, Pohl launched his second home run of the season into centerfield and off the scoreboard tying the game at 5-5.
Before his at bat, Leggett approached Pohl and told him to be patient and let the game come to him.
"I took him aside and told him, 'You are getting a little bit big; Let game come back to you,' Leggett said. "Stevie was in the same situation. He had hit the ball decent and I tried to tell him to keep your head in the game and it will come back to you and it did."
Despite more errors, relief pitcher Scott Firth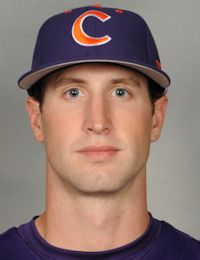 Scott Firth
Jr. RH Pitcher
#20 6-0, 165
Buffalo Grove, IL
View Full Profile held the Gamecocks scoreless in the ninth inning giving Wilkerson and company the opportunity for the late game heroics.
Wilkerson said that he just tried to get a good swing on the ball and put it in play.
"I just tried to see a good pitch and put a good swing on it," Wilkerson said. "We're not going to give up and we've got some fight in us. We believe we can carry that all year."
Baseball doesn't get any better than the Clemson and South Carolina rivalry. Just ask Pohl.
"This is one of the best Clemson and Carolina series that I've been a part of," Pohl said. "This is the reason we all play baseball. It's a heated rivalry. It's two great ball clubs. Shoot, Friday night [in Charleston] going 11 innings under the lights, that's baseball to me. That's baseball at its best."
The Tigers return to action Wednesday night against Holy Cross at 4 p.m. before a three game series with the University of North Carolina this weekend at Doug Kingsmore.


South Carolina 5 (9-1)

Player                    AB  R  H RBI BB SO PO  A LOB

------------------------------------------------------

Evan Marzilli cf.........  5  0  1  0   0  2  4  0   0

Tanner English lf........  5  0  1  0   0  1  3  0   1

Christian Walker 1b......  5  0  0  0   0  1  7  1   2

LB Dantzler 3b...........  4  1  0  0   1  1  1  2   0

TJ Costen dh.............  3  0  1  0   1  2  0  0   1

 Kyle Martin ph/dh.......  1  0  0  0   0  0  0  0   2

Joey Pankake ss..........  3  1  0  0   1  1  1  0   0

Adam Matthews rf.........  4  1  2  1   0  1  3  0   2

Grayson Greiner c........  3  2  2  4   1  0  5  0   0

Chase Vergason 2b........  4  0  2  0   0  0  1  1   1

Colby Holmes p...........  0  0  0  0   0  0  0  0   0

 Tyler Webb p............  0  0  0  0   0  0  0  0   0

 Ethan Carter p..........  0  0  0  0   0  0  0  1   0

 Forrest Koumas p........  0  0  0  0   0  0  0  1   0

Totals................... 37  5  9  5   4  9 25  6   9

Clemson 6 (5-4)

Player                    AB  R  H RBI BB SO PO  A LOB

------------------------------------------------------

Thomas Brittle cf........  3  0  0  1   1  0  0  1   3

Steve Wilkerson 2b.......  6  0  2  1   0  0  0  5   6

Richie Shaffer 3b........  2  2  2  1   3  0  1  2   0

Phil Pohl c..............  5  2  2  2   0  1  9  0   0

Brad Felder rf...........  4  0  0  0   1  2  1  0   2

Garrett Boulware lf......  4  0  0  0   1  1  0  0   3

 Tyler Slaton pr/lf......  0  0  0  0   0  0  0  0   0

Joe Costigan dh..........  4  1  1  1   1  0  0  0   0

Jason Stolz ss...........  5  0  2  0   0  1  2  5   1

Jon McGibbon 1b..........  5  1  3  0   0  0 11  1   0

Kevin Pohle p............  0  0  0  0   0  0  1  0   0

 Scott Firth p...........  0  0  0  0   0  0  2  1   0

Totals................... 38  6 12  6   7  5 27 15  16

Score by Innings                    R  H  E

-------------------------------------------

South Carolina...... 040 001 000 -  5  9  3

Clemson............. 012 000 021 -  6 12  4

-------------------------------------------

Note: 1 out, 1 runner LOB when the game ended.

E - DANTZLER(2); PANKAKE(6); HOLMES(1); WILKERSON(3); SHAFFER(4);

BOULWARE(1); FIRTH(1). DP - Clemson 1. LOB - S. Carolina 9; Clemson 16. 2B -

COSTEN(1). HR - GREINER 2(2); SHAFFER(4); POHL(3). SH - BRITTLE(1). SF -

BRITTLE(1).

South Carolina         IP  H  R ER BB SO AB BF

-----------------------------------------------

Colby Holmes........  3.2  7  3  2  3  4 18 22

Tyler Webb..........  2.0  1  0  0  2  0  8 10

Ethan Carter........  1.1  1  0  0  1  0  5  6

Forrest Koumas......  1.1  3  3  3  1  1  7  9

Clemson                IP  H  R ER BB SO AB BF

-----------------------------------------------

Kevin Pohle.........  5.0  6  4  0  2  5 22 24

Scott Firth.........  4.0  3  1  1  2  4 15 17

Win - FIRTH (1-0).  Loss - KOUMAS (1-1).  Save - None.

WP - HOLMES(1).

Umpires - HP: Randy Harvey  1B: Jack Cox  2B: A.J. Lostaglio  3B: Tony Walsh

Start: 2:04 PM   Time: 2:52   Attendance: 6039