| | |
| --- | --- |
| Shaffer's big bat not enough as Tigers drop 9-6 decision to Gamecocks | |
---
| | |
| --- | --- |
| Saturday, March 3, 2012, 7:01 PM | |
COLUMBIA – Richie Shaffer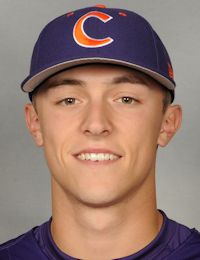 Richie Shaffer
Jr.
#8 6-3, 205
Charlotte, NC
View Full Profile gave it his all, but it wasn't enough on Saturday.
Shaffer homered and drove in three runs – all while battling a sore groin – but the effort wasn't enough as South Carolina got a sparking performance out of reliever Evan Beal as the 2nd-ranked Gamecocks defeated the 15th-ranked Tigers 9-6 at Carolina Stadium, taking the first two games in the three-game series.
Shaffer injured his groin last week in the series finale against Maine, and his status for the South Carolina wasn't known until he got to the ballpark Friday night in Charleston. He still managed to reach base five times, and was 2-for-5 with a run-scoring double early and a homer late, despite still being in pain.
"As long as my legs aren't cut off, I am going to play," Shaffer said after the game. "Every game is important right now. Obviously, I don't feel great, but I feel good enough to play. If I can go out there and not hurt my team, or be a liability in the field or on the base paths, then I am going to play. It really doesn't matter who we are playing, I would have played today. I am going to try and do everything I can to play."
The Tigers dented the scoreboard in the top of the second after Phil Pohl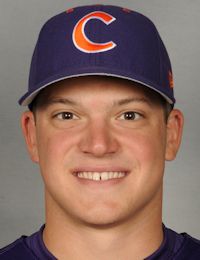 Phil Pohl
Sr. Catcher
#9 5-11, 215
Cooperstown, NY
View Full Profile led off the inning with a walk. Brad Felder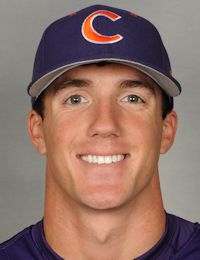 Brad Felder
Gr. Outfielder
#3 6-0, 200
Bowman, SC
View Full Profile then drilled a double inside the first base line that moved Pohl to third. South Carolina starter Matt Price looked like he might get out of the jam when he retired the next two hitters, but Jason Stolz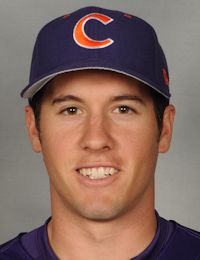 Jason Stolz
Sr. Infielder
#2 6-2, 205
Marietta, GA
View Full Profile had a two-out, two-run single up the middle that made it 2-0 Clemson. The Tigers would eventually load the bases, but failed to score any further runs.
Clemson starter Dominic Leone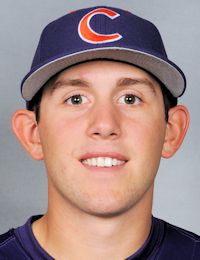 Dominic Leone
Jr. RH Pitcher
#6 5-11, 195
Norwich, CT
View Full Profile promptly gave the runs back, however, giving up a home run to L.B. Dantzler, an RBI groundout and a hit batter with the bases loaded and South Carolina led 3-2 at the end of two innings.
Leone was finished after one out in the third, the crowning blow a long, 3-run homer to center by Adam Mathews that made it 6-2 South Carolina.
Clemson pitching coach Dan Pepicelli said Leone just lost his command – he gave up four hits but walked three and hit two batters, suffering through a 38-pitch second inning and scuffling through his one out in the third.
"I thought he was going to be pretty good, especially with the way he pitched the first inning," Pepicelli said. "Then he just lost his command, and things started spiraling out of control. He tried to overthrow a little bit, and it just got worse and worse."
The Tigers jumped back in the game in the top of the fifth, however. Thomas Brittle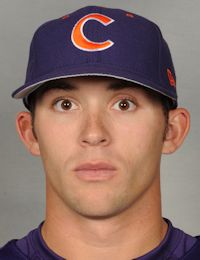 Thomas Brittle
RS Jr. Outfielder
#4 5-8, 170
Cross, SC
View Full Profile led off with a single, but was forced at second by Steve Wilkerson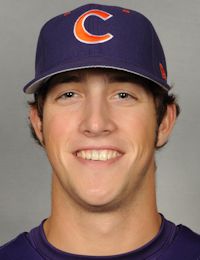 Steve Wilkerson
So.
#17 6-1, 185
Roswell, GA
View Full Profile . With one out, Shaffer lined a double down the left field line that scored Wilkerson to make it 6-3.
Shaffer advanced to third on a wild pitch by Price, and scored when Pohl reached on an error, making it 6-4, chasing Price. South Carolina head coach Ray Tanner brought in Beale, who effectively shut the Tigers down over the next four innings, not faltering until the ninth.
The Gamecocks eventually pushed the lead to 9-4 heading into the top of the ninth, when the Tigers made a final push.
With one out in the inning, Brittle drew a walk and advanced to second on a Wilkerson groundout. Shaffer then homered to left field on a 2-1 pitch – his third homer of the season - making it 9-6.Pohl singled to keep the inning alive, but Felder grounded out to end the game.
Game three of the series is at 2 p.m. Sunday at Clemson's Doug Kingsmore Stadium. The Tigers will start righty Kevin Pohle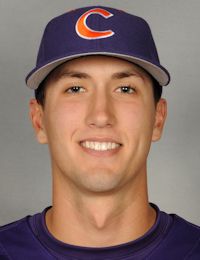 Kevin Pohle
So. RH Pitcher
#21 6-3, 180
St. Louis, MO
View Full Profile on the mound. Pohle is 2-0 on the season, and has pitched seven strong innings without giving up an earned run. He has walked two and struck out seven.
Leggett said his young team is "close" to getting where he wants it, but still has a lot of growing up to do.
"We are close," he said. "We are a little off at times, and sometimes we are right on the mark. We know we have a lot of work to do, but that's why you play the whole season out. We have to put our pitching, hitting and defense together at the same time. We have shown flashes of brilliance in all three phases, but we have to get to where we are more consistent in all of them."
Leggett said getting the offense playing at peak performance would help solve a lot of ills, declining to call Sunday's game a must-win.
"We have to get our offense going, and score some runs," he said. "I think that would help us all together. We have to turn some runs around, and take advantage when we have runners. Hopefully Pohle can go out and do something good for us tomorrow. We just need to go out and play well, play hard and put something together. If we can do that, I think we'll be okay."