| | |
| --- | --- |
| Wilkerson's 4-hit day helps Tigers erase 6-0 deficit, beat Maine | |
---
| | |
| --- | --- |
| Sunday, February 26, 2012, 7:25 PM | |
CLEMSON - The #16 Clemson Tigers rallied from a 6-0 deficit to defeat Maine 9-6 in front of 3,989 fans at Doug Kingsmore Stadium on Sunday afternoon. The Tigers, who won the series 2-1, improved to 4-2 on the season. Maine fell to 2-1 in 2012. It was Clemson's ninth regular-season series win in a row dating back to 2011, its longest streak since it won 10 regular-season series in a row from 2006 to 2007.
Maine took advantage of several Clemson errors to build a 6-0 lead during the fourth inning. But the Tigers scored two runs in both the fourth and fifth innings, then they erupted for five runs in the sixth inning, all with two outs. Steve Wilkerson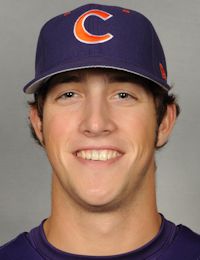 Steve Wilkerson
So.
#17 6-1, 185
Roswell, GA
View Full Profile 's two-run double tied the score, then Phil Pohl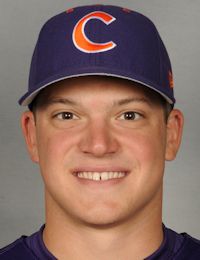 Phil Pohl
Sr. Catcher
#9 5-11, 215
Cooperstown, NY
View Full Profile gave Clemson the lead for good with another two-run double. Clemson was 7-for-15 with two outs and had seven two-out RBIs in the contest.
Clemson's six-run deficit overcome to gain victory was its largest comeback win since the second game of a doubleheader at Wake Forest on March 9, 2008. That day, the Tigers rallied from an 11-4 deficit to edge the Demon Deacons 12-11 thanks in large part to Kyle Parker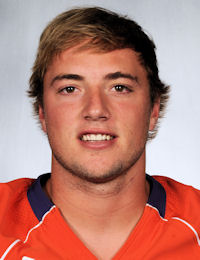 Kyle Parker
Outfielder
#11 6-1, 200
Jacksonville, FL
View Full Profile 's three home runs. It was the second day in a row Clemson overcame a deficit to gain victory, as the Tigers trailed 4-0 on Saturday before topping Maine 9-5.
Kevin Pohle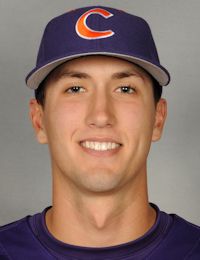 Kevin Pohle
So. RH Pitcher
#21 6-3, 180
St. Louis, MO
View Full Profile (2-0), the second of four Tiger pitchers, earned the win by tossing 3.0 solid innings. He allowed four hits, three runs (all unearned), and no walks with four strikeouts. Scott Firth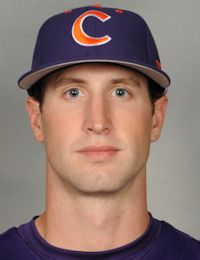 Scott Firth
Jr. RH Pitcher
#20 6-0, 165
Buffalo Grove, IL
View Full Profile pitched 2.0 scoreless innings with four strikeouts, then freshman Daniel Gossett

Daniel Gossett
Fr. RH Pitcher
#23 6-0, 160
Lyman, SC
View Full Profile pitched a hitless and scoreless ninth inning to record his first career save. Five of the six runs allowed by Tiger pitchers were unearned due to Clemson's five errors.
Mike Connolly (0-1) suffered the loss in relief, as he yielded five hits and five runs in 0.2 innings pitched.
The Black Bears used several two-strike hits to take the game's first lead in the second inning. Alex Calbick led off with a single to left field on a 1-2 pitch and advanced to second on Justin Leisenheimer's groundout to first. Fran Whitten grounded a single through the right side on a 1-2 pitch to move Calbick to third, then Calbick scored on a wild pitch.
In the third inning, two costly Tiger errors led to two Maine runs. Leadoff batter Scott Heath reached on an error. Two batters later, Ian Leisenheimer reached on another error by the Tiger infield. Calbick followed with a double down the right-field line to score Heath. Two batters later, Whitten grounded a two-out single through the left side to score Leisenheimer, but left-fielder Dominic Attanasio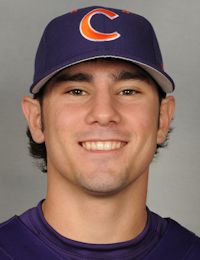 Dominic Attanasio
So. Outfielder
#1 5-7, 160
Windermere, FL
View Full Profile threw out Calbick at the plate for the inning-ending out.
Another costly Clemson miscue allowed the Black Bears to double their lead in the top of the fourth inning. Colin Gay reached on an infield single with two outs and Heath singled through the right side. Michael Fransoso hit a flyball to right-center, but centerfielder Thomas Brittle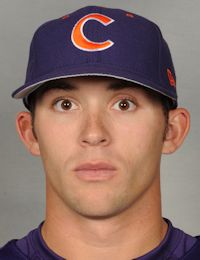 Thomas Brittle
RS Jr. Outfielder
#4 5-8, 170
Cross, SC
View Full Profile dropped the ball, allowing Gay and Heath to score. Ian Leisenheimer followed with a double to left field to plate Fransoso, giving Maine a 6-0 lead.
In the bottom of the fourth inning, Wilkerson led off with a bunt single and Pohl lofted a single to left-center on an 0-2 pitch. Two batters later, Spencer Kieboom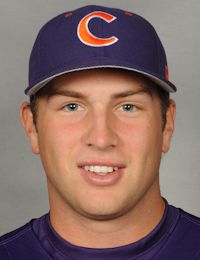 Spencer Kieboom
Jr. Catcher
#22 6-0, 220
Marietta, GA
View Full Profile ripped a double over the third-base bag to score Wilkerson. Brad Felder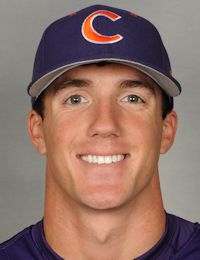 Brad Felder
Gr. Outfielder
#3 6-0, 200
Bowman, SC
View Full Profile then hit a sacrifice fly to shallow center to score Pohl in a close play at the plate. Jon McGibbon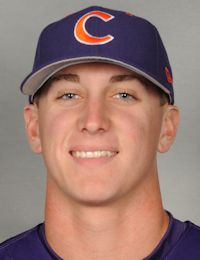 Jon McGibbon
So.
#12 6-1, 210
Lindenhurst, NY
View Full Profile and Jason Stolz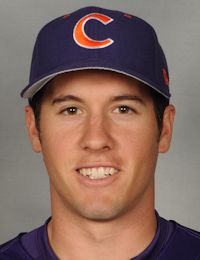 Jason Stolz
Sr. Infielder
#2 6-2, 205
Marietta, GA
View Full Profile drew two-out walks to load the bases, but Attanasio grounded out to second to end the frame.
Richie Shaffer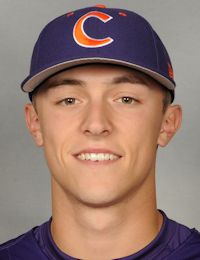 Richie Shaffer
Jr.
#8 6-3, 205
Charlotte, NC
View Full Profile cut Maine's lead to 6-4 in the fifth inning when he lined a two-out, two-run homer to left field, his second long ball of the year. Wilkerson, who hit a one-out single to left-center earlier in the frame, also scored on the home run.
In the sixth inning, three two-out hits led five Tiger runs to give Clemson the lead. McGibbon drew a one-out walk and Stolz lined a single to left field. Attanasio's infield single to second loaded the bases, then Brittle fouled out for out #2. But Wilkerson came through with a double to left-center to score McGibbon and Stolz to tie the score. Pohl then belted a double to left-center to score Attanasio and Wilkerson. Shaffer added another run when he singled over the third-base bag to score Pohl. Shaffer would have had a stand-up double, but he pulled up while rounding first base and left the game with a mild hip flexor strain.
In the ninth inning, Whitten reached on a two-out walk and Brian Doran was hit-by-pitch to bring the potential tying run to the plate. But Troy Black grounded out to short to end the game.
Wilkerson paced Clemson's 14-hit attack by going 4-for-5 with a double, two RBIs, and three runs. Wilkerson became the first active Tiger to tally four hits in a game during his career. Pohl went 2-for-5 with a double, two RBIs, and two runs, while Shaffer went 2-for-4 with a homer and three RBIs. Shaffer's status will be re-evaluated during the upcoming week.
Gay went 3-for-5 with a run to lead Maine, who had 10 hits in the contest.
Clemson will travel to Joseph P. Riley, Jr. Park in Charleston, SC to take on South Carolina on Friday at 6:00 PM. Gate two of the series will be held in Columbia, with game three being held next Sunday at Doug Kingsmore Stadium.

Maine at #16 Clemson

Feb 26, 2012 at Clemson, SC (Doug Kingsmore Stad.)

Maine 6 (1-2)

Player	AB	R	H	RBI	BB	SO	PO	A	LOB

Colin Gay cf	5	1	3	0	0	1	6	0	2

Scott Heath lf	5	2	2	0	0	1	4	0	0

Michael Fransoso ss	3	1	0	0	1	0	2	2	1

Ian Leisenheimer dh	4	1	1	1	0	1	0	0	3

Alex Calbick 3b	5	1	2	1	0	1	1	0	1

Justin Leisenheimer 1b	4	0	0	0	0	1	6	2	0

Fran Whitten c	4	0	2	1	1	1	2	1	0

Brian Doran rf	3	0	0	0	1	2	0	0	2

Eric White 2b	3	0	0	0	0	2	0	2	0

 Nick Bernardo ph	1	0	0	0	0	0	0	0	0

 Troy Black pr/2b	1	0	0	0	0	0	0	1	2

Shaun Coughlin p	0	0	0	0	0	0	0	0	0

 Mike Connolly p	0	0	0	0	0	0	1	0	0

 Jonathan Balentina p	0	0	0	0	0	0	2	0	0

Totals......	38	6	10	3	3	10	24	8	12

Clemson 9 (4-2)

Player	AB	R	H	RBI	BB	SO	PO	A	LOB

Thomas Brittle cf	5	0	0	0	0	0	3	0	2

Steve Wilkerson 2b	5	3	4	2	0	0	1	3	0

Phil Pohl 1b	5	2	2	2	0	0	7	0	0

 Daniel Gossett p	0	0	0	0	0	0	0	0	0

Richie Shaffer 3b	4	1	2	3	0	0	0	1	0

 
  
 Jay Baum

Jay Baum




Fr. 
#13 5-11, 180
Alpharetta, GA


View Full Profile
  
  pr/3b	1	0	0	0	0	0	0	1	0

Spencer Kieboom c	4	0	1	1	0	0	11	0	1

Brad Felder rf	2	0	1	1	0	0	0	0	0

 
  
 Garrett Boulware

Garrett Boulware




Fr. Catcher
#30 6-1, 200
Anderson, SC


View Full Profile
  
  ph/lf	1	0	0	0	0	1	0	0	0

 
  
 Tyler Slaton

Tyler Slaton




Fr. Outfielder
#18 5-7, 195
Cumming, GA


View Full Profile
  
  lf	0	0	0	0	0	0	0	0	0

Jon McGibbon dh/1b	2	1	0	0	2	0	2	0	1

Jason Stolz ss	3	1	2	0	1	0	2	5	0

Dominic Attanasio lf/rf	4	1	2	0	0	0	1	1	3


  
 David Haselden

David Haselden




Sr. RH Pitcher
#29 6-4, 240
Spartanburg, SC


View Full Profile
  
  p	0	0	0	0	0	0	0	0	0

 Kevin Pohle p	0	0	0	0	0	0	0	1	0

 Scott Firth p	0	0	0	0	0	0	0	0	0

Totals......	36	9	14	9	3	1	27	12	7

Score by Innings                    R  H  E

-------------------------------------------

Maine............... 012 300 000 -  6 10  0

Clemson............. 000 225 00X -  9 14  5

-------------------------------------------

E - BRITTLE(1); WILKERSON(1); POHL(1); BAUM(1); STOLZ(1). DP - Clemson 2.

LOB - Maine 12; Clemson 7. 2B - HEATH(1); I. LEISENHEI(1); CALBICK(1);

WILKERSON(2); POHL(2); S. KIEBOOM(2). HR - SHAFFER(2). HBP - I. LEISENHEI;

J. LEISENHEI; DORAN. SH - FRANSOSO(1). SF - FELDER(1). CS - WILKERSON(1).

Maine	IP	H	R	ER	BB	SO	AB	BF

Shaun Coughlin	5.0	7	4	4	2	0	20	23

Mike Connolly	0.2	5	5	5	1	0	7	8

Jonathan Balentina	2.1	2	0	0	0	1	9	9

Clemson	IP	H	R	ER	BB	SO	AB	BF

David Haselden	3.0	5	3	1	2	1	13	16

Kevin Pohle	3.0	4	3	0	0	4	13	14

Scott Firth	2.0	1	0	0	0	4	9	10

Daniel Gossett	1.0	0	0	0	1	1	3	5

Win - POHLE (2-0).  Loss - CONNOLLY (0-1).  Save - GOSSETT (1).

WP - HASELDEN(1). HBP - by POHLE (J. LEISENHEI); by FIRTH (I. LEISENHEI); by

GOSSETT (DORAN). BK - CONNOLLY(1). PB - WHITTEN(1).

Umpires - HP: Jeremy Dupree  1B: Danny Everett  3B: James Thomas

Start: 2:05 PM   Time: 2:56   Attendance: 3989



Tags:
Brad Felder
,
Daniel Gossett
,
David Haselden
,
Dominic Attanasio
,
Garrett Boulware
,
Jason Stolz
,
Jay Baum
,
Jon McGibbon
,
Kevin Pohle
,
Kyle Parker
,
Phil Pohl
,
Richie Shaffer
,
Scott Firth
,
Spencer Kieboom
,
Steve Wilkerson
,
Thomas Brittle
,
Tyler Slaton