| | |
| --- | --- |
| #16 Tigers Overcome Four-Run Deficit to Top Maine | |
---
| | |
| --- | --- |
| Saturday, February 25, 2012, 9:42 PM | |
Clemson, SC -
Trailing 4-0, #16 Clemson scored nine combined runs in the third, fifth, and sixth innings to defeat Maine 9-5 in front of 5,340 fans at Doug Kingsmore Stadium on Saturday. The Tigers, who evened the series 1-1, improved to 3-2 on the season, while the Black Bears fell to 1-1.
Maine scored four runs in the top of the third inning to take a 4-0 lead, but Clemson chipped away with two runs in the bottom of the third inning. Then in the fifth inning, the Tigers scored five runs, capped by Spencer Kieboom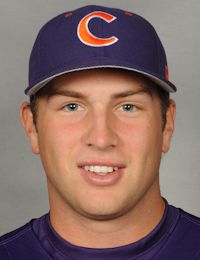 Spencer Kieboom
Jr. Catcher
#22 6-0, 220
Marietta, GA
View Full Profile 's three-run homer. Phil Pohl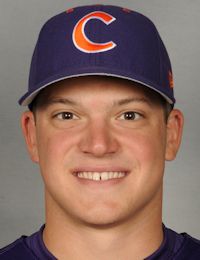 Phil Pohl
Sr. Catcher
#9 5-11, 215
Cooperstown, NY
View Full Profile added a two-run home run in the sixth inning.
Tiger starter Dominic Leone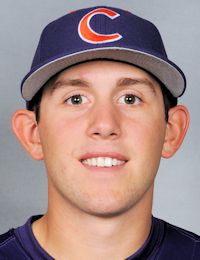 Dominic Leone
Jr. RH Pitcher
#6 5-11, 195
Norwich, CT
View Full Profile (2-0) earned the win despite allowing six hits, four runs, and three walks with six strikeouts in 5.0 innings pitched. Mike Kent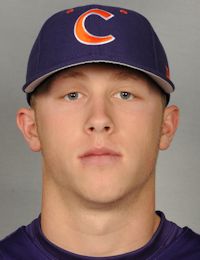 Mike Kent
RS So. RH Pitcher
#15 6-0, 195
Springfield, VA
View Full Profile pitched 2.0 scoreless innings of one-hit ball in relief during a key part of the game.
Jeffrey Gibbs (0-1), the first of four Black Bear hurlers, suffered the loss. He yielded six hits, seven runs, and four walks with four strikeouts in 4.1 innings pitched.
The Black Bears took the game's first lead in the top of the third inning. Brian Doran led off with a seeing-eye, infield single to first and went to second on Mike Connolly's sacrifice bunt. Colin Gay lined a single to right-center to score Doran and Gay advanced to third base on Troy Black's single through the left side on a perfectly-executed hit-and-run play. Michael Fransoso followed with a single through the right side to score Gay and advance Black to third, then Fransoso moved to second on the throw to third base. Ian Leisenheimer followed with a single down the right-field line to score Black and Fransoso, giving Maine a 4-0 lead.
Clemson cut Maine's lead in half in the bottom of the third inning. Thomas Brittle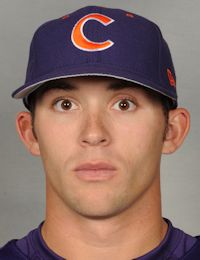 Thomas Brittle
RS Jr. Outfielder
#4 5-8, 170
Cross, SC
View Full Profile reached on a one-out walk and went to third on Steve Wilkerson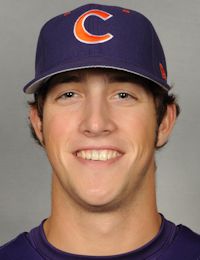 Steve Wilkerson
So.
#17 6-1, 185
Roswell, GA
View Full Profile 's single through the right side. Brittle scored on a wild pitch as Wilkerson stole second, then Pohl walked. Richie Shaffer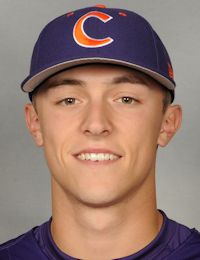 Richie Shaffer
Jr.
#8 6-3, 205
Charlotte, NC
View Full Profile followed with a line-drive single to left field to plate Wilkerson.
In the fifth inning, the Tigers exploded for five runs on four hits and one hit-by-pitch to take a 7-4 lead. Dominic Attanasio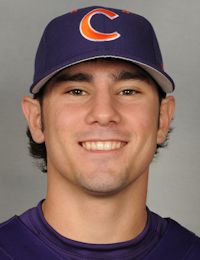 Dominic Attanasio
So. Outfielder
#1 5-7, 160
Windermere, FL
View Full Profile led off with an infield single to third and scored on Brittle's triple to right-center. Wilkerson followed with a single through the left side to score Brittle and Pohl was hit-by-pitch. Two batters later, Kieboom belted a three-run homer down the left-field line, his first long ball of the year.
The Tigers tacked on two more runs in the sixth inning when Pohl hit a two-out, two-run homer to left field, his second long ball of the season. Attanasio, who led off the inning with a walk, also scored on the home run.
In the ninth inning, Connolly lined a two-out double off the wall down the left-field line and scored on Gay's single up the middle. But Black grounded out to second to end the game.
Shaffer went 3-for-5 with an RBI to lead the Tigers at the plate. Brittle went 1-for-2 with a triple, two runs, one RBI, three walks, and one stolen base.
Gay went 3-for-4 with two RBIs and a walk to pace Maine, who outhit the Tigers 10-9.
Clemson and Maine will play the series-finale of the three-game series on Sunday at 2:00 PM.
Maine 5 (1-1)

Player                    AB  R  H RBI BB SO PO  A LOB

------------------------------------------------------

Colin Gay cf.............  4  1  3  2   1  1  4  0   0

Troy Black 2b............  4  1  1  0   0  1  0  2   2

Michael Fransoso ss......  3  1  1  1   1  0  3  2   0

Ian Leisenheimer lf......  3  0  1  2   0  1  2  0   1

 Kyle Silva ph...........  1  0  0  0   0  1  0  0   0

 Sam Balzano lf..........  0  0  0  0   0  0  0  0   0

Alex Calbick 3b..........  3  0  0  0   1  1  0  1   0

Justin Leisenheimer 1b...  3  0  0  0   1  2  5  0   1

Fran Whitten dh/p........  3  0  0  0   0  1  0  0   1

 Nick Bernardo ph........  1  0  1  0   0  0  0  0   0

Brian Doran rf...........  4  1  2  0   0  0  1  0   0

Mike Connolly c..........  3  1  1  0   0  1  9  0   1

Jeffrey Gibbs p..........  0  0  0  0   0  0  0  0   0

 Steve Trask p...........  0  0  0  0   0  0  0  0   0

 Luke Morrill p..........  0  0  0  0   0  0  0  0   0

Totals................... 32  5 10  5   4  9 24  5   6

Clemson 9 (3-2)

Player                    AB  R  H RBI BB SO PO  A LOB

------------------------------------------------------

Thomas Brittle cf........  2  2  1  1   3  0  2  0   0

Steve Wilkerson 2b.......  4  2  2  1   0  2  1  2   0

 
  
 Jay Baum

Jay Baum





Fr. 



#13 5-11, 180

Alpharetta, GA

View Full Profile
  
  ph/2b..........  1  0  0  0   0  1  0  2   3

Phil Pohl dh.............  2  2  1  2   1  1  0  0   0

 
  
 Mike Dunster

Mike Dunster





So. Infielder



#10 5-10, 180

Greenwich, CT

View Full Profile
  
  ph/dh......  1  0  0  0   0  1  0  0   0

Richie Shaffer 3b........  5  0  3  1   0  1  0  0   1

Spencer Kieboom c........  4  1  1  3   0  0  9  0   2

 
  
 Tyler Slaton

Tyler Slaton





Fr. Outfielder



#18 5-7, 195

Cumming, GA

View Full Profile
  
  ph/lf......  1  0  0  0   0  0  0  0   0


  
 Brad Felder

Brad Felder





Gr. Outfielder



#3 6-0, 200

Bowman, SC

View Full Profile
  
  rf...........  3  0  0  0   0  1  1  0   0

 
  
 Garrett Boulware

Garrett Boulware





Fr. Catcher



#30 6-1, 200

Anderson, SC

View Full Profile
  
  ph/lf..  1  0  0  0   1  0  0  0   1


  
 Jon McGibbon

Jon McGibbon





So. 



#12 6-1, 210

Lindenhurst, NY

View Full Profile
  
  1b..........  3  0  0  0   1  2 12  0   0


  
 Jason Stolz

Jason Stolz





Sr. Infielder



#2 6-2, 205

Marietta, GA

View Full Profile
  
  ss...........  4  0  0  0   0  1  1  5   2

Dominic Attanasio lf.....  2  2  1  0   1  0  0  0   0

 
  
 Joe Costigan

Joe Costigan





So. Outfielder



#5 5-11, 200

Naples, FL

View Full Profile
  
  ph/rf......  0  0  0  0   1  0  0  0   0

Dominic Leone p..........  0  0  0  0   0  0  1  2   0

 Mike Kent p.............  0  0  0  0   0  0  0  0   0

 
  
 Patrick Andrews

Patrick Andrews





Fr. RH Pitcher



#43 6-2, 205

Hilton Head Island, SC

View Full Profile
  
  p.......  0  0  0  0   0  0  0  0   0

 
  
 Clay Bates

Clay Bates





RS Fr. RH Pitcher



#42 5-11, 180

Rock Hill, SC

View Full Profile
  
  p............  0  0  0  0   0  0  0  0   0

Totals................... 33  9  9  8   8 10 27 11   9

Score by Innings                    R  H  E

-------------------------------------------

Maine............... 004 000 001 -  5 10  0

Clemson............. 002 052 00X -  9  9  0

-------------------------------------------

DP - Maine 1; Clemson 2. LOB - Maine 6; Clemson 9. 2B - DORAN(1);

CONNOLLY(1). 3B - BRITTLE(1). HR - POHL(2); S. KIEBOOM(1). HBP - POHL. SH -

BLACK(1); CONNOLLY(1). SB - BRITTLE(1); WILKERSON 2(2); BOULWARE(1).

Maine                  IP  H  R ER BB SO AB BF

-----------------------------------------------

Jeffrey Gibbs.......  4.1  6  7  7  4  4 18 23

Fran Whitten........  1.2  2  2  2  1  3  8  9

Steve Trask.........  0.2  0  0  0  3  1  2  5

Luke Morrill........  1.1  1  0  0  0  2  5  5

Clemson                IP  H  R ER BB SO AB BF

-----------------------------------------------

Dominic Leone.......  5.0  6  4  4  3  6 17 22

Mike Kent...........  2.0  1  0  0  0  0  7  7

Patrick Andrews.....  1.0  0  0  0  1  3  3  4

Clay Bates..........  1.0  3  1  1  0  0  5  5

Win - LEONE (2-0).  Loss - GIBBS (0-1).  Save - None.

WP - WHITTEN 3(3); GIBBS 2(2). HBP - by GIBBS (POHL).

Umpires - HP: Craig Mirr  1B: Jay Pierce  3B: Craig Barron

Start: 4:33 PM   Time: 2:54   Attendance: 5340

Tags:
Brad Felder
,
Clay Bates
,
Dominic Attanasio
,
Dominic Leone
,
Garrett Boulware
,
Jason Stolz
,
Jay Baum
,
Joe Costigan
,
Jon McGibbon
,
Mike Dunster
,
Mike Kent
,
Patrick Andrews
,
Phil Pohl
,
Richie Shaffer
,
Spencer Kieboom
,
Steve Wilkerson
,
Thomas Brittle
,
Tyler Slaton