| | |
| --- | --- |
| Tigers soar against Eagles for first win | |
---
| | |
| --- | --- |
| Friday, November 13, 2015, 9:03 PM | |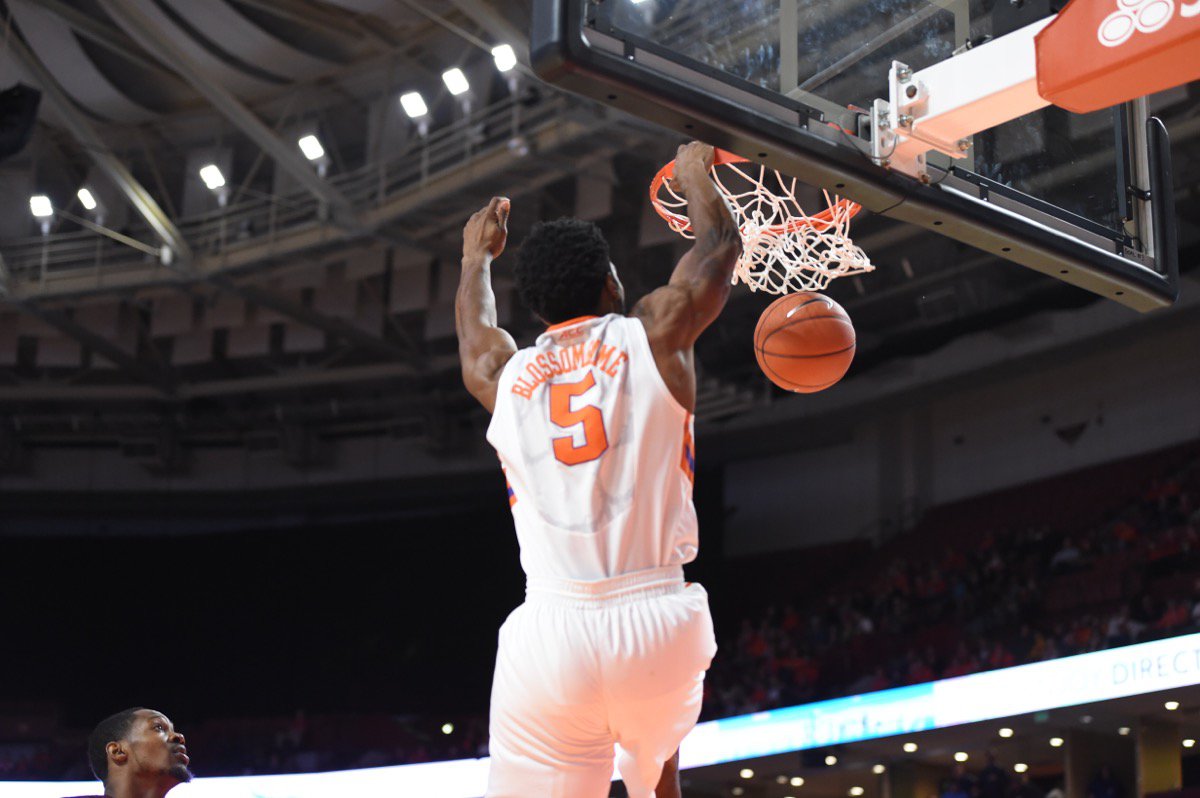 GREENVILLE, SC - Yes, that's right college basketball season is already here.
Clemson fans showed up in large numbers (5,742 game attendance) at the Bon Secours Wellness Arena in Greenville, S.C. to watch the inaugural regular season game this season for Brownell and Co.
The Tigers (1-0) scored an impressive 74-40 victory on Friday night against the North Carolina Central Eagles (0-1) in which the winning team was never in doubt.
The first basket of the season was an exciting one-handed alley-oop finished off by forward Jaron Blossomgame. He immediately posed for the crowd in excitement before hustling back on defense with his jubilant teammates.
The late arriving crowd saw Clemson showcase a physical defense early as the Tigers led the Eagles 8-4 at the first timeout intermission (under 16-minute mark).
Blossomgame was THE shining star of the first half as he had 16 points (6 for 7 FG), four rebounds and a block in fifteen minutes of action. His offseason attending basketball camps (Captains Camp, etc.) appear to have paid dividends because he looks more polished offensively and made several smart, decisive offensive moves with the ball.
Blossomgame said during postgame interviews that he "loved the way guys played tonight and played with a lot of effort."
However, the largest ovation in the first half was a contested fast break lay-up and foul with Jordan Roper double pumping in the air and scoring. He calmly made the free throw to complete the three-point play.
The Tigers were scorching 10-11 from the charity stripe as they took a commanding 38-16 lead against North Carolina Central at halftime.
The largest crowd cheer in the second half was an absolute monster block by Jaron Blossomgame with 16:30 remaining. Brownell said at his post game press conference that "Blossomgame played outstanding tonight."
Another large roar was for Nnoko's powerful swat into the crowd at the 9:30 mark in the second half.
A more reliable post game needs to be a main focus for the Tigers but wasn't a necessity because of the decent three point shooting (35%) and accepting the free points on the charity stripe (20 out of 23 FT).
Clemson junior guard Avry Holmes made his long-awaited debut with 11 points and three rebounds after sitting out last season after transferring in from San Francisco University. Blossomgame said he thought Holmes was a little "jittery" at the start of the game but feels real good about the point guard play.
Highly touted point guard Ty Hudson made his Tiger debut and had four points (2-2 FT and a layup) and two assists. He should give valuable backup minutes at both guard spots especially after the last-second transfer of G/F Austin Ajukwa. The former 4-star prospect has all the makings of an above average defender and appeared confident which is a vital sign for any true freshman ball handler.
Brownell at his post game press conference compared Hudson to former Clemson point guard Rod Hall in his tenacious defense and said that Hudson is a better shooter than he showed tonight.
The Eagles tried a full-court press late in the second half (3-minute mark), but the Clemson guards handled the pressure easily.
The leading scorer for North Carolina Central was Dajuan Graf with 11 points and four assists.
Jaron Blossomgame only had one basket in the second half but was still the leading scorer for Clemson with 18 points. Brownell said that he wanted to try to give Blossomgame and Roper some rest for the quick turnaround (less than 48 hours) on Sunday.
At the 1:59 mark left in the game, Clemson walk-on Riley McGillan made an appearance in the game. A few moments later another walk-on guard Lyles Davis entered the game for his first minutes as a Tiger and got his first career assist to Ty Hudson.
Clemson big-man Landry Nnoko led the Tigers in rebounds with five and blocks with six and guard Jordan Roper was the leading distributor with four assists. Sidy Djitte had a career-high nine points, going 3-3 from the floor.
Brownell's defense was stingy all game long holding the Eagles to only 30% on field goals (17-56 FG) and 13% on three-pointers.
"We were strong from the beginning, had control of the game and never let [NCCU] take a run," Brownell said. "I thought our guys executed well and made good decisions. I am proud of the way the guys played tonight."
Clemson will have a swift turnaround as it plays Texas-San Antonio at "The Well" in Greenville, S.C. at 2 PM on Sunday.
Tigers shot 46% from field and 90% from the line in the first half. pic.twitter.com/ncvXeHct1V

— TigerNet.com (@ClemsonTigerNet) November 14, 2015
Nnoko with the dunk early in the 2nd half against NCCU. pic.twitter.com/YsqRPoeFsi

— TigerNet.com (@ClemsonTigerNet) November 14, 2015
Nnoko laying it in the basket against NCCU. pic.twitter.com/Twc0uTkxKC

— TigerNet.com (@ClemsonTigerNet) November 14, 2015
Grantham's 3 puts Tigers up 59-24 with 7:43 left pic.twitter.com/zaRXOAN3UE

— TigerNet.com (@ClemsonTigerNet) November 14, 2015
Tigers lead 61-29 with 4:50 left. pic.twitter.com/A4LwtVKHvA

— TigerNet.com (@ClemsonTigerNet) November 14, 2015