| | |
| --- | --- |
| Seminoles top No. 11 Tigers in OT | |
---
| | |
| --- | --- |
| Wednesday, February 14, 2018, 9:46 PM | |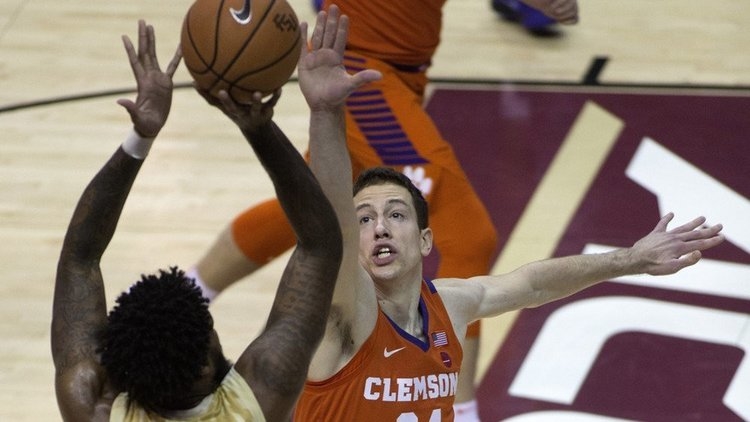 No. 11 Clemson surrendered an 18-point second-half lead and a buzzer-beater attempt went long before falling in overtime, 81-79, at Florida State Wednesday.
The Tigers (20-5, 9-4 ACC) extended their 12-point halftime edge to that 18-point lead in the early moments of the second session, but a flood of turnovers and FSU buckets cut it down to three points with 13 to go and then just two points minutes later.
FSU's Phil Cofer tied things up at 59-all with seven minutes to go and tightened it back up late with a jumper with a minute left to cut Clemson's lead to two points. Seminoles guard Trent Forrest then tied the game with a drive and layup with eight seconds to go and Tigers guard Marcquise Reed's floater went over the rim to guarantee overtime.
After several chances, FSU (18-8, 7-7 ACC) took its first lead of the game, at 75-74, with a Forrest drive and bucket with just over a minute left in overtime. After a Clemson 5-second inbounds violation, a Forrest layup extended that lead to three points with 28 seconds left.
After a Shelton Mitchell free throw, FSU guard Braian Angola went uncontested to the hoop for a layup to go up four points with 12 seconds left. On the ensuing possession, Mitchell suffered an elbow blow to the head where he was down for a considerable amount of time on the floor and was later carried off the floor by Clemson trainers. Clemson coach Brad Brownell said postgame that Mitchell was set to undergo a CT scan at a local hospital and he will stay in Tallahassee overnight as a precaution.
After the lengthy break, Clemson forward David Skara hit a layup with eight seconds left and had a chance to tie at the line after intercepting an inbounds pass. Skara made 1-of-2 and the Tigers sent Forrest to the line with five seconds left. He hit 1-of-2 to give FSU a 3-point lead again and they fouled Reed to prevent the game-tying try. After one make, Reed's second free throw missed and Clemson big man Elijah Thomas couldn't get up a shot after a rebound to close the game.
The Tigers committed 15 of their season-high 21 turnovers in the second half and overtime sessions.
Brownell said his team, which is five games removed from losing senior forward Donte Grantham for the season, was wore down by the Seminoles late.
"Extremely difficult ending to what I thought was an unbelievably competitive game," Brownell said on Clemson postgame radio. "Man, I'm really proud of players. I thought our players played their hearts out tonight. They wore us down a little bit. This was a game where we finally - Marcquise having to play 45 minutes and Gabe, 39, it was probably just a little too much...
"I thought we played about as well as we could play in the first half. In the second half they changed tempo and trapped us everywhere so we couldn't do anything. Basically took it out of my hands and had guys go make plays. It's a tough situation when you're in those kind of games against this level of athlete. Your windows when you play Florida State are unbelievably small."
"I told my guys tonight that I'm more proud of them tonight then six or seven wins this year," Brownell added. "I thought we played with tremendous guts and heart. I hate it. I hurt for them because their heart hurts, I can tell."
Reed led all scorers with 23 points on 8-of-21 shooting. Cofer led the Seminoles with 17 points and Forrest finished with a career-high 16.
Florida State extended their winning streak to four games in the series and snapped its two-game losing skid in ACC play.
Clemson overcame some foul trouble en route to its healthy first-half lead.
All before the final media break of the first half, Clemson had four starters draw two fouls, but some stout defense and efficient perimeter shooting kept the Seminoles at bay. No Tigers ended up fouling out through the extended playing time.
Reed led the way with 14 first-half points and three 3-pointers in six attempts. The Tigers knocked down seven first-half 3-pointers total. Meanwhile, Florida State, one of the more efficient teams in the ACC on 3-pointers, was just 2-of-10 from the perimeter in the first 20 minutes, and they committed 11 turnovers to Clemson's 6. They gave up only six second-half turnovers.
Freshman Aamir Simms scored seven of his 10 points in the first half, reaching double-figures in scoring for the first time in his young career. He was joined in double-figures by Gabe DeVoe (11) and Skara (11).
The Tigers were ranked ninth overall as a three-seed by the NCAA Tournament Selection Committee going into the week. They host projected 2-seed and AP No. 12 Duke on Sunday at 1 p.m. (ACC Network). The Blue Devils won 74-52 over Virginia Tech Wednesday to move into a tie for second place in the ACC with Clemson.
UPDATE: Shelton Mitchell was transferred to the hospital and will remain in Tallahassee overnight as a precaution with our trainer Brad Crowe and Terrell McIntyre.

— Clemson Men's Basketball (@ClemsonMBB) February 15, 2018