| | |
| --- | --- |
| No. 17 Clemson comeback bid falls short at NC State | |
---
| | |
| --- | --- |
| Thursday, January 11, 2018, 11:34 PM | |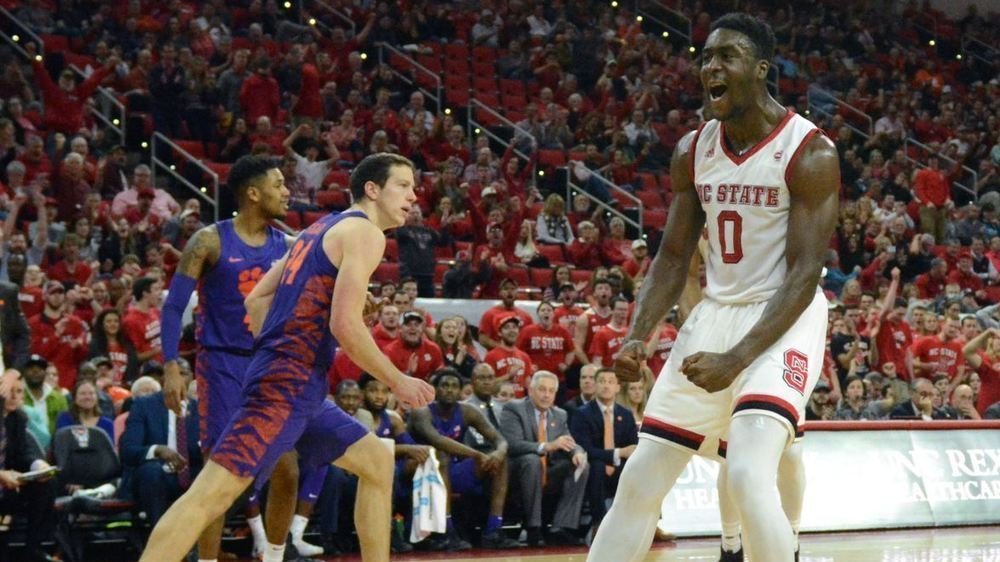 NC State held on to stop No. 17 Clemson's winning streak at 10 games Thursday night with a 78-77 win in Raleigh.
The Wolfpack (12-5, 2-2 ACC) led by 12 points with 1:34 left, but struggled to close things out at the free throw line, opening things up for a pair of 3-pointers from Shelton Mitchell and Donte Grantham to cut into the advantage.
With the ball down 74-71 with 27 seconds left, a desperate inbounds pass from Mitchell to Grantham went off the mark and seemed to seal Clemson's fate early, with a feed NC State's Torin Dorn to Omer Yurtseven yielding an easy slam.
After trading buckets back to a three-point edge with 1.3 seconds left, Dorn bounced an inbounds pass off the baseline to turn it over. Wolfpack guard Sam Hunt then proceeded to foul Clemson's Gabe DeVoe while he attempted a game-tying three.
DeVoe coolly knocked down the first two attempts, but NC State called a timeout before the third, which went off the front of the rim and bounced over and away as the final 0.2 went off the clock.
The win was a second top 25 upset in a row for the Wolfpack, which knocked off previous No. 2 Duke last Saturday.
The biggest difference from a 78-62 Tigers win over NC State on Dec. 30 to the Jan. 11 matchup came with turnovers, as Clemson held a plus-5 margin in Littlejohn (14 for NC State; 9 for Clemson) and were minus-13 in PNC Arena Thursday (17 for Clemson; 3 for NC State).
Clemson (14-2, 3-1) shrugged off a slow start to keep things close by halftime.
NC State led by as much as nine points in the first 20 minutes by turning the Tigers over with frequency, finishing the first half with one turnover to Clemson's 10.
With Elijah Thomas in foul trouble early, graduate transfer reserve Mark Donnal played a key role in a Tigers' comeback. At one point, Donnal scored 7-straight points to give Clemson its biggest edge of the first half, 36-33 with under three minutes left. He eclipsed his season-high by halftime (13).
Thomas was limited to six points on 2-of-5 shooting. Marcquise Reed led Clemson in scoring with 17 points.
Tied late in the first period, the Wolfpack big man Yurtseven broke the deadlock by hitting his third 3-pointer in as many attempts for a 41-38 edge. Yurtseven led all scorers by halftime with 15 and scored a career-high and game-high 29 points.
To go with the slanted turnover battle, NC State totaled 11 steals to Clemson's zero.
Clemson looks to rebound Saturday in Littlejohn versus Miami (13-2, 2-1) in 3 p.m. tip on ESPNU.