| | |
| --- | --- |
| National Championship odds for Clemson basketball | |
---
| | |
| --- | --- |
| Wednesday, December 30, 2020, 7:25 PM | |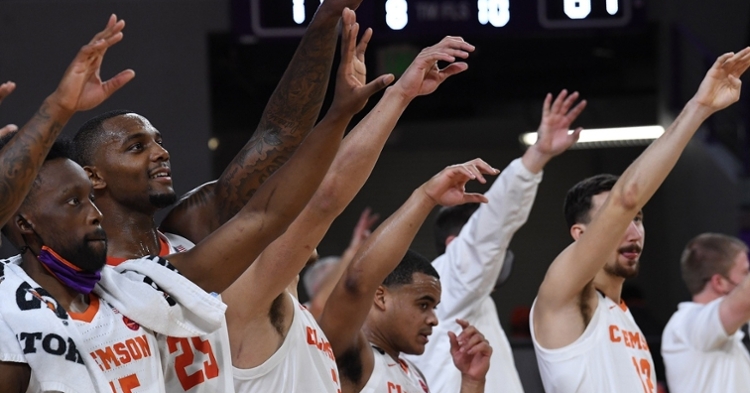 The Clemson basketball team has been impressive early in the season with a sparkling 7-1 record (1-1 ACC).
They already have resume-building non-conference wins against Mississippi State, Alabama, Purdue, and Maryland.
Add Tuesday night's win against No. 18 Florida State to the mix, and it appears the Tigers can play with just about anyone.
BetOnline released their latest odds this week on the next college basketball champion, and Clemson has 66/1 odds.
Check out the full of odds below:
Odds to win 2021 NCAA Men's Basketball Tournament:
Gonzaga 3/1
Baylor 7/1
Iowa 9/1
Illinois 12/1
Villanova 12/1
Wisconsin 12/1
West Virginia 16/1
Kansas 18/1
Creighton 20/1
Tennessee 20/1
Texas 20/1
Houston 22/1
Texas Tech 22/1
Duke 25/1
Florida State 25/1
Virginia 25/1
Indiana 28/1
Michigan State 28/1
North Carolina 28/1
Kentucky 33/1
Ohio State 33/1
Arizona State 40/1
Connecticut 40/1
LSU 40/1
Michigan 40/1
St. Louis 40/1
Arkansas 50/1
Florida 50/1
Louisville 50/1
Maryland 50/1
Oregon 50/1
Rutgers 50/1
San Diego State 50/1
Seton Hall 50/1
UCLA 50/1
Arizona 66/1
Clemson 66/1
Minnesota 66/1
Purdue 66/1
Richmond 66/1
Stanford 66/1
Syracuse 66/1
USC 66/1
Alabama 80/1
Auburn 80/1
Colorado 80/1
Missouri 80/1
NC State 80/1
SMU 80/1
Memphis 80/1
Xavier 80/1
Butler 100/1
BYU 100/1
Dayton 100/1
Marquette 100/1
Miami FL 100/1
Oklahoma 100/1
Penn State 100/1
Providence 100/1
South Carolina 100/1
Virginia Tech 100/1
Boise State 125/1
Ole Miss 125/1
Pittsburgh 125/1
St. Mary's CA 125/1
Temple 125/1
UNLV 125/1
Wichita State 125/1
Cincinnati 150/1
Georgia Tech 150/1
Northern Iowa 150/1
Notre Dame 150/1
St. Johns 150/1
Utah 150/1
Utah State 150/1
VCU 150/1
Washington 150/1
Western Kentucky 150/1
Georgetown 200/1
Mississippi State 200/1
TCU 200/1
Texas A&M 200/1
Davidson 250/1
DePaul 250/1
Georgia 250/1
Iowa State 250/1
Wake Forest 250/1
Kansas State Off the Board
Nebraska Off the Board
Rhode Island Off the Board
Vanderbilt Off the Board