| | |
| --- | --- |
| Hokies send No. 15 Clemson to third-straight loss | |
---
| | |
| --- | --- |
| Wednesday, February 21, 2018, 9:21 PM | |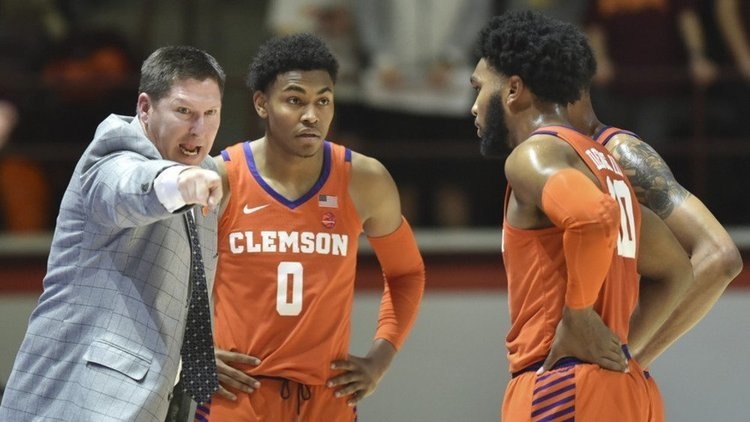 Virginia Tech held the home-court with a strong second half to deal No. 15 Clemson its third-straight defeat, by a 65-58 score.
Junior guard Marcquise Reed did his part to keep a Clemson (20-7, 9-6) team reeling from injuries in it to the end, giving the Tigers their largest lead of the game with 13:35 left after back-to-back 3-pointers and finishing with a career-high 28, knocking down eight 3-pointers in all and adding 10 rebounds for the double-double.
The Hokies (20-8, 9-6 ACC) answered that Clemson second-half edge with a 10-0 run, and extended that run to a 20-5 scoring stretch which would eventually build the Hokies' lead to as much as 14 points.
The Tigers entered the road trip without junior point guard Shelton Mitchell (concussion protocol) in a second-straight game. Another cold night shooting from senior Gabe DeVoe didn't help either.
DeVoe, who captured ACC player of the week during a recent Clemson four-game winning streak, went 1-of-10 from the field at home Sunday in a close contest with Duke, and the Tigers guard backed that up with 3-of-9 shooting aided by some late buckets to eight points.
In a first half with seven lead changes, Clemson trailed by one despite being outscored 14-0 on turnovers, giving away possession seven times to Virginia Tech's two turnovers.
After a slow start, Reed led the Tigers at the half with 11 points, including three 3-pointers in his four made shots. Elijah Thomas contributed eight points and seven rebounds in the first 20 minutes, and he finished with 12 points and 10 rebounds.
Hokies guard Justin Robinson capped his team-leading first half with a fadeaway just before the buzzer for the 26-25 lead. Robinson tied for the team-lead in scoring with Kerry Blackshear, at 14 points.
Clemson didn't help itself at the free throw line on the night, making only 3-of-10 attempts.
They were less than efficient from the perimeter as well, making 11-of-36 attempts. After hitting 46 percent of their attempts in the four-game winning streak, the Tigers have made only 31.7 percent from three since in 82 attempts.
No Tiger bench player contributed a score Wednesday night, going 0-of-9 from the field shooting.
The Hokies tied Clemson in the ACC standings with the win, pushing the Tigers out of the top-four bidding for an ACC Tournament double-bye.
Clemson entered the night at No. 9 in the RPI rankings and projected as a 3-seed in the NCAA Tournament by multiple sites.
The Tigers return to action Saturday at home versus Georgia Tech (3 p.m./ACC Network).
Notes: Clemson's defense held Virginia Tech (fourth-best shooting percentage in the country entering the game) to its lowest percentage of the season (34.5) … Reed set a new career-best with eight 3-pointers … the eight threes tied a program record and made Reed the first to accomplish that feat since K.C. Rivers on Feb. 7, 2008 at Virginia … with 10 rebounds it served as Reed's third career double-double and second achieved with rebounds … Thomas posted his eighth double-double of the season and 10th of his career with 12 points and 10 rebounds … it gives Thomas back-to-back double-doubles for the second time this season … with 11 threes, Clemson has now made 10+ 3-pointers in 11 games this season.