| | |
| --- | --- |
| Clemson rallies to top Wofford | |
---
| | |
| --- | --- |
| Tuesday, March 6, 2018, 10:02 PM | |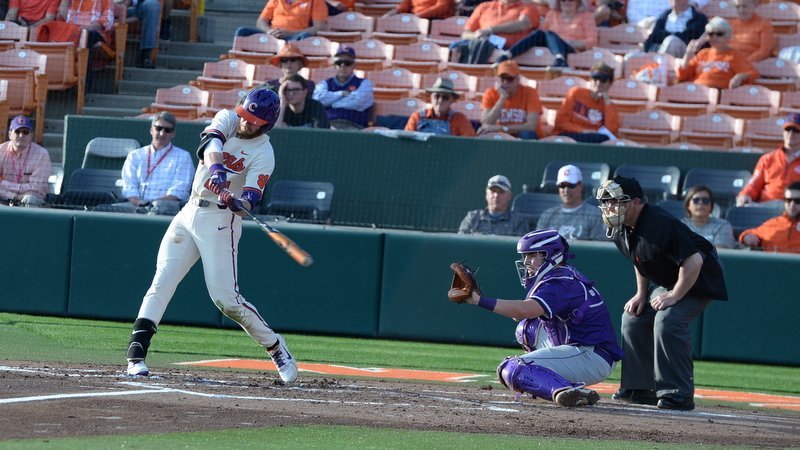 CLEMSON, S.C. - The No. 6 Clemson Tigers scored four runs in the seventh inning on a homer, five walks and a costly error to rally for a 6-3 victory over Wofford at Doug Kingsmore Stadium on Tuesday night. The Tigers, who improved to 14-0 all-time against Wofford at Doug Kingsmore Stadium, upped their season record to 11-1, while the Terriers fell to 6-6.
"It was a good game in pretty much all facets for us tonight," Clemson head coach Monte Lee said. "It was definitely a slow-moving game early on, and we just couldn't find a way to get the bats going. There wasn't a lot of hard contact, and I thought their first two guys for six innings pretty much held us at bay. They made it tough on us, so give those guys a lot of credit. They swung the bats well and took advantage of a walk and then a two-strike hit, and the next thing you know, they hit a double and score two runs right there in the first, and our backs are against the wall."
Andrew Orzel hit a two-out, two-run double in the first inning, the first runs allowed by Clemson in the first inning in 2018. Justin Hawkins belted a solo homer, his second of the year, in the sixth inning. Logan Davidson crushed a solo homer, his second of the season, in the seventh inning to tie the score, then Seth Beer scored on an error later in the inning to give Clemson the lead. The Tigers added two more runs in the seventh inning on bases-loaded walks.
Carson Spiers (1-0) pitched the final 3.2 innings in relief to earn his first career win. Wofford reliever Jake Hershman (0-1) suffered the loss.
"The double mid-weeks are very difficult," Lee said. "It's tough to get through 18 innings of mid-week baseball and have everybody ready for the weekend. We took the philosophy tonight that we were going to do everything we can to win this game, so we stretched Marr out and were able to get him a deep start. We stretched Carson out tonight, and I don't know if we win the ballgame tonight if we don't have Carson pitch as effectively as he did at the end of the game. He kept them at bay and did a great job."
The Tigers travel to Greenville, S.C., to take on Michigan State at Fluor Field on Wednesday at 7 p.m. Clemson is the designated visiting team and will occupy the third-base dugout.